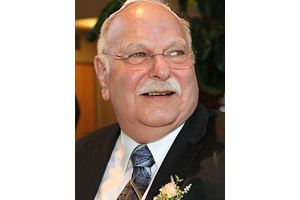 It is with deep sadness that we announce the passing of our beloved husband, father and grandfather, Zivan Saper, on December 16, 2020. Zivan passed away peacefully with his family by his side after a short, but determined, battle with leukemia.
Zivan will be sorely missed by his wife of 44 years, Tannis, son Avi (Rachelle), grandchildren Hartley and Sari, brother Arthur (Marsha), brother-in-law Ian, the rest of his extended family, and countless friends from all walks of life. He was predeceased by his parents, Max and Sarah, and his sister Blumie.
Zivan grew up in Winnipeg's North End and later in Garden City, joining his father's insurance brokerage, Saper Agencies, soon after high school. He eventually took over the business and ran it successfully until 2016, earning the trust of hundreds of long-time clients who valued his honesty, integrity, and commitment to serving their best interests. Zivan worked hard – long hours, weekends, answering phone calls in the middle of the night when someone's basement had flooded – but didn't complain because he did it to help his clients.
Zivan's commitment to serving his community extended far beyond his business. He was generous with his time and his money. He was an active volunteer with many organizations, serving as president of the Winnipeg Convention Centre and North Winnipeg Rotary Club, and on the board of the Seven Oaks Hospital Foundation and Jewish National Fund to name a few. His most passionate volunteer work was in the world of curling, a sport that he was first introduced to as a kid at the Maple Leaf Curling Club. Zivan loved everything about the game, from the competition and the strategy to the countless friends he made over the years from all across the continent. He followed in his father Max's footsteps as a president of the Manitoba Curling Association, and later served as president of the Canadian Curling Association. His final contribution to the game came in 2003 when he served as president of the World Curling Championships at the old Winnipeg Arena.
Zivan worked hard, but he also found time to enjoy life and his family. He was a devoted husband, a proud father and father-in-law, and an ecstatic Zaida when his grandchildren arrived. He was a lifelong partner to Tannis, building a happy and fulfilling life together. He loved family gatherings big and small, and enjoyed spending the winter months in Scottsdale in recent years. To Avi, he was a best friend as much as he was a father. Rounds of golf, Jets and Bombers games, and trips to Green Bay to see his Packers were just some of the interests they shared. He was beaming when he welcomed Rachelle into the family, and perhaps nothing made Zivan happier than picking up Hartley or Sari and making them laugh.
His life was too short, but Zivan didn't waste any of it. He left a mark on so many who knew him and will be dearly missed.
We wish to thank all the doctors, nurses and staff at CancerCare Manitoba, as well as GD-6 at Health Sciences Centre, and the palliative care unit at Riverview Health Centre for their care and compassion during Zivan's illness, with a special thank you to Dr. Menard.
Due to Covid-19 regulations, a private funeral service was held at Shaarey Zedek Cemetery on December 18. Pallbearers were David Folk, Barry Greenberg, David Herbert, Sam Segal, Stephen Segal and Warren Zimmerman. A celebration of Zivan's life will be held at a later date, when it is safe to do so.
A heartfelt thank you to the many people who have shown such kindness to our family since Zivan's passing. In lieu of flowers, donations in Zivan's memory to a charity of your choice are greatly appreciated.