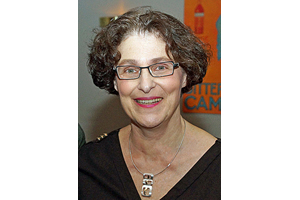 It is with great sadness that our family announces the passing of Marilyn Walder Billinkoff at the age of 67. Marilyn passed away peacefully on Tuesday, November 16, 2021 at the Saul and Claribel Simkin Centre following her battle with Alzheimer's disease.
Marilyn always had a positive outlook on life, and never complained about her illness, and even planned to write a book about her journey.
Marilyn graduated from the University of Manitoba in 1979 with a degree in Law. She began her career at Walsh Micay, then moving to Arpin Co. Seeking a new challenge, Marilyn became the CEO of the Manitoba Real Estate Assoc., and later moved to the Law Society of Manitoba, first as their Director of Insurance and later as the Deputy CEO. Marilyn loved and respected her coworkers at the Law Society, and got particular enjoyment from the Manitoba Bar Association's annual "smoker" for which she wrote song parodies and performed them with her colleagues.
Marilyn loved reading, travel, movies, and music. She looked forward to getting together with friends whether it be for dinners, concerts, or even just ice cream. She was an accomplished pianist as well as a tireless worker who sat on many boards of directors, including the Jewish Federation of Winnipeg, the Winnipeg Symphony Orchestra, the Virtuosi Concert Series, and the Winnipeg Board of Jewish Education. She also sat on many committees involving Lawyers from across Canada through the Canadian Federation of Law Societies, and easily developed friendships with many lawyers from other provinces.
She will be greatly missed by her husband Lorne, sister and brother-in-law Sharon Walder and Lorne Pollock, father Allan Walder, children Alix Cramer (Natan), Mitch Billinkoff, grandchildren Shalev, Boaz and Nava, in-laws Louis and Ruth Billinkoff, brother-in-law Errol Billinkoff, sister-in-law Susan Billinkoff, and many other relatives and friends.
Thank you to the Simkin Centre for the wonderful care they provided to Marilyn. Also Dr. Janet Ritchie who was Marilyn's Doctor for many years and was always available when Marilyn needed her. We are grateful to her care companions Irene, Shella, and particularly Leena whom Marilyn had known for 22 years.
Marilyn's funeral was held graveside at the Shaarey Zedek Cemetery, Nov. 18, 2021. In lieu of flowers, donations can be made to the Simkin Centre, the Alzheimer's Society, or other charity.