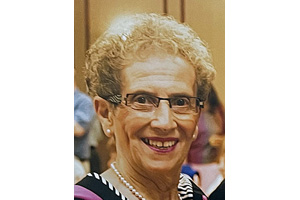 It is with deep sorrow that we announce the sudden passing of Rosalind Waterman on December 8th, 2021, at the age of 85.
She departed this world peacefully, surrounded by her four sons. Roz was a devoted wife, mother, and bubba. She is survived by her loving sons Jack, Bruce, David (Angela), Marc (Wylie), and her grandchildren Max, Joshua and Liora. She is also survived by many loving nieces and nephews. She was predeceased by her husband Daniel Waterman, to whom she was married for 51 years, her parents Marjorie and Jack Cristall, and sister Donna Cipin.
Roz was born in Edmonton and was the first woman to have had a bat mitzvah in western Canada. She moved to Winnipeg as a young woman to find her way in life.
In Winnipeg, Roz met the love of her life, Danny. They married and together raised four active boys. Family meant everything to Roz. She devoted her life to her husband and to raising her children in a Jewish home. She was known for her legendary cooking and baking and for always ensuring a fresh dessert with every meal. On Fridays, she would prepare Shabbat dinner for the family. Roz was a lifetime member of Hadassah-WIZO.
Roz was open minded and accepting. Everyone was welcome at her table. She had a wonderful sense of adventure and was fun to be around.
Roz enjoyed weekends at Gimli with family and friends, delighting her neighbors with her famous apple cake.
She was an avid sports fan and enjoyed watching hockey and football with her family. Over many years, her family managed to successfully change her allegiance from the Eskimos to the Bombers.
Roz and Danny loved bowling with their friends, enjoyed travelling the world together and spending time with family.
Once Danny passed away, Roz reinvented herself and developed a wider social group. She liked to gather with friends to play Mahjong and Mexican Train.
She spent a significant amount of time visiting her kids in BC where she was able to enjoy quality time with her grandchildren who meant the world to her. She was the best Bubba. The children always looked forward to her visits with excitement. They would always have so much to tell her, and she would love listening to their stories and playing with them.
The funeral and burial service was held at Shaarey Zedek Cemetery on Friday, December 10. The pallbearers were Jeff Cipin, Jacqui Cipin, Caralyn Cipin, Marla and Aubrey Dan and Greg Tugg. Honorary pallbearers were Jennifer Tugg and Aviva Cipin. Donations in Rosalind's memory may be made to the Heart and Stroke Foundation.
She will always be remembered.