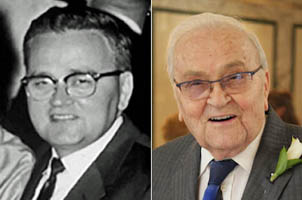 Peacefully on Saturday, December 4, 2021, Harry Minuk left this world for his eternal resting place at the Shaarey Zedek Cemetery, officiated by Cantor Tracy Kasner.
Pallbearers attending were Blake Minuk, Hayley Trenholm, Kevin Minuk, Kim Bergman, Keith Levit, and Doug West.
Harry is survived by his loving wife of 72 years, Annette, his children, Arlene (Doug), Sheldon (Shoshana), Jeffrey (Harriet); grandchildren, Kimberley (Chris), Kevin (Simmie), Blake (Chelsea), Hayley (Chris) and Harel; his great-grandchildren, Kyler, Krewyn, Sonny and Charlotte; sister Yetta Levit, and brother-in-law Jack Rosenbaum.
He was predeceased by his parents, Berel and Tybel, siblings, Norman (Goldie), Evie, Molly (Norman), Clara (Max), and brother-in-law Jack Levit and Jack Massie
Harry was truly a one of a kind individual. He had a zest for life with a unique sense of humour. He loved his "sayings". We will miss his "Harryisms".
He was a generous, loving man to his family. He made an impression on everyone who met him.
Harry made his mark as the owner of Bluebell Grocery on Logan and Keewatin. He worked seven days a week with a 12 hour day being a short day. Annette worked by his side for many of those hours. He sacrificed in the early years to reap the benefits later in life with his family.
Harry and Annette literally travelled the world from Alaska to Australia and all places in between. Hawaii was his favourite probably going 40+ times. He often said Aloha more than hello or goodbye.
Harry had many loving nicknames. His sisters and brother referred to him as Osh, his customers as Mr. Bluebell. His grandchildren as Zaida, a role he excelled at.
All of his family often referred to him as Happy Harry for his easygoing outlook.
He will be sorely missed by his family and all those who knew him.
May He Rest In Peace And
May His Memory Be Blessed.
ALOHA HARRY
Donations in Harry's memory can be made to the Heart and Stroke Foundation or charity of your choice.