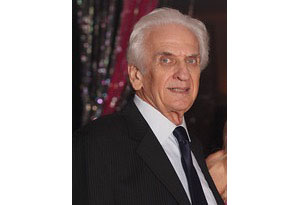 It is with sadness that we announce the peaceful passing of Max Brown z'l, devoted husband to Phyllis; exceptional and involved father to Darren (Sheryl Segal), Bruce (Miriam), and Lisa (Brent James); loving grandfather to Orli, Mia, Dor, Roni, Ariela, Sadie and Samuel.
Max was a close brother to Joey Brown (Harriet) and Larry Brown (Shirley); and fondly remembered uncle to many loving nieces and nephews.
Max was predeceased by his mother and father, Sonia and Abe Brown z'l, and his brother Morris Brown z'l.
Max was a respected high school teacher, a soccer coach, a long-time Winnipeg Beach day camp director, a bridge enthusiast, an amateur actor, an avid reader and an exceptional athlete. He excelled in anything to which he put his mind.
Born in the heart of Winnipeg's north end to immigrant parents in 1935, Max grew up with a strong moral code. He had many life long friends and a large and warm extended family. He knew the value of honest hard work and self respect, and instilled those values in his children. He was content, and that is something we hope to emulate.
Max was diagnosed with Alzheimer's disease 13 years ago. He suffered greatly, yet his strong intellect and steadfast personality helped delay the disease's creep. Eventually, the light grew dimmer as he slowly outlived his books, sports, many other hobbies, and the enjoyment of his loving friends and family. We will miss him a lot.
May his memory be for a blessing.
The family would like to thank Anita Olofintuyi for her dedication and the Simkin Center for their exceptional care.
Donations in Max's memory may be made to the Saul and Claribel Simkin Center; the Alzheimer Society of Canada; or to a charity of your choice.