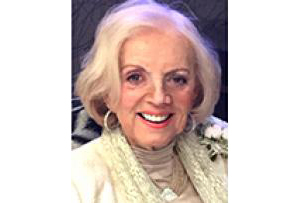 Shortly after celebrating 100 years of a life filled with love, laughter and family, our precious mother Mollie passed away peacefully on June 6, 2020.

Mollie was born in Edmonton, Alberta, to Mary and Joseph Snider and maintained a very close relationship with her nine siblings. She was predeceased by her loving husband Ozzie. She is survived by her youngest sister Gertrude (Gussie) Most of Encino, California.

At an early age, Mollie moved to Winnipeg where she later married the love of her life and best friend, Ozzie. They shared a wonderful life together for over 60 years; belonged to many community organizations and supported numerous charities throughout their lifetime. 

Mollie and Ozzie enjoyed travelling the world with their close friends. Their greatest joy was the trips with their children and the frequent visits full of fun and laughter with the whole family in Gimli and in Florida.

Mollie's strength and independence shone through when she became the central figure for her family.

Mollie's artistic talent and creativity radiated in everything that she was passionate about; the way she entertained, the way she dressed, and the way she decorated her home. Her wonderful cooking was always enjoyed by her family and her friends. Most of all, it was Mollie's incredible sense of humour and gift for telling jokes and stories that were so endearing to everyone around her. 

Mollie's most pleasurable pursuits were Bridge and Art, and many of her paintings are proudly displayed in the homes of her children.

Mollie always took life's setbacks in stride and embraced each day with courage and optimism.
Her positive attitude and strong belief that "it was meant to be", allowed her to move forward and without complaint. 
Mollie was a remarkable lady and a captivating beauty who lived life on her own terms, right until the end.
Mom… wherever we are and wherever 
we go, your beautiful smile, unique
 wisdom and kindness, will continue
 to guide us through life.

We will always love and miss you and Dad.
Mollie leaves behind her children, Joyce Shuster, Larry (Simmie) Nasberg, Sharon (Barry) Weinstein; and grandchildren, Jodi Shuster, Marci Shuster, Alissa Nasberg, Benjamin (Leanna) Nasberg, Marshall Weinstein and Courtney Weinstein (Aaron Migie), and many nieces and nephews.

A private funeral was held on June 8, 2020, at Rosh Pina Memorial Park, compassionately officiated by Cantor Tracy Kasner of Congregation Etz Chaim.

Pallbearers were her loving grandchildren. 

The family extends their heartfelt appreciation to Doris Frechette for her companionship and devotion to Mom.

Donations in Mollie's memory may be made to the 'Ozzie and Mollie Nasberg Fund' at the Jewish Foundation of Manitoba or to a charity of your choice.