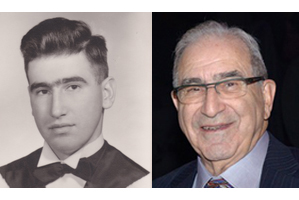 Monte Raber passed away suddenly at the age of 86 years on July 18, 2021, Tisha B'Av 5781. He lived a full life and had a tremendous positive impact on so many people, many he never even met.
Monte was a devoted and loving husband, father, Zaida and Great-Zaida, brother, son, uncle, and cousin. He was born to immigrant parents and lived his whole life in Winnipeg. As a child his parents, Aron (Harry) and Marcia worked tirelessly to make a better life for him, and instilled in him the importance of family, lessons he learned well, and passed on to his children and grandchildren.
He was a big brother to sisters, Leah and Carol (Arnold), and he remained very close with them and their families, as he was with his sister-in-law Ruth (Joe) and her family, being a favourite uncle to his many nieces and nephews.
Monte attended St. John's High School where he earned the reputation of being a bit of a nerd who loved books, science, mathematics and photography. He excelled in school and earned his Bachelor of Science in Engineering (1957) and Masters of Engineering (1966) degrees from the University of Manitoba, specializing in Electrical Engineering.
Being an Engineer defined Monte. It was not just his vocation, but his passion, his way of life, and it greatly influenced his way of thinking and problem solving every day. He was a perfectionist and it showed in everything he did.
Monte and Myrna (Golden) met as teenagers, had a courtship lasting through university and were married on June 9, 1957. Mom and dad just celebrated their 64th Wedding Anniversary.
Once Monte joined the Golden family, he always treated his in-laws, Fanny and Murray Golden, as he did his parents, Harry and Marcia, with the utmost respect and care.
Together mom and dad raised 3 strong independent children, Avis (Ari z"l), Eileen and Earl, with deep roots in Yiddishkeit and Jewish values, and the importance of family. Dad and Mom led by example how to raise our own children.
Dad leaves a large legacy with mom of 10 Grandchildren: Mark (Samantha), Daniel (Diana), Jonathan and Benjamin Lipson, Joshua, Rachel and Arielle Block, and Matthew, Megan and Mika Raber, and 3 great-grandchildren, Ethan, Jacob and Isaac Lipson. He had a special and unique relationship with every grandchild. He taught them all to drive and in their adult years they shared jokes and sought out his sage advice on life decisions.
Monte began his career at the Atomic Energy of Canada Nuclear Research Facility in Chalk River, Ontario. He was then recruited as one of the first Biomedical Engineers creating a state-of-the-art department at Winnipeg's General Hospital, now the Health Science Centre (to Monte, always "The General"). Monte was a ground-breaking world renown pioneer and leader in the field of Biomedical Engineering and patient safety. He built and led the Biomedical Engineering department at "The General", one of the first such dedicated departments in North America at the time, for over 20 years. He did cutting-edge original research, had over 40 publications and 4 patents, and helped design Intensive Care Units (ICUs).
Monte helped pioneer the art and science of electronic monitoring of patients, especially Respiratory and Cardiac patients, and also develop modular ICU monitoring which changed the way medicine was delivered. One of his particular areas of expertise was pacemakers, which were novel at that time. Monte was on-call working with physicians in the operating room setting up the pacemakers to ensure they paced the heart correctly. He worked tirelessly setting up new national and international multi-discipline committees to better understand the effects of pacemakers and to create standards for their production, use, and most importantly, safety.
In 1978 Monte was recruited to the business world by medical equipment maker Harco Electronics, where as Vice President, he helped develop innovative new equipment and modernize production techniques and increase sales.
In the mid-1980's, at age 50, in typical Monte fashion, he took up new challenges, returning to teaching and then private consulting. First, he returned to the University of Manitoba, where he was Assistant Professor in the Department of Medicine, and then Red River Community College where he created a new curriculum in BME (Biomedical Engineering) teaching a new generation of engineering students and technologists, which he loved and inspired him. Monte always had a special interest in patient and Medical Device Safety, and throughout his life he was one of the most dedicated and involved Life Members of the CSA, the Canadian Standards Association, with a special focus on electrical grounding and safety.
Monte's engineering and problem-solving expertise was highly sought after by all levels of government in Canada, the United States and world-wide, by many varied businesses, including Mining companies, Aerospace and Defence Industries, as well as software companies. Monte continued his successful private consulting through his beloved company, Systems Electronics Ltd (SEL), until the day of his passing.
Dad and Mom travelled with his conferences to Israel, Europe, Asia, and South America. Over the past 10 years, they enjoyed wintering in Palm Springs, CA.
Throughout his life, Monte approached everything he did with quiet confidence and a positive outlook. He remained committed to continuous improvement, learning and research his whole life. He was just about to submit his most recent paper for publication at the time of his passing.
Monte's "fix it" skills were legendary. He was a "Fixer Extraordinaire" of all things. He maintained an amazing workshop in the basement of his home, and his workbench was where MAGIC HAPPENED. It was where innovative projects were developed from ideas on his drafting table, to real life working prototypes. This was where things were created and fixed ranging from state-of-the-art lifesaving medical equipment to relatives' and neighbours' appliances, toys, musical instruments and even our Mom's jewelry. If he didn't know how to fix it (which was rare), he figured it out. Each project was treated with the same level of expert attention. We were all amazed at the breadth and depth of his knowledge.
At his workbench, Dad taught us how to complete an electrical circuit, the art of carpentry, science and medicine ('measure twice… cut once'), all lessons which have served us well in our lives. He also had a deep love of the outdoors and camping, which he instilled in all of us.
He taught us critical life lessons by example: how to treat every single person with respect, the importance of hard work and perseverance, the satisfaction of a job well done, and how to be calm under pressure and in crisis.
Dad always enjoyed a good book, especially mysteries, reading late into the night and wee hours of the morning. And he always loved a good nap. He had a unique sense of humor. Sometimes only he understood his jokes, but that never stopped him from laughing at them. Dad had a discerning palate, but also had the ultimate child-like sweet tooth; all his grandchildren knew where he kept his candies, and he looked so forward to sharing with them.
Monte practiced Tikkun Olam… Repairing the World… every single day. He was honest to a fault, a man of impeccable character and integrity. His definition of success was never money or fame. He was not driven to 'win', or by monetary incentive, but to learn, to do kindness and to help others. "They will pay me when they can", he would say. Mostly he took pride "in a job well done". He would always try to do "the right thing, the right way". He was never jealous or petty. He was confident in himself and his abilities, and this allowed him to always celebrate the success of others; a true sign of just how exceptional he was. He was gentle and patient, a wonderful mentor and skilled teacher. He was generous and caring, performed countless acts of random kindness for strangers; often donated more than he could afford, usually anonymously. He was erudite and was one of the smartest people we ever knew, being full of knowledge and wisdom, and was humble and soft-spoken. But he also 'suffered no fools'; He 'called them, as he saw them', and was brutally honest with everyone, especially those he cared most about, when we did something foolish.
Monte was courageous, was the forever optimist, and was always up to all challenges. Perseverance was his motto. He did not give up.
Above all, Monte Raber was a MENSCH. We don't know anyone who met Monte who did not respect him. That was one of the most amazing things about him. Whomever he interacted with, personally or professionally, knew they were talking to a man of great intellect, quiet dignity and respect.
They say that in life, all you have is your name. And what a good name Monte had. To this day, strangers come up to us and ask: "Are you related to THE Monte Raber?"
Monte was the Patriarch of our family. He was our "FIXER", of all things big and small.
He was our ROCK.
Monte's sudden passing leaves a gaping hole in all our lives. We will never forget what you taught us about life, and how to live cup half-full. We will think of you always: your laugh, your smile, your insights and your logical solutions. We will miss your trademark phone answering salutation: "Raber Here"; and all the wise advice that followed. Monte, our eternal optimist, never said goodbye. Instead, he ended every conversation by saying: "KEEP SMILING!". With love and broken hearts, this is how we will always remember you.
A graveside funeral service was held at Shaarey Zedek Cemetery July 21, 2021. Pall bearers were his grandchildren, Mark, Daniel, Jonathan, Benjamin, Rachel, and Matthew.
For all who provided messages of condolence, calls, meals and support to the family, we gratefully thank you.
To honor the memory and legacy of Monte Raber, a donation may be made to The Monte and Myrna Raber Fund at the Jewish Foundation of Manitoba, where a Scholarship fund is being set up for an Electrical Engineering student at the University of Manitoba with a special interest in Biomedical Engineering. www.jewishfoundation.org (204) 477-7525.