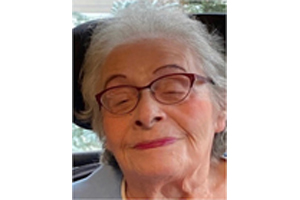 Sadly, the children of Rose Lillian "Cookie" Rutman, born January 19, 1931 announce her passing at the Simkin Centre on June 13th, 2022.
Mom was predeceased by her husband Albert Rutman and by her parents Isadore and Clara Lavitt. Mom was also predeceased by her brothers & their wives, Len Lavitt, Joe and Lola Lavitt, Sam and Bev Lavitt, Jack and Helen Lavitt and by Albert's sisters and their husbands, Bernice and Chilo Burko and Cecile and Sam Meyrowitz.
Mom is survived by her children Ray and his wife Linda, Sondra and her husband Dr. Jason Brown, and Fred. She is also survived by Ray & Linda's children Leah & her husband Dan, plus their children Aria and Zack, along with Evan and wife Kristen, plus their children Noah, Jake and Kira. Also, Sondra and Jason's children Shael Brown and Nicole Sasson, and Zane Brown.
Mom is also survived by many nieces and nephews, great nieces and great nephews with whom she had a special bond.
Nothing was more important to Mom than being a good mother, baba, aunt, sister, sister-in-law, cousin and friend.
The family is very grateful to mom's care team at Simkin and is particularly appreciative of the care and assistance of mom's caregiver companions Edna Maula and Merlyn Soriano who dramatically improved mom's quality of life. Also, a special thanks to mom's pallbearers: Albert Yanofsky, Arthur Chapman, Ari Zipursky, Avi Waldman, Zane Brown, and Jon Waldman ..
Interment was graveside at the Shaarey Zedek cemetery, with Rabbi Rose officiating and offering words of encouragement. Donations in Cookie's memory can be made to Parkinson Canada, or a charity of your choice. Cookie will be forever remembered, loved and missed by family and friends.