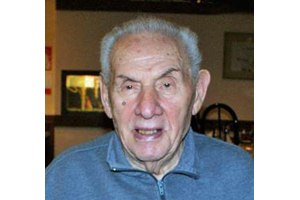 It is with great sadness that we announce the passing of Aron Lieberman on Tuesday, June 7, 2022 at the age of 99 years.
Aron was predeceased by his wife Dora in 2011. He was also predeceased by his parents, Yankiel and Nacha Lieberman; his brothers, Aizik, Shmil, Yosi, Abram, Moszek Chaim, and Majer; and his sister Frajda – who were all murdered in the Holocaust. He leaves to mourn his sons, Jeff (Robyn) and Garry (Janet), and his grandchildren, Amy (Gabriel), Josh, Noah, Brooke and Justin, along with his nephews and nieces.
Aron was born in Pajeczno, Poland in 1922. In 1940, he was taken from his home and never saw his family again. Aron was forced to do hard labour in various concentration camps until he was liberated in 1945. After he was liberated he found out that all of his family had been killed.
In 1954, Aron immigrated to Winnipeg where he met the love of his life, Dora Wise. They were married from June 1st 1958 until Dora passed away in June 2011.
After marriage, our mother's family became our father's family. Family was everything to our dad. The closeness between Joe and Anne Chmelnitsky, Julius and Karen Wise, Israel and Marion Wise and all of their children was as strong a bond as possible. Our families enjoyed many Sunday night dinners and celebrated all of the Jewish holidays together.
In 1980, we discovered that Aron had cousins who had survived the Holocaust and were living in Tel Aviv. Aron cherished the many times that he was able to meet with Jacky, Judy, Alon, and Dorit Goldman and their families, either in Israel or in Winnipeg.
Many thanks to the Simkin Centre and its outstanding staff for the care they provided Aron.
A graveside funeral was held on June 10th. The pallbearers were: Josh, Noah, Brooke and Justin Lieberman; Gabriel Brawerman, and Blair Worb.