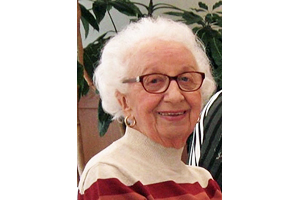 After a life long lived, it is with loving memories and sad hearts we announce the passing of Rita Vine on June 23, 2022 at the age of 91.
Left with treasured memories are her children Marty and Pam, Cindy and Marc, and grandchildren Jordan(Tali), Riley(Bev), Amy(Liam), Jesse, and Seth. Rita was predeceased by her devoted and much loved husband of 60 years, Alec, who passed in 2014, parents, Rose and Nathan Garfinkel, and by her brother and sister-in-law Irv and Shirley Garfinkel.
Rita was born in Winnipeg on September 7, 1930, and grew up in the South End of the city. She lived with her parents and various members of extended family in their family grocery stores, and attended Kelvin High from which she graduated. Rita worked as a secretary in the Legislative Building until she married the love of her life Alec in 1953 and became a housewife and stay at home mom to Marty and Cindy. She was a devoted mother to her children, and a loving and caring daughter to her mother who she looked after for many years. When faced with difficult times throughout our dad's lengthy illness, she demonstrated a strength and devotion that was an inspiration to all, first looking after him at home, then spending every day with him at the Simkin Centre where he spent his last years.
Rita enriched the lives of her family, friends, and acquaintances with her love, caring, and humour. She enjoyed watching her children mature, succeed in their careers, and start their own families. She took great pride in her grandchildren and so enjoyed hearing about their lives and accomplishments.
Rita and Alec were a wonderful team and had a loving 60 year marriage. They had a close circle of lifelong friends and were engaged in numerous activities. Saturday nights out 'for a bite' with the group went on for years as did travels to Hawaii, Las Vegas, and Mexico with various members of their gang. Rita was proud of her Jewish heritage and volunteered with ORT and other organizations over the years. She made long lasting connections and still cherished her childhood friends from Kelvin High. She remained close with her Maj group and developed new friendships in her later years as she navigated her new normal, living on her own with Alec a resident in the Simkin Centre. Credit to her for being able to reinvent her life and welcome new friends and experiences at this later stage of her life.
Although we are saddened by the loss of a loved family member, we celebrate the life of an accomplished women, wife, mother, and grandmother. It is said in the Jewish faith that people never leave as long as you remember them. We will cherish the long life she lived and the memories we made with her, rather than ask why we cannot have more. She lived a beautiful life blessed with family and friends and leaves us with many loving memories to hold in our hearts.
As a family we are grateful and extend our heartfelt thanks to the staff on Weinberg One at the Simkin Centre where our mom spent her last years, and to Leizl whose caring and compassion are so appreciated. Funeral services were held at the Shaarey Zedek Synagogue on Monday June 27, 2022. Pallbearers were Jordan Vine, Riley Streifler, Amy Vine, Jesse Streifler, Seth Streifler and Harvey Garfinkel. In lieu of flowers donations can be made to The Shaarey Zedek, The Simkin Centre, or a charity of your choice.