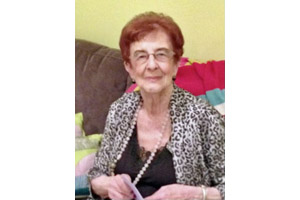 On July 4th, 2022, our beloved mother, Sonya Yaffe (nee Nelko) passed away peacefully from natural causes. She had reached a wonderful age of 96.
She was born in Ostrog Volyn Poland on December 9th, 1925. She arrived in Canada as a baby with her Mom, Dad and two brothers looking for a better life. She was predeceased by her husband Irvin Yaffe, and her two brothers, Max Nelko and Ernie Nelko. She leaves behind her brother, Dr. Sidney Nelko and her sister Claire (Breslaw) Granovsky. She will be missed by her daughter Deborah (Yaffe) Schwartz and son Dr. Lorne Yaffe. She was blessed with 6 grandchildren, 7 great-grandchildren, and many nieces and nephews. The family wishes to express their deepest appreciation to the staff at The Simkin Centre for the wonderful care that Sonya received over the last two years while living there.
In lieu of flowers, donations to honor Sonya's memory may be sent to The Simkin Centre, 1 Falcon Ridge Drive, Winnipeg Manitoba, Canada R3Y 1V9.