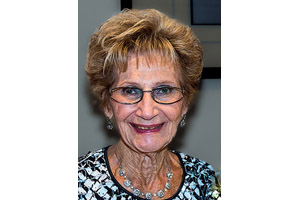 It is with great sadness that the family of Ruth Riesenbach, age 89, announces her passing on June 25, 2022. Ruth was predeceased by her beloved husband Joseph (Joe) on April 25, 2013.
She is survived by her children Adrian (Jack) Raizman, Ron (Perla) Riesenbach, and Jeff Riesen; grandchildren Joshua (Sarah), Alisa (Soren), Ariel (Lisy), Noah and Carmi; great-grandchildren Sloane, Maya and Jonah.
Ruth was a woman of great generosity of spirit who was devoted to her family and always surrounded by her lifelong group of friends. She was active in supporting Jewish culture and causes working to make her community and the world a better place. Her blessed memory will forever remain in the hearts of her family.
Funeral services were held at Shaarey Zedek Cemetery on June 25th, 2022 where she was interred next to her beloved husband Joe. Donations in Ruth's memory can be made to the Holocaust Education Centre (204) 478 8590 or the Jewish Child and Family Service (204) 477 7430 .