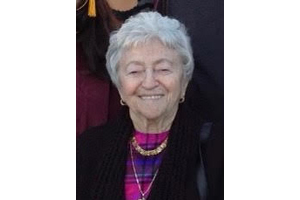 Our hearts are sad because we lost our beloved mother, grandmother, and great grandmother. Sally was a strong woman with indomitable spirit; whose resilience and determination to life and her family enabled a long life. She was predeceased by her husband Bery; son Morley; parents Raphael and Gitel; step-mother Rae; and daughter-in-law Olga.
Born Sheindel Mlynarski, on a farm outside of Miechow, Poland, but lived mostly in Sosnowitz. Sally's happy childhood was shattered with the onslaught of World War II. She survived ghetto life; slave labor camps and the concentration camp Plaszow; and the loss of her mother in Auschwitz. After Liberation from Chestokova, she and her father, who had survived Auschwitz and Mauthausen, found each other, and together walked to Fehrenvald, a Displaced Persons camp. Sally met and married Bery there. They emigrated to Winnipeg Canada in 1948 and began to build a new life.
Sally and Bery worked in clothing factories for many years before owning a grocery store and later local hotels. Mom was a practical person and did what was necessary to succeed, be it teaching herself English, working side by side in the store, and learning to drive early on.
Mom enjoyed local parks, Winnipeg Beach, trips to see family in New York, New Jersey and Connecticut and Israel. Winter vacations to Florida and Hawaii were eventually replaced by Arizona. Besides being a lifetime member of NA'AMAT, Mom loved plants; movies; live theatre; musicals; needlework; knitting and especially reading. Next to her family, her friends sustained her.
Most importantly Mom treasured her time with her family; she was ready and available to help at any time. Mom is survived by daughter Judy and son-in-law Mark; grandchildren Tobi and Dan; Ben; Erin and Jacob; and David and Naomi; and daughter-in-law Mary Ann. In addition, Mom leaves behind 4 great grandchildren, Anne, Ariella, Adira and Marigold.
The family greatly appreciates the caring and compassionate staff on Simkin 1. Our thanks also to Esther's Group, and particularly, Krisha and Lisa, Mom's devoted companions for nearly 5 years.
Having lived a long but challenging life, Mom was grateful for her life; and especially her family. Her legacy is her grandchildren and great grandchildren, whose lives reflect the success of surviving and building a new life. Donations in Sally's memory may be made to the Jewish National Fund, NA'AMAT, or any Holocaust education program.