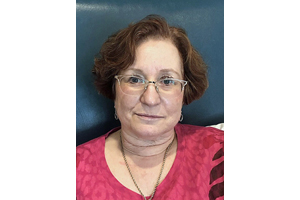 After a courageous battle with cancer, Marilyn Perl (née Bricker) passed away peacefully on December 16th, 2021. She was 64 years old.
Marilyn was pre-deceased by her parents, Irving and Lucille Bricker; grandmother, Teibel Binder; and in-laws, Mendel and Esther Perl. She is deeply mourned by her husband, Michael; children, Eytan and Aviya; grandson, Jacob Novek-Perl; daughter-in-law, Sheila Novek; brother and sister-in-law, Martin and Debby Bricker; and nephew and niece, David and Ivy Bricker.
Marilyn was born in Winnipeg on December 24th, 1956. She attended Talmud Torah School, Edmund Partridge and West Kildonan Collegiate. She also attended the University of Manitoba, where she received a Bachelor of Arts Degree. Marilyn joined the family business, Winnipeg Drapery, with her parents and brother. She and Martin carried on successfully running the business together after their parents' deaths. She inherited a strong work ethic and talent for manufacturing from her father and loved her work, making custom drapes for homes and businesses throughout the city.
Marilyn is fondly remembered for her warmth, her smile, her friendliness, and her genuine care and concern for others. She loved cooking and baking for her family, and will always be remembered for her Shabbat dinners, which usually featured multiple desserts. Marilyn loved welcoming her children's friends into her home as if they were her own, and especially loved spending time with her best friends, Bonnie, Leslie, and Sandy. Above all, she had a deep and unwavering love for her family – especially her grandson Jacob, who was the apple of her eye.
Thank you to Dr. John Mayba for his excellent care throughout the years, to Drs. Kidane, Maksymiuk, Kristjanson, and Anderson, and to the staffs at CancerCare and the Palliative Care program for their devoted care throughout her battle with cancer.
Our deepest gratitude to Rabbi Matthew Leibl, who held a graveside service on December 17th at Shaarey Zedek Cemetery. Pallbearers were: Steven Bernstein, David Bricker, Seth and Adam Nepon, Daniel Palitsky, and Mark Shuster. Due to Covid restrictions, a private shiva was observed by the family. Donations in Marilyn's memory can be made to CancerCare Manitoba or the charity of your choice.