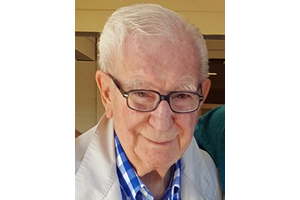 It is with profound sadness and heavy hearts that we announce the passing of our beloved father, grandfather, brother and uncle on Dec. 31, 2021 at the age of 94.
Roy will be forever loved and missed by his daughters, Robin Paisner (Bruce), and Lori Shapera (Nolan). He will be dearly missed by his loving grandchildren, Samara (Daniel), Kira (Cole) Tali, and Ilana (Igal) and great-grandchildren, Lev and Hunter.
Roy was predeceased by his parents, Louis and Nina Paisner, and his loving companion and wife Sheila Paisner of 67 years, whom he loved so very much.
He is survived by his sisters Shelly Nitikman and Reena Taviss (Stan), also by his sister-in-law Cecile Silverman.
Funeral service was held on January 3, 2022 at The Rosh Pina Memorial Park. Pallbearers were: Igal Margolin, Mickey Serebnitsky, Cole Leinburd, Kira Hayman, Edward Cantor and Daniel Glesby.
Roy was born in Winnipeg on August 16, 1927. He was one of three children, being the older brother to two younger sisters. It was a difficult life growing up in the small town of Rosburn, Manitoba. Roy went to school and also worked alongside his father at the family's Dry Goods store selling hardware, clothing, groceries and produce.
At the young age of 17, Roy decided to move to Winnipeg and took a job for the Genser family at their furniture store. Shortly after, he began a long pen pal relationship with his future wife Sheila, who was from Montreal. When she came to Winnipeg, they fell in love and were married on December 24, 1950.
Roy positioned himself to be nothing but a strong and supportive husband and father to his family. He had a strong work ethic which he dedicated to his furniture businesses, "ReStyle Upholsters" established on Notre Dame Avenue, and "Marvel Furnishings" where he found strategic success on Selkirk Avenue.
Roy played many musical instrument, including the mandolin, piano, and drums; he also loved to dance. He had a passion for motorcycles and even learned how to operate a Ham radio for many years. He loved to bowl, golf, fish, and travel often to Florida, Mexico, Hawaii and Palm Springs. Most importantly, he cherished the many Sunday brunches and dinners he spent with his family.
Being a business leader, he became a Mason and Member of the Masonic Lodge remaining faithful to this position in his later years. He was a man who not only loved his family, but also Yiddishkeit by observing many Jewish traditions.
The family would like to express our sincere love and thanks to the caregivers at The Simkin Center Unit 1 South, with a special thanks to Marcella, who was Roy's personal caregiver and companion. Our family will always be forever grateful for her love and compassion.
Roy's passing has left a saddened void in our lives. He will always be loved and remembered in our hearts forever.
If so, desired donations can be made to Cancer Care Manitoba, The Winnipeg Humane Society, The Jewish Foundation of Manitoba or a charity of your choice.