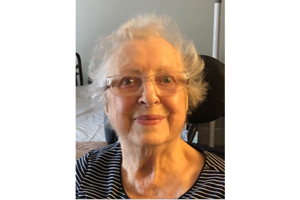 It is with heavy hearts that we announce the passing of our cherished Mother, Baba, and Great Baba Gertie Schwartz at the age of 96. She passed away peacefully Wednesday, January 5th at her home in Toronto where she resided for the last 10 years.
Gertie was predeceased by her loving husband of 50 years Harry (Hashie), parents Sam and Maeta Priesel, sisters Berte Sera and Anne Erenberg, and daughter-in-law Ronda.
She is lovingly remembered by her children Howie (Kathy), Maureen, and Ken (Gayla), as well as her grandchildren Brad (Donna), Devin (Melanie), Rayna (Bas), Lisa, Carly, Ali, and Lindsey. She will also be missed by her great grandchildren Shiffy, Chani, Rochelle, Rivki, Yitzi, Esti, Sara Aliza, Shevi, Benson, and Oliver, as well as sister-in-law Lucy Slusky, and many nieces and nephews.
Born August 29th, 1925 in Poland, Gertie emigrated to Canada with her family at the age of 3, first to Hoffer, Saskatchewan, and then to Winnipeg shortly thereafter.
Gertie's early years were difficult, losing her mother when she was only 13. When she was 21, Gertie met Hashie, the love of her life, on a blind date. Six months later they were married spending 50 wonderful years together. They loved their many vacations to Florida, Hawaii, and later Palm Springs as well as their summers at the cottage at Falcon Lake.
Gertie was known as "Auntie Gertie" not only to her nieces and nephews, but to all the neighbourhood children, friends of her children, as well as the children of her many friends. Everyone was welcome in Gertie's home.
During the last years of her life Gertie experienced numerous health problems, but nothing kept her down. We used to joke about her having 9 lives! Despite this, her mind was sharp, never forgetting anything or anyone.
At age 87 Gertie moved to Baycrest Terraces inToronto to be closer to family there, and to get to know her grandchildren better. She insisted she really wasn't interested in making new friends. A month later she was playing Bridge 3 times a week and even teaching the game to beginners, as well sitting on committees.
Gertie had a thirst for knowledge. She was interested in everything and everyone around her, making new friends wherever she went. In her 80's she embraced technology and spent hours every day at her computer either emailing friends and family, on Facebook or reading the Free Press. In the last few years Alexa became her best friend as she listened to Jets and Bomber games, and CJOB.
Gertie was always happy for other people's success, and genuinely empathized with their disappointments. The eternal optimist, she always said "When one door closes, another one opens".
We can only strive to be the kind of inspiring and dedicated person Gertie was, and hope to live a long life with a sharp mind and loving heart, and the same positive attitude which she has shown to us all.
What more can we ask for…a long life, respect, and to be loved by all!
Donations in Gertie's memory may be made to the Gertie and Harry (Hash) Schwartz Fund at the Jewish Foundation of Winnipeg, or the Heart and Stroke Foundation.