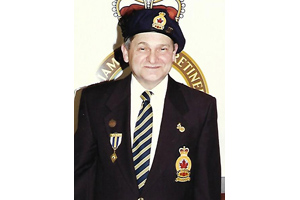 It is with heavy hearts that we announce the 1st yahrzeit of our dearest father Morris, who passed away peacefully at the Grace Hospital on February 3rd, 2021 at the age of 92.
Morris was pre-deceased by his mother Chaya, father Yaakov, and beloved brothers Henry, Yosef, David, Aaron, and sister Rugia.
Morris is mourned by his devoted wife Mildred, their three loving children, Gerry (Michele), Elaine (Todd), and Renee, and their loving grandchildren Ashley (Yisroel), Stephanie (Michael), Orie and Sharee, all from Winnipeg.
A private graveside service was held at the Hebrew Sick Cemetery on February 5th, 2021.
Morris was born in Radom, Poland to his loving family. He was a survivor of the Auschwitz Concentration Camp during the Holocaust. Upon liberation, he immigrated to Israel where he later enlisted in the Palmach Battalion, assisting in the liberation and creation of the land of Israel.
In 1953, Morris moved to Canada, landing in Montreal before making his way to Winnipeg. There he met Mildred, who would later become his wife of 65 years. Morris would settle and create a home for his family, working hard running his grocery store business. While in Winnipeg, Morris never forgot his past where he dedicated his life to serving the General Monash Branch of the Royal Canadian Legion for Jewish War Veterans and retelling his story of survival to many audiences, including schools, universities, and conferences. One of his most cherished accomplishments was revisiting his experience as a survivor, attending both the United States Holocaust Memorial Museum and March of the Living accompanied by thousands of other Jewish youths.
With all his accomplishments and overcoming of tragedy and hardship, Morris Faintuch managed to create a beautiful flourishing family that will forever cherish his memory and remember him for the hero that he was: A survivor, a Jewish Veteran, and an amazing father, Zaida, and Uncle. His humor, love and dedication to his family will always be engrained in our thoughts. His memory will always be a blessing to everyone he touched.