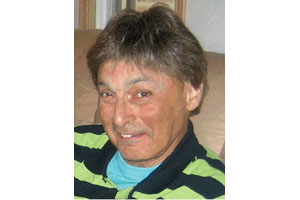 Sam was born on June 19, 1947, and passed away on March 22, 2020.
He was predeceased by his parents, Max and Edith Minuk. He leaves to mourn his loss: brothers, Gary (Cheryl) and Yosel (Lindsay), sister Maureen Pollock, special friend Darlene Francis, and many nephews and nieces.
Sam grew up in Winnipeg's North End where he attended Luxton and St. John's High School. He received his BA (Hon) at the University of Winnipeg and Masters Degree in History from the University of Waterloo.
Immortalizing the essence of a relative in an obituary is a task that hurts the heart and fatigues the mind. On the one hand, one wants to memorialize our loved one, but at the same time, we know that often the words we put to paper feel inadequate and cannot do justice to feelings of loss and sorrow.
No one could have written a better obituary than Sam himself. It would have been full of cartoons ad doodles, but it would have been eloquent and articulate. He had a way with pen and paper, a turn of phrase, and capturing the essence of a story. His birthday cards, silver screen synopsis and book, Minuk's History of Canada, are just some of the many examples of his many talents.
Simplicity was the core of his personality. He was genuine, kind an humble. He went about life without ulterior motivation, and without expectation.
Beyond his love of family, there are at least three absolutes about Sam that anyone close to him could assert without reservation: he adored animals, the silver screen and teaching. His love for the three was endless. He showed compassion and kindness towards animals that was unmatched.
When Sam spoke about the Silver Screen during his lectures at the University of Winnipeg, Rady Centre or on occasions at the Centennial Concert Hall, his passion and excitement were palpable. He had an unmatched way with both the written and spoken word.
Sam first taught in England, subsequently at Winnipeg's Peretz School and in later years served as a school principal in rural Manitoba. He was a master teacher who left an indelible mark on those fortunate enough to be in his class. His many students will always remember the cartoons he drew on their assignments and tests.
Sam was extremely well read, a lifelong learner and had an encyclopedic knowledge of trivia. If he was on your team for Trivial pursuit you were assured a win.
In one of life's worst ironies, a man so well read and eloquent was stricken with Semantic Dementia, a disease that robs you of your ability to read and understand words.
Due to concerns with the Coronavirus, a graveside service was held at the Shaarey Zedek Cemetery with Rabbi Altein officiating. Pallbearers were Mark Chisick, Glen Keddy, Myron Love, Gary Micfliker, Richard Pollock and Yale Shaffer.
Special thanks to Noel Pascua and Trudy for their care and devotion during his difficult years at the Simkin Centre.
In honour of Sam's memory, donations may be made to Winnipeg Humane Society or the charity of your choice.
We lost one of a kind.