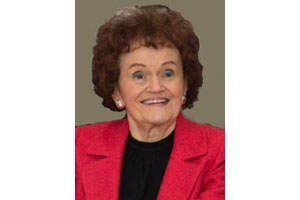 With heavy hearts we announce that Molly Lachter, our dear sweet mom, grandmother and mother-in-law, passed away peacefully December 12, 2019, with family by her side.
Molly will be sadly missed by her daughters, Marilyn, Carol and Lori, son-in-law Marty, and grandchildren, Mark (Julianna), Michael, and Ryan (Rena). She also leaves to mourn her sisters, Yetta, Clara; brother and sister-in-law, Harry and Annette; brother-in-law Jack, and numerous nieces and nephews. She is predeceased by her parents, Tybel and Beryl; husband Norman; son-in-laws, Murray and Darryl; sister Evie, and brother Norman.
Mom was born May 21, 1923, the eldest of six children, to Tybel and Beryl Minuk and was raised in a loving close-knit family. After graduating from St. John's High School, Mom attended a bookkeeping program and then implemented her skills at Western Glove.
Mom and Dad met at a wedding and it was love at first sight. They married in 1948 and thereafter, welcomed three daughters, Marilyn, Carol and Lori. While we were young, Mom stayed home with us. We all remember Mom helping with homework, cooking great meals, sewing costumes for our various activities and always there to support us. Mom was a best friend to each of us, whether it was to comfort or celebrate, and it remained that way throughout our lives.
As youngsters, we saw Mom's compassion for animals blossom. From the beginning, she babied and helped care for Marilyn's pup and later enjoyed Carol's dogs too. While out walking, Mom stopped to pat every dog along the way.
Later, when Dad had his own electric sign business (Allied Signs), Mom joined him in the office. Even the accountants marvelled at how meticulously she kept the books. In spite of their busy schedules, we experienced wonderful family trips, such as to Detroit Lakes, the Seattle World Fair, B.C. and California. Mom also loved travelling with Dad to Florida, Hawaii and New York. After Dad's passing, Mom had a memorable trip to Alaska with some of her siblings. She also had a blast with Lori on a 10 day road trip in a sportscar to Minneapolis.
Mom was very social and enjoyed participating in the B'nai B'rith, Gwen Secter, and later the Luther Home day programs. She also stayed a member of the Chevra Mishnayes Synagogue. Yiddishkeit was important to Mom and she imparted her love of it to her family.
Mom and Dad had a wonderful, loving relationship. After Dad's stroke, Mom literally stayed by his side. At the bowling alley, she would hand him the ball so he could continue his love of the game.  While watching the Miss America Pageant, Dad proclaimed Mom was the most beautiful of all.
Following Dad's passing, Mom enjoyed countless times at the Golub household, which for many years became the hub for family holiday dinners and special celebrations. While she was able, Mom loved bringing over special dishes she had carefully prepared. She was always the centre of attention.
For the next 20 years Mom continued going on trips to Clear Lake with Marilyn's family. She enjoyed a special loving connection with Murray and they would spend countless hours schmoozing and laughing together. Mom and Marilyn also cherished their times together. Mom was very fit for her age and would trek over the hilly golf courses, scorecard in hand, keeping everyone honest. She delighted in every experience, from volunteering at the annual triathalons and cheering Michael and Mark on, to stargazing through Mark's telescope and viewing the Auroras.
Lori took pleasure in regularly taking Mom out for dinner. They treasured their times spent together. Marty would also often join them. It was a tradition for Lori to include Mom on New Year's Eve. They celebrated many years at the Velvet Glove, (with private viewing of fireworks) and later for many years at Hy's Steakhouse, arriving back at Mom's at 1:30 a.m.!
Mom and Marty enjoyed a close loving relationship. He fondly recalls the motorcycle ride on the back of his Harley was quite the thrill for her.
For approximately 18 years, Mom loved spending time with Lori and Marty's many horses, patting them and giving them treats. She enthusiastically travelled with Lori and Marty to many horse shows and took pride in seeing the horses successfully compete. It was also a thrill for Mom to see their newborn foals, at one day old. Up until the very end talking about the horses would put a smile on her face.
After Dad's passing, Mom's strength was an inspiration to Carol. She affectionately remembers Mom beaming so proudly, walking down the aisle at Ryan and Rena's wedding. Carol also holds dear the wonderful visits and so many lengthy phone chats she enjoyed with Mom.
Mom's grandsons brought her so much joy. Her love and involvement in their lives was priceless, from simply playing with them to beaming with pride at all their birthday celebrations, concerts, Bar Mitzvahs and graduations. Mom also enjoyed hearing about their many diverse experiences. Mark, Michael and Ryan have so many loving memories of their Baba. Oh, how she will be missed!
Funeral services were held at the Etz Chayim Synagogue on December 16, 2019, with interment at the Shaarey Zedek and shivas at Marilyn's home. A special thank you to Rabbai Kliel Rose for officiating, to Irv Vinsky for leading the shiva services and to the pallbearers, grandsons, Mark, Michael, and Ryan and nephews, Doug, Keith and Jeff.
We would like to express our sincere gratitude to Mom's caregivers, Violeta, Noemi, Paz, Thelma, Jamie, Linda H., Sanu and Linda E. for their loving care. With their dedicated support, Mom was able to remain in her own home. To our family and friends, thank you for your thoughtfulness. Your generous donations, cards, flowers, meals and food items were greatly appreciated.
Donations in Molly's memory may be made to the Chevra Mishnayes Synagogue, the Winnipeg Humane Society or to a charity of your choice.