100 years after deadly Triangle Shirtwaist Factory fire, its Jewish and Italian workers get a memorial
(New York Jewish Week) – As Allison and Rebecca Kestenbaum stood in front of a building in Greenwich Village on Wednesday, they were thinking about another set of sisters: their relatives Celia and Bess Eisenberg, who, as teenagers, worked at the Triangle Shirtwaist Factory.
Bess called in sick on the day that a horrific fire tore through the garment factory. Celia died, along with 145 others.
The tragedy transformed U.S. labor law and the building that housed the factory, now a New York University science building, was designated a National Historic Landmark in 2003. But until this week, there had never been a permanent memorial paying tribute to the fire's victims.
One was unveiled Wednesday at the site of the factory on the corner of Washington Place and Green Street near Washington Square Park. The memorial was conceived by the Remember the Triangle Fire Coalition, a nonprofit group of descendants and labor advocates dedicated to preserving the memory of the mostly Jewish and Italian immigrant women who died that day and the fire's impact on the organized labor movement. 
"It's remarkable to see people showing up who maybe didn't have a connection but who feel moved by it," said Allison Kestenbaum, who brought her two children to the unveiling from their home in San Diego. "This triggers emotions for a lot of people and opens our eyes to something that so many didn't know anything about." 
According to the story that's been passed down through in the Kestenbaum family, Celia, just 17, went to work alone on March 25, 1911, a warm Saturday. 
Near the end of the workday, a cigarette butt ignited fabric scraps inside the factory, on the ninth floor of the Asch Building. As the flames began to spread, the women who worked there found that they had been locked in from the outside by management, who wanted to prevent the workers, who made roughly $7 a week, from stealing inventory as well as keep out union organizers. The fire was one of the deadliest industrial disasters in New York City history.
The memorial, in the making for more than a decade, includes a massive stainless steel ribbon that floats horizontally along the edge of the building — the names and ages of the victims are cut out of the ribbon. A stone panel underneath the ribbon reflects the names back to the viewers and also bears quotes from witness and survivor testimonies. On Wednesday, the reflective stone panel was also adorned with 146 white roses in honor of the victims.
"It's getting some really beautiful reactions," Uri Wegman, who, along with Richard Joon Yoo, was one of the two architects of the memorial, told the New York Jewish Week. "You never know how people are going to respond and I feel like we are accomplishing exactly what we designed the memorial to do, to transport and reorient people" to the events of the tragedy, the Israeli-born architect said.
Over the next few months, a vertical steel column will be installed to showcase the height from which workers jumped in a futile attempt to escape the flames.
The Remember the Triangle Fire Coalition organizes an annual event on the anniversary of the fire, in partnership with Workers United, the New York City Central Labor Council, the FDNY and New York University.
"I've waited a really long time to say three words to you — three powerful words, and three extraordinarily sweet words: We did it," said Mary Anne Trasciatti, the president of the coalition, at Wednesday's unveiling ceremony. "By honoring the Triangle workers with this memorial, we are making a statement about the dignity and humanity of every worker, past and present. We are showing our support for baristas, auto workers, nurses, teachers, farm workers, warehouse workers, coal miners."
Unions from around the city and beyond — including the International Ladies Garment Workers, the Steamfitters Union, the Laborer's International Union, Actor's Equity, United Automobile Workers and the SAG-AFTRA Union — sent representatives to the unveiling ceremony.
At the ceremony, labor organizers reminded the crowd about how the fire jumpstarted labor reforms and workers' rights efforts, including activism and legislation that led to safety protocols, workers' compensation, a 40-hour work week, minimum wage and pensions. They also used the opportunity to speak about workers' rights today, pledging continuing support for the Hollywood actors' and United Auto Workers strikes. 
The Triangle fire — with its large number of Jewish, Eastern European immigrant victims — also "galvanized the Jewish community, which had an already active labor base," Ann Toback, the chief executive officer of the Worker's Circle, told the New York Jewish Week. 
Founded in 1900 as a fraternal organization to help Eastern European immigrants adjust to American society and workplaces, the Workers Circle was a central base for Jewish labor activists. In 1909, it helped organize an 11 week long general strike consisting of 20,000 young Jewish women in the shirtwaist industry. One of the only holdouts of the strike was the Triangle company.
After the tragedy in 1911, Jewish union organizers Clara Lemlich and Rose Schneiderman marched from the site of the tragedy to Cooper Square to demand new changes and more organizing.
"It did spark a new outcry of activism and The Workers Circle at that time was very much a center of labor activism," Toback said. Jewish labor activists and Workers Circle members were also at the forefront of expanding the membership and organizing power of the International Ladies' Garment Workers Union, which became one of the country's largest labor unions after the fire. The Workers Circle was a sponsor of the victims' memorial at the site of the factory.
In remarks, New York Gov. Kathy Hochul shared that her grandfather, uncles and father worked in coke ovens at the Bethlehem Steel plant, itself the site of multiple fatal industrial accidents.
"I am so proud to be part of this effort to honor the names of those who were lost in that horrific inferno," Hochul said. She called New York "the birthplace of the workers' rights movement" because of "what happened right on this block." New York State allocated $1.5 million in state funds to build the memorial.
Hochul, who has been trying to maintain support for immigrants as the city struggles with the recent influx of nearly 125,000 migrants, connected the fire to the present day.  
"Our workers deserve to be protected and we will fight to make sure they have those rights," Hochul said. "This state is so great because of the immigrants, the migrants who came here. ​​Let them work. We need them."
Julie Su, the Acting U.S. Secretary of Labor, also addressed the crowd. "We can imagine the black plume of smoke up in the air, the flames that spread from floor to floor, the panic of the workers who ran and found closed exits and broken fire escapes," she said. "Their cries for help and then the thud of bodies as they began to jump one after another."
Allison Kestenbaum said she has always felt a strong connection to her relative and other victims of the fire. "I went to NYU. If I had been there two generations earlier, an immigrant, I wouldn't have had the opportunity to go to college — I would have been a seamstress in a sweatshop," she said. 
"It also relates to what's going on in our present and our future," she added. "The story and everything that came after is known throughout our country and in so many parts of the world for the tragedy and for all the changes that it inspired and continues to inspire. It's very meaningful."
—
The post 100 years after deadly Triangle Shirtwaist Factory fire, its Jewish and Italian workers get a memorial appeared first on Jewish Telegraphic Agency.
Israeli and Jewish activists take campaign for greater concern about Oct. 7 sex crimes to UN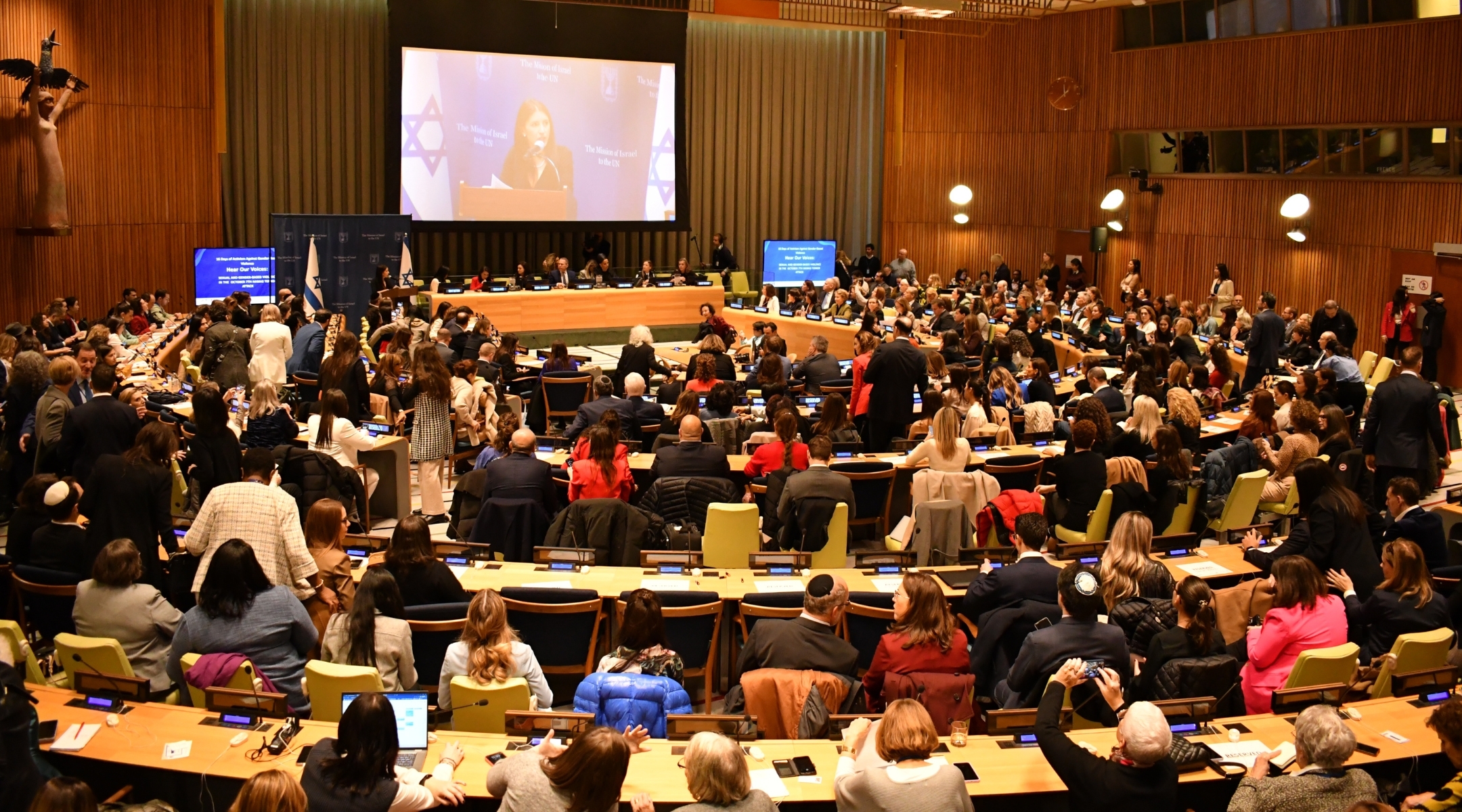 (JTA) — Less than a week after the United Nations secretary general urged an investigation into reported sexual violence by Hamas, the Israeli U.N. mission held a conference on the allegations and pressed the international community to speak out more forcefully against them.
"We have come so far in believing survivors of sexual assault in so many situations. That's why the silence on these war crimes is dangerous," said former Meta COO Sheryl Sandberg, the event's keynote speaker. "The world has to decide who to believe. Do we believe the Hamas spokesperson who said that rape is forbidden, therefore it couldn't have possibly happened on October 7th? Or do we believe the women whose bodies tell us how they spent the last few minutes of their lives?"
A CNN op-ed by Sandberg, and an accompanying Instagram post, have been at the center of a growing protest by Israeli and Jewish women who charge that the U.N. and other international bodies have dismissed or downplayed reports of sexual violence during Hamas' Oct. 7 attack on Israel. The protest has spread via the hashtag #Me_Too_UNless_UR_a_Jew and found its real-life expression in Monday's event, which drew 700 people to U.N. headquarters on Manhattan's East Side.
Israeli U.N. Ambassador Gilad Erdan took aim in particular at U.N. Women — the organization's arm for promoting gender equality and women's empowerment — which caught flak for posting and then deleting a statement condemning the Hamas attack.
"Sadly, the very international bodies that are supposedly the defenders of all women show that when it comes to Israelis, indifference is acceptable," Erdan said in his opening remarks.
"U.N. Women ignored all of the proof and were blind to all the evidence, including video footage of testimonies of sexual crimes," he said. "Instead of immediately supporting the victims, U.N. Women brazenly suggested that Hamas' gender-based violence be investigated by a blatantly antisemitic U.N. body."
The condemnation of the U.N. is the latest in a long line of complaints Israel has had about the body both before and during its ongoing war with Hamas. In late October, Erdan called on Secretary-General Antonio Guterres to resign after he said the Oct. 7 attack "did not happen in a vacuum."
The United Nations General Assembly has yet to condemn Hamas and has called for a cessation of the conflict, which restarted last week after a seven-day pause in which Hamas released more than 100 hostages and Israel released hundreds of Palestinian security prisoners..
Last week, Guterres called for an investigation into sexual violence by Hamas. But speakers at Monday's event pushed for more from world leaders. Sandberg called for "the entire U.N. to formally condemn, investigate, hold the terrorists accountable." Erdan, to loud applause, called for an "investigation of U.N. Women's indifference to the heinous crimes against Israeli women"
In the nearly two months since the Hamas attack in Israel on Oct. 7, Israeli law enforcement, search and rescue groups, and the country's recently formed Civil Commission on October 7 Crimes by Hamas against Women and Children have collected evidence and testimony regarding Hamas' sexual violence on Oct. 7. Over the weekend, The Sunday Times reported testimony from survivors of the Nova music festival recalling women being gang raped and beheaded.
Sheila Katz, the CEO of the National Council of Jewish Women, which organized the event along with other women's rights groups, drew a parallel between last week's Torah portion, which includes the Biblical story of the rape of Dinah, and the experiences of the victims of Oct. 7. Katz noted that Dinah's voice is notably missing from the Biblical narrative.
"For generations, survivors of sexual assaults have looked to Dina's story because it speaks so powerfully to the secondary trauma of being unheard, ignored and reduced to mere objects for debate," said Katz, who invited people to step out of the room if they felt the need, given the graphic nature of the event. "And we heard this with new significance this year, because Israeli women and girls were recently tortured, raped, and killed, forever silenced by Hamas."
Several actors attended the event, including Tovah Feldshuh, Julianna Margulies, Emmy Rossum and Debra Messing, all of whom have spoken out against antisemitism or Hamas' attack. (Margulies was also fresh off an apology after making disparaging comments about Black Americans who have not supported Jews after Oct. 7.)
The event also featured people who tended to victims of the event, including representatives from ZAKA, the Orthodox Israeli first-responder organization, and the Israeli police, who have been collecting and documenting evidence from victims of sexual violence and people who witnessed the violence. They recounted graphic stories, to which the crowd responded vocally with murmurs, gasps and tears. Some in the audience exchanged tissues, hugs and pats on the back for extra support.
Sen. Kirsten Gillibrand of New York, a Democrat, also came and discussed seeing a compilation of footage of the attack that a group of senators recently viewed.
"I've seen much of the raw footage. It takes your breath away," she said. "You can't unsee it."
Speaking to the Jewish Telegraphic Agency after the event, Sandberg said silence surrounding sexual violence is connected to a dearth of female representation on the world stage.
"You look in that hall at those flags — those are countries run by men, very few are run by women. I really wanted that to change in my lifetime. It's not going to happen, not going to be close," she said. "But that means the progress we fought for to get women's women's rights and protection of our bodies, protection of who we are, protection against systematic, sexualized violence — can't be lost. And that is why anyone can speak out. And when they speak out, we have to all unite together as quickly as possible."
—
The post Israeli and Jewish activists take campaign for greater concern about Oct. 7 sex crimes to UN appeared first on Jewish Telegraphic Agency.
Canada's Rally for the Jewish People brought thousands to Ottawa calling for the return of the hostages in Gaza—while delivering a loud rebuke to the recent waves of antisemitism
Despite bus driver boycott, thousands attend pro-Israel rally in Ottawa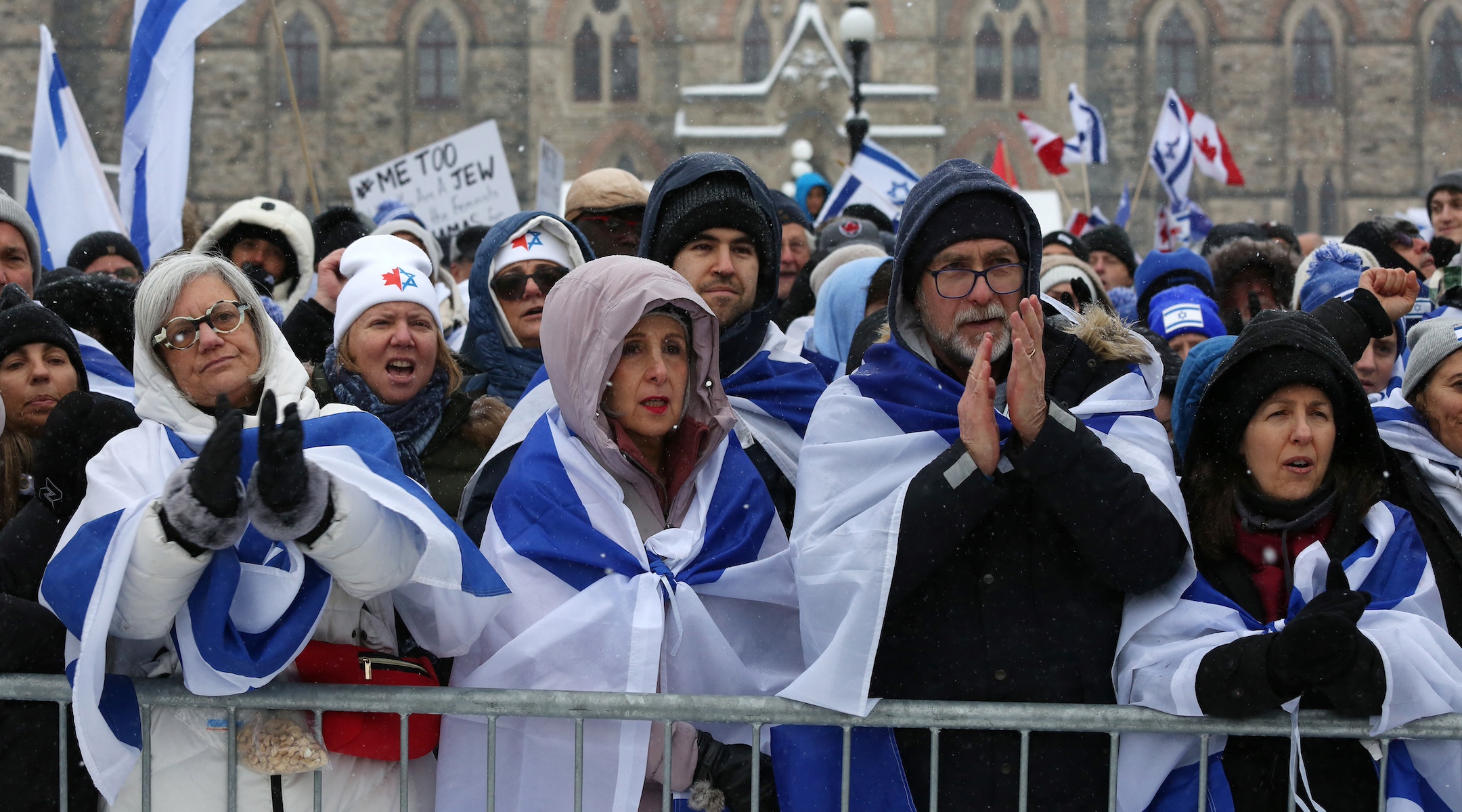 MONTREAL (JTA) — Despite a foot of snow in Montreal and chartered buses that never showed up in Toronto, thousands of Canadian Jews assembled on Parliament Hill in Ottawa on Monday to voice solidarity with Israel and decry a rise in antisemitism.
Despite concerns over overall security in Canada's capital city, which was tight, the rally's speakers included several prominent Canadian politicians, Jewish leaders, college students who feel unsafe on campus and family members of Israelis taken hostage or killed by Hamas on Oct. 7.
Local Jewish leaders called the event, organized by Jewish federations across Canada and the Centre for Israel and Jewish Affairs, a historic gathering. But just weeks after a similar incident in Detroit before a massive pro-Israel rally in Washington, 17 of 70 chartered buses did not show up to pick up rally-goers in Toronto.
Organizers called the no-show bus company antisemitic.
"Despite charging in full in advance and confirming its participation, the [unidentified] company did not send a single bus and has declined all communications while refusing to provide any explanations," said Adam Minsky, president and CEO of United Jewish Appeal Federations in Toronto.
"We are driven to the view that this shameful decision is intended to disrupt our peaceful rally out of hatred toward Jews," he added. "What happened today is sickening and outrageous. We will respond aggressively with every legal and public affairs tool at our disposal."
Israel's ambassador to Canada Iddo Moed, Liberal Party member of parliament Anthony Housefather and deputy Conservative Party leader Melissa Lantsman all spoke on Monday.
"This is not 1943. I'm grateful that Israel exists and has an army to fight back against those who launched this pogrom," said Housefather, who is Jewish and represents Montreal's heavily Jewish Mount Royal district.
Raquel Look, whose son Alexandre was murdered at the music festival in southern Israel attacked by Hamas on Oct. 7, called on Canadian politicians to take more action against antisemitism. Hate crimes against Jews — including multiple incidents that have involved Molotov cocktails thrown at Montreal-area synagogues — have spiked across Canada.
"Our sorrow is deep and immeasurable but today we want to channel this immense pain into a call for action," Look said. "Please let us honour his memory by standing up against the forces that seek to destroy Jewish and Canadians values we hold so dear."
—
The post Despite bus driver boycott, thousands attend pro-Israel rally in Ottawa appeared first on Jewish Telegraphic Agency.