290,000 people show up for historic pro-Israel rally in DC, organizers claim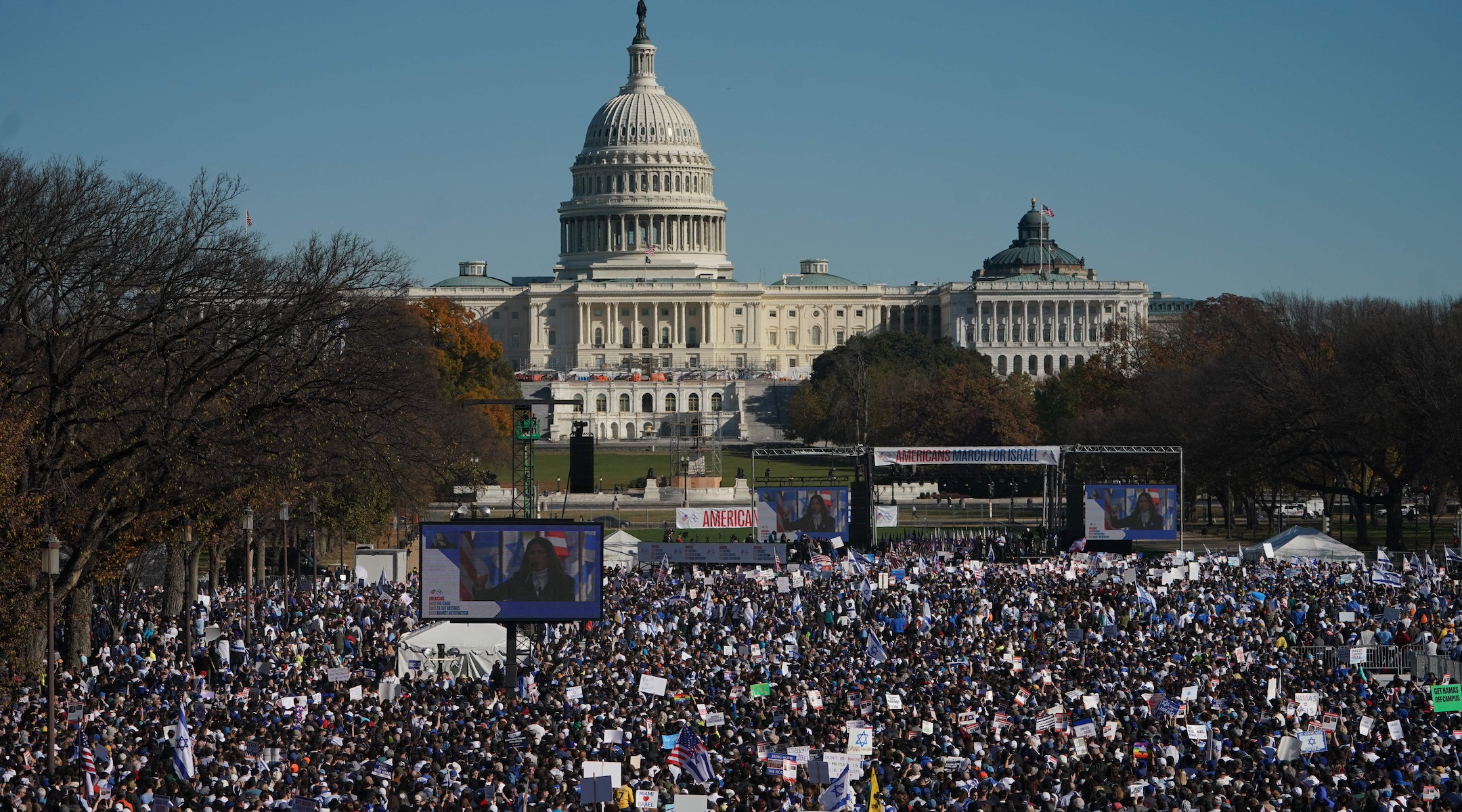 WASHINGTON (JTA) — Organizers of a pro-Israel rally at the National Mall in Washington on Tuesday claimed that 290,000 people showed up for the event, making it one of the largest gatherings of Jews in U.S. history at a time when an ongoing war in Gaza has sharply divided public opinion around the world.
An additional 250,000 people watched the event through a live stream, organizers added. Other Jewish marches that gathered over 100,000 people include one in 1987 in support of Soviet Jews and one in 2002 in support of Israel during the second intifada.
In more than three hours of speeches on Tuesday, a range of politicians, actors, musicians, activists and U.S. college students presented a strong front in support of Israel and spoke about the rise of antisemitism around the world since Hamas' attacks on Oct. 7 and Israel's subsequent war in Gaza. Many speakers also demanded the safe release of the more than 200 hostages still being held by Hamas in Gaza.
In a video from Jerusalem, Israeli President Isaac Herzog said "we will heal, we will rise again and we will rebuild."
The message from the main organizers, the Jewish Federations of North America and Conference of Presidents of Major American Jewish Organizations, was unity. It was a rare moment that brought together leaders of both political parties passionately pushing a similar message.
"We stand here in a city often divided by partisan lines, but not when it comes to Israel," said Harriet Schleifer, the chairwoman of the Presidents' Conference. "Democrats and Republicans stand together — supporting the Israeli people as they seek peace, justice and the safe return of hostages."
Schleifer also praised President Joe Biden, who has asked Congress to send more than $14 billion in emergency assistance to Israel. "President Joe Biden has been the steadiest ally and champion of our shared values," she said. "We are grateful for his leadership."
The message thrilled the audience, but subtle differences in messaging also emerged from the prominent Democrats and Republicans who spoke, and also between the Biden administration and Israel.
Mike Johnson, the newly installed Republican speaker of the House, said the United States would reject widespread calls for a ceasefire. "The calls for a ceasefire are outrageous," he said to loud cheers.
Sen. Majority Leader Chuck Schumer and House Minority Leader Hakeem Jeffries, both New York Democrats, did not mention a ceasefire. The Biden administration opposes a ceasefire and backs Israel's ultimate goal of dismantling Hamas but differs with Israel on the degree to which there should be pauses in fighting to bring humanitarian assistance into Gaza.
Biden is under intense pressure from a number of congressional progressives as well as some staffers in the State Department and elsewhere to force Israel to declare a ceasefire.
Sen. Jacky Rosen, a Jewish Democrat, and Sen. Joni Ernst, a Republican, also spoke. It was not clear why Kentucky Sen. Mitch McConnell, the minority leader, was unable to attend.
Beyond the politicians, celebrity speakers including Debra Messing, Michael Rapaport and Tova Felshuh called for Jews to wear their identities with pride.
"My name is Tovah Feldshuh," began the Broadway star Feldshuh, repudiating decades of entertainment pressure on Jews to disguise their identities. "My Hebrew name is Tovah Feldshuh. My stage name is Tovah Feldshuh." The audience cheered.
Messing, who has been active in campaigning for Democrats, alluded to the heartbreak many Jews on the left felt after failing to hear robust condemnations of Hamas by progressives after Oct. 7.
"I know you are alone, I know you are afraid, I know you feel abandoned by people you thought were friends," she said. "Looking out today I know we are not alone, because we have each other."
Three relatives of hostages being held in Gaza also spoke.
"We hostage families have lived the last 39 days in slow motion torment," said Rachel Goldberg, mother of hostage Hersh Goldberg-Polin. "We all have third degree burns on our souls."
An array of Jewish organizations across the political spectrum attended the event. The inclusion of some of the more right-wing speakers, including Johnson and Pastor John Hagee — the head of the influential Christians United for Israel group who is an opponent of LGBTQ rights — caused controversy before the rally. "A dangerous bigot like Hagee should not be welcomed anywhere in our community," the liberal pro-Israel lobby J Street tweeted on Tuesday morning.
"There is no middle ground in this conflict — you're either for the Jewish people or you're not," Hagee said in his speech on Tuesday.
But several speakers, including liberal CNN analyst Van Jones, called for the protection of Palestinian lives while emphasizing Israel's right to defend itself, and that joint message was continually given a warm reception by the crowd.
"We must stand together to secure a just and lasting peace between Israel and the Palestinian people," Jeffries said to applause.
Dr. Rochelle Ford, the president of Dillard University in New Orleans, a historically Black university, said it was time to "stand with Israel, and to stand with the Palestinians who suffer under Hamas' cruel rule in Gaza."
The rally started and ended with cries of "Am yisrael chai"— "the people of Israel live."
"Do not cower, allow no one to make you afraid," said Deborah Lipstadt, the Biden administration's antisemitism monitor. "The message is built into the Jewish people's most ancient history — Jews are strongest in their most broken places."
—
The post 290,000 people show up for historic pro-Israel rally in DC, organizers claim appeared first on Jewish Telegraphic Agency.
Protester Sets Self on Fire Outside Israeli Consulate in Atlanta
i24 News – A protester was in critical condition on Friday after setting themself on fire outside the Israeli consulate in Atlanta, Georgia, U.S. authorities said. A security guard who tried to intervene was also wounded.
A Palestinian flag found at the scene was part of the protest, Atlanta Police Chief Darin Schierbaum said at a news conference. He added that investigators did not believe there was any connection to terrorism and none of the consular staff was ever in danger.
JUST IN: A pro-Palestine protester is in critical condition after they set themselves on fire in "political protest" outside of the Israeli Consulate office in Atlanta.
The protester was reportedly draped in a Palestine flag.
The protester has severe burns and unfortunately, a… pic.twitter.com/B8nUQAj2nU
— Collin Rugg (@CollinRugg) December 1, 2023
"We do not see any threat here," he said. "We believe it was an act of extreme political protest that occurred." Everyone inside the consulate building was said to be safe.
Anat Sultan-Dadon, Consul General of Israel to the southeastern U.S., said: "We are saddened to learn of the self-immolation at the entrance to the office building. It is tragic to see the hate and incitement toward Israel expressed in such a horrific way."
"The sanctity of life is our highest value. Our prayers are with the security officer who was injured while trying to prevent this tragic act. We are grateful to the city of Atlanta's law enforcement and first responders for all they do to ensure safety."
The post Protester Sets Self on Fire Outside Israeli Consulate in Atlanta first appeared on Algemeiner.com.
Released Israeli Hostages Call for Captives to Be Freed
Israeli hostages released in the past week by Hamas in Gaza called on Saturday for the immediate release of fellow captives left behind, a day after a temporary truce that had allowed scores to come home broke down.
Tens of thousands gathered at a rally in Tel Aviv outside Israel's defense headquarters, where they cheered Yelena Trupanov, 50, standing on a stage just two days after being freed.
"I came to thank you because without you I wouldn't be here. Now we must bring back my (son) Sasha, and everyone. Now."
Similar pleas from other released hostages were shown on video.
A seven-day truce, during which Hamas had released more than 100 hostages, collapsed on Friday after Hamas breached the ceasefire.
Israel said on Saturday it had recalled a Mossad intelligence agency team from Qatar, host of indirect negotiations with Hamas, accusing the Palestinian faction of reneging on a deal that would have freed all children and women held hostage.
More than 240 people – Israelis and foreign nationals – were abducted to Gaza on Oct 7. by Hamas terrorists who burst through the border with Israel and killed 1,200 people.
The post Released Israeli Hostages Call for Captives to Be Freed first appeared on Algemeiner.com.
IDF Foils Stabbing Attack Near Nablus in West Bank, Eliminates Terrorist
i24 News – The Israel Defense Forces (IDF) reported thwarting a stabbing attack on Saturday afternoon against reserve Battalion 7037 at the X junction near Nablus in the West Bank.
According to the IDF spokesperson, the event unfolded when the forces at the roadblock became suspicious of an individual approaching the barricade.
During the questioning process, the suspect suddenly drew a knife and advanced towards the IDF personnel.
ניסיון פיגוע דקירה אירע לפני זמן קצר לעבר כוח צה"ל במילואים מגדוד 7037 שפעל בחסם בצומת האיקס סמוך לעיר שכם שבמרחב חטיבת שומרון.
הכוח חשד במחבל שהגיע לחסם והחל לתחקר אותו, המחבל שלף סכין והחל להתקדם לעבר הכוח.
הלוחמים חתרו למגע והגיבו בירי לעבר המחבל שחוסל. אין נפגעים לכוחותינו. pic.twitter.com/mEaJs58hpE
— דובר צה״ל דניאל הגרי – Daniel Hagari (@IDFSpokesperson) December 2, 2023
The soldiers, faced with the threat, engaged in contact procedures and ultimately responded by opening fire on the assailant. The spokesperson confirmed that the attacker was neutralized due to the IDF's action.
It was also noted that there were no casualties among the IDF forces involved in the incident. According to the spokesperson, the situation at the X junction has stabilized, and IDF continues to maintain vigilance in the area to prevent further attacks.
The post IDF Foils Stabbing Attack Near Nablus in West Bank, Eliminates Terrorist first appeared on Algemeiner.com.