30 days after Oct. 7, a Jewish world wracked by grief is marking a traditional milestone of mourning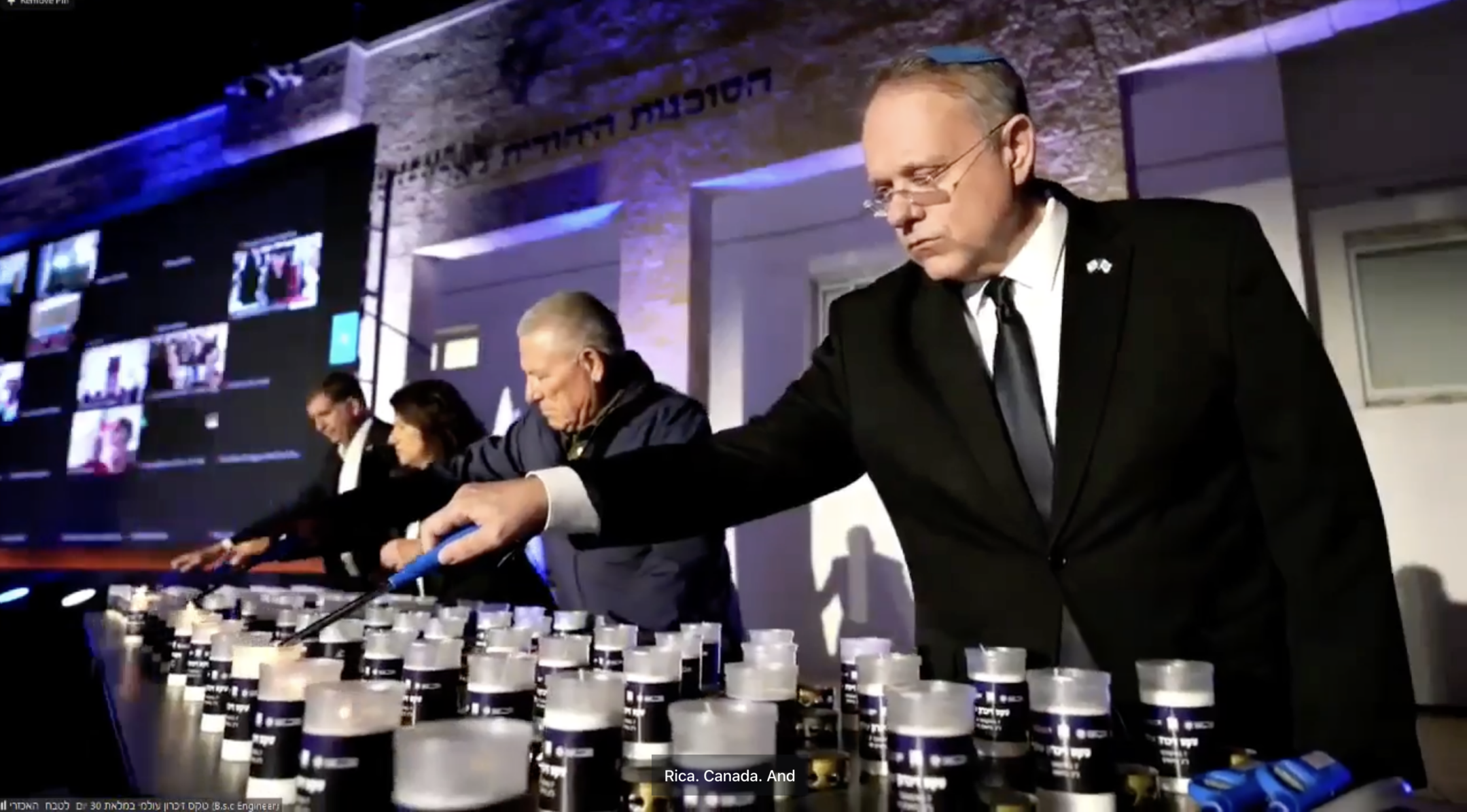 (JTA) — A wide array of events and experiences are planned to mark the 30-day threshold since the Oct. 7 massacre that killed 1,400 Israelis — even though many of their loved ones have yet to reach that point in the Jewish grieving process.
The 30-day mark after death is a meaningful moment in the Jewish calendar of grief. It is when a secondary period of ritual mourning – following shiva, which lasts for seven days beginning with burial — is lifted for anyone who has lost a spouse, sibling or child. (People who have lost a parent mourn for a whole year.)
During the period, known as shloshim, mourners are prohibited from some activities, such as cutting their hair, listening to music, and attending religious celebrations and social events, but they are permitted to resume many personal and professional activities. The idea, according to the tradition, is to help mourners ease back into their communities.
"Judaism acknowledges that grief isn't linear, and shloshim is really part of that framework," said Sarit Wishnevski, head of Kavod v'Nichum, a nonprofit that supports progressive and pluralistic Jewish burial societies in North America. "Tradition gives us a roadmap about how to proceed at a time when there is no clear path forward."
Kavod v'Nichum is holding a 30-minute Zoom vigil on Sunday evening aimed at letting community members share their grief and pain and drawing on each other as they prepare to enter the next phase of the grieving process. The group's shloshim gathering joins others held by groups ranging from major Israeli organizations, which streamed a ceremony from Jerusalem on Sunday, to local Jewish federations to individual synagogues and communities around the world.
The gatherings are complicated by the fact that the communal loss does not line up with the timelines of many of the families of those who died. Burials in many cases did not happen on the swift timeline prescribed by Judaism, because of the dangers and difficulties in retrieving their bodies. The remains of some victims are still being identified. As recently as last week, someone died of injuries sustained on Oct. 7.
Yet even though the 30-day mark is unlikely to be the moment when any mourners are relieved of their proscriptions under Jewish law, it makes sense as a time to mark a communal shift, according to Rabbi Menachem Creditor, the rabbi in residence at UJA-Federation of New York, which like other Jewish federations around the country is planning a vigil to mark shloshim.
"This is uncharted territory. Not since the Shoah have we had to deal with this massive scale of grief," Creditor said. "And we need each other so deeply that coming together even if some of the language doesn't fit every part of our pain is essential and healthy."
UJA-Federation's event in Central Park on Monday night will feature Israeli musicians alongside local Jewish and elected officials. A host of similar events held by Jewish federations and branches of the Israeli consulate across the United States will offer a range of programming, for example a reading of names of those murdered and held hostage in St. Louis and a speech by survivors of the massacre at Kibbutz Kfar Aza in Los Angeles.
Other initiatives are also underway to mark shloshim. The American Zionist Movement is urging Jews to wear blue and white, the colors of the Israeli flag, on Monday. On Monday at the Western Wall, 1,400 candles will be lit in honor of the victims, according to a report in Hamodia, an Orthodox news outlet. The And on social media, people have begun sharing pictures of the memorial candles that they are lighting to mark the moment.
Today marks the Shloshim (30 days) since the barbaric Hamas pogrom. I light this candle in memory of those murdered while also thinking of those still held hostage and those recovering from their injuries #the_light_will_overcome pic.twitter.com/qkhxL23pAg
— Russell Langer (@R_Langer) November 5, 2023
Some Jews have taken on the mourning rituals of the shloshim period despite not being obligated to under Jewish law, in part because at least some of the people killed on Oct. 7 left behind no one to mourn for them.
"My wife Tami and I decided, when we learned how many of the dead from the October 7th attack were complete families and therefore wouldn't have a kaddishel (someone obligated to say kaddish for them), we vowed that we would observe shloshim for them," Rabbi Jeffrey Arnowitz of Westchester Jewish Center said in a blog post about his trip to Israel last week, in which he and other Conservative rabbis from the United States were the first civilian group to visit Kibbutz Be'eri, where more than a quarter of residents were killed or abducted.
"If you've noticed me looking a bit scruffy lately, that's why," Arnowitz wrote. "The truth is I have been grieving like a mourner and the ritual has helped me move through the last four weeks as I get used to a world that looks and feels different than it did on October 6th."
Marking shloshim does not take away from the pain that is deeply felt across the Jewish world right now, said Wishnevski, whose own cousin's husband, Sagui Dekel-Chen, disappeared from his kibbutz on Oct. 7 and is thought to be held hostage in Gaza.
"We need to be able to continue living our lives and being with our families and doing our work and being in the world," she said. "We're not forgetting. We're not leaving anything behind. But we're marking time together."
—
The post 30 days after Oct. 7, a Jewish world wracked by grief is marking a traditional milestone of mourning appeared first on Jewish Telegraphic Agency.
IDF Foils Stabbing Attack Near Nablus in West Bank, Eliminates Terrorist
i24 News – The Israel Defense Forces (IDF) reported thwarting a stabbing attack on Saturday afternoon against reserve Battalion 7037 at the X junction near Nablus in the West Bank.
According to the IDF spokesperson, the event unfolded when the forces at the roadblock became suspicious of an individual approaching the barricade.
During the questioning process, the suspect suddenly drew a knife and advanced towards the IDF personnel.
ניסיון פיגוע דקירה אירע לפני זמן קצר לעבר כוח צה"ל במילואים מגדוד 7037 שפעל בחסם בצומת האיקס סמוך לעיר שכם שבמרחב חטיבת שומרון.
הכוח חשד במחבל שהגיע לחסם והחל לתחקר אותו, המחבל שלף סכין והחל להתקדם לעבר הכוח.
הלוחמים חתרו למגע והגיבו בירי לעבר המחבל שחוסל. אין נפגעים לכוחותינו. pic.twitter.com/mEaJs58hpE
— דובר צה״ל דניאל הגרי – Daniel Hagari (@IDFSpokesperson) December 2, 2023
The soldiers, faced with the threat, engaged in contact procedures and ultimately responded by opening fire on the assailant. The spokesperson confirmed that the attacker was neutralized due to the IDF's action.
It was also noted that there were no casualties among the IDF forces involved in the incident. According to the spokesperson, the situation at the X junction has stabilized, and IDF continues to maintain vigilance in the area to prevent further attacks.
The post IDF Foils Stabbing Attack Near Nablus in West Bank, Eliminates Terrorist first appeared on Algemeiner.com.
France's Macron Says He Is Going to Qatar to Work on New Gaza Truce
French President Emmanuel Macron said on Saturday that France was "very concerned" by the resumption of violence in Gaza and that he was heading to Qatar to help in efforts to kickstart a new truce ahead of a ceasefire.
Macron also told a press conference at the COP28 climate summit in Dubai that the situation required the doubling down on efforts to obtain a lasting ceasefire and the freeing of all hostages.
A temporary truce between Israel and Hamas collapsed on Friday after Hamas broke the ceasefire.
Macron also urged Israel to clarify its goals towards Hamas.
"We are at a moment when Israeli authorities must more precisely define their objectives and their final goal: the total destruction of Hamas, does anyone think it is possible? If this is the case, the war will last 10 years," he said.
"There is no lasting security for Israel in the region if its security is achieved at the cost of Palestinian lives and thus of the resentment of public opinions in the region. Let's be collectively lucid," Macron added
Asked for a response to that remark, Mark Regev, a senior adviser to Israeli Prime Minister Benjamin Netanyahu, told reporters Israel does not want to see Gaza civilians caught in the crossfire as battles resume.
"Israel is targeting Hamas, a brutal terrorist organization that has committed the most horrific violence against innocent civilians. Israel is making a maximum effort to safeguard Gaza's civilians," said Regev.
The post France's Macron Says He Is Going to Qatar to Work on New Gaza Truce first appeared on Algemeiner.com.
Arab-Israeli Lawmaker Calls on Palestinian Terrorists to Lay Down Arms
i24 News – Categorically condemning the October 7 massacre, Arab-Israeli politician Mansour Abbas called on Palestinian terrorist groups to lay down their arms and seek a diplomatic solution to the conflict.
For the first time in the history of the Israeli-Palestinian conflict, the head of an Arab party in Israel calls on all Palestinian factions to lay down their weapons and unite for an unarmed political struggle.
Knesset member Mansour Abbas. https://t.co/hviP4znAF5
— Fania Oz-Salzberger פניה עוז-זלצברגר (@faniaoz) December 1, 2023
"In order to move forward, the Palestinian militant groups need to take down their arms," he told CNN's Wolf Blitzer. The political use of violence by Palestinian terrorists has "always failed" and the "Palestinian people were the ones to pay the price" for these actions, he added.
In 2021, Abbas broke a longstanding taboo when he led his Arab party into Israel's government some two years ago; the shaky coalition, headed by Naftali Bennett and Yair Lapid, ultimately collapsed, making way for the latest government of Benjamin Netanyahu, Israel's longest-serving leader.
"They need to work hand in hand with the Palestinian Authority in order to realize a national movement that would aspire for a Palestinian state with a peaceful resolution alongside with the State of Israel," Abbas said.
Of the Hamas atrocities on October 7, Abbas said "this cannot be discussed and cannot be justified because it goes against all human values and religious values as well."
The post Arab-Israeli Lawmaker Calls on Palestinian Terrorists to Lay Down Arms first appeared on Algemeiner.com.