'A constant series of lies': George Santos, who lied about being Jewish, says he won't run again after House ethics report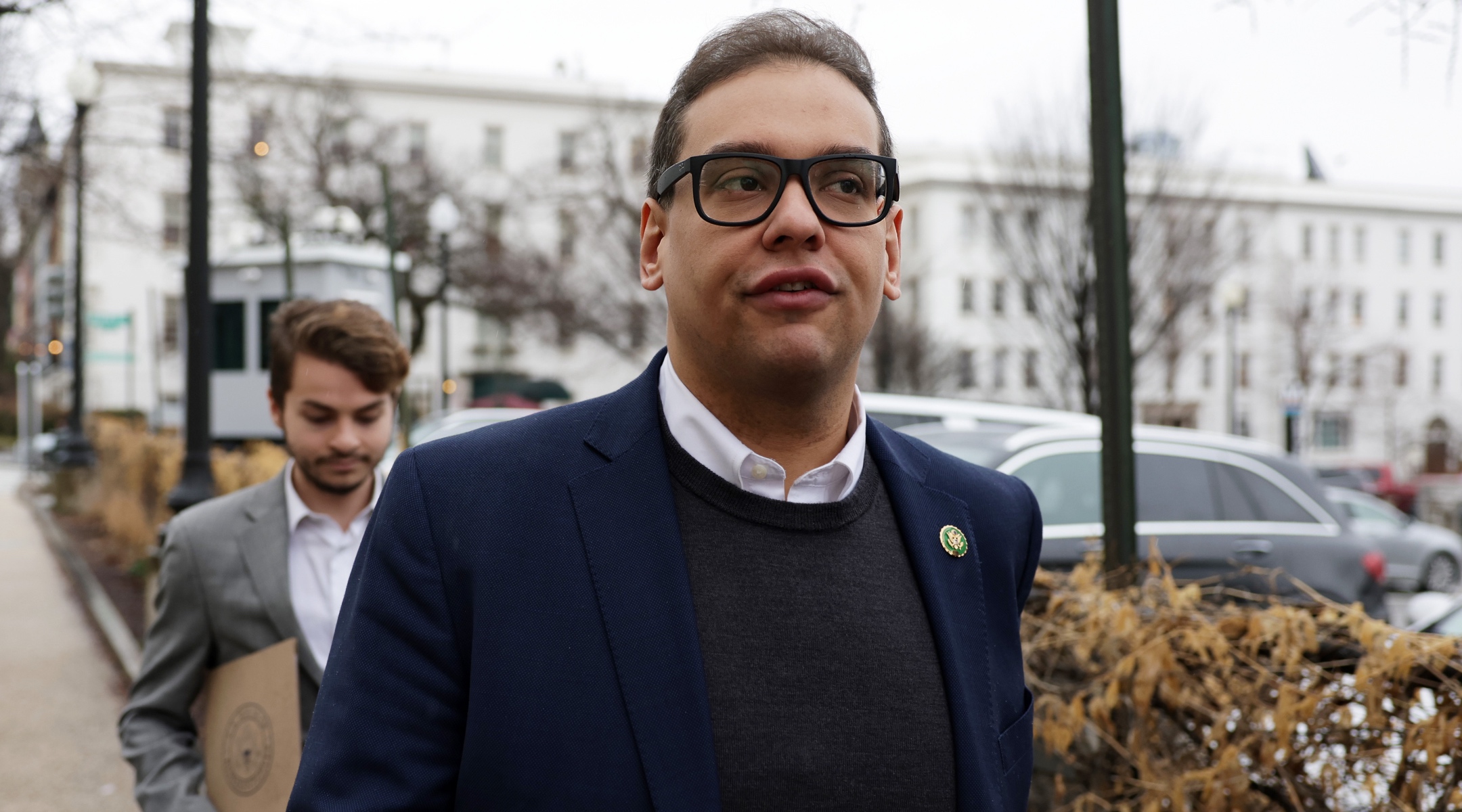 WASHINGTON (JTA) — The Ethics Committee of the U.S. House of Representatives found that Rep. George Santos, the Long Island Republican who lied about being Jewish, had likely committed "substantial violations of federal law."
The committee referred its findings to the Department of Justice, where Santos is already under investigation. In response, Santos said on X, the social media platform formerly known as Twitter, that he would serve out his term but would not run again. Republicans and Democrats alike immediately said they would seek his expulsion before then.
"Representative Santos sought to fraudulently exploit every aspect of his House candidacy for his own personal financial profit," the bipartisan report published Thursday said.
Santos lied about his family history and life story on the campaign trail, and the report touched at times on those fabulist tendencies. But its focus was on the allegations of fraud that he now faces in a federal court.
"Representative Santos has been the subject of significant public reporting about his many alleged fabrications, including allegations that he has lied about his degrees, his religion, his work experience, his family, and numerous other aspects of his biography," it said. "But Representative Santos' lies go far beyond inaccuracies on a resume."
It listed the many fraud allegations Santos faces. "He sustained all of this through a constant series of lies to his constituents, donors, and staff about his background and experience," it said.
Amontg Santos' many lies are that he is the descendants of Jews and Holocaust survivors. When the revelations came fast and furious after his election a year ago, many of his fellow Republicans, including Jewish Republicans, repudiated him and called on him to resign, citing his fabrications about Jewish ancestry among others.
Santos, who has remained defiant, blasted the committee in his statement after the report, but also said for the first time that he would not run again.
"I am humbled yet again and reminded that I am human and I have flaws, but I will not stand by as I am stoned by those who have flaws themselves," he said. "I will continue on my mission to serve my constituents up until I am allowed. I will however NOT be seeking re-election for a second term in 2024 as my family deserves better than to be under the gun from the press all the time."
That may not be soon enough for his colleagues. Reps. Dan Goldman, a New York Democrat who is Jewish, and Michael Guest, the Mississippi Republican who chairs the committee, separately said they would launch efforts to expel Santos.
Santos represents a swing district and a number of Democrats have already lined up to run to replace him.
—
The post 'A constant series of lies': George Santos, who lied about being Jewish, says he won't run again after House ethics report appeared first on Jewish Telegraphic Agency.
Israel, Hamas Appear to Abide by Truce, Discuss Further Extensions
Israeli forces and Hamas terrorists appeared to be abiding by a truce for a fifth morning on Tuesday, after a four-day ceasefire was extended at the last minute for at least two days to let more hostages go free.
A single column of black smoke could be seen rising above the northern Gaza war zone from across the fence in Israel, but there was no sign of jets in the sky or rumble of explosions.
Both sides reported some Israeli tank fire in the Sheikh Radwan district of Gaza City in the morning, but there were immediate reports of casualties. A spokesperson for the Israeli Defense Forces said: "After suspects approached IDF troops, an IDF tank fired a warning shot."
During the truce, Hamas terrorists released 50 Israeli women and children as young as toddlers from among the 240 hostages they captured in southern Israel during a deadly rampage on Oct. 7. In return, Israel released 150 security detainees from its jails, all women and teenagers.
Hamas also separately released 19 foreign hostages, mainly Thai farmworkers, under separate deals parallel to the truce agreement.
Israel has said the truce could extend indefinitely as long as Hamas continues to release at least 10 hostages per day. But with fewer women and children left in captivity, keeping the guns quiet beyond Wednesday could require negotiating to free at least some Israeli men for the first time.
"We hope the Occupation (Israel) abides (by the agreement) in the next two days because we are seeking a new agreement, besides women and children, whereby other categories that we have that we can swap," Hamas official Khalil Al-Hayya told Al Jazeera late on Monday.
That, he said, would entail "going towards an additional time period to continue swapping people at this stage."
Israeli security cabinet minister Gideon Saar told Army Radio that the two-day extension had been agreed under the terms of the original offer, and Israel remained willing to extend the truce further if more hostages were released. Israelis would know when the truce was over because the fighting would begin again.
"Immediately upon the completion of the hostage-recovery framework, the warfighting will be renewed," he said. "We have every intention of implementing the goals of the war as it applies to toppling Hamas in Gaza."
The truce so far has brought the first respite to the Gaza Strip in seven weeks, during which Israel bombed swathes of the territory, especially the north, including Gaza City.
More aid was able to reach the territory, which had been under an Israeli siege.
Israel has sworn to annihilate Hamas, the Palestinian terrorist group that rules Gaza, after its gunmen burst across the fence and went on a spree, killing around 1,200 people and seizing 240 captives.
Since then, Hamas-controlled health authorities in Gaza say thousands of Palestinians have been killed during Israel's military campaign of air strikes and ground operations. Experts have cast doubt on the reliability of casualty numbers coming out of Gaza.
As Israel released the final 33 detainees under the original agreement on Monday night from its Ofer prison in the West Bank, its forces clashed with some of the dozens of Palestinians waiting outside.
Some of the protesters waved the flags of Hamas and Islamic Jihad, another Palestinian terrorist group that seized hostages on Oct. 7. The Palestinian health ministry said one Palestinian was killed in the area. Israel had no immediate comment on the incident.
Israel added an additional 50 Palestinian women to its list of 300 detainees cleared for release under the truce, seen as a sign it was prepared to negotiate for more hostages to go free under further extensions.
Any release of male Israeli civilians would be expected to begin with fathers and husbands captured along with the children and women freed in recent days, like Ofer Calderon, whose daughters Sahar and Erez were freed on Monday.
"It is difficult to go from a state of endless anxiety about their fate to a state of relief and joy," said Ido Dan, a relative, about the release of the two girls.
"This is an exciting and heart-filling moment but … it is the beginning of a difficult rehabilitation process for Sahar and Erez, who are still young and have been through an unbearable experience."
The post Israel, Hamas Appear to Abide by Truce, Discuss Further Extensions first appeared on Algemeiner.com.
2 women charged with hate crimes for allegedly assaulting passerby after tearing down hostage posters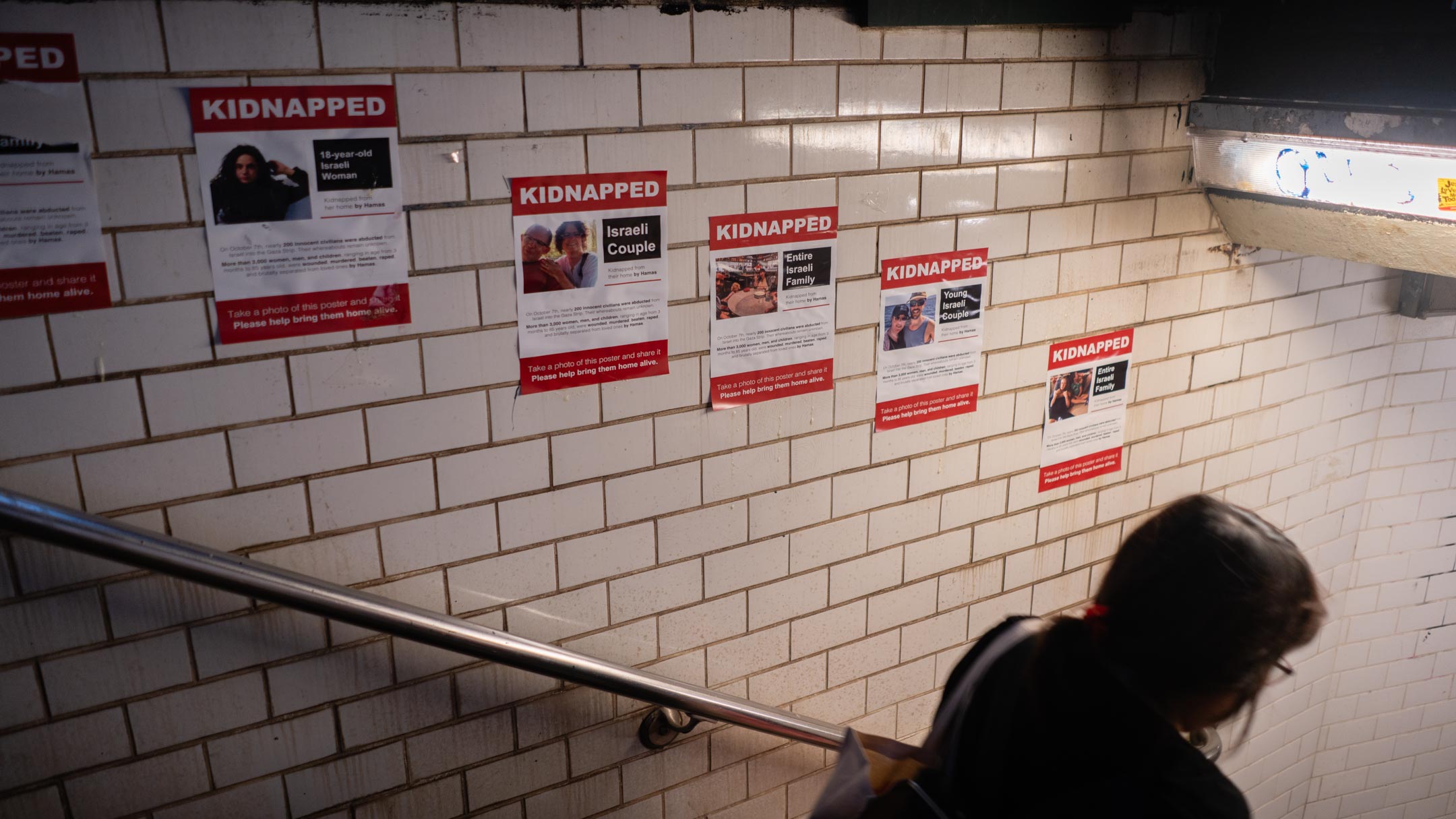 (New York Jewish Week) – Two women have been charged with hate crimes after allegedly attacking a passerby who confronted them while they were tearing down posters of Israeli hostages held in Gaza.
The two suspects, Mehwish Omer and Stephanie Gonzalez, were removing the hostage posters from a street light on the Upper West Side shortly before 10 p.m. on Nov. 9. A 41-year-old woman approached the two women, argued with them and recorded them on her cell phone, police said.
Omer and Gonzalez allegedly physically assaulted the woman, ripping a Star of David necklace off her neck and knocking her phone onto the ground, damaging the device.
The two women fled the scene, leaving the victim with minor injuries to her face and neck. The NYPD's hate crimes task force investigated the incident.
Omer, a 26-year-old resident of the Upper West Side, was charged with assault as a hate crime and criminal mischief as a hate crime on Monday, police said.
Gonzalez, a 25-year-old from Yonkers, was charged on Nov. 20 with attempted robbery and assault as a hate crime.
WANTEDfor a Hate Crime Assault at the corner of Riverside Drive and West 82 Street #UPPERWESTSIDE #manhattan On 11/09/23 @ 9:55 PM Reward up to $3500 Seen them? Know who they are? Call 1-800-577-TIPS or DM us! Calls are CONFIDENTIAL! #yourcityyourcall pic.twitter.com/Wv0mFphN74
— NYPD Crime Stoppers (@NYPDTips) November 10, 2023
The war between Israel and Hamas has led to repeated disputes on New York City streets, mostly verbal. New York City has seen a surge in antisemitic hate crimes since Hamas attacked Israel on Oct. 7, killing 1,200 people, mostly civilians, and taking around 240 hostage.
The posters bearing the photos and names of civilians taken hostage by the Gaza terror group, which pro-Israel advocates have spread around the city and elsewhere worldwide, have become a flashpoint, with anti-Israel activists regularly tearing down or defacing the fliers, sparking disputes with passersby.
Last month, a 19-year-old was charged with hate crimes after attacking an Israeli on the Columbia University campus during a dispute over the posters outside the university library.
Other people have lost jobs or faced other repercussions after footage of them tearing down the posters circulated online.
More than 50 Israeli hostages, almost all women and children, have been freed in recent days in exchange for Palestinian prisoners held on security offenses and a pause in the fighting between the two sides.
—
The post 2 women charged with hate crimes for allegedly assaulting passerby after tearing down hostage posters appeared first on Jewish Telegraphic Agency.
Shelley Akabas, Columbia U social work pioneer who transformed the world of work, dies at 92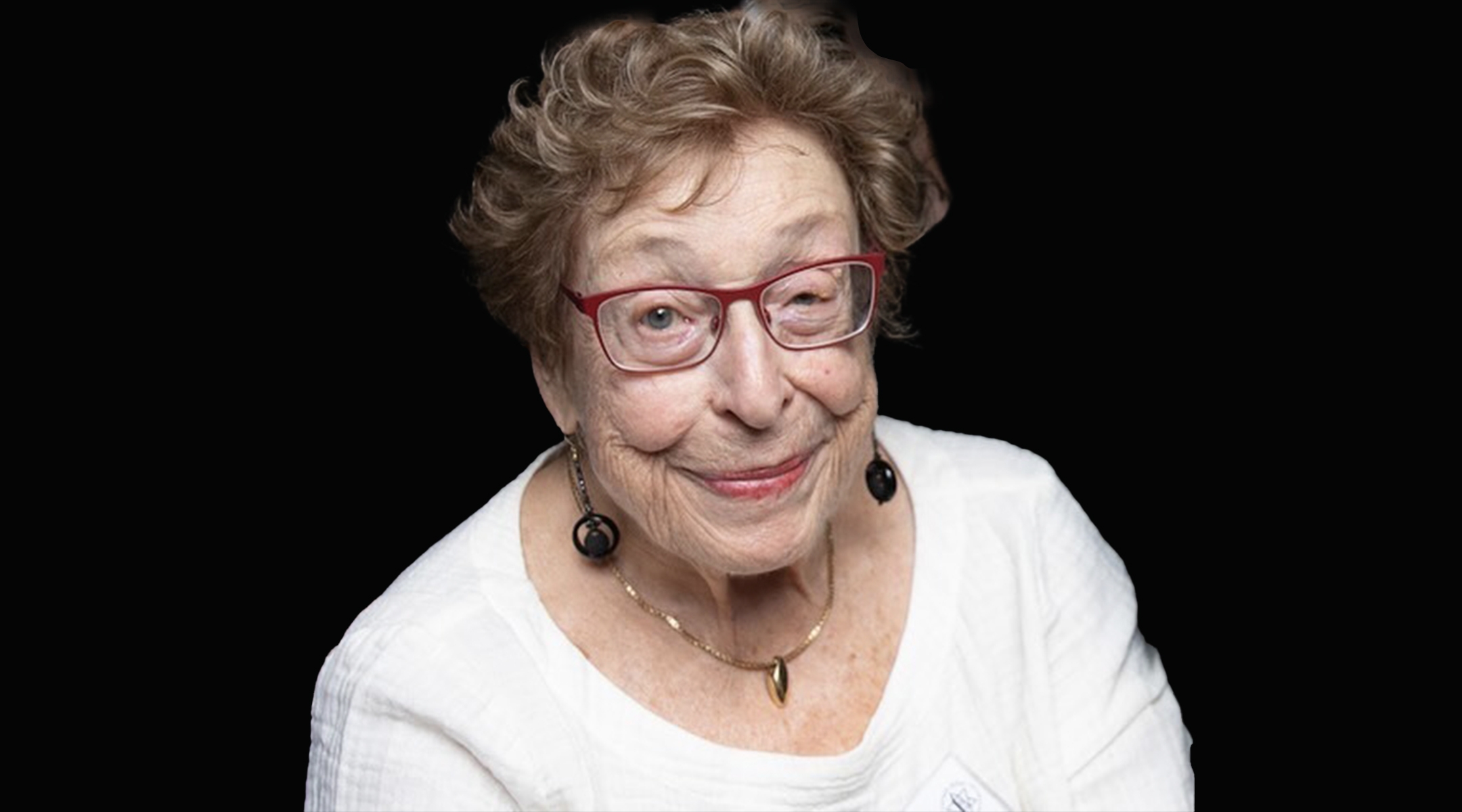 (JTA) — Sheila (Shelley) Akabas, a retired professor of social work at Columbia University who pioneered research into how labor and management could expand employment opportunities for people with disabilities and other challenges, died Nov. 17. She was 92.
Trained as a labor economist, she joined the Columbia faculty in 1969, and was soon appointed director of the Industrial Social Welfare Center, which promoted equal employment opportunities for individuals with disabilities.
The center was launched in an era when few companies thought it was their business to address the emotional problems, physical challenges and other stress factors that might affect an employee's work. Akabas and her peers urged management to train supervisors to identify struggling employees and workplace stressors, provide direct services and link employees with community facilities.
Now known as the Center for Social Policy and Practice in the Workplace, the center Akabas led provides research and guidance for helping a range of people enter the workforce, from those with mental illness to the formerly incarcerated.
"It might be said that the world of work is my 'beat,'" Akabas wrote in a statement for Columbia's School of Social Work website. "My special interest through a long career has been in equal opportunity in the labor market for diverse populations."
When she retired in 2013, Columbia's School of Social work estimated that she had educated more than 1,000 of its students and mentored hundreds. In addition to developing the Workplace Center, she developed, designed and led the Social Enterprise Administration program, which trains social workers in management and organizational theory, and championed the World of Work field, which helps clients navigate obstacles in the workplace, including discrimination and unequal opportunity.
Sheila Epstein was born in New York City to a Jewish family. After attending Hunter School for Girls, she enrolled at Cornell University in the School of Industrial and Labor Relations at age 16, graduating first in its class at age 19. Akabas was a founding member of Cornell Hillel's board of trustees and remained active in the student organization for most of her life.
"In the mid-nineties, Shelley helped revitalize our Hillel and helped create the organization it is today," Cornell Hillel said in a statement on their Facebook page. "Over twenty years as a Hillel Trustee and Honorary Trustee, Shelley imagined programs, recruited more than a dozen board members, and, more recently, offered sage advice as a Hillel elder."
Akabas earned a PhD in economics at NYU and became one of the first women to join the tenured graduate school faculty at Columbia University in 1969.
She and her husband, Aaron Akabas, were active at the Manhattan synagogue B'nai Jeshurun. Among her many affiliations were the Statewide Educational Advisory Board of the NYS Office of Mental Health, the New York State Workers Compensation Board and the President's Committee on Employment of People with Disabilities.
Jeanette Takamura, then dean of Columbia's School of Social Work, paid tribute to Akabas when she retired in 2013. "Dr. Akabas demonstrated over four decades the importance and the value of faculty who are not necessarily social workers by professional training, but who are social workers in spirit because of their orientation and their lived dedication to the profession and its ideals," she said. "She helped make the School what it is today."
Akabas is survived by her husband; a brother, Howard; three children, nine grandchildren and nine great grandchildren.
—
The post Shelley Akabas, Columbia U social work pioneer who transformed the world of work, dies at 92 appeared first on Jewish Telegraphic Agency.