A Harry Potter fan's murder reverberates from Israel to Boston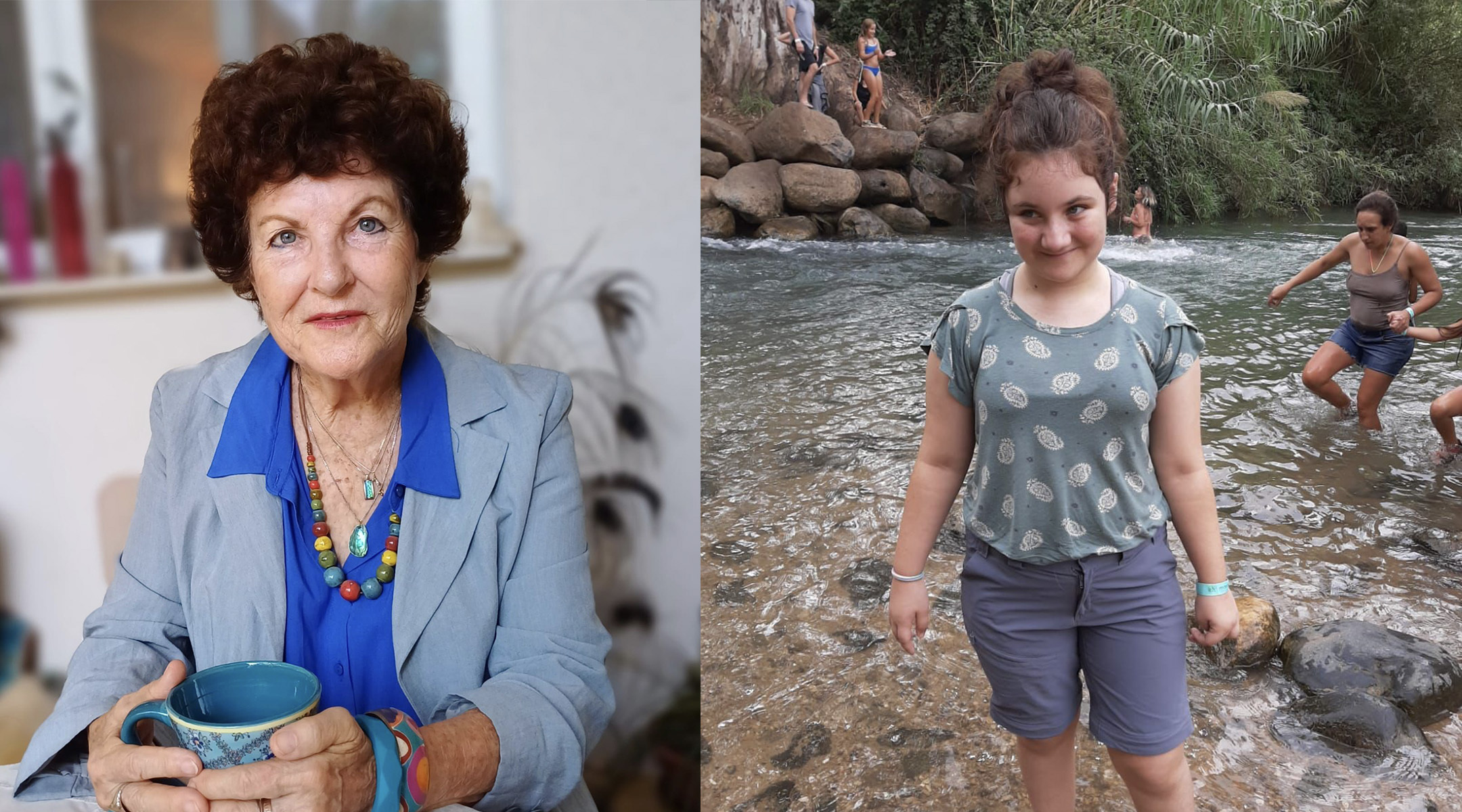 BOSTON (JTA) — Jason Greenberg remembers the lavish breakfast spreads Carmela Dan would serve when he and his family visited his great aunt at Kibbutz Nir Oz. He relished the shakshuka, salads and bread she prepared to welcome her American family.
"She was a great cook," Greenberg, a lawyer in Boston, recalled of those regular visits he has made for more than 30 years.
Dan was beloved at Nir Oz, a tight-knit community on the southern border with Gaza that she helped found in 1955.
What especially stood out was the strong bond she had with her granddaughter Noya Dan, who lived with her family on Kibbutz Kissufim, just a short distance away.
Noya, whose broad smile charmed her family and friends, often spent Shabbat with her grandmother. The engaging 12-year-old was on the autism spectrum and over the years  her grandmother played a leading role in her education.
Most of all, Noya, who would have turned 13 next month, loved all things Harry Potter.
"She was an interminable Harry Potter fan. It kind of defined her," Greenberg told the Jewish Telegraphic Agency in a phone conversation. "If you knew Noya, you knew that she just loved Harry Potter."
These are among the memories Greenberg is holding dear about his great aunt and second cousin as he and his family mourn their deaths.
Carmela and Noya were abducted on Shabbat morning, Oct. 7, when Hamas gunmen invaded Israel from Gaza. Some 180 residents of Nir Oz were either brutally murdered or taken hostage that day, about a quarter of the residents of the small community, according to Israeli authorities. There are at least 220 people known to have been kidnapped by Hamas. Only four have been released.
The deaths and abductions in Israel have reverberated in far-off communities like Boston, where relatives like Greenberg have a deeply personal connection to the victims.
Greenberg is also worrying about the well-being of his cousin Ofer Kalderon, and two of his children, Erez and Shahar, who were also taken hostage from Nir Oz.
What's more, Greenberg, 46, experienced the tragic events as they were unfolding. He was in Israel at the time of the Hamas attack visiting his father, Joseph Greenberg, who has lived in Israel, north of Tel Aviv, since 2019. 
His sister, Abbe Onn, and her family also live in Israel.
When the sirens went off on that Shabbat morning, Greenberg and his father headed for the building's safe shelter. When they returned to his apartment, Greenberg's phone immediately began lighting up with WhatsApp messages from his family with details of the abductions of their relatives, who are all on his late mother's side of the family. (Roberta Greenberg died in 2015.)
A series of messages Noya sent to her mother, Galit Dan, from her grandmother's safety room, tear at the heart.
"Mom, there was a big boom that scared me," Noya said in Hebrew, according to the Times of Israel. "All the windows in Grandma's house were broken. Mommy, I'm scared."
In those initial days, before their bodies were found, the Israeli government shared a photo of Noya wearing a Hogwart's costume on X, the social media platform that was formerly Twitter.
The posting caught the eye of Potter author J.K. Rowling, who reposted the picture.
On October 19, almost two weeks after the attack and two days after Carmela's 80th birthday, the Israel Defense Forces notified the family that Carmela's and Noya's bodies were found just over the Gaza border. Their remains were later identified using DNA.

"It was the worst news you'd ever want to receive," Greenberg told the Jewish Telegraphic Agency.
Greenberg was horrified at the inhumanity of their murderers, who showed no mercy despite Carmela's age and frailty and Noya's special needs. "They were killed at the border because they were slowing down their captors," Greenberg said they learned from the IDF.
Greenberg decided to return to Boston to be with his wife and their two young children, and to bring his father back with him to his native city. His father is eager to return to Israel.
Greenberg's experience has received wide local coverage.
"I thought I could use my voice to help educate people. I had this dual lens that others here, thousands of miles away, don't necessarily have," he said. He hopes his story puts a human face on the terror attacks.
He also wanted to counter misinformation and antisemitism that he sees being spread by others, such as groups of students at Harvard and some other college campuses who blame Israel for the attacks by Hamas.
Greenberg hopes to help the efforts his sister and others have undertaken for the safe return of all of the hostages, he said. He has started a GoFundMe campaign to support Israeli families who may wish to temporarily relocate family members to the U.S. 
Another victim with ties to the Boston area is Igal Wachs, a 53-year-old Israeli-American who was killed, along with his younger brother Amit, 48, while they were defending Netiv HaAsara, the village where they had lived. He and Liat Oren-Wachs, who lives in a Boston suburb, have an 11-year-old son.
"We are experiencing grief, sadness and fear from what we hear around us. Antisemitism is real and we don't feel safe," Oren-Wachs wrote in a text message.
Igal "had the most incredible smile … and was always helpful, kind and happy. He is missed and forever we will keep him in our hearts," she wrote.
There are many others in Boston and across New England with family who have lost relatives in the war, according to Meron Reuben, Israel's consul general to New England.
The story about Noya's devotion to Harry Potter and her murder broke his heart, he told JTA in a phone conversation.
"I felt so emotional when I heard an interview with Noya's mother when they thought she was still alive," Reuben said. The murder of a young girl who did no harm to anyone shows Hamas's inhumanity, he said.

"I only hope that the smiling faces of Carmela and Noya will be remembered forever and that their wishes for a better life for all will be realized."
—
The post A Harry Potter fan's murder reverberates from Israel to Boston appeared first on Jewish Telegraphic Agency.
'Merry Ham-mas': Australian Kmart removes Christmas ham bag from shelves after Jewish group complains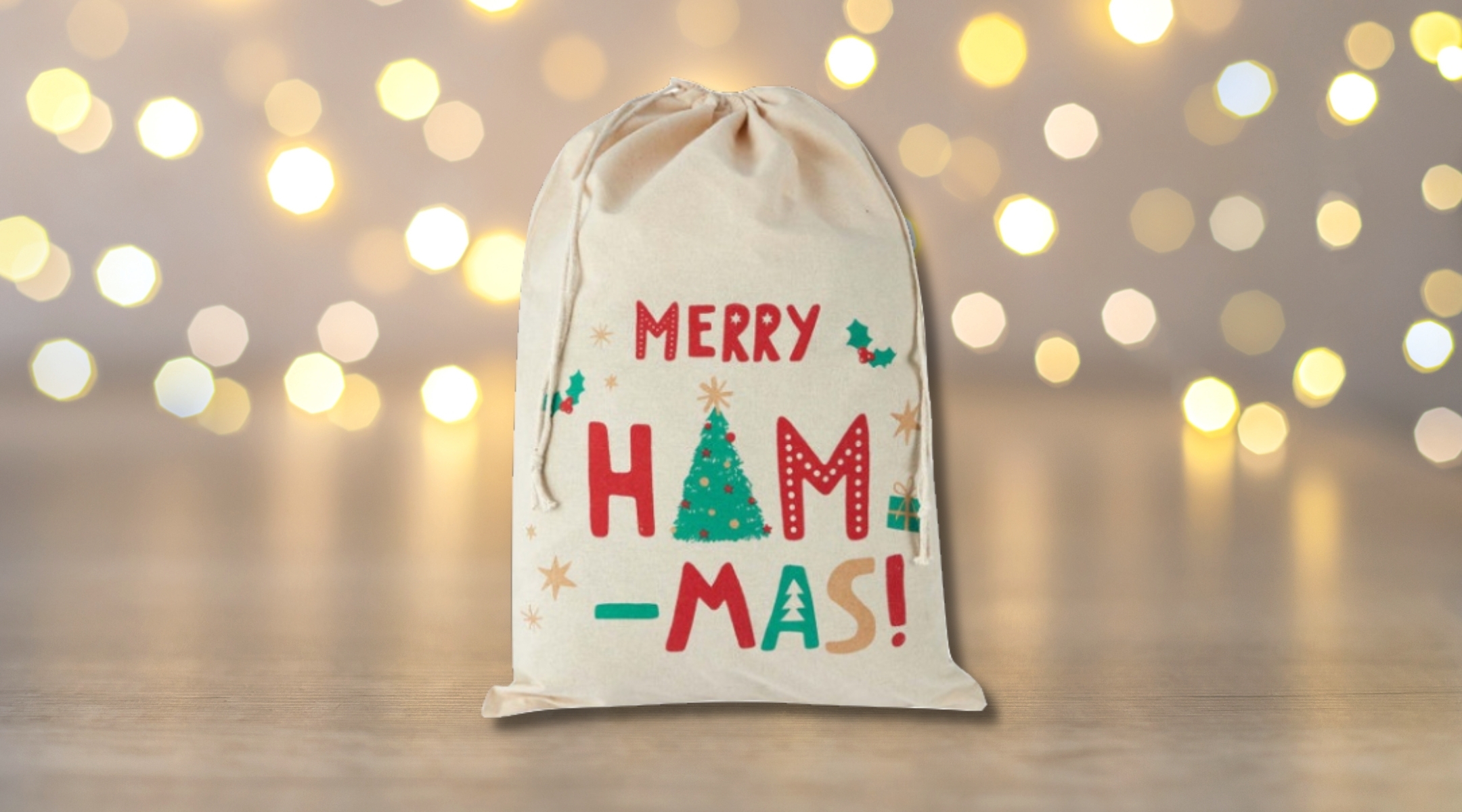 (JTA) — A ham bag has been removed from Australia's Kmart website after the Australian Jewish Association complained that its message, "Merry Ham-mas," looked too similar to Hamas, the terror group that invaded Israel on Oct. 7.
The text is printed on the ham bag in festive red and green lettering, with a Christmas tree replacing the first "A." 
"Although this is potentially funny (the AJA committee has tossed around some non-PC jokes) it's really not a good look," the AJA wrote in a post on X, formerly known as Twitter. "We suspect some product manager may cause the company some embarassment [sic]. So we've politely written to Wesfarmers corporate suggesting the product be pulled," the group wrote, referring to Kmart's parent company in Australia.
In an update posted about an hour after its first post about the subject, the AJA wrote that the organization had been contacted by Kmart senior management and that the ham bag had been taken off store shelves and the Kmart website.
Ham bags, when lightly dampened with water and some vinegar, are used to keep meat fresh. A description on the now-deleted Kmart webpage says the bag costs roughly $2.50, is made of cotton with a drawstring closure, and includes instructions for use. It is also machine washable and can be paid for in installments, the webpage said.
"We got it wrong on this occasion, and we apologise unreservedly," a spokesperson for Wesfarmers told The West Australian. "When designing this product we clearly didn't think through all the implications and the product has been removed from sale."
David Adler, president of the Australian Jewish Association, said he wanted "to give credit to Kmart management as they acted very quickly."
"It's not normal times, there are people that will distort things and will harass the Jewish community," he told the West Australian. "Of course, there are bigger issues to be addressed, dealing with the actual terrorism is important, but one of the other things we are dealing with is propaganda."
—
The post 'Merry Ham-mas': Australian Kmart removes Christmas ham bag from shelves after Jewish group complains appeared first on Jewish Telegraphic Agency.
At House hearing, pro-Palestinian protester interrupts Jewish student's recounting of antisemitic death threats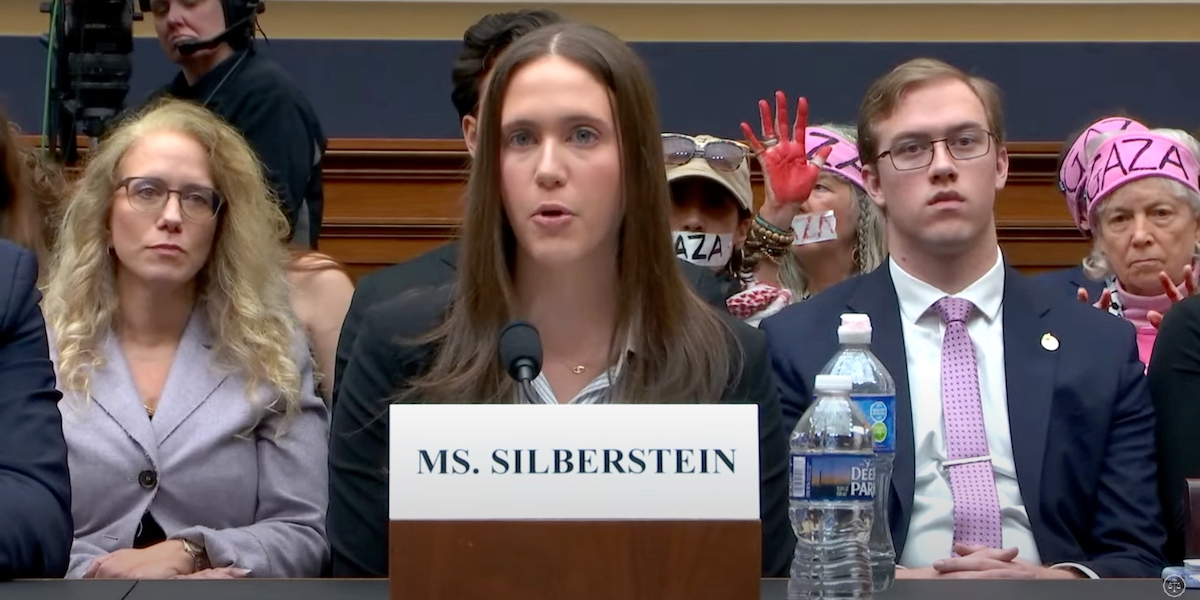 (JTA) – As Amanda Silberstein testified to the U.S. House of Representatives on Wednesday about how a student at her university had threatened to kill and rape Jewish students, she was interrupted.
"Free Palestine," a protester shouted from the audience during Silberstein's testimony at a hearing on free speech and antisemitism on college campuses. "Anti-Zionism is not antisemitism."
Silberstein is an undergraduate at Cornell University, where a student was recently arrested for making antisemitic death threats. Silberstein, a member of the student board at Cornell's Chabad-Lubavitch movement chapter, had just described how "professors and student organizations have been fueling Jew-hatred and spreading it across campus with disregard or potentially even with deliberate intent to incite." 
It was one of several times when pro-Palestinian protesters interrupted witnesses at the House Judiciary Committee hearing titled "Free Speech on College Campuses." Throughout the more than three-hour hearing, they called for a ceasefire in the Gaza Strip; decried a purported silencing of Palestinian students on campus; and protested the recent House censuring of Michigan Democratic Rep. Rashida Tlaib, who is Palestinian-American, for her use of the pro-Palestinian phrase "From the river to the sea," which Jewish groups and others have called antisemitic.
This was not the first time in recent days when pro-Palestinian protesters disrupted congressional proceedings: Last week, hecklers also tried to derail U.S. Secretary of State Antony Blinken as he implored Congress to allocate emergency funds for Israel. 
But the dissonance of the moment — Silberstein, unlike Blinken, was not using her testimony to advocate for Israel — exemplified the tense atmosphere, as Republicans and Democrats alike openly pondered the question of whether, and how, speech about Israel and Jews should be policed on campus and in the House. 
"I happen to believe in the eradication of Hamas. The same freedom of speech that protects my right to advocate that position is at stake here, is it not?" California Republican Rep. Tom McClintock said at one point to Kenneth Marcus, a witness who served in the Trump administration's Education Department and chairs the Brandeis Center for Human Rights Under Law, a pro-Israel group that has repeatedly brought legal challenges against universities it says fail to properly discipline anti-Zionist speech. 
The hearing was originally intended to focus on the issue of conservative college students allegedly being silenced. But in light of Hamas' Oct. 7 attack on Israel, it largely centered on antisemitism on campus and beyond as student and faculty rhetoric around Israel has reached a fever pitch. 
Silberstein had been invited to testify in part because Cornell recently canceled classes for a day because of the threats against its Jewish students. That incident followed a professor at the Ivy League university publicly praising the Hamas attacks, turning the school into a flashpoint for the rising temperature around antisemitic and anti-Zionist speech on campuses.
Some Republicans, including hardline right-wing Florida Rep. Matt Gaetz, suggested that efforts to restrict pro-Palestinian or pro-Hamas speech on campuses were misguided. Another, California Rep. Kevin Kiley, accused university administrators at schools such as Harvard of relying on free speech as an excuse to avoid condemning students with pro-Hamas views. 
A Cornell alum, Texas Rep. Wesley Hunt, condemned the school's administration for not immediately firing the pro-Hamas professor, suggesting administrators would have done so if he had shared anti-trans or anti-Black views instead.
One Democrat, Georgia Rep. Hank Johnson, said the hearing itself was hypocritical in light of the House's vote the previous night to censure Tlaib over speech related to Israel. 
"It's ironic that we're holding this hearing today about censorship and speech on campus, but last night, MAGA Republicans and others censured the only Palestinian voice in the House of Representatives because they didn't like what she had to say," Johnson said. "She didn't threaten anybody. She did not advocate for violence. She stated a view, as happens on college campuses." (Nearly two dozen Democrats also voted to censure Tlaib, saying that they believed her use of the phrase "From the river to the sea" implied threats of violence toward Jews and Israel.)
McClintock grilled Silberstein and Marcus about whether certain Israel-related speech should be protected on campus. He asked Marcus if "the mere repetition" of the phrase "From the river to the sea" should be "banned or punished."
In his answer, Marcus referred to an executive order by President Donald Trump that included some anti-Israel speech under the Education Department's civil rights protections. Speech, he said, could be used "as an indicator of the nature of conduct." He added that, if a violent antisemitic action followed anti-Israel speech, the prior speech could be policed as an example of predicting that conduct.
"Conduct often follows words," Silberstein said in agreement, linking chants at Cornell of "From the river to the sea" to antisemitic threats to students. "Speech advocating for violence should not be tolerated on a college campus," she added.
"Well, what about the eradication of Hamas?" McClintock asked her. Silberstein responded that Hamas is "a recognized terror organization," which led McClintock to ask, "So it depends upon your viewpoint, is that what you're saying?"
Gaetz, too, pushed Marcus on whether punishing students who voice support for Hamas amounts to the suppression of legitimate speech. He suggested that those who have called for the suppression of bigoted speech are being inconsistent. 
"I am reminded of the great philosopher Austin Powers, who said, 'There's only two things I can't stand: people who are intolerant of other people, and the Dutch,'" Gaetz said, referencing the series of spy comedies starring Mike Myers. "And a similar tension seems to be on display today."
Silberstein and Marcus were joined on the witness panel by Stacy Burdett, a senior executive at the Anti-Defamation League; two non-Jewish conservative campus activists; and Pamela Nadell, the director of American University's Jewish studies program and the author of a forthcoming book on antisemitism in America. 
Nadell sparred with Gaetz over whether criticisms of "globalists" or progressive Jewish philanthropist George Soros, both frequent targets of Gaetz's ire, should always be seen as antisemitic.
Elsewhere during the hearing, Judiciary Committee Chair Jim Jordan, a Republican, refused to respond to California Democratic Rep. Eric Swalwell's queries about why his committee left up a tweet reading "Kanye. Elon. Trump." for months after the rapper Kanye West embarked on a stream of antisemitic comments. 
—
The post At House hearing, pro-Palestinian protester interrupts Jewish student's recounting of antisemitic death threats appeared first on Jewish Telegraphic Agency.
Antisemitic incidents up 800% in the Netherlands since Oct. 7, Dutch watchdog reports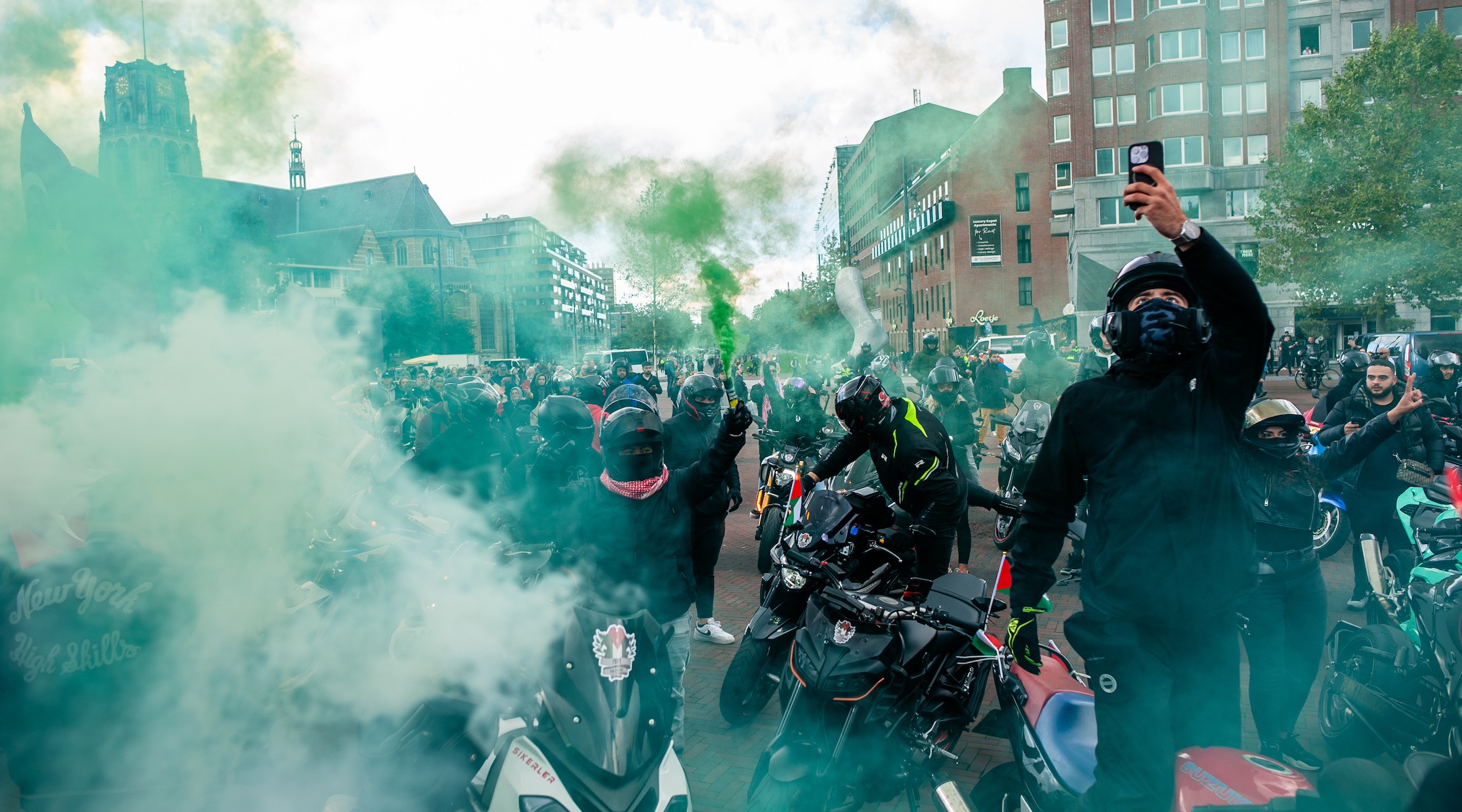 (JTA) — Reports of antisemitic incidents have spiked over 800% in the Netherlands since Oct. 7, a leading Dutch-Jewish watchdog has reported.
The surge only reflects antisemitic acts reported to the Center for Information and Documentation on Israel (CIDI), not all incidents filed to police departments and other anti-discrimination bureaus.
CIDI would not release specific incident numbers but said the barrage of reports it has received since the start of the Israel-Hamas war is 818% higher than its monthly average recorded over the past three years. The group tallied 183 total incidents for all of 2021.
"It is very worrying that Jews in the Netherlands are held responsible for conflicts taking place in the Middle East," read the CIDI report released on Tuesday. "It seems as if Israel is being used to beat Jews."
According to CIDI researcher and policy advisor Hans Wallage, it's not only the numbers that have grown — the range of attacks on Jews has increased as well.
"I see way more variety of different incidents that I didn't see before, and also more variety in the place where it happens," Wallage told the Jewish Telegraphic Agency. "There are a lot of schools — elementary, high schools, universities — having way more incidents that I didn't see before the 7th of October."
In one school, a Jewish boy was threatened with a knife and hit on the head with a bottle while classmates called him "kankerjood," a Dutch slur meaning "cancer Jew." Another boy was told that his classmates would throw him off a bridge and drown him because he was Jewish. Recurring reports describe students being accosted for wearing Star of David necklaces, being shown the Hitler salute and being told that Hitler "didn't finish his job."
Wallage believes the rash of school incidents has to do with social media, which gives children unprecedentedly rapid and unchecked access to hate speech, conspiracy theories and incitement.
"We don't have a filter as adults sometimes, but children completely don't have a filter of what to share — they share everything," he said. "What's a lie? After a while, if you read it all the time and share videos all the time online, it's going from the online world to the real-life world."
Most of the conspiracy theories circulating through Dutch schools follow old antisemitic tropes, simply repackaged for a younger generation, said CIDI director Naomi Mestrum.
"It's the same conspiracy theories," Mestrum told JTA. "Jews control the world and the media, and this [Hamas attack] must be fake, they staged this because it fits their agenda."
Outside of schools, CIDI has recorded mezuzahs torn off doors and swastikas sprayed on windows, along with frequent threats and verbal abuse. General antisemitic statements on social media are excluded from the figures, unless they were specifically sent to an individual through a direct message.
Shortly after Oct. 7, the only Jewish weekly magazine in the Netherlands — Nieuw Israelietisch Weekblad, known in English as the Dutch Jewish Weekly — switched from its clear plastic packaging to anonymous white envelopes, according to editor-in-chief Esther Voet. She said that her staff was flooded with calls from anxious subscribers who didn't want their neighbors to know they were Jewish.
Although it is typical for antisemitism to flare in the Netherlands during conflicts in Israel and the Palestinian territories, CIDI researchers said they have never seen a surge of incidents like this before. And like other Jewish communities across Europe, many Dutch Jews feel they are in new territory.
"People feel that it's different now, and it will be forever different from now on," said Mestrum.
—
The post Antisemitic incidents up 800% in the Netherlands since Oct. 7, Dutch watchdog reports appeared first on Jewish Telegraphic Agency.