A kosher baker rejected a synagogue's order for rainbow Pride treats. The firestorm has been fierce.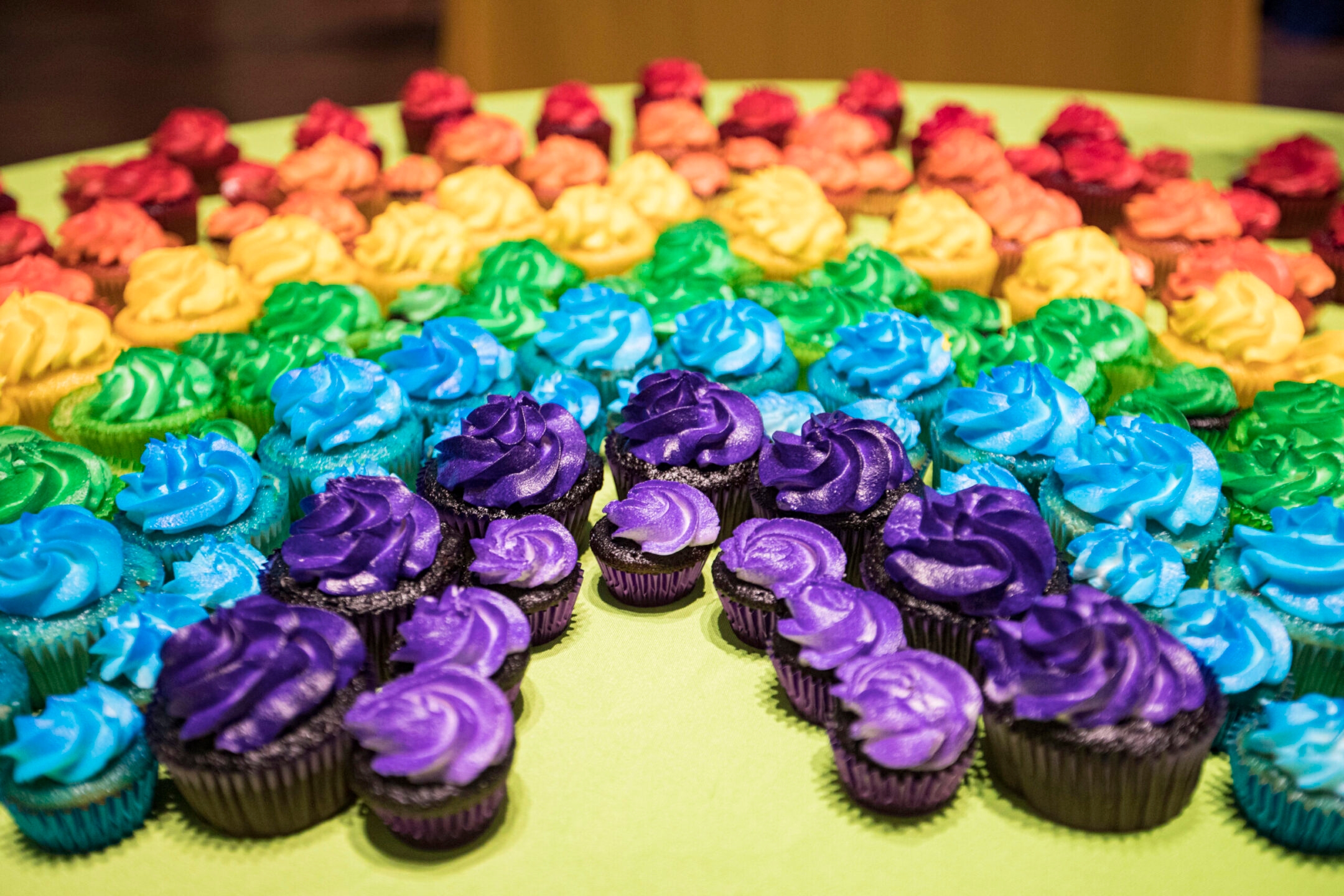 (JTA) — The request for rainbow-frosted cupcakes came from a repeat customer — a local synagogue that had relied on the West Orange Bake Shop to make kosher desserts for its special events. But this year, bakery co-owner Yitzy Mittel decided to decline the order. He couldn't bring himself to produce the Pride-themed goods.
Mittel, an Orthodox Jew, had made a similar cake for an order the year before. But the experience unnerved him, he told the Jewish Telegraphic Agency, because his understanding of Jewish law holds that LGBTQ symbols are "antithetical to what we stand for."
The symbols are "a celebration of something which is against Torah," he said. "I didn't want to be making that cake."
After consulting with both a rabbi and an attorney, Mittel and the northern New Jersey bakery canceled the orders, sending the synagogue elsewhere to find kosher Pride treats.
In the weeks since that decision, Mittel has gotten validation from the U.S. Supreme Court, which ruled last week that a Colorado web designer had the right to refuse to build a wedding site for a same-sex couple. The ruling expands on a 2018 decision, in which the court ruled a Colorado baker had the constitutional right, on religious grounds, to refuse to create a wedding cake for a gay couple.
But the local Jewish community is still reeling. Multiple rabbis have accused the baker of bigotry, and some local Jews are boycotting his shop. The area's Jewish federation privately said it would stop buying from Mittel before publicly walking back its position. And Eshel, an advocacy group for LGBTQ Orthodox Jews and their families, announced an "ally training" in West Orange this coming Sunday in response to the incident.
"The reason why Eshel exists is because these sorts of incidents, when they happen to someone over and over again, make people feel unwanted and unwelcome in their communities," said Miryam Kabakov, the advocacy group's executive director. "This is just one small example, but the effect overall is to drive people away from Orthodoxy who are trying to live frum [observant] lives, leaving them feeling like there is no place for them."
The firestorm comes at a time of widespread advocacy by political conservatives against LGBTQ inclusion and rights. Pride events across the country have faced pushback this year.
Some of that has taken place in Jewish communities. In another New Jersey town 30 miles away, Orthodox rabbis successfully petitioned their mayor to remove four Pride flags that were flying in front of a synagogue on a central street. The mayor later apologized and put the flags back up.
But what happened in West Orange offers a particularly potent example of how culture wars can play out in — and divide — Jewish communities, in part because of the symbolism of a kosher bakery citing what it says are Jewish values to justify declining the order of a local synagogue.
"While I know this has happened in other parts of the country I hadn't expected it here," wrote Dan Cohen, senior rabbi of the Reform Temple Sharey Tefilo-Israel in nearby South Orange, on Facebook. "Then I learned that the bakery in question is a kosher bakery, and as a result, the bias was coming from within our Jewish community."
The initial order was placed June 6 by Congregation B'nai Israel, a Conservative synagogue in nearby Millburn. Rabbi Julie Schwarzwald, the synagogue's director of congregational learning, planned to pick up the order, which reportedly specified that the treats be decorated with rainbows. A staff member also reportedly made a separate order the same day for rainbow cupcakes for the synagogue's youth group.
Schwartzwald did not return multiple JTA requests for comment. Attempts to reach the synagogue's current youth group advisor were unsuccessful.
But according to all accounts, the bakery initially accepted both these orders, only to cancel them later without providing an explanation. It did, however, agree to process the synagogue's order for cookies without rainbow decorations. (Mittel told JTA that he gave the synagogue a discount for those cookies.)
Mittel told JTA that he had canceled both orders and notified the parties within 24 hours. He believes others in the community are impugning his reputation by falsely asserting that he had failed to provide enough notice to the customers.
But when Schwarzwald went to the bakery herself to request an explanation for why the Pride order was canceled, Mittel refused to talk to her. He told JTA he had chosen not to engage because the rabbi had come during peak hours and "wanted to create a scene."
To Schwarzwald, the message was clear. "I was comfortable drawing conclusions that meant that I was going to take my purchasing elsewhere," she told the New Jersey Jewish News. "It seems clear that the bakery has made the decision that Pride is not something they want to support. It's their choice, it's their legal right, and I can choose to spend my dollars wherever I want." She was ultimately able to fulfill the orders at a different kosher bakery in West Orange.
The issue blew up as other rabbis in the area learned about what happened and commented publicly.
"When we refuse basic Jewish services to members of our community who are articulating who they are, we are excluding and dividing," wrote Robert Tobin, rabbi of the Conservative B'nai Shalom in West Orange, in a blog post on June 22. He highlighted the Conservative movement's recent strides toward LGBTQ inclusion, and an interpretation of the Torah that holds "humans are created in the image of God with a variety of potential gender identities and with the possibility of gender fluidity." Tobin also reportedly addressed the incident in a sermon, according to the New Jersey Jewish News.
David Vaisberg, senior rabbi at the independent Temple B'nei Abraham in Livingston, New Jersey, tweeted that he was "so disappointed" in the bakery, which is located in a strip mall next to a kosher Chinese restaurant.
"They make great baked goods but have shown themselves to be against the LGBTQ+ in canceling orders of rainbow baked goods in Pride month," he wrote, adding that he was letting the bakery know why they had lost his business and advised followers to "please do the same."
In his Facebook post, Cohen addressed the argument that an observant Jew can cite Torah as the basis for their objection to serving a Pride-themed cake. "If I'm being honest, we all pick and choose which sacred texts we embrace and which we ignore," he wrote. "If by contrast, you CHOOSE to focus on the Biblical texts that exclude people, that denigrate others or are hurtful and judgmental, you aren't religious. You're simply a bigot."
Parts of the Orthodox community have become open to LGBTQ inclusion in recent years. Organizations including Eshel and Jewish Queer Youth advocate for LGBTQ people and families in Orthodox spaces, and some prominent Orthodox figures have come out as gay in recent years.
But others in the community remain opposed to LGBTQ inclusion, citing passages in the Torah specifically forbidding gay sex. The flagship Modern Orthodox campus, Yeshiva University, has cited its status as a religious institution in an ongoing legal battle over its refusal to recognize an LGBTQ student group. The recent death by suicide of a gay Y.U. graduate, his friends said, highlights the pain of being Orthodox and gay.
Mittel says his business is being unfairly targeted by those who disagree with his personal religious choice, which he says is on par with declining to fulfill a church's order for cakes decorated with crosses — something he says he has done in the past.
"There's other bakeries out there that will do it," he said about making Pride-themed kosher baked goods. "Why should I?"
He also insists that he is not homophobic. "If somebody came in and told me they want to pay me three times the price to write on a cake, 'I hate gay people,' I wouldn't do it," he told JTA. He added, "Symbols carry a lot of weight."
Tensions reached a new high after a local news site published a leaked internal memo from Dov Ben-Shimon, the CEO of the local Jewish Federation of Greater MetroWest. In the memo, Ben-Shimon advised staff to no longer purchase baked goods from Mittel's shop, citing "the Jewish value of B'tzelem Elohim, that each one of us is created in the Divine Image and deserves to be treated as such."
"While it is their right to refuse service, it is also our prerogative not to support their establishment," Ben-Shimon wrote.
The memo upset some local Jews who felt it was inappropriate for the federation, which serves Jews of all denominations, to make a judgment against a Jewish-owned kosher business whose owner believed he was following Jewish law.
Speaking to JTA, Ben-Shimon characterized the memo as an internal purchasing directive and said it did not reflect the federation's current position.
"That internal memo did not reflect an appropriate, thoughtful and responsible communal dialogue," Ben-Shimon said. "While there is significant pain in the community as a result of actions that we have seen, we believe that Federation's decision-making process should be filled with love and sensitivity, and we will take steps to ensure that this will be reflected in our actions in the future."
Describing Mittel as "a decent, good, kind, thoughtful and honorable person who has been placed in a difficult situation," Ben-Shimon added that the local Jewish community "is blessed to have a wide array of opinions, ideologies and beliefs" and said he sees the federation's role as working "to continue to strive for tolerant, respectful dialogue and discourse."
In a follow-up correspondence from the federation, published by the New Jersey Jewish News, Ben-Shimon wrote, "We sincerely regret that our actions have caused divisiveness in our community as our aim is to bring the variety and richness of our many constituents together."
Mittel told JTA that he has spoken to Ben-Shimon since the story was published, and that the two had a positive conversation. Saying that his bakery has been visited by "obnoxious" people since news of the cancellation came out, he said it was he and not LGBTQ people who had become victim to intolerance.
"I don't think it's good for the Jewish community to be adversarial to each other," Mittel said. "There's no need for that. We have enough people disliking us without us causing strife to each other."
—
The post A kosher baker rejected a synagogue's order for rainbow Pride treats. The firestorm has been fierce. appeared first on Jewish Telegraphic Agency.
A queer Israeli textile artist's Lavender Diaspora sukkah explores identity in Brooklyn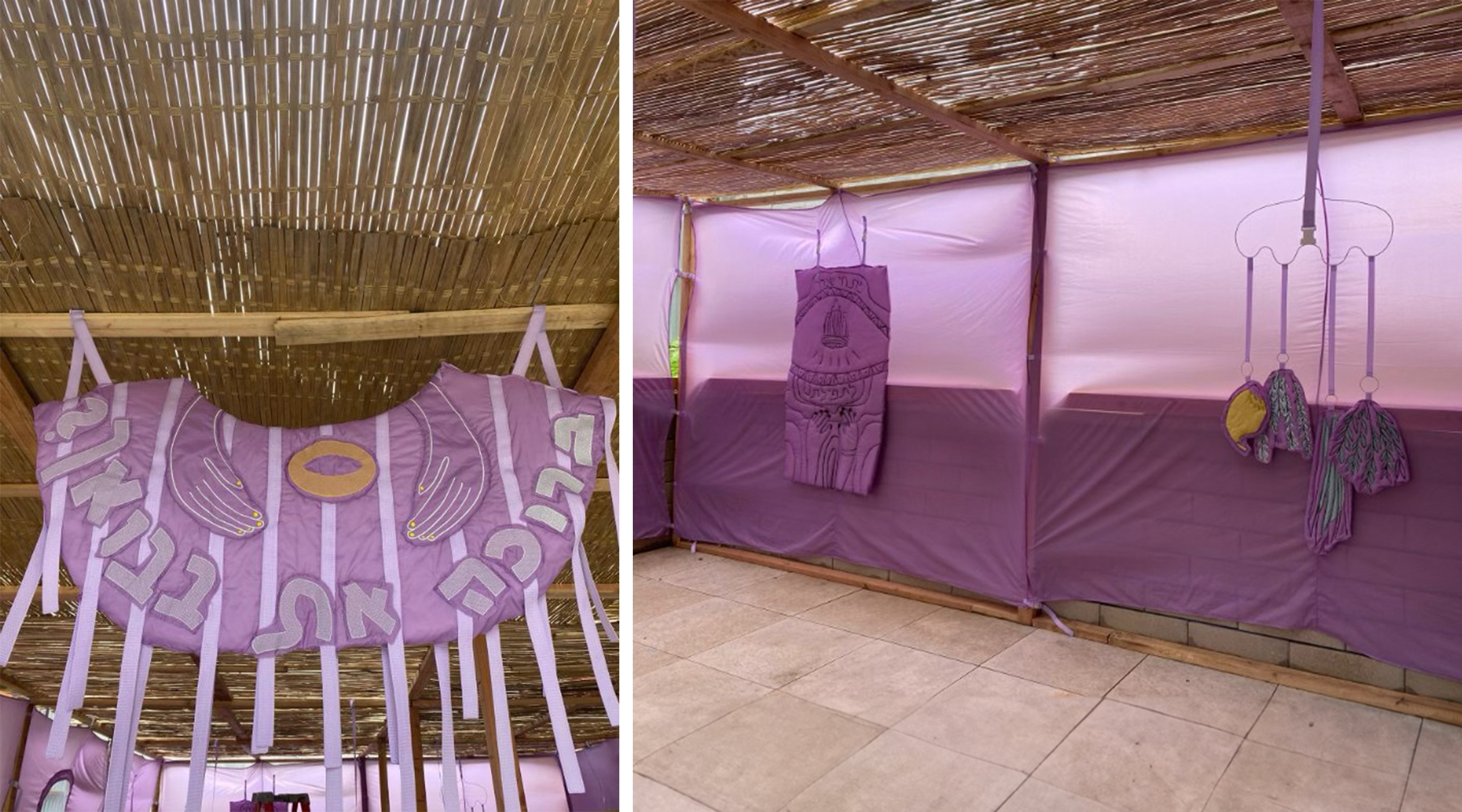 (New York Jewish Week) — On Friday evening, several dozen people huddled underneath umbrellas and raincoats in a new sukkah in Brooklyn that had survived the day's record-setting rainstorm. 
The sukkah, created by queer textile artist Hilla Shapira, was unharmed: Its light purple walls were made of ripstop, a lightweight and water-resistant fabric. Its soft and pillowy decorations — which included Jewish symbols like hamsas as well as depictions of the four species — were made of dacron, a durable, polyester batting that held up in the deluge as well. 
Shapira said the project — titled Lavender Diaspora — was meant to channel her identities as a queer person who grew up in a religious household in Israel, and also as an immigrant in the United States, where she studied art in Michigan before moving to Brooklyn.
"I try to find parallel relationships between what it is to be queer and Jewish, and to be a person from Israel," Shapira, 33, told the New York Jewish Week. "It's especially relevant when we're talking about Sukkot, which is a holiday that the Jewish people were celebrating in the in-between space, between Egypt and Israel — they were on the way somewhere, but in something that is temporary and stuck in this kind of forever nomadism." 
Speaking at a Shabbat dinner hosted by The Neighborhood: An Urban Center for Jewish Life, the Brooklyn-based organization that commissioned the sukkah, Shapira said she had designed her structure to celebrate communities that find themselves on the outskirts of society. 
She was speaking on the first night of Sukkot, the weeklong holiday in which Jews build a temporary structure called a sukkah, meant to commemorate in part the structures that the Israelites lived in as they wandered through the desert from Egypt to Israel. Throughout the holiday, which ends at sundown on Saturday, Jews eat, pray and even sleep in the sukkah. 
The Neighborhood has partnered with 12 other Jewish communities and organizations to celebrate and host events in the unique sukkah, including Romemu Brooklyn, Lab/Shul, Jews of Color Initiative and the Prospect Heights Shul. 
"We were really excited to think about not just a sukkah as an art object, but really also as a place to bring different communities and groups of people together in this temporary structure," Rebecca Guber, the founding director of The Neighborhood, told the New York Jewish Week. 
"We also thought about what were some different perspectives that we could bring into this stuff," she added. "We wanted something that brings in young families, that would be comfortable if you're a more observant Jew and that also feels kind of wild."
Located in the courtyard of Luria Academy, a Jewish day school in Prospect Heights, students will use the sukkah for their meals and programming during the day. In the evenings and on the weekend, The Neighborhood will use the sukkah for its own programming, which includes the launch of a Sukkot zine in partnership with Ayin Press, a family-friendly music jam, a dance event and more. 
As a queer woman who grew up in an Orthodox home in Israel — as well as an immigrant to the United States — Shapira said she's often searched for a sense of belonging. "The sukkah I tried to create is a space that is offering an alternative, or making a suggestion for a communal space for all the 'shoulders' of society," she said. 
Lavender, the color of the walls of the sukkah, is a symbol of LGBTQ resistance and activism. The other half of the title, Diaspora, refers to both the dispersion of the Jewish people as well as the feeling of marginalization experienced by Jews, LBGTQ people and other minorities — the sukkah is meant to be a temporary space that alleviates that feeling.
The Neighborhood is a community hub that primarily partners with other Jewish organizations to create innovative Jewish cultural and spiritual events for Jewish life. The Lavender Diaspora sukkah was funded by UJA-Federation New York. (UJA-Federation is also a funder of 70 Faces Media, the parent company of the New York Jewish Week.)
"What really resonates for us is the way that this sukkah welcomes everyone in — whatever position you feel you occupy in the Jewish community — maybe some people feel like insiders, other feel like outsiders, we really hope this can be a place where many different people can feel welcomed, and that their perspectives and identities are being honored," Guber said.
—
The post A queer Israeli textile artist's Lavender Diaspora sukkah explores identity in Brooklyn appeared first on Jewish Telegraphic Agency.
Displaced by ethnic violence, India's Bnei Menashe Jews construct sukkahs nonetheless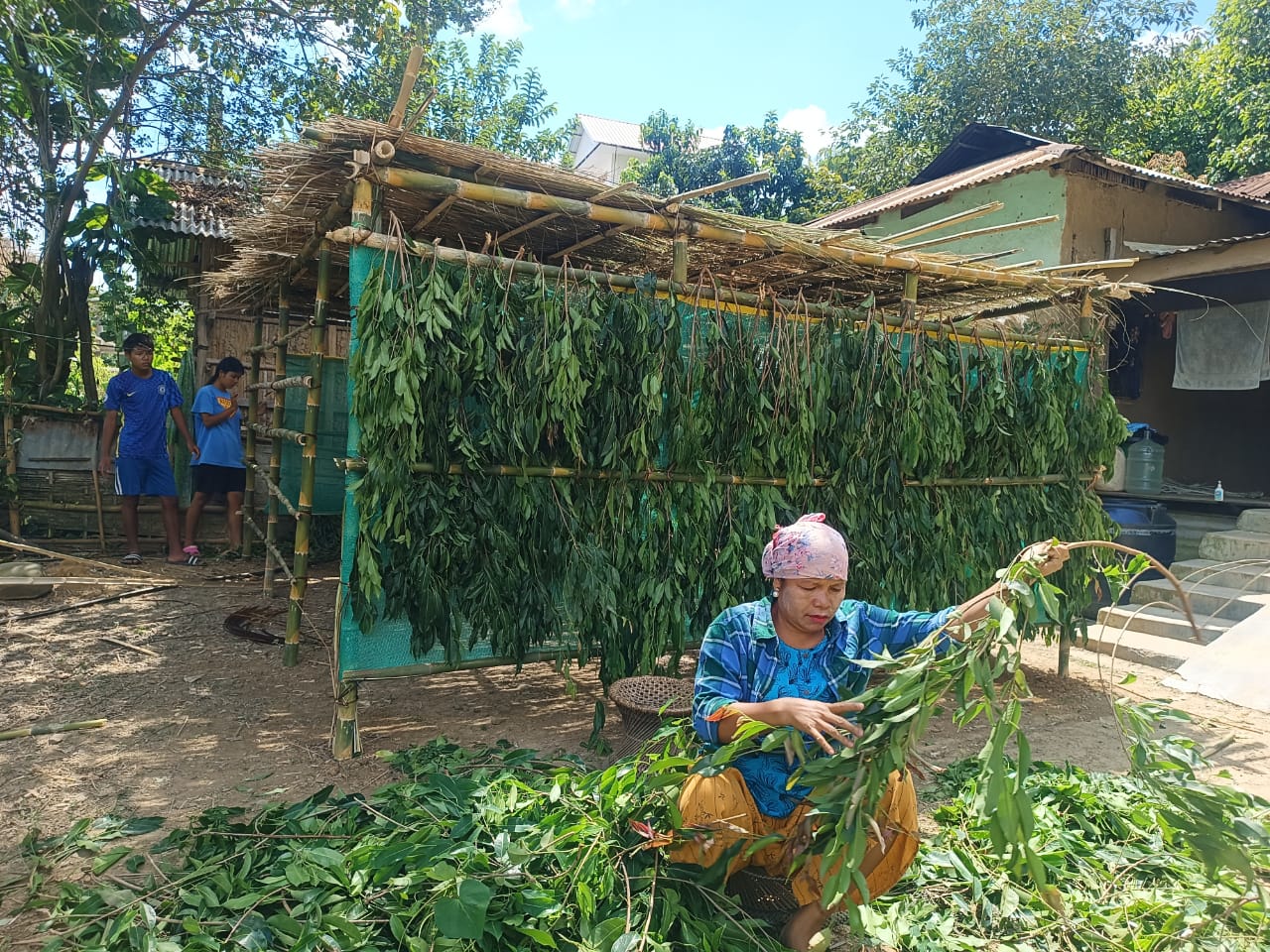 (JTA) — The temporary shelters that Jews erect during the holiday of Sukkot are meant in part to recall a time when Jews had nowhere permanent to live. In Northeast India, that symbolism is heavy with additional meaning this year.
That's because large numbers of Bnei Menashe, the Jewish community that lives there, have fled their homes in the state of Manipur since ethnic unrest broke out in early May.
According to the Israeli organization Shavei Israel, about 2,000 people from the Jewish community have been displaced. A different nonprofit that works with the community, Degel Menashe, cites a smaller number, 700.
But either way, the community has been ravaged, with three locations that have been home to large numbers of Bnei Menashe decimated in the violence. Synagogues and homes have burned to the ground, and the number of displaced people has only grown with time.
Now, as the conflict enters its sixth month, what many believed would be temporary displacements in the Manipur hills or the neighboring state of Mizoram are becoming permanent.
"Despite these challenging times for the Bnei Menashe and even in the farthest reaches of northeastern India, they have continued to uphold the ancient tradition of building Sukkot in honor of the festival," said Michael Freund, chairman and founder of Shavei Israel, which helps "lost tribe" communities return to Israel.
Shavei Israel distributed pictures showing members of the community constructing sukkahs out of bamboo. Their efforts come as their own safety in their areas where they live is in question — or already compromised.
"[For] the Bnei Menashe and the rest of the people who have left Imphal, I don't think there is any chance of them returning back because there is no security," said Isaac Thangjom, the Israel-based director of Degel Menashe, which assists Bnei Menashe communities in Israel and India, referring to Manipur's capital city. "If you ask me honestly, the separation is complete."
The Bnei Menashe identify as descendants of a "lost tribe" group, tracing their origins to the Israelite tribe of Menasseh. In 2005, a chief rabbi of Israel affirmed their identity as a "lost tribe" group with historic Jewish ties, but researchers have not found sufficient evidence to back the claim. Bnei Menashe Jews began immigrating to Israel in the 1990s, and because of their "lost tribe" status, they all undergo formal Orthodox conversions upon arrival. Around 5,000 remain in the states of Manipur and Mizoram today, and about 5,000 have already immigrated to Israel.
Many have struggled to gain entry into Israel over the past two decades, and they are now asking the Jewish state to expedite the immigration process to help them escape the violence.
Israeli authorities have yet to comment publicly about the situation and did not respond to multiple requests for comment from the Jewish Telegraphic Agency. Israel has recently been seeking to advance its relations with India.
Conflict erupted in May when tribal groups in Manipur launched a protest against the ethnic majority Meitei's demand for Scheduled Tribe status, which is traditionally reserved for minority tribes. The Bnei Menashe Jews belong to the minority Kuki tribe.
The Kukis (about 16% of the population and majority Christian) say the Meiteis (53% and majority Hindu) already have outsized privilege and political representation in Manipur.
According to local reports, unofficial "but very real" borders have been drawn between what have become Kuki and Meitei areas. Prime Minister Narendra Modi's government has been criticized for failing to control the situation. In August, opposition lawmakers called for a no-confidence vote over Modi's handling of the situation, but it was easily defeated.
Some 190 people have died in the conflict since May, according to local media, including at least one Bnei Menashe community member. Over 60,000 are displaced.
Several other Bnei Menashe Jews are hospitalized with injuries, according to Shavei Israel.
In the face of displacement, the Bnei Menashe Jews have remained religiously observant, even as some fled with nothing more than their prayer books and the clothes on their backs, a Mizoram Jewish community member told JTA in June.
"It was so sudden," said Ariella Haokip, a Bnei Menashe community member taking shelter in Thingdawl, Mizoram. "Funds were sent to us to buy special items for Rosh Hashanah and now for Sukkot. In spite of our misery, it is comforting to think that we are remembered."
Some are currently staying at government shelters, others at schools and homes of other community members, or rented homes paid for by nonprofit groups. In Thingdawl, Mizoram, one young member has begun organizing Hebrew classes for displaced members, said Thangjom.
Both Shavei Israel and Degel Menashe have been working since May to provide continued support to the Bnei Menashe Jews through donations of food, mattresses, mosquito nets, infant formula, medicines and other necessities. Both organizations have arranged shelters for displaced families. Additional financial support has poured in from Jewish and Christian organizations in the United States and Israel.
For some, the High Holiday season also represents a new beginning, as Degel Menashe races to construct homes for several Bnei Menashe families. Lalam Hangshing, chairman of the Bnei Menashe Council-India, donated a piece of land of about 200 acres in Churachandpur on which nine homes are being constructed.
"It was hoped that it could be ready by Rosh Hashanah but there were some unforeseen delays and challenges," said Thangjom. "Each family will be allotted a piece of land to grow or raise something of their choice so that it can be a source of livelihood for them."
—
The post Displaced by ethnic violence, India's Bnei Menashe Jews construct sukkahs nonetheless appeared first on Jewish Telegraphic Agency.
Alice Shalvi pioneered religious feminism in Israel. Everyone else is still catching up.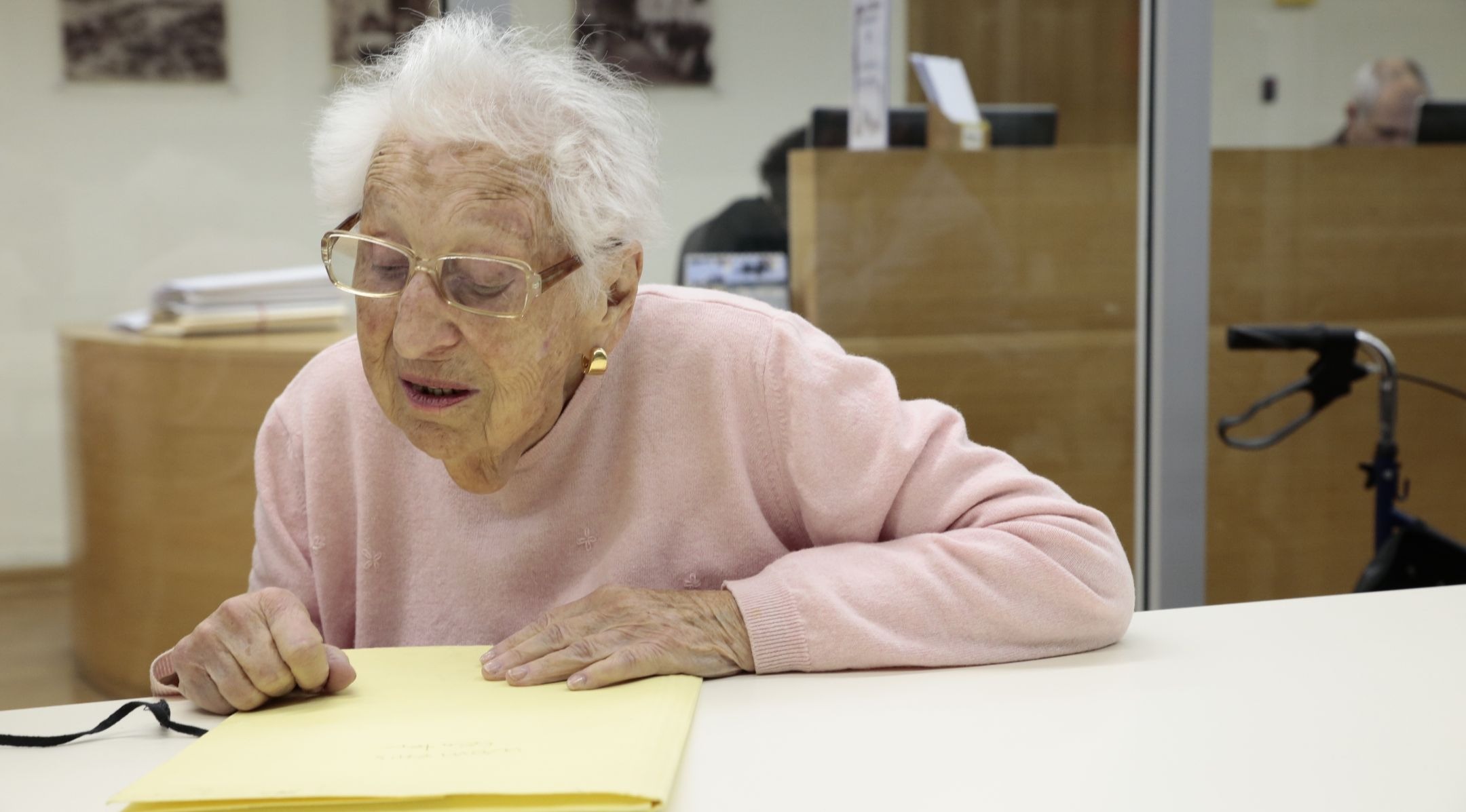 (JTA) — I first met Alice Shalvi, the mother of religious feminism in Israel, in the mid-1990s during a meeting of ICAR, the International Coalition of Agunah Rights, a coalition that she founded to advocate for women denied a religious divorce by their husbands. She was in her early 70s at the time, and had been fighting for agunah rights for 20 years.
I was in my mid-20s, and new to the cause. I was there as co-chair of Mavoi Satum, which a group of us founded in 1995. This coalition was meant to be advancing systemic solutions to this awful problem. But, of course, we were stuck. As stuck then as we are now.
At one point in the meeting, Professor Shalvi started to cry. "I am 72 years old. I have been talking about this for so long," she said, "and nothing is changing." She was crying because the suffering of women didn't seem to matter to our people. Then she turned to me and said, "It's up to you and your generation to fix this."
At the time, I felt her passing the mantle, and I didn't want to let her down. But I'm sure I did. At least on this front. On others, too, despite our best efforts.
Shalvi, who died Monday morning in Israel at age 96, fought crucial fights decades before the rest of the world caught up with her, before the religious community had any kind of language for what she was doing, before there was any kind of feminist movement to speak of in Israel. 
She pioneered feminist ideas in Israel in the early 1970s when there were only a handful of women doing such work — Marcia Freedman, Naomi Chazan and a few others. And she was the only one coming from the religious world, and able to see the need and potential for change before everyone else. 
Starting in 1975, Shalvi began running the Pelech School for Haredi Girls, a religious feminist school, before Orthodox feminism existed as a movement — before Women of the Wall, before women's tefillah (prayer) groups, years before Jewish Orthodox Feminist Alliance and Kolech, Israel's Religious Women's Forum, existed, before anyone even dared to put the words "feminist" and "religious" together in a sentence. Before even the Conservative movement had women rabbis. Everyone else is still catching up.  
She also worked in the non-religious arena, creating, in 1984, the first feminist lobby in Israel, the Israel Women's Network, which still pioneers on many fronts.
She also dared to work on issues of peace, taking positions that were considered pas nisht, or "unsuitable," in the religious world — and for the most part still are. She dared to see Palestinians, especially Palestinian women, as equal human beings. This was not a position that religious Israelis, or Israelis in general, were comfortable with. It's still an uphill battle.  She spoke and acted from a place of humanity first. 
And she could remarkably work on a multitude of  fronts, all at once, including education, academia, advocacy, politics and peace.
Alice Hildegard Shalvi was born in Essen, Germany, on Oct. 16, 1926. She, her mother and brother joined their father in London in 1934, and she later earned degrees in literature and social work. She immigrated to Israel in 1949, taught at Hebrew University and led efforts to create an English department at Ben-Gurion University. Denied the deanship because she was a woman, she mobilized female faculty members in protest.
Professor Shalvi was my formal mentor when I was on the Jerusalem Fellows, a program in Jewish education. We would meet regularly and talk about feminism, politics, religion and Israel. It was a privilege to spend those hours in one-on-one conversations. Prof. Shalvi always talked to me with complete honesty, passion and belief in what she was working for. She entrusted me with her vision, and made me feel like she believed that I would hold it for her and continue to birth it in the world.
By the time changes started to take place in Orthodoxy for women — evidenced by Shira Hadasha, a Jerusalem congregation dedicated to halachah (Jewish law) and feminism, and Orthodox women in clergy roles — she had already moved on to the Conservative movement, serving as rector of what is now the Schechter Institute of Jewish Studies, a graduate school and seminary associated with the movement's Jewish Theological Seminary. She needed to go where her vision was valued and welcomed and celebrated, instead of where everything was a fight. She was highly criticized for that decision and was treated by some as a sort of traitor to the Orthodox feminist cause. But she deserved to be in a place that supported her and brought her comfort and respect, and she had earned that right.
She offered words of support for me when I took a similar leap and enrolled in Reform rabbinical school. Even though I am no longer in rabbinical school and do not associate with the Reform movement in any meaningful way, I do not regret the decision to step away from an Orthodox version of feminism and try on other hats. She inspired me and so many others to take leaps, be courageous, live from the heart and ignore the haters.
I am so glad that she found her well-deserved place in the world, and that she received many well-deserved honors and accolades along the way, including, in 1991, the Ministry of Education's Education Prize in 1991 for teaching Talmud to girls and insisting that Pelech alumnae serve in either the IDF or the National Service. In 2007, she won the Israel Prize for her life's work, and in 2019 a National Jewish Book Award for her memoir, "Never a Native."
She left an incredible legacy of activism that has birthed generations of change agents in Israel.
I have often thought over the years that I wanted to be Alice Shalvi when I grew up. I loved her unstoppable courage, her ability to wear many hats, her resilience in standing up to the haters and naysayers, and her constant belief that she could make a difference. I've tried to follow that kind of path, though I have not had nearly the kind of strength and fortitude — and successes — that she had. But her personality and vision continue to have a permanent resting place in my heart. And I will continue to endeavor to carry her torch in this world.
—
The post Alice Shalvi pioneered religious feminism in Israel. Everyone else is still catching up. appeared first on Jewish Telegraphic Agency.