A monthlong celebration of Israeli arts and culture comes to the 14th Street Y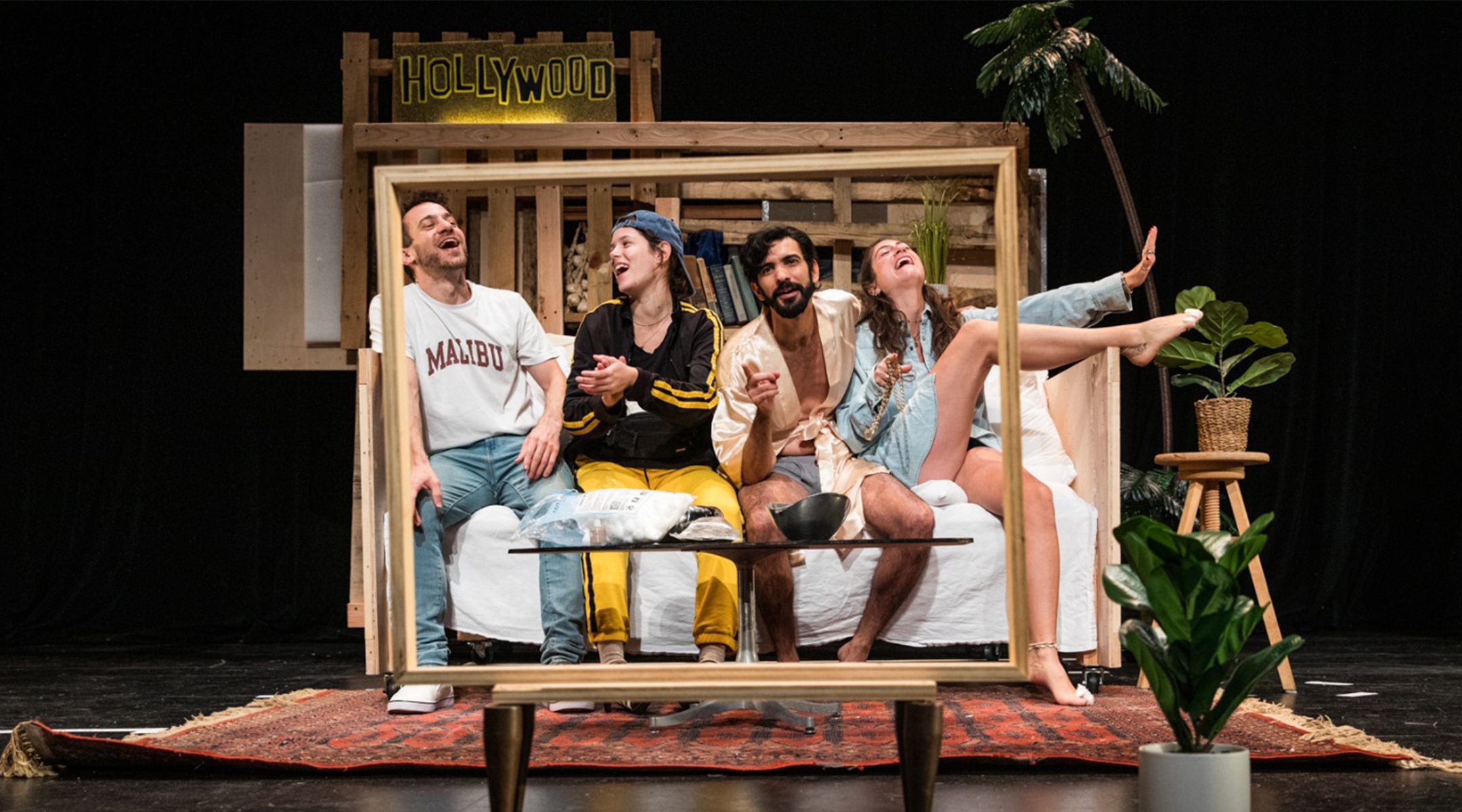 (New York Jewish Week) — For the three weeks between the first day of Rosh Hashanah and the end of Simchat Torah, it's hard to get anything done in Israel. With so many holidays in rapid succession, businesses open sporadically, bureaucratic necessities remain pending and many cultural events are put on hold.
In New York, though, a community of Israeli artists is overflowing with activity: Throughout the month of October, the Israeli Artists Project (IAP) is hosting the Stav Festival: A Celebration of Israeli Arts and Culture at the 14th Street Y. Featuring dozens of artists working in an array of media, festival events include performances by standup comics and musicians alongside productions of award-winning Israeli plays. Artists will provide workshops on everything from folk dancing or belly dancing to painting.
Named for the Hebrew word for autumn, the Stav Festival was originally slated for May 2020, when it would have been the Aviv (or Spring) Festival, but the COVID-19 pandemic meant that it had to be postponed. In his opening remarks at last week's kickoff event, IAP president Yoni Vendriger said that the more than three-year delay may have been for the best. "We've had plenty of time to curate a month of events that bring together artists from so many walks of life," he said.
Among the many and varied events is the New York debut of "The Holylanders," an original play by Moria Zrachia. Originally commissioned and presented by Israel's Cameri Theatre in Hebrew as "Shalom Lach Eretz," this new, English-language version was adapted and directed by her brother and longtime collaborator, Matan Zrachia.
Moria's work presents four stories of Israelis who have left their homeland, seeking their fortunes in various locales. In Matan's version, the storylines remain intact but the locations are all in the United States. The couple who opened a hummus restaurant in Berlin are now in New York; the techie start-up crew trying to sell their company to a sheik in Dubai are now in Silicon Valley.
"I kept a lot of the original text because the humor itself is universal," Matan Zrachia told the New York Jewish Week. "It doesn't matter if a person has immigrated from Israel, or Mexico, or Guatemala, or Berlin — the feeling of strangeness is common to everyone. It's about experiencing a cultural divide, relinquishing certain habits or customs because they're no longer acceptable in a new place — all of that is the comedic engine of the original, and I left that as it was."
While it's true that any immigrant experience is one of foreignness, "The Holylanders" is not just any immigration story — it's a very Israeli play. The protagonists are passionate, hotheaded, loyal to a fault — all character traits that were important to Matan to portray. "The jokes are, first and foremost, based on myself and my friends," he said, explaining that he especially wanted to "accentuate the emotional way in which Israelis speak."
Each of the play's four scenes is a standalone story; together, the individual "episodes" seem to tell a tale of a generation having an identity crisis. None of the characters feel at home in their chosen American city, though all are handling these feelings of displacement in different ways. In the final "episode," a group of four young women are in Atlanta, where they're conning unsuspecting Americans into buying more Dead Sea skincare products than they need, when one of them, Michi, becomes overwhelmed with a longing for Israel.
It's Yom Kippur and the secular group of friends had been planning to go to the swimming pool. Michi insists on going to synagogue, despite having no connection to religious practice, just to feel a connection to home. Across a cultural divide, they find a connection to the American Jewish community once they join the praying community in the sanctuary.
"What we see with that interaction is how, even though there are cultural differences, when a Jewish person sees another Jewish person, there's a click. That connection that Jewish people have is unlike any other I've seen," said Michael Kishon, a lead actor in "The Holylanders."
Kishon,  who was raised in Manhattan by Israeli parents, said that, above all, the play is about connection. "In that first scene, which takes place in New York, you see how the couple is full of warmth, offering food and wanting to be themselves even though they also want to fit in."
With their play, the Zrachia siblings aim to raise questions about identity, belonging and cross-cultural understanding. "Looking around, I see more questions than answers, both in the community in the U.S. and in the community I left behind in Israel," said Matan, who has lived in Brooklyn for more than five years. "We're trying to figure out how and why to go forward. Why is the second or third generation born in a country that was dreamed of for 2,000 years getting up and leaving? I think it's important to represent the questions we're asking through cultural events, and I think that can best be done through humor."
There are no tense, quiet moments in "The Holylanders" — all interactions are aggrandized to the point of satire. The exaggerated comedic language also extends the American characters in the play: The dreamy Angeleno in episode three is fashioned after every stereotypical rom-com hero. The kindergarten teacher from New York is overly polite and cloying as she tries to wrangle Israeli parents into a conversation about their son. The rabbi from the synagogue in Atlanta might as well be a Christian pastor, standing in white robes and orating on seeking one's way back to oneself. The effect is not one of viewing a reflection of Israeli and American interactions, so much as one of peering at the relationship in a fun-house mirror.
At a time in which Israel itself stands at a crossroads over its government's effort to weaken the judiciary, among other controversial policies — trying to decide how and why to go forward — the play is a fascinating glimpse into the identity crises of those who choose to put down roots elsewhere.
"There were a lot of identity questions, especially in the Yom Kippur scene," Bar Tenenbaum, an Israeli audience member who has lived in New York for three years, told the New York Jewish Week. "Who am I? Who am I missing? Am I Jewish? Am I an American all of a sudden? It felt like watching my group of friends — with all the secular Israeli culture. Usually when you go and watch a show about Judaism and Israelis it's a different population, more religious, than the one that's being presented here."
Other notable events at the Stav Festival include a second New York run of "Best Friends," a captivating take on the complexities of female friendship written by acclaimed Israeli playwright Anat Gov. The play, which won the 1999 Israeli National Theater Award for Best Comedy, had its NYC debut in March of 2023 to a series of sold-out performances, leading the cast to reprise their roles as part of the festival. Musical events run the gamut from the experimental, indie-jazz vocals of Chanan Ben-Simon and Noa Fort to traditional Yemenite music brought to stage along with intimate storytelling by Shlomit Levi. The calendar reflects an effort to curate a diverse experience that showcases the spectrum of Israeli creativity.
As Yael HaShavit, Israel's Consul for Cultural Affairs in North America, indicated at the festival's launch, there is no such thing as a monolithic Israeli culture — it's complex and textured. "Our culture is the best form of diplomacy we have," she said.
—
The post A monthlong celebration of Israeli arts and culture comes to the 14th Street Y appeared first on Jewish Telegraphic Agency.
Top official says White House antisemitism strategy is 'under pressure' due to Israel-Hamas war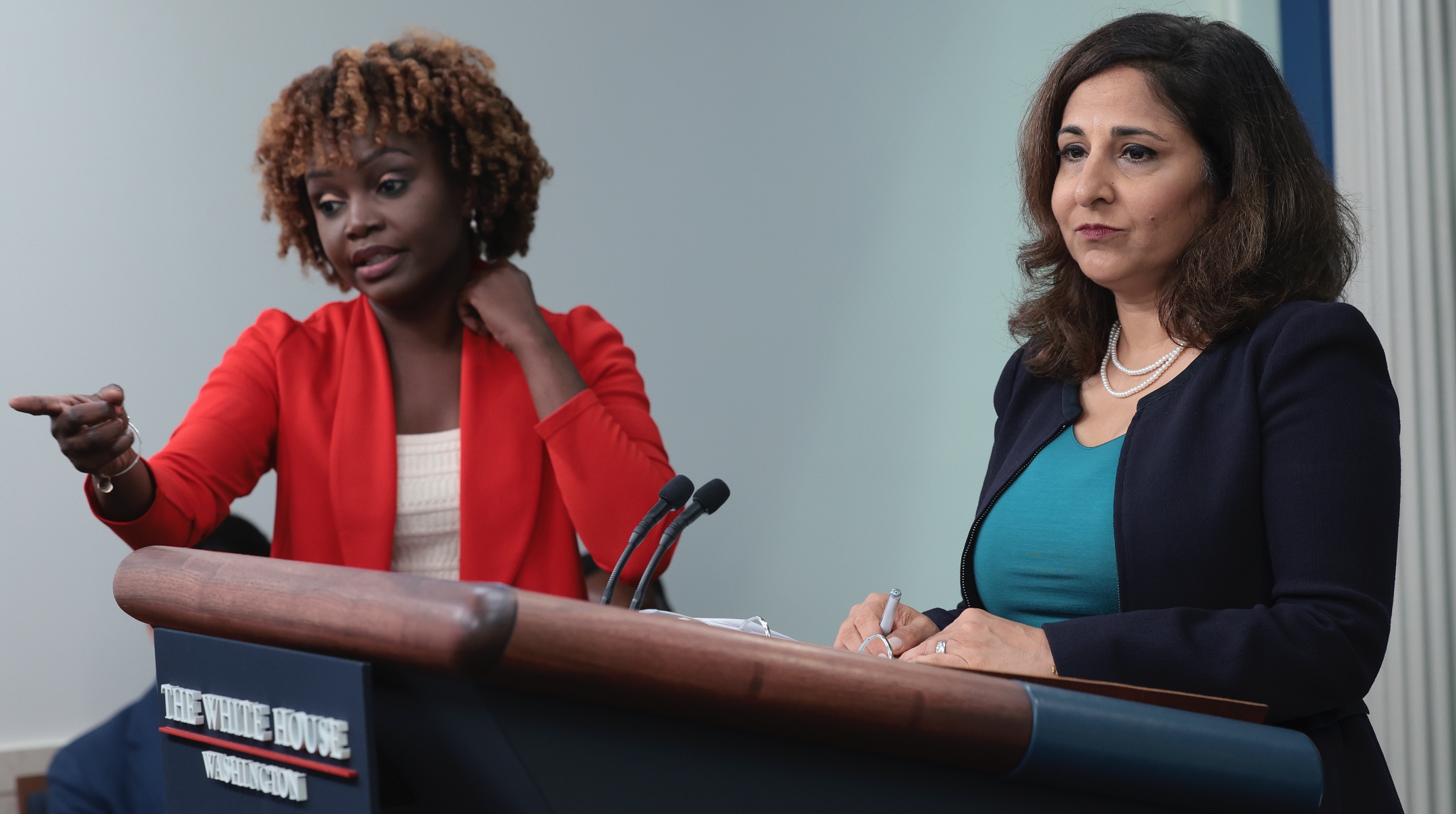 WASHINGTON (JTA) — The Biden administration's plan to combat antisemitism is "under a lot of pressure" because of the sharp rise in antisemitic incidents since the launch of the war between Israel and Hamas, a top White House official said.
Neera Tanden, President Joe Biden's top domestic policy adviser, held an online briefing with national Jewish communal leaders on Wednesday, about one month after Hamas' Oct. 7 invasion of Israel. She said the landmark strategy Biden launched in May to combat antisemitism created what she called a cross-department "architecture" to track and respond to reported incidents of antisemitism, especially on college campuses, but that that system is now being strained, she said.
"Unfortunately, that architecture is under a lot of pressure now with the rise of events" since Oct. 7, Tanden said. "The last several weeks we have seen, on campus and off, a real rise of targeting of Jewish people and antisemitic slurs, actions, threats of violence."
Jewish watchdogs have recorded a spike of antisemitic incidents worldwide and in the United States since Oct. 7, when Hamas terrorists invaded from the Gaza Strip, killing 1,400, wounding thousands, taking more than 200 captive and sparking an Israeli counterattack in Gaza. The Hamas-run Health Ministry in Gaza says more than 10,000 have been killed in the fighting.
This week, a Jewish man died after being wounded in an altercation with pro-Palestinian demonstrators this week near Los Angeles. Jews have also been assaulted and faced death threats on college campuses.
"We continue to see an alarming trend of antisemitic threats and attacks targeting Jewish communities across the country," White House Press Secretary Karine Jean-Pierre told reporters just before Tanden's briefing. "Disturbing acts like ripping down posters of Jewish hostages held by Hamas, vandalizing Jewish institutions, threatening to commit acts of violence against Jewish students, Jewish faith leaders and Jewish communities inflame tensions, stoke fear and are completely completely unacceptable."
In the webinar, Tanden said the White House was aware of how deep fears are running among American Jews. "We understand that people are scared in this moment, people are scared who have gone their whole loves without being scared," she said.
Just before the briefing, Jewish organizational leaders met with the top two U.S. law enforcement officials,  Attorney General Merrick Garland and FBI Director Chris Wray, to ask for greater protections against antisemitic harassment since the launch of the war, especially on campuses.
"We are comforted by the very active focus of the Department of Justice and the FBI in investigating and prosecuting the tsunami of increased cases since October 7 of hateful crimes against members of the Jewish community," said William Daroff, the CEO of the the Conference of Presidents of Major American Jewish Organizations, in a text immediately after the meeting ended at noon.
The meetings are among a flurry of efforts by American Jewish organizations to back Israel, fight antisemitism and advocate for the hostages. Jewish organizations are planning a mass rally next week in Washington to galvanize support for those goals.
Tanden said she and Education Secretary Miguel Cardona had met with Jewish students on campuses recently. "We spent a significant time hearing from kids, honestly, who are being threatened for who they are, for being Jewish," she said.
On Oct. 30, Jewish leaders had a meeting with Cardona, days before he warned federally funded colleges that they could lose funding if they failed to address harassment of religious and other minorities. Shelley Greenspan, the White House Jewish outreach director who was on the webinar, said the Education Department's Office of Civil Rights complaint form now had "antisemitism" designated as an area of harassment.
"There is an actual dropdown, so if you feel like you are being targeted at a university, you can actually click it's because of antisemitism," she said. "The department will then investigate."
Other organizations represented at the Justice Department meeting included the Anti-Defamation League, the Jewish Federations of North America, the American Jewish Committee and Hillel International. Julie Fishman Rayman, the AJC's managing director, said in an email that Wray also addressed FBI involvement in efforts to release the more than 200 hostages held by Hamas.
Nathan Diament, the Orthodox Union's executive director of public policy, said Jewish officials who spoke to the Justice Department officials stressed the threat to Jewish students on campus.
"We asked them to surge more resources into law enforcement agencies to protect our communities," he said in an email. "And we asked for a zero-tolerance policy — especially toward campus incidents. Federal authorities properly charged the student who made death threats at Cornell with a federal crime; that needs to be done across the board with others who act against Jewish students."
—
The post Top official says White House antisemitism strategy is 'under pressure' due to Israel-Hamas war appeared first on Jewish Telegraphic Agency.
With the Jerusalem Biennale canceled due to war, participating artists mount 3 exhibits in New York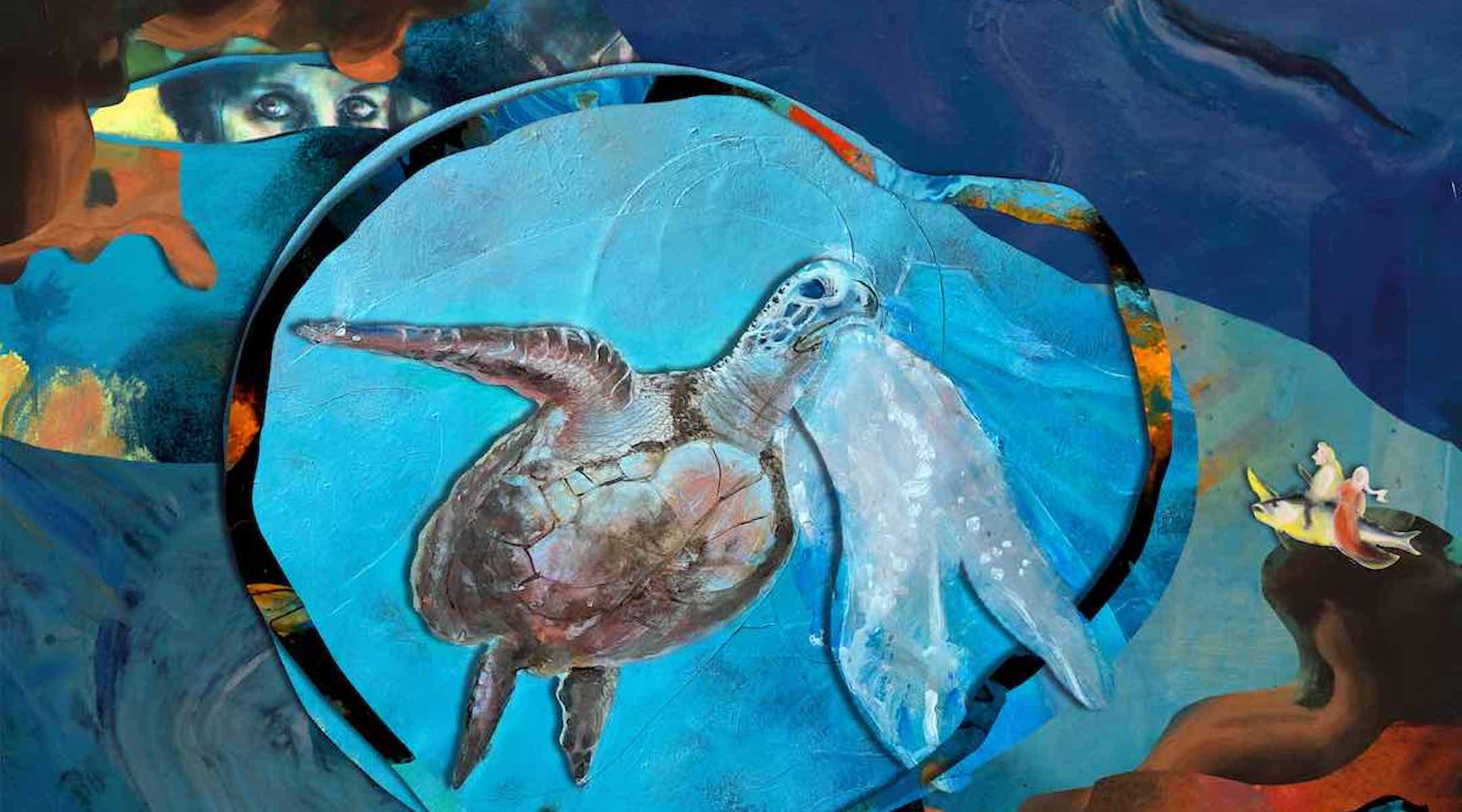 (New York Jewish Week) – Every two years, hundreds of artists from all over the world flock to Israel for the Jerusalem Biennale, an art festival that celebrates contemporary Jewish and Israeli artists from all over the world. 
Due to the ongoing war between Israel and Hamas, however, the 2023 festival, which was originally supposed to open Thursday, has been tentatively postponed until next spring.
Many of the artists are mounting their shows in their home cities instead. At least five of the Biennale's exhibits are scheduled to open this week in three continents — North America, South America and Europe — as a satellite version of the festival. 
On Thursday, three of the exhibits — "Activate," "The Seventeen" and "Hallelujah" — will open in New York City, where more than a dozen artists who are featured in the Biennale call home. 
The Heller Museum at Hebrew Union College-Jewish Institute of Religion, in partnership with the Jewish Arts Salon and the American Sephardi Federation, will host two of the Biennale exhibitions, "Activate" and "The Seventeen." They will be on view for free at the museum's East Village location for the next week. 
The Marlene Meyerson JCC Manhattan on the Upper West Side will host a third exhibit, "Hallelujah," in partnership with the Biennale. The Upper West Side building's Laurie M. Tisch gallery will show the work beginning Thursday through Dec. 17.
Founded in 2013, the Biennale takes place across the city of Jerusalem and centers contemporary artists whose work references Jewish and Israeli experiences. This year, the Biennale was prepared to bring more than 200 artists to Jerusalem to host 35 exhibitions across the city under the theme of "Iron Flock," which aims to "identify, through the eyes of curators and artists from all over the world, the movements, ideas, people, and moments that have become our unsaleable cultural assets," as the Jerusalem Biennale's website describes it. 
"The Jerusalem Biennale became like a pulse, beating steadily every two years. Since 2013, without exception and despite the many challenges, the Jerusalem Biennale has created a platform for contemporary art at the very center of the Jewish world. Until now. It's as if the heart skips a beat," Rami Ozeri, the festival's founder and creator director, said in a press release. 
"But even now, after the unspeakable pain of October 7, we have witnessed a huge outpouring of solidarity from around the world," he added. "Within weeks, our friends and partners have succeeded in mounting in their own cities the exhibitions created for the Jerusalem Biennale. We will continue to nurture the ties of art and culture between Jerusalem and the world today more than ever."
At the Heller Museum, "Activate: A New York Women's Perspective," curated by Israeli artist Hadas Glazer, showcases the work of six New York artists — Siona Benjamin, Goldie Gross, Ronit Levin Delgado, Joan Roth, Chelsea Steinberg Gay and Yona Verwer — who explore "the complexities of life as a woman today," according to a press release.  
Also at the museum, "The Seventeen" spans the 40-year career of Brooklyn-born artist Archie Rand. Curated by Samantha Baskind, the exhibition continues the artist's explorations of "the Bible and Jewish texts in serialized paintings conceptually informed by twentieth-century culture," according to the Jewish Art Salon website. 
Meanwhile, at the JCC, "Hallelujah" will showcase Israeli artists currently living in New York who have created art about their experiences as immigrants to the United States. On view will be works by Noa Charuvi, Hirut Yosef , Yehudit Feinstein, Yuli Aloni Primor, Gal Cohen, Ken Goshen, Gabriela Vainsencher and Maya Baran. 
Other exhibitions that were intended for the Biennale will be mounted at the AMIA Art Space in Buenos Aires and the Jewish Museum of Casale Monferrato in Italy. 
Ozeri said in a press release that more of the exhibits will open around the world in the coming months as a plan is made for the Biennale to take place in Jerusalem next year. "This heart will always keep beating," he said. 
—
The post With the Jerusalem Biennale canceled due to war, participating artists mount 3 exhibits in New York appeared first on Jewish Telegraphic Agency.
Brazil police arrest 2 men allegedly plotting terror attacks targeting Jews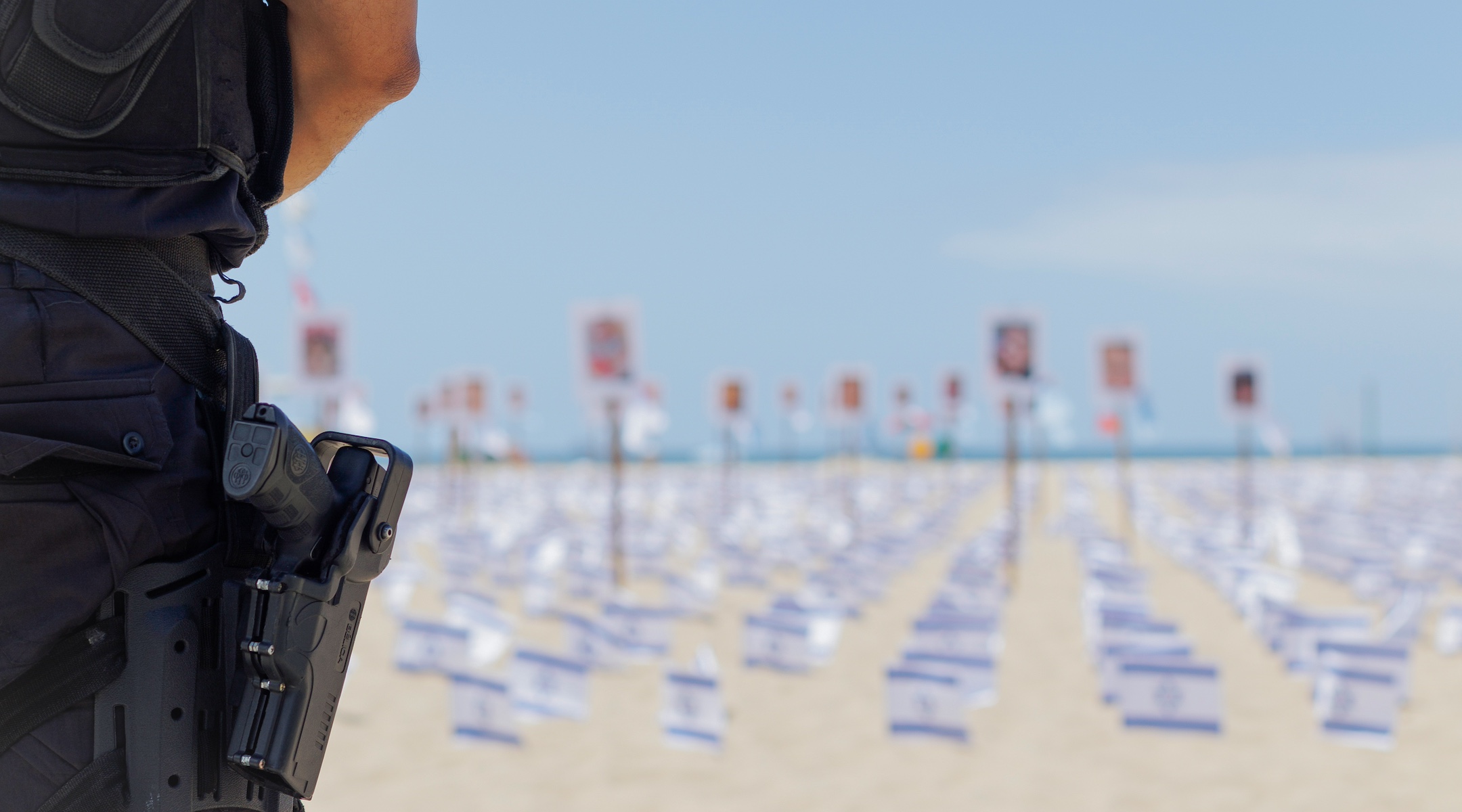 (JTA) — Brazilian police have arrested two men and are looking for 11 others reportedly involved in a terror cell plotting attacks aimed at Brazilian Jews.
The group is suspected to have ties to Hezbollah, the terrorist group based in Lebanon that is currently trading fire with Israel at Israel's northern border. Details on the alleged plot were scarce, but the O Globo newspaper reported that synagogues were among the group's targets.
One suspect was arrested on Wednesday after flying in from Lebanon to Brazil's biggest airport, in Guarulhos, near São Paulo. Police are searching São Paulo, the Minas Gerais state and the federal district around the country's capital Brasília for others.
Police said the charges of "creating or belonging to a terrorist organization and carrying out preparations for acts of terrorism" carry sentences of 15 and a half years in prison.
Over 100,000 Jews live in Brazil, mostly in São Paulo and Rio de Janeiro. The Confederação Israelita do Brasil, or CONIB, an umbrella group for Brazilian Jewish federations, congratulated police for breaking up the terror cell and expressed "enormous concern" about the situation.
Jewish communities around the world are on high alert in the wake of Hamas' Oct. 7 attacks and Israel's subsequent war in Gaza, and police in several European countries say they have interrupted or tracked plots against Jewish targets over the last month. But even before October, a report published in April found that antisemitism in Brazilian schools had spiked over the past three years. Police are also cracking down on local neo-Nazi groups that have grown in size and influence in recent years.
Hezbollah has been known to have a large presence in Latin America for decades and has been tied to multiple terror attacks in the region, including the bombings of Israeli embassy in Buenos Aires that killed 29 in 1992 and the attack on that city's AMIA Jewish center that killed 85 in 1994.
Israeli Prime Minister Benjamin Netanyahu's office said Brazilian police worked "in collaboration with Mossad and its partners within the Israeli security community, as well as other international security and law enforcement agencies" in making Wednesday's arrests.
—
The post Brazil police arrest 2 men allegedly plotting terror attacks targeting Jews appeared first on Jewish Telegraphic Agency.