A new program addresses a growing opioid crisis in the Bukharian community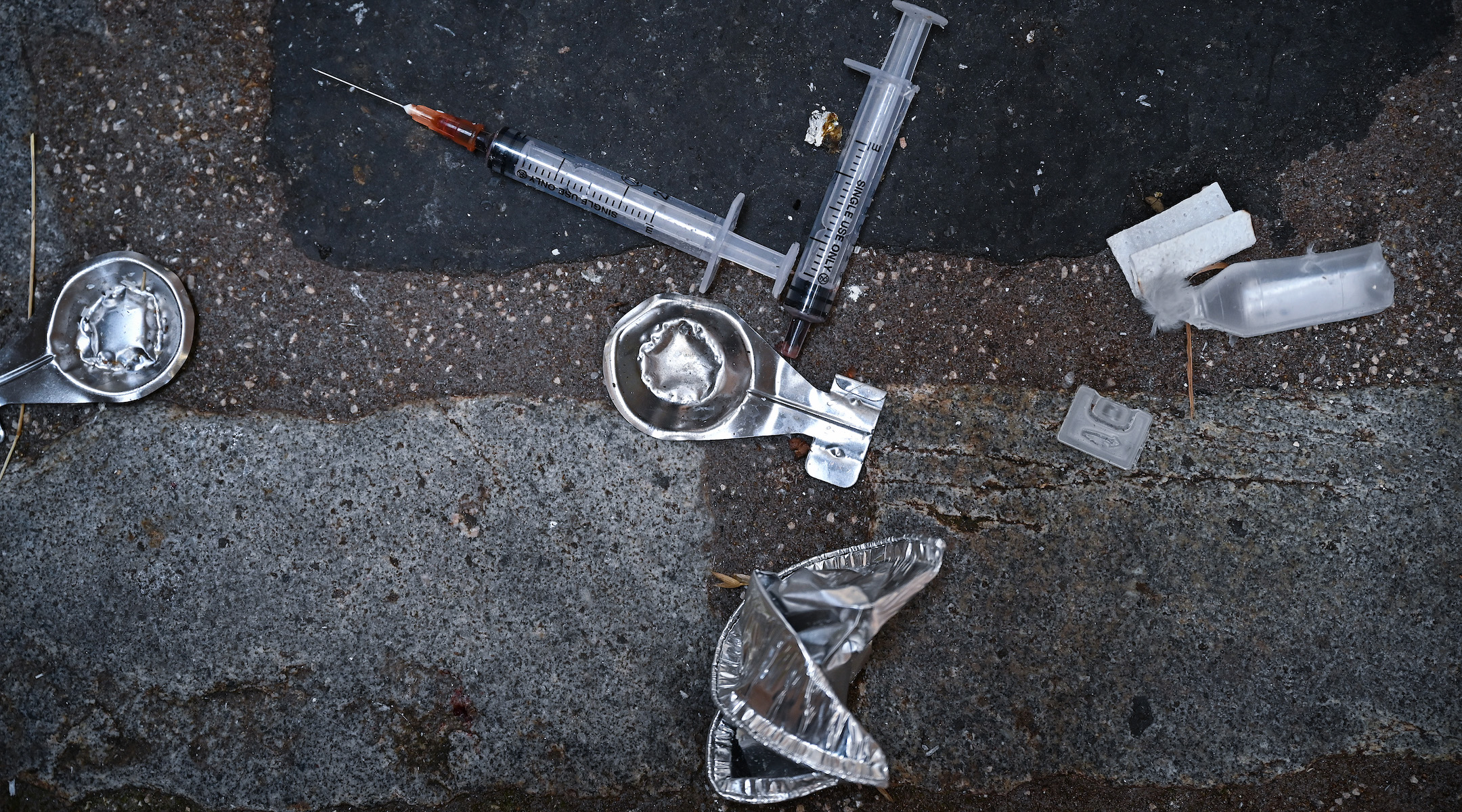 (New York Jewish Week) — No one can say exactly how many members of New York City's Bukharian Jewish community have died of opioid overdoses in the last few years, but everyone agrees that the numbers are distressingly high.
Hiski Mierov, vice president of the Bukharian Jewish Community Center in Forest Hills, Queens, can think of 20 or so young people who have died in the last seven years, a steep toll on an immigrant community of about 50,000. "I would estimate the number is much higher," he said.
David Aronov, who grew up in the community and now serves as its liaison at UJA-Federation of New York, offered an even more sobering estimate: "several dozen" overdose deaths in just the last five years.
"The community is so tight-knit that when one of these deaths does happen, it spreads really, really fast," Aronov told the New York Jewish Week. "After a large number of deaths within a small amount of time, for the size of the community, you know that it is a really big issue."
Now, Aronov and Mierov are playing leading roles in an effort to turn things around. A dozen synagogues in Queens neighborhoods with many Bukharian Jewish residents are newly stocking Narcan, a lifesaving drug that reverses overdoses, and training volunteers on how to administer it.
They are also planning community education on drug use and overdose response, with the goal of reducing the stigma of addiction. 
"Everybody in the community has either been touched by this issue or knows someone that has been touched, but people don't want to reach out for help," Aronov, who is at the helm of this program and worked with UJA-Federation to launch it, said. "We want individuals in the community to be more open and talk about the issue… and we want to make sure that stigma is not preventing individuals from getting the help that they need."
The "Save a Life" program is a collaboration among UJA-Federation, the New York City Department of Health and the Jewish Board, a Jewish health and human services nonprofit that is licensed to distribute Narcan. Their goal is to curb an acute crisis within one community that has been affected by an 80% increase in overdose rates within New York City since 2019.
While there is no reliable data on drug-related overdoses specifically in Jewish communities, it is clear that they have not been spared from the skyrocketing rate of overdoses across the country in recent years as dangerous street drugs, often laced with fentanyl, have replaced prescription pain pills as the most widely available opioids. 
But people within the Bukharian Jewish community — immigrants from Central Asia — say they can see particular risk factors for drug abuse within their community. 
Many parents spend much of their time working, Mierov said, and there can be a lack of communication between children and their parents and a lack of supervision for young people, which the Centers for Disease Control says is a risk factor for substance abuse in youth. A deepening disconnect between generations who grew up in different worlds, with different responsibilities and resources, could also make it hard to address drug abuse, Mierov said.
"The parents are oblivious to what's going on because the kids are always out with their friends. They come home late, and parents are busy working. Like many immigrant families that come to this country, they live paycheck to paycheck — the father has two jobs, the mother has two jobs. They're never home," he said.
Aronov added that in many of these immigrant families, children can feel "an immense amount of pressure," to do well in school, get married early and earn money to support their families and parents.
In some cases, parents don't want to discuss the issue for fear of being judged by others in the community, Mierov explained. 
"They feel embarrassed to reach out to people that are in the community. They have a fear of not being able to marry off their children in the community because of things that happened in the past," he said. 
"They don't understand that these kids are dying from their silence," said Jack Musheyev, 35, who grew up in the community and is in recovery from drug addiction.
Musheyev was 9 and living in Forest Hills, the main hub of New York's Bukharian community, when he drank alcohol for the first time. At 12, he started smoking weed everyday. By junior year of high school, he started using harder drugs like cocaine, which led to skipping school to get high and often getting into fights.
His mother, who like many others in the community immigrated in the 1980s, eventually sent him to Miami to finish high school with the hope that, outside his circle in Queens, he would be less inclined to fall into trouble. But it would take another decade before Musheyev entered rehab and got sober. 
"I witnessed a lot of abuse in my family between the parents and what that led me to is to find peace outside with my friends," Musheyev said. "What that entailed was smoking weed, drinking. It was helping me cope with my feelings and suppress them in the real world."
For Musheyev, the new initiative is "a great approach," but he thinks even more can be done, like opening up 12-step chapters in Bukharian communities in Queens and providing mental health services for people in the community who are struggling as he did. 
"We need to get more therapy for these kids, we need AA meetings and materials, a place where they can go every single hour to hear somebody with some clean time to share their story," he said, adding what they need more is "love, hope and inspiration."
In addition to trainings, Aronov is also implementing a public affairs campaign. Educational flyers and videos in both English and Russian about Narcan and the resources UJA is offering are being distributed on social media and WhatsApp.
"What they did with this program is bring people in Forest Hills, Queens, closer together," said Mierov, who is the UJA's point person for distributing the free Narcan kits and trainings at BJCC, a synagogue, community center and Hebrew school in the heart of the neighborhood.
He said getting to work with the other participating locations had helped him feel some of the same relief that he hoped would spread to families in his community.
"There's no more shame where you are wondering, 'Oh my god, is this only happening with the families that are affiliated with our center? Are we doing something wrong? Are we not doing enough?'" Mierov said. "It's nice to have this support system where you can reach out to other synagogues in the same city and kind of talk things out and figure out different perspectives and ways to handle the situation."
The 11 other synagogues and community centers participating in the program are in other Queens neighborhoods with large Bukharian populations — Rego Park, Fresh Meadows, Flushing, Jamaica Estates, Kew Gardens and Corona. Each of them will get kits that include two naloxone (Narcan) nasal sprays, gloves, alcohol pads and how-to information, and volunteers will learn how to use the supplies.
Aronov has appointed a "point person" at each of the 12 locations to give out the Narcan kits. 
"One of the things I make sure that I come across when I speak to people is that there's no judgment," said Ahuva Lilliana Yelizarov, who runs the Forest Hills synagogue Anshey Shalom with her husband, and who has already deployed several Narcan kits in the community. 
"It doesn't discriminate, unfortunately," she said about addiction. "It impacts everyone, whether you're a secular Jew, or you're an Orthodox Jew. So unfortunately, we have to step it up and do what needs to be done."
—
The post A new program addresses a growing opioid crisis in the Bukharian community appeared first on Jewish Telegraphic Agency.
Jewish billionaire Henry Swieca quits Columbia Business School board, saying campus is 'unsafe' for Jews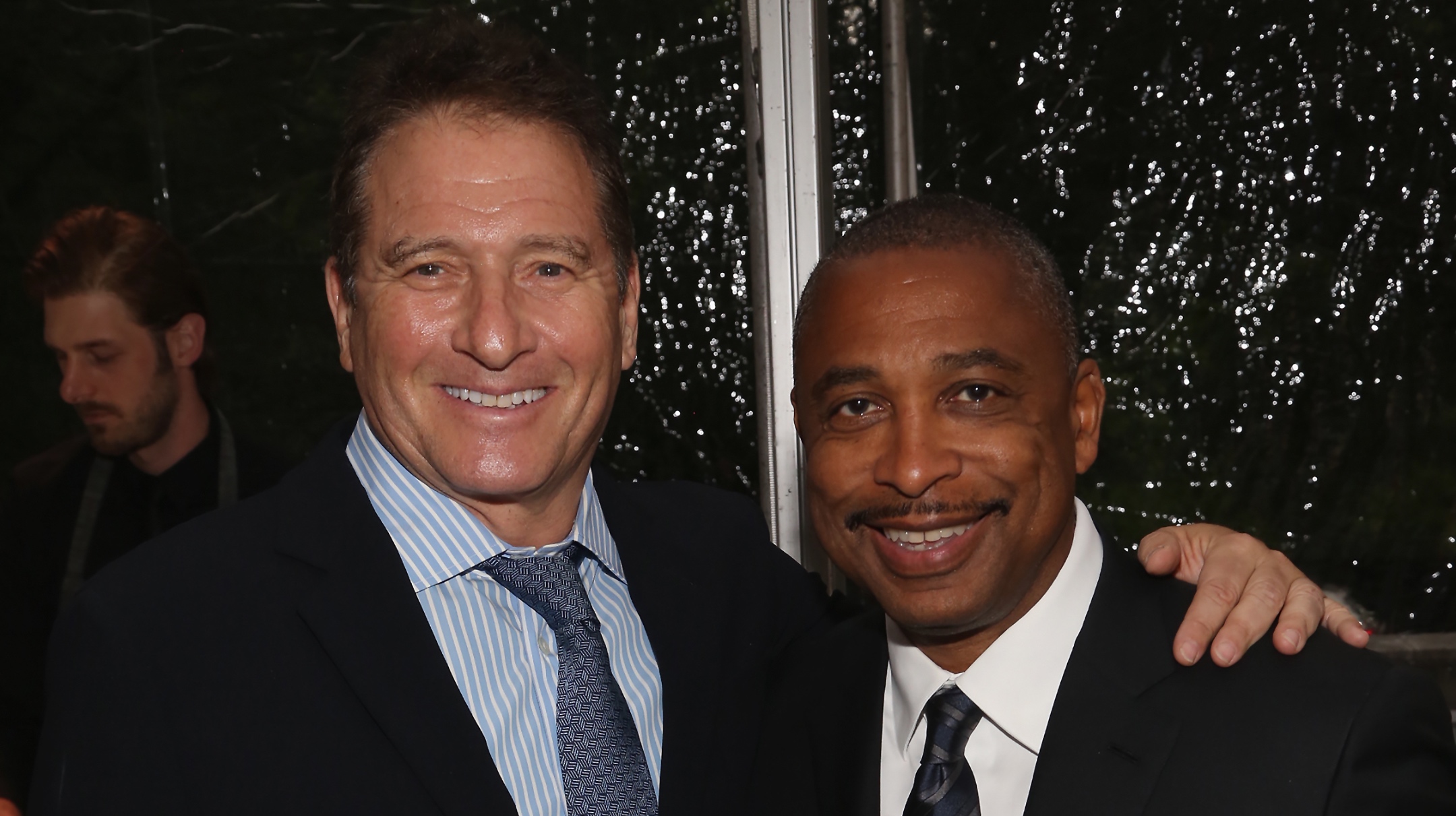 (JTA) — A Jewish billionaire investor and philanthropist quit the board of Columbia Business School, saying the campus had become unsafe for Jews since the launch of the Israel-Hamas war.
"With blatantly anti-Jewish student groups and professors allowed to operate with complete impunity, it sends a clear and distressing message that Jews are not just unwelcome, but also unsafe on campus," Henry Swieca said in an Oct. 30 letter obtained Tuesday by the Jewish Telegraphic Agency. "My resignation is an expression of my deep concern for the direction in which the university is heading." The Board of Overseers is the school's main fundraising arm.
Swieca, 66, is the founder in 2010 of Talpion Fund Management and the cofounder of Highbridge Capital Management, which was acquired by J.P. Morgan Chase in 2008. The child of Holocaust survivors, he has been a member of the business school's Board of Overseers since 2014. Forbes lists his worth as $1.9 billion.
His resignation, which he did not announce publicly, comes amid a flurry of protests by Jewish supporters of elite universities in response to the schools' handling of the Israel-Hamas war following Oct. 7, when Hamas attacked Israel. Prominent supporters of Harvard University and the University of Pennsylvania have announced that they will or might no longer support their alma maters because of the presidents' response to the war, and the private equity CEO Marc Rowan is reportedly trying to get others in the finance field to withhold donations over the issue.
In his letter, Swieca refers to a chant that has proliferated in anti-Israel protests since the launch of the war, "From the river to the sea," which is widely understood by its critics to call for a Palestinian state that supersedes Israel.
"Statements from the university are meaningless when pro-Hamas students march on campus calling for the complete destruction of Israel," he said. Defenders of the phrase say it his evolved since it was coined in the 1960s, when it represented longings for Israel's removal, to a call for a binational state.
The letter did not specify incidents. The Columbia campus has long been a hotbed of pro-Palestinian activism, and student groups there called immediately after the attack for the school to cut ties with a program in Tel Aviv. On Oct. 16, a 19-year-old allegedly assaulted a Columbia student who was putting up posters on campuses featuring hostages taken by Hamas during its attack. The campus was also briefly closed to the public because of unrest.
On Oct. 30, the day Swieca dated his letter, Jewish students at the New York City university held a press conference demanding more robust action to protect Jews. They noted that the university had not mentioned Hamas in its statements about the war.
The Jewish students cited as incidents of antisemitism the discovery of a swastika painted in a bathroom and listed other allegations, including that pro-Palestinian students carried signs saying "resistance is not terrorism" during an on-campus walkout and that, at Columbia's law school, a student said "F— the Jews" to a visibly Jewish student. They also said Jews were targeted with antisemitic tropes in group chats and demanded that Columbia specifically condemn Hamas which it had not done until then.
Swieca's bio page has disappeared from Columbia's Board of Overseers listing. In his letter, Swieca says he graduated in 1982, a date also listed in his official biographies. The university has identified him as a 1983 graduate.
Glenn Hubbard, in 2014 the dean of the school, said in a release then that he looked forward to working with Swieca. "Given his business knowledge and expertise, along with his familiarity with Columbia Business School, I am certain he will provide tremendous insight to our community. I look forward to working closely with him in the years ahead," Hubbard said.
Swieca said in the release that his education at the school was transformative. "Columbia Business School provided me with the foundational knowledge I needed to achieve professional success, and I have carried the lessons I learned in the classroom with me through all of my business ventures," he said.
Talpion's website says Swieca is the child of Holocaust survivors and grew up in the Washington Heights neighborhood in New York City. It lists a number of philanthropies it backs, including the American Israel Education Fund, an arm of the American Israel Public Affairs Committee, and Meor, a Jewish heritage study program. He runs a grant program that pays out $10,000 for programs that advance Jewish education and outreach. According to the Washington Post, Swieca also funded the expansion of an Israeli organization that aims to rebuild the ancient Jewish Temple in Jerusalem on the Temple Mount, a holy site for Muslims, an ambition that is widely understood as anti-Muslim.
Talpion's website says that "the name of the company derives from the Biblical word 'Talpiot', meaning a castle's turret, and is also the name of a highly elite intelligence unit of the IDF."
—
The post Jewish billionaire Henry Swieca quits Columbia Business School board, saying campus is 'unsafe' for Jews appeared first on Jewish Telegraphic Agency.
Education secretary: Colleges could face funding cuts if they don't address antisemitism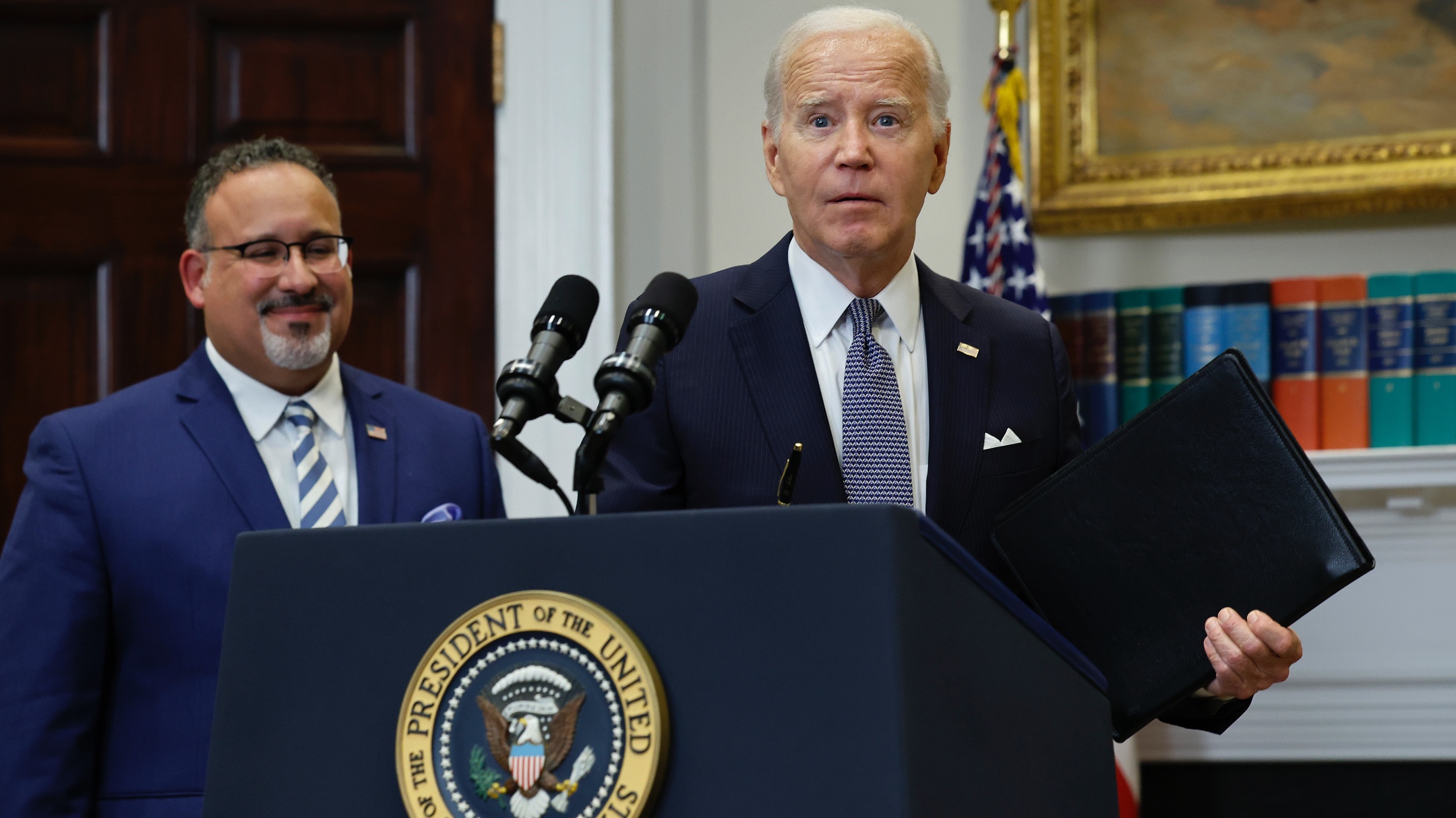 WASHINGTON (JTA) — Education Secretary Miguel Cardona said colleges could lose federal funding if they fail to address antisemitism and other bigotries, following up on a meeting last month with Jewish leaders alarmed by rising antisemitism on campuses in the wake of the Israel Hamas war.
Cardona made his warning in an interview on CNN on Monday ahead of the release the next day of a letter reminding federally funded schools of their obligation to protect Jews and other minorities.
"I would want to provide support for these universities, provide guidance. And if there are egregious acts, I want to make sure that we're investigating," he told the network. "Ultimately, if we have to withhold dollars from a campus refusing to comply, we would."
Cardona's comments do not represent a new policy, but they suggest that Cardona is prepared to be aggressive in pressing colleges to act. In a release on Tuesday formally announcing the letter, Cardona tied the letter's instructions to what Jewish organizations have said is a massive spike in antisemitism on campuses since Hamas terrorists struck Israel on Oct. 7, launching the war.
"The rise of reports of hate incidents on our college campuses in the wake of the Israel-Hamas conflict is deeply traumatic for students and should be alarming to all Americans. antisemitism, Islamophobia, and all other forms of hatred go against everything we stand for as a nation," he said.
The letter sent Tuesday to colleges that receive federal funds, signed by Catherine Lhamon, the department's assistant secretary for civil rights, describes in its first paragraph "an alarming rise in disturbing antisemitic incidents and threats to Jewish, Israeli, Muslim, Arab, and Palestinian students on college campuses and in P-12 schools."
In her second paragraph, Lhamon ties the money the schools get from the government to their legal obligations to protect minority students. Both public and private universities receive federal funds through a variety of pathways.
"I write to remind colleges, universities, and schools that receive federal financial assistance of their legal responsibility under Title VI of the Civil Rights Act of 1964 and its implementing regulations (Title VI) to provide all students a school environment free from discrimination based on race, color, or national origin, including shared ancestry or ethnic characteristics," Lhamon said in her letter. "It is your legal obligation under Title VI to address prohibited discrimination against students and others on your campus—including those who are or are perceived to be Jewish, Israeli, Muslim, Arab, or Palestinian — in the ways described in this letter."
In his Oct. 30 meeting with Jewish leaders, Cardona noted that the Biden Administration had already, prior to the Oct. 7 Hamas deadly attack on Israel, extended Civil Rights Act protections to religious minorities, including Jews and Muslims. He promised a two-week deadline to come up with a plan.
Jewish leaders at that meeting noted that the federal government in recent years has expanded Title IX of the same act, which bans gender discrimination, to allow for funding to be withheld from universities that do not address sexual harassment and assault. They suggested that the department could apply similar measures to Title VI as an incentive for compliance.
Sen. Jacky Rosen, a Jewish Democrat from Nevada, last week had sent a letter urging the Education Department to issue "updated guidance to college and university administrators making clear the consequences of failing to ensure the safety of Jewish students," among other measures.
Rosen, who cofounded an antisemitism task force in the Senate, welcomed Cardona's letter issued Tuesday. "I'm glad to see the U.S. Department of Education is taking action at my urging to remind school administrators of their legal responsibility to keep students safe from antisemitism and other forms of discrimination – or face consequences," she said. "I'm continuing to urge the department to form a task force to counter campus antisemitism."
—
The post Education secretary: Colleges could face funding cuts if they don't address antisemitism appeared first on Jewish Telegraphic Agency.
In a rare move, the US House of Representatives censures Rashida Tlaib for Israel remarks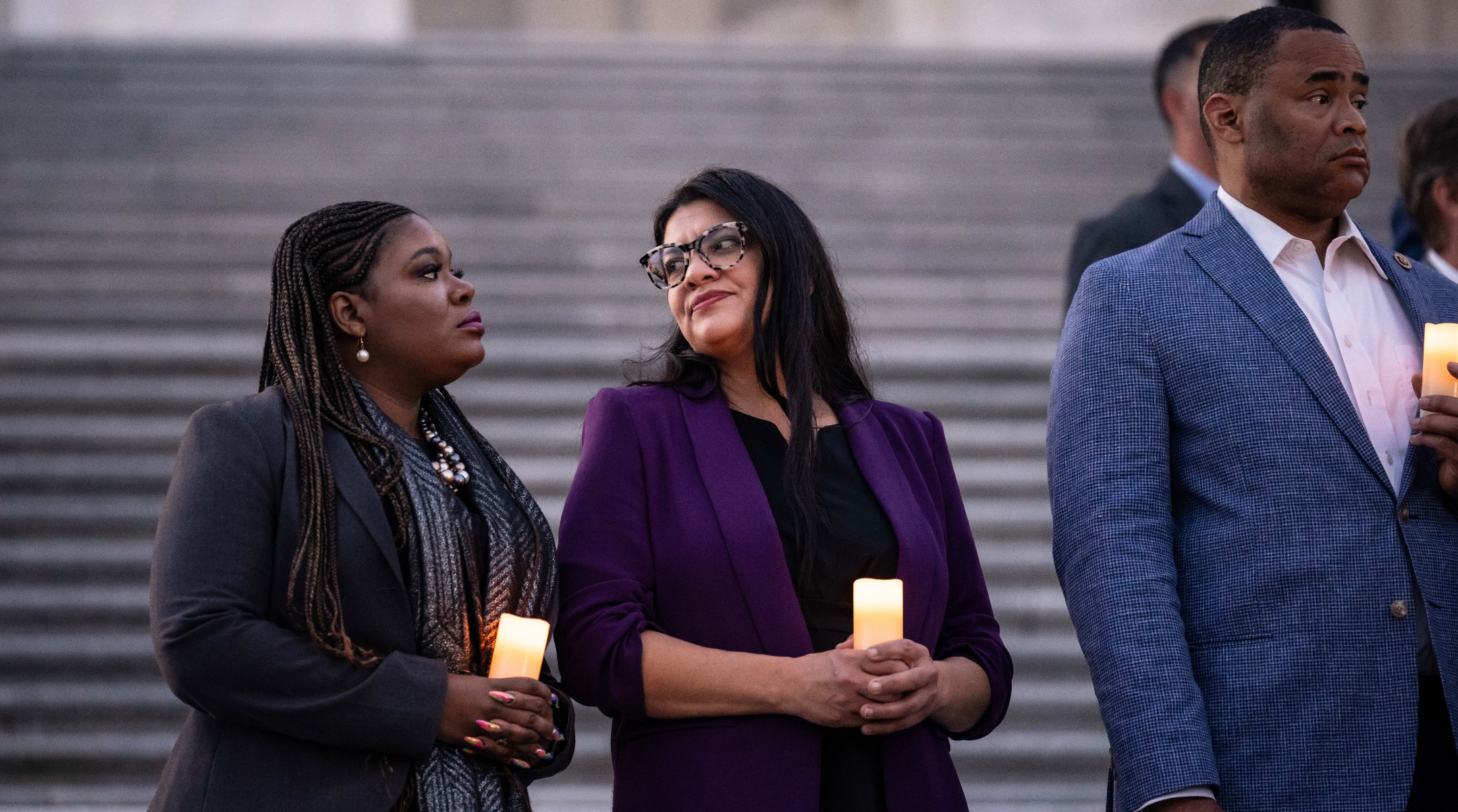 WASHINGTON (JTA) — The U.S. House of Representatives censured Michigan Rep. Rashida Tlaib, the Palestinian American Democrat, for her rhetoric in the wake of Hamas' Oct. 7 invasion of Israel, including using the term "from the river to the sea."
The 234-188 vote late Tuesday night saw 22 Democrats vote to censure Tlaib, and was sure to sharpen divides among Democrats over Israel's war with Hamas in Gaza. Some Democrats vehemently defended Tlaib's right to free speech and others said the "From the river to the sea" term signifies the elimination of Israel. The vote was largely on party lines, reflecting the Republican majority, though four Republicans voted against censuring Tlaib.
Tlaib said she would not be intimidated by the censure vote, which will require her to stand in the well of the House chamber and listen to  House Speaker Mike Johnson explain why she is being censured. "I will not be silenced and I will not let you distort my words," she said.
The censure resolution was initiated by Rep. Rich McCormick, a Georgia Republican, and focused on statements by Tlaib since Hamas launched the war. It noted that Tlaib used the phrase on "from the river to the sea" Nov. 3 on social media and argued that "it is widely recognized as a genocidal call to violence to destroy the state of Israel and its people to replace it with a Palestinian state extending from the Jordan River to the Mediterranean Sea."
Tlaib in her Nov. 3 post on X, the platform formerly known as Twitter, said she used the phrase to describe a democratic outcome for all in that region. "From the river to the sea is an aspirational call for freedom, human rights, and peaceful coexistence, not death, destruction, or hate," she said. "My work and advocacy is always centered in justice and dignity for all people no matter faith or ethnicity."
A number of Jewish Democrats decried the use of the phrase, but said limiting her speech set a dangerous precedent.
"As I have repeatedly made clear, I disagree vehemently with the comments made by Rep. Tlaib and condone no rhetoric that rejects the Jewish people's right to self determination," said Rep. Jerry Nadler, a New York Democrat who is the dean of the House's unofficial Jewish caucus. "I also defend the freedom of speech that each and every American is granted by our Constitution, even when I find that speech to be reprehensible, as I do in this case."
Other Jewish Democrats said Tlaib's offenses were serious enough to merit censure, which most recently was used on California Rep. Adam Schiff, a Jewish Democrat targeted by republicans for his work investigating former President Donald Trump.
"I recognize this censure resolution is not a perfect resolution in its language or form, but unfortunately it is the only vehicle available to formally rebuke the dangerous disinformation and aspersions that Rep. Tlaib continues to use and defend," said a statement from Illinois Rep. Brad Schneider, who, like McCormick's resolution, also cited the weeks during which Tlaib promoted a claim that Israel was responsible for hitting a hospital early in the conflict. A range of reporting and intelligence assessments determined the hospital was hit by a misfired Palestinian rocket. "I feel that I have no other recourse but to vote to censure her."
Other Jewish Democrats joining Schneider in censuring Tlaib include Rep. Kathy Manning of North Carolina, Reps. Debbie Wasserman Schultz, Lois Frankel and Jared Moskowitz of Florida, Rep. Josh Gottheimer of New Jersey, Rep. Daniel Goldman of New York , Rep. Greg Landsman of Ohio, Rep. Kim Schrier of Washington and Rep. Steve Cohen of Tennessee.
At one point Tlaib grew emotional. She was surrounded by progressives associated with the "Squad," a group of representatives known in part for harshly criticizing Israel. Rep. Ilhan Omar, a Minnesota Democrat, put her hand atop hers. "Palestinian people are not disposable, we are human beings like anyone else," Tlaib said.
Tlaib is leading an effort to get Congress to urge President Joe Biden to pressure Israel into a ceasefire, something that Biden and Israel reject. Israel is determined to keep fighting until Hamas returns the more than 200 hostages it abducted into the Gaza Strip, and until the terror group is dismantled.
"Trying to bully or censor me won't work because this movement to a ceasefire is bigger than one person," she said.
Tensions over the ceasefire and how best to deal with the war are roiling Democrats. Earlier in the day, Rep. Hakeem Jeffries, a New York Democrat who is the minority leader, did not recommend a vote either way, but said the "River' phrase was unacceptable discourse. "Echoing slogans that are widely understood as calling for the complete destruction of Israel — such as from the River to the Sea — does not advance progress toward a two-state solution," he said. "Instead, it unacceptably risks further polarization, division and incitement to violence."
It was the second attempt to censure Tlaib since the war started; a resolution advanced by Rep. Marjorie Taylor Greene, another Georgia Republican, failed in part because it packed in condemnations of the prosecution of rioters who stormed the U.S. Capitol on Jan. 6, 2021, in a bid to overturn Biden's election.
Tlaib said that calling her antisemitic was a means of censoring her. "The idea that criticizing the government of Israel is antisemitic sets a very dangerous precedent," she said.
—
The post In a rare move, the US House of Representatives censures Rashida Tlaib for Israel remarks appeared first on Jewish Telegraphic Agency.