Netanyahu touts prospects for an agreement with Saudi Arabia — and possibly the Palestinians — in UN speech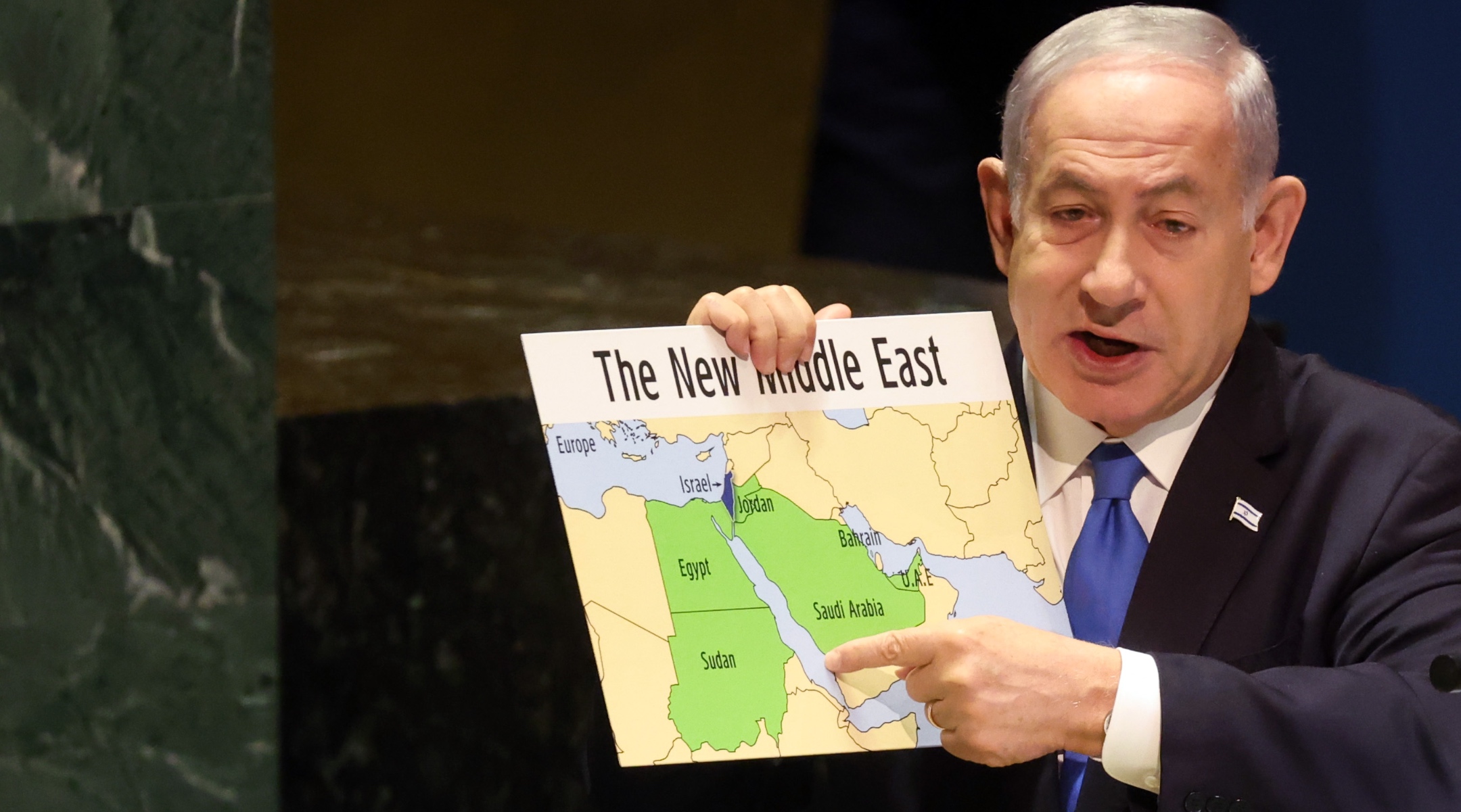 (JTA) — Benjamin Netanyahu used his address to the United Nations to tout the prospect of a diplomatic agreement between Israel and Saudi Arabia, and to broach a topic that he has previously downplayed: Israeli-Palestinian peace.
The Israeli prime minister also used the end of his 25-minute speech to herald the benefits — and warn of the dangers — of artificial intelligence, largely reprising what he told tech mogul Elon Musk in a live streamed conversation earlier in the week.
And he did not mention one burning issue that has preoccupied Israeli politics — and led to civil strife — all year: his effort to weaken Israel's Supreme Court. Opponents of that judicial overhaul plan have been gathering all week in New York City to protest Netanyahu, and demonstrated outside the United Nations on Friday morning.
In the past, Netanyahu has used the address to the U.N. General Assembly to warn of the threat posed by a nuclear Iran — once famously brandishing a picture of a cartoon bomb to show how close the Iranians were to obtaining a nuclear weapon. He warned of Iran's dangers on Friday again, and also brandished a prop.
But this time, the visual aid was meant to spread a more optimistic message — demonstrating the growing number of Middle Eastern countries with which Israel has signed normalization agreements.
"Peace between Israel and Saudi Arabia will truly create a new Middle East," Netanyahu said, borrowing a phrase that the late Shimon Peres, one of Netanyahu's former rivals, had used to discuss Israel-Palestinian peace.
Netanyahu added, "Now as the circle of peace expands, I believe that a real path towards a genuine peace with our Palestinian neighbors can finally be achieved."
The speech came as President Joe Biden's administration has prioritized brokering an agreement between Israel and Saudi Arabia, something Netanyahu has long sought. That agreement would likely require Israel to make concessions to the Palestinian Authority in the West Bank, but it remains unclear what they would be.
As he has in the past, Netanyahu sought in the speech to turn upside down what had long been the conventional wisdom — that Israeli-Palestinian peace must be a predicate for a broader peace in the Middle East. Israel's 2020 normalization agreements with four Arab countries, called the Abraham Accords, disproved that theory, he said.
"For years, my approach to peace was rejected by the so-called experts. Well, they were wrong," he said. "The Abraham Accords heralded the dawn of a new age of peace."
While holding his map, Netanyahu used a red marker to draw a potential trade corridor from India to Europe, with Saudi Arabia and Israel as hubs — a plan proposed by Biden that Netanyahu has enthusiastically endorsed.
"We will not only bring down barriers between Israel and our neighbors, we will build a new corridor of peace and prosperity that connects Asia through the UAE, Saudi Arabia, Jordan, Israel to Europe," he said. "This is an extraordinary change, a monumental change and another pivot of history."
Palestinian demands have featured prominently in the discussions surrounding a possible Saudi-Israeli deal. A day before Netanyahu spoke to the United Nations, Palestinian Authority president Mahmoud Abbas in his speech said that peace with the Palestinians was a prerequisite for a broader peace. This year, Saudi leadership helped organize a side conference at the United Nations aimed at reviving the establishment of a Palestinian state as a realistic goal.
And according to the White House readout of Biden's meeting with Netanyahu on Wednesday, the president told Netanyahu that it was essential to preserve prospects for Palestinian statehood, particularly in the face of escalating Israeli-Palestinian violence this year. The president called on both sides to refrain from "unilateral measures," which includes Israel halting the West Bank settlement expansion championed by Netanyahu's far-right partners.
Netanyahu opposes the establishment of an independent Palestinian state, and has often cast Israeli-Palestinian relations as a problem to be managed rather than solved. His far-right coalition partners vehemently oppose Palestinian statehood and have said they would bring down the government if he concedes anything significant to the Palestinians. On the map he displayed, the borders of Israel included all of the West Bank as well as Gaza, the Palestinian coastal territory Israel ceded in 2005.
Netanyahu made clear in his speech that he does not believe the Palestinian leadership is ready for peace, condemning in particular a recent speech by Abbas that was widely decried as antisemitic.
"For peace to prevail, the Palestinians must stop spewing Jew hatred, and finally reconcile themselves to the Jewish state," he said. "By that I mean not only to the existence of the Jewish state, but to the right of the Jewish people to have a state of their own in their historic homeland, the land of Israel."
But Friday's speech still marked a shift, in projecting an Israeli-Palestinian deal as a possible outcome of normalization with other Arab countries. He said the word "Palestinian" more than a dozen times throughout the speech.
"There are many hurdles on the path to peace," he said. "But I'm committed to doing everything I can to overcome these hurdles, to forge a better future for Israel and all the peoples in our region."
Netanyahu devoted the last six minutes of the speech to artificial intelligence, a topic at the center of his discussions earlier this week with Musk, the owner of X, the platform previously known as Twitter. Netanyahu said it was critical to seize control of the direction the technology takes before it is too late, repeating arguments he made in his conversation with Musk.
"The disruption of democracy, the manipulation of minds, the decimation of jobs, the proliferation of crime, and the hacking of all the systems that facilitate modern life — yet even more disturbing, is the potential eruption of AI driven wars," he said.  "Behind this, perhaps, looms an even greater threat, once the stuff of science fiction: that self-taught machines could eventually control humans instead of the other way around."
He called for international cooperation to address the threat posed by A.I.
"We must do so quickly," he said. "And we must do so together. We must ensure that the promise of an A.I. utopia does not turn into an A.I. dystopia."
—
The post Netanyahu touts prospects for an agreement with Saudi Arabia — and possibly the Palestinians — in UN speech appeared first on Jewish Telegraphic Agency.
Despite the 'Lebanonization' of Hezbollah, It Still Wants to Destroy Israel
Hezbollah began in 1982 as an Islamist organization founded and shaped according to the ideological model of the Islamic Republic of Iran. The organization was founded to establish an Islamist regime in Lebanon and conduct a jihadist war against the enemies of Islam: the West and Israel. Hezbollah gradually "Lebanonized," meaning it claimed to limit the military struggle to Lebanese territory, integrated into the Lebanese political system, and established an extensive civil infrastructure. This transformation was accompanied by a new discourse stressing its role as defender of Lebanon.
But Hezbollah's Lebanonization has not in any way diluted or moderated its conception of Israel, with which it believes itself to be in a doomsday war. Hezbollah's military empowerment since the withdrawal of the IDF in 2000 does not correspond with its discourse about defending Lebanon. Hezbollah's involvement in the fighting since October 8 is not mere lip service, but a demonstration of its total commitment to what it perceives as its deterministic conflict with Israel.
Hezbollah's enduring enmity towards Israel reflects the ideological concepts on which it was founded. The organization was established by the Islamic Republic of Iran's Revolutionary Guards Corps, and its establishment might be considered Iran's only successful exporting of its revolution. The establishment of Hezbollah would also not have been possible had it not been for Baathist Syria, which allowed Iran to operate in Lebanon's Beqaa Valley. Hafez Assad's Syria enabled this as part of the "extensions" strategy it adopted after Operation Peace for Galilee, with the clear aim of exhausting the IDF and bringing about its withdrawal from Lebanon.
Iranian patronage has always been a pillar of strength for Hezbollah, but the most significant patronage it enjoyed was that of Syria. Damascus extended its protection to Hezbollah and guaranteed its continued existence as a military organization within the framework of the Ṭaif Agreement of 1989, which brought an end to the second Lebanese civil war. Syria has served for decades as a conduit for the supply of weapons to Hezbollah.
Since the 1980s, as the alliance with Syria tightened, Hezbollah underwent the process of "Lebanonization." This process had three main elements. The first was the purported limiting of the armed struggle to within Lebanon's geography, especially against the IDF's continued presence in southern Lebanon. The second was the establishment of an extensive civilian arm that focused on providing for the needs of Lebanon's Shiite community. The third was politicization, meaning the establishment of a political branch and integration into Lebanon's parliamentary system.
Lebanonization did not, however, cause Hezbollah to forget its dual mission, anchored in its Islamist political and religious worldview: the establishment of an Islamist regime according to the model of the Islamic Republic in Iran on the one hand, and the continuation of the armed struggle against Israel on the other.
Hezbollah's adherence to Islamist ideology, which in this case is distinctly anti-establishment, means striving to replace the sectarian regime with an Islamist one and perpetually bolstering its weapons supplies to support the armed struggle against Israel. Hezbollah made sure to present the IDF's unilateral withdrawal from southern Lebanon as a military achievement of the "Islamic resistance in Lebanon" and not as the result of internal considerations by Israeli society. Following the withdrawal, Hezbollah had to place greater emphasis on the Lebanese dimension of its military struggle, and its discourse changed accordingly.
Until the IDF withdrawal, Hezbollah claimed that its military existence was in the name of liberating the soil of an occupied homeland. After the withdrawal, the organization began to stress the doctrine of defense of the homeland against "Israeli aggression," with its military power aimed at creating a balance of terror between it and Israel.
As a result, Hezbollah engaged in a Lebanese political-national discourse that ostensibly placed its military existence at the heart of the Lebanese national consensus. This was summed up in three words: people, army, and resistance. The concept reflected the deepening of the Lebanonization trend and a real attempt on Hezbollah's part to endear itself to Lebanese nationals under the pretense that its weapons were intended solely for defense of the Lebanese homeland.
Since May 2000, the doctrine of defense of the Lebanese homeland has been the common discourse among Hezbollah and its supporters in Lebanon. The adoption of this doctrine coincided with a political reorganization and a more prominent integration within the Lebanese political and public spheres. This was reflected in political alliances with Lebanese political parties and movements, especially among Maronite Christians, and the publication of a second political document in 2009 that for the first time declared Hezbollah's renunciation of its mission to establish an Islamist regime in Lebanon.
As a military organization and a political movement, Hezbollah represents a totalitarian ideological-religious movement whose worldview is the bedrock of its existence. Whatever it may have said during the Lebanonization process, it is still as committed as it ever was to its two overarching original goals: the establishment of an Islamist regime in Lebanon and the continuation of an endless struggle against Israel. Giving up these goals would mean erasing its ideology, which would amount to destroying its existential essence as a totalitarian movement.
By claiming to have renounced its desire for the establishment of an Islamist regime in Lebanon and redefining its formidable arsenal of weapons as intended for defensive purposes, Hezbollah is conducting a sophisticated pragmatic campaign. Its object is first and foremost to neutralize internal opponents who fear a theocracy and to justify the continued possession of a vast store of weapons outside the state's authority.
The strategy of balance that has characterized Hezbollah since the end of the second civil war remains a powerful statement of the movement's adherence to its goals. The balance between maintaining the existence of the Lebanese state and continuing to possess an enormous supply of weapons is a practical formula that produces chronic crisis but does not constitute a renunciation of the struggle against Israel. Similarly, the omission of the demand for the establishment of an Islamist regime in Lebanon in no way implies that Hezbollah has renounced its Islamist ideology, as such a move would contradict its very soul.
Hezbollah joined the Israel-Hamas war one day after the Black Sabbath of October 7. Its participation, even on a local scale, so soon after the barbaric attack by the Hamas criminal terrorist organization on Israel, an attack that was conducted primarily against Israeli civilians and without any provocation on Israel's part, puts Hezbollah's doctrine of homeland defense into question. Its limited participation in the current fighting against Israel proves that Hezbollah remains faithful to its worldview and the indoctrination that has accompanied it for four decades. Its support of Hamas in its war against Israel shows that the amendment of a founding document or political-pragmatic discourse that takes circumstances into account does not reflect moderation or a fundamental change.
Indeed, Hezbollah's joining of the fighting proves its adherence to its primary ideology of eternal struggle against Israel. Hezbollah's secretary-general, Hassan Nasrallah, said in his first speech after October 7 that while the time is not yet ripe for an all-out confrontation, he is convinced that day will come. It is highly doubtful that the huge arsenal of weapons Hezbollah has amassed over the past two decades is intended solely for defensive purposes. While it has adapted its discourse to the needs of time and circumstance, no one should be deceived into believing it has lost sight of its ideological totalitarianism.
Hezbollah retains a conviction that it is capable of delivering a crushing blow to Israel. Following the American withdrawal from Afghanistan, and the scenes of Afghan citizens being crushed under the wheels of airplanes, Nasrallah assured his supporters that such scenes would be repeated at Ben-Gurion Airport in Tel Aviv. Hezbollah is preparing, as it always has, for the doomsday battle with Israel. Its involvement in the fighting right now, however limited, proves that it remains committed to fulfilling its messianic mission to inflict a decisive defeat on Israel.
The process of Lebanonization has created a deceptive smokescreen of moderation that is entirely lacking in Hezbollah. Instead of trusting in false interpretations of Lebanonization, Israel should focus on Hezbollah's obsession with military power and unwavering determination to destroy the Jewish State.
Dr. Yusri Khazran is senior lecturer in the Department of Middle Eastern and Islamic Studies at Shalem College and a research fellow at the Harry S. Truman Institute for the Advancement of Peace at the Hebrew University. He received his Ph.D. from Hebrew University, after which he was awarded a Fulbright Fellowship at Harvard University. Dr. Hazran is the author of The Druze Community and the Lebanese State: Between Resistance and Reconciliation (Routledge, 2014). A version of this article was originally published by The BESA Center.

The post Despite the 'Lebanonization' of Hezbollah, It Still Wants to Destroy Israel first appeared on Algemeiner.com.
California Coffee Shop Fires Anti-Israel Staff Members, Again Apologizes for Targeting of Jewish Customer
Farley's Coffee Shop in Oakland, California, announced that it has fired staffers who recently expressed anti-Israel sentiments and barred a Jewish customer from using the establishment's restroom.
In a joint statement shared on social media, the store's owners, Amy and Chris Hillyard, also apologized a second time for the incident that took place at its shop last week.
"What began as a civil dialogue between our staff and a Jewish customer escalated into a situation that was shocking and unacceptable," the Hillyards said on Friday. "Events like these strike fear in the Jewish community and perpetuate the rise of antisemitism in our community and around the world. We do not tolerate any behavior at Farley's that makes people feel unwelcome or unsafe."
"Because this act was not aligned with our values, the employees involved in the incident are no longer employed by Farley's," they added. "Though all employees are entitled to hold differing viewpoints, they are not entitled to express themselves on the job in ways that are disrespectful and hurtful to anyone."
Three staff members at the establishment prevented a Jewish woman from going to the bathroom, knowing that she wanted to film antisemitic graffiti inside the restroom that said "Zionism=Fascism," "Free Palestine," and "your neutrality" is enabling "genocide." The staff members also ranted against Israel, which was all caught on video by the Jewish customer, as she was blocked entry to the bathroom's door and told to leave the coffee shop or use a different bathroom.
Farley's Coffee first apologized for the incident in a statement posted on Instagram on Thursday, saying, "We're not antisemitic … The staff handled the situation poorly, and we apologize for this error and the distress caused to the customer." That apology has since been deleted from the store's Instagram account.
The Hillyards said in their joint statement that they have "zero room" in their business or community "for speech or conduct that acts to 'other' anyone based on their religion, ethnicity, nationality, skin color, sexual orientation, gender identity, or any other discriminatory basis." They also addressed the deadly Oct. 7 Hamas terrorist attacks in southern Israel and expressed sympathy for all those "affected by the pain and suffering that's occurred in the Middle East" since the massacre.
"Nothing we say can adequately capture the pain and terror that Hamas inflicted on innocent civilians, nor the horrific suffering and loss of innocent Palestinian lives in Gaza since then," they added. "These difficult times should bring us together — not create division and stoke anxiety and fear. We can and must do better — and this starts with us creating a safe space for anyone who patronizes our coffeehouse."
"We are committed to working with community leaders and organizations across the Bay Area to make sure we as owners, and our employees, have the resources, education and skills necessary to peacefully exist in this community," the statement read in conclusion. "We hope to continue to have the privilege of serving our community and to once again being a coffeehouse where everyone feels welcome."
The post California Coffee Shop Fires Anti-Israel Staff Members, Again Apologizes for Targeting of Jewish Customer first appeared on Algemeiner.com.
I Oppose Netanyahu; But No One Should Protest His Handling of the Hostages
I do not know any of the remaining hostages. If I did, I would do all I could to get them out — which would mean protesting.
When you engage in political activity, though, you want to be sure to advance your desired outcome — not harm it.
I have voted in about 10 national and local Israeli elections, but have never voted for Netanyahu, or his Likud Party. The hostages, however, are a matter of national consensus, regarding which I give Netanyahu the benefit of the doubt. I am sure he wants them home as much as anyone (who does not personally know them).
So what is the current government doing about the hostages? From day one, they mobilized hundreds of thousands of soldiers, and went to war. Soldiers have subsequently died, while hostage protesters have demonstrated at the Knesset, at Netanyahu's office and house, at the Defense Ministry's Tel Aviv headquarters, and around the country.
Netanyahu, and the Israeli government, are not the ones who took the hostages. Israelis cannot protest in front of Hamas' headquarters, but they should be protesting be at UN facilities around the country, or at the embassies of countries calling for "restraint."
When Hamas sees Israelis protesting their own government, they think that the Israeli government is under pressure to make concessions. That only emboldens them to harden their stance. It strengthens Hamas' negotiating position, weakens Israel's, and makes it harder to secure the release of the people the protests are intended to save.
The more that Hamas receives for the hostages, the more it encourages anti-Israel terrorists (including groups other than Hamas) to initiate future hostage taking operations.
UN Secretary General Antonio Guterres responded to October 7th by saying that it, "did not happen in a vacuum." In an address to the National Press Club of Australia that included a slew of inflammatory remarks, given on November 14th, while Hamas held 240 hostages, UN Special Rapporteur Francesca Albanese said that, "Israel cannot claim the right of self-defence against a threat that emanates from a territory it occupies."
Hostage protesters have called for the families of those held in Gaza to have more face time with senior Israeli government officials, but isn't it more important for government officials to deal with the actual military and diplomatic dimensions of administering the war, and the actual negotiations with Hamas, than for them to be briefing the families? We do not need meetings and handshakes for the cameras. We need freed hostages.
Prior to October 7th, protesting Netanyahu was a civic duty. Regardless of judicial outcomes, it is inappropriate for a man with a history of manipulating news outlets, and receiving hundreds of thousands of dollars in jewelry and other items, on demand, to be prime minister. There are others capable of leading the country without such an aura of corruption.
With all respect to the issues that divide Israeli society, however, this moment calls for unity.  Those who protest the people trying to secure the hostages' release undermine their own cause, and may be endangering lives, when they could be in front of UN facilities supporting the Israeli effort.
Born and raised in Pennsylvania, Baruch Stein has been living in Jerusalem for about 15 years, and has contributed to newspapers in both the US and Israel. Articles of his have been translated into Spanish, German, and Italian. A different version of this article first appeared in Yedioth Ahronoth/Ynetnews.com
The post I Oppose Netanyahu; But No One Should Protest His Handling of the Hostages first appeared on Algemeiner.com.