If you're trying to connect to God on Yom Kippur, here's a prayer for you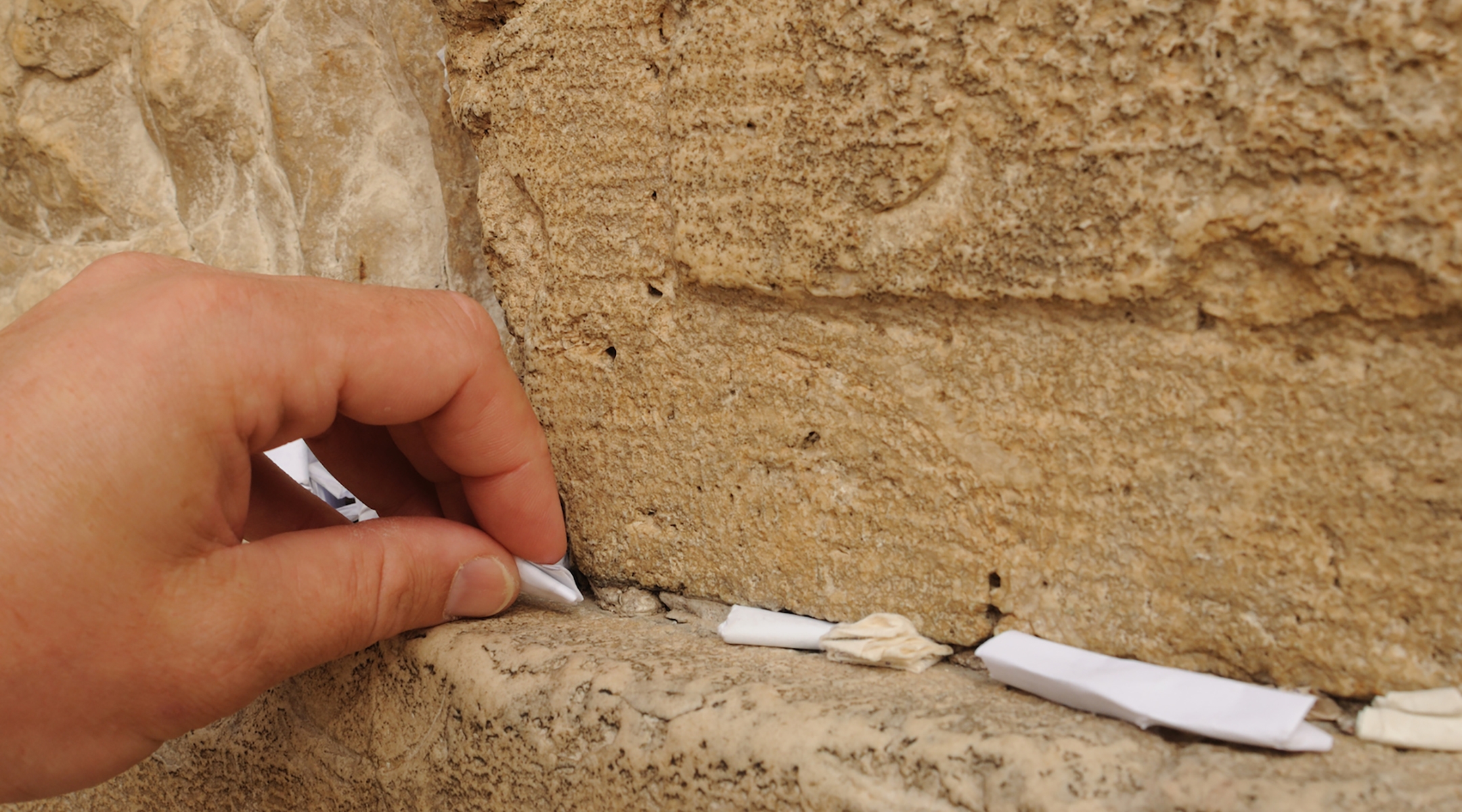 This story was originally published on My Jewish Learning.
(JTA) — For those of us who don't regularly think in theological terms, the High Holiday liturgy can be jarring to read. Some of the messages are relatively easy to relate to, like the reminder of human frailty in Unetaneh Tokef ("Who will live and who will die?") or the expression of remorse over our shortcomings in the confession litany ("We have sinned; we have been disloyal…"). But the traditional High Holiday prayer book also includes some far more abstruse ideas.
An obvious challenge is the centrality of animal sacrifice to the way the Day of Atonement was observed in the ancient Temple, a ritual we recount in detail during Yom Kippur. But the prayers also repeatedly invoke ideas about God that are far removed from our regular discourse.
Consider the repeated refrain of "And so, place your fear, O Lord our God, on all your creations." Or this sequence describing God: "Who knows the inclination of all creations/ All believe that He creates them in the womb/ Who can do anything and unifies them together." Reflecting on God's exaltedness, pleading for mercy from a deity who knows our thoughts and holds the power of life and death over us — these are notions that are hard to grasp and difficult to come to terms with. How do we conceptualize and relate to God without recourse to a seminar in theology?
Even as it creates this challenge, the liturgy provides a solution by offering a range of different modes of relating to God. Nowhere is this clearer than in Ki Anu Amekha, a short poem (piyyut) recited multiple times on Yom Kippur to introduce the Viddui, the confessional prayer. It reads:
For we are your people, and you are our God.
We are your children, and you are our Father.
We are your servants, and you are our Lord.
We are your congregation, and you are our Portion.
We are your heritage, and you are our Destiny.
We are your flock, and you are our Shepherd.
We are your vineyard, and you are our Keeper.
We are your work, and you are our Maker.
We are your dear ones, and you are our Beloved.
We are your treasure, and you are our God.
We are your people, and you are our King.
We are your chosen ones, and you are our Chosen One.
This piyyut presents a list of relational pairs that characterize the relationship between Israel and God in various ways, all of which draw on comparisons to non-Divine relationships. It appears to be an expansion of a midrash on Song of Songs 2:16 that proposed several of these relational pairs, justifying each with a biblical verse. It is followed in the High Holiday prayer book by an additional stanza that relates more directly to themes of sin and forgiveness that are the leitmotif of the Day of Atonement, contrasting the human penchant for sin with God's compassion and mercy. Less clear is the function of the section cited above. In what way does delineating this litany of relationships serve as a fitting introduction to a confession ritual?
I would argue that the purpose of listing these various relationships is to invite each of us to find ourselves in the poem as we stand before God and request atonement. People are complex and multi-faceted, and the way we relate to an infinite God is bound to be even more varied and intricate. Some people may relate best to God as a father who loves his children even as he disciplines them. Others may connect better to a political metaphor, seeing God as the king exercising dominion over his nation. Some of us experience God more intimately, as a shepherd tending the flock or a vintner caring for grape vines. Others see the relationship between Israel and God as one of passionate love as described in the Song of Songs. And some may see God primarily through the history of the Jewish people, as having chosen Israel for a particular divine destiny.
Each line of this piyyut depicts a particular quality of relationship between God and Israel, but none of them exhausts it. God simultaneously inhabits all of these modes of relation depending on the person, the point in time and the broader context in which the relationship manifests itself.
The poem, and the High Holy Days liturgy overall, represents God in these various ways not because everyone in synagogue is expected to develop a complex theology that can encompass them all, but because we can all likely connect to at least one mode of relating to God in our prayers. As each of us focuses on and resonates with a particular aspect of the God-Israel relationship, our collective recitation of Ki Anu Amekha serves to express the rich and varied tapestry of God. And hopefully our Father, our King, our Shepherd, our Lover, our Destiny will see fit to grant Israel forgiveness and make 5784 a year filled with blessings.
—
The post If you're trying to connect to God on Yom Kippur, here's a prayer for you appeared first on Jewish Telegraphic Agency.
Protester Sets Self on Fire Outside Israeli Consulate in Atlanta
i24 News – A protester was in critical condition on Friday after setting themself on fire outside the Israeli consulate in Atlanta, Georgia, U.S. authorities said. A security guard who tried to intervene was also wounded.
A Palestinian flag found at the scene was part of the protest, Atlanta Police Chief Darin Schierbaum said at a news conference. He added that investigators did not believe there was any connection to terrorism and none of the consular staff was ever in danger.
JUST IN: A pro-Palestine protester is in critical condition after they set themselves on fire in "political protest" outside of the Israeli Consulate office in Atlanta.
The protester was reportedly draped in a Palestine flag.
The protester has severe burns and unfortunately, a… pic.twitter.com/B8nUQAj2nU
— Collin Rugg (@CollinRugg) December 1, 2023
"We do not see any threat here," he said. "We believe it was an act of extreme political protest that occurred." Everyone inside the consulate building was said to be safe.
Anat Sultan-Dadon, Consul General of Israel to the southeastern U.S., said: "We are saddened to learn of the self-immolation at the entrance to the office building. It is tragic to see the hate and incitement toward Israel expressed in such a horrific way."
"The sanctity of life is our highest value. Our prayers are with the security officer who was injured while trying to prevent this tragic act. We are grateful to the city of Atlanta's law enforcement and first responders for all they do to ensure safety."
The post Protester Sets Self on Fire Outside Israeli Consulate in Atlanta first appeared on Algemeiner.com.
Released Israeli Hostages Call for Captives to Be Freed
Israeli hostages released in the past week by Hamas in Gaza called on Saturday for the immediate release of fellow captives left behind, a day after a temporary truce that had allowed scores to come home broke down.
Tens of thousands gathered at a rally in Tel Aviv outside Israel's defense headquarters, where they cheered Yelena Trupanov, 50, standing on a stage just two days after being freed.
"I came to thank you because without you I wouldn't be here. Now we must bring back my (son) Sasha, and everyone. Now."
Similar pleas from other released hostages were shown on video.
A seven-day truce, during which Hamas had released more than 100 hostages, collapsed on Friday after Hamas breached the ceasefire.
Israel said on Saturday it had recalled a Mossad intelligence agency team from Qatar, host of indirect negotiations with Hamas, accusing the Palestinian faction of reneging on a deal that would have freed all children and women held hostage.
More than 240 people – Israelis and foreign nationals – were abducted to Gaza on Oct 7. by Hamas terrorists who burst through the border with Israel and killed 1,200 people.
The post Released Israeli Hostages Call for Captives to Be Freed first appeared on Algemeiner.com.
IDF Foils Stabbing Attack Near Nablus in West Bank, Eliminates Terrorist
i24 News – The Israel Defense Forces (IDF) reported thwarting a stabbing attack on Saturday afternoon against reserve Battalion 7037 at the X junction near Nablus in the West Bank.
According to the IDF spokesperson, the event unfolded when the forces at the roadblock became suspicious of an individual approaching the barricade.
During the questioning process, the suspect suddenly drew a knife and advanced towards the IDF personnel.
ניסיון פיגוע דקירה אירע לפני זמן קצר לעבר כוח צה"ל במילואים מגדוד 7037 שפעל בחסם בצומת האיקס סמוך לעיר שכם שבמרחב חטיבת שומרון.
הכוח חשד במחבל שהגיע לחסם והחל לתחקר אותו, המחבל שלף סכין והחל להתקדם לעבר הכוח.
הלוחמים חתרו למגע והגיבו בירי לעבר המחבל שחוסל. אין נפגעים לכוחותינו. pic.twitter.com/mEaJs58hpE
— דובר צה״ל דניאל הגרי – Daniel Hagari (@IDFSpokesperson) December 2, 2023
The soldiers, faced with the threat, engaged in contact procedures and ultimately responded by opening fire on the assailant. The spokesperson confirmed that the attacker was neutralized due to the IDF's action.
It was also noted that there were no casualties among the IDF forces involved in the incident. According to the spokesperson, the situation at the X junction has stabilized, and IDF continues to maintain vigilance in the area to prevent further attacks.
The post IDF Foils Stabbing Attack Near Nablus in West Bank, Eliminates Terrorist first appeared on Algemeiner.com.