American Jewish giving to Israel spikes as a 'tangible' way to express grief after Hamas attack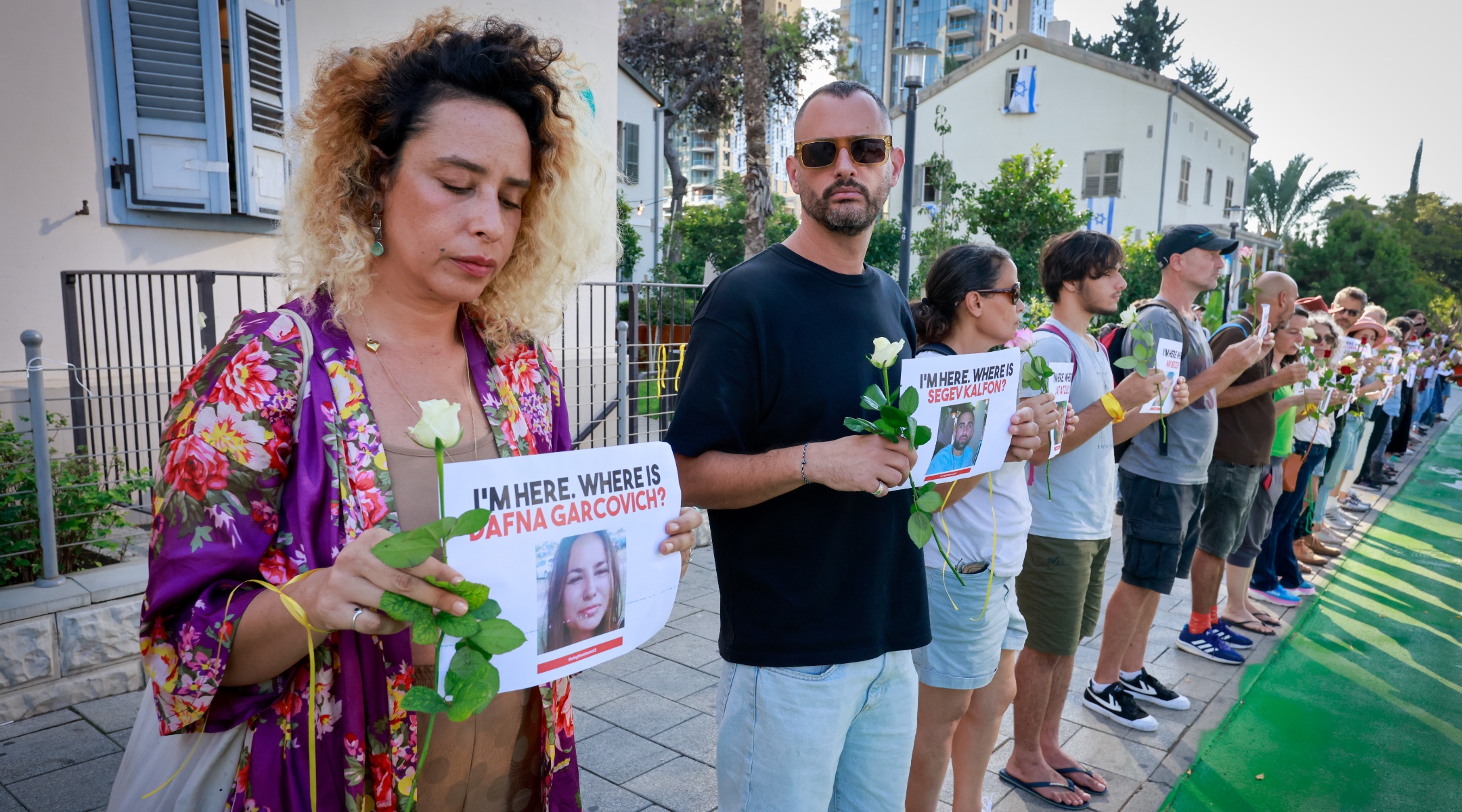 WASHINGTON (JTA) — For more than a week, Herbert Block's phone has been buzzing nonstop with messages from people he doesn't know who want to give him money. 
He doesn't mind the unsolicited callers, all of whom are asking the same thing: How can they donate to Israel right now? 
"People from all parts of the country, people who say, 'I tried to get on the website and I couldn't figure it out,' or, 'I'm not good at technology, how do I make the donation?'" said Block, the executive director of the American Zionist Movement.
Block isn't alone. Jewish officials say the level and intensity of incoming cash for Israel since Oct. 7, when Hamas invaded the country and killed and injured thousands, is unprecedented in their adult lifetimes.
On Tuesday, the Jewish Federations of North America announced that it had raised $388 million, just five days after setting an overall goal of $500 million. The JFNA money is mostly going to medical and psychological relief. Other groups, like the Friends of the IDF, are raising money to meet urgent military needs. 
Julie Platt, JFNA's chairwoman, said she remembered similar periods when she was a child and her parents were active in pro-Israel fundraising — during and after the 1967 Six-Day War and the 1973 Yom Kippur War. Then as now, American Jews feared for Israel's survival and opened their pocketbooks in response. 
"For me as an adult, I've never experienced a day like today," Platt said in an interview. 
"Since the Hamas attack it doesn't feel like a trickle of support," she said. "It feels like a flood."
It's not just the intensity of the giving but the amounts, said Gil Preuss, CEO of the Jewish Federation of Greater Washington. "People are giving 10, 25, 50,000 dollars," he said. 
Preuss said he was approaching a local total haul of $10 million as of Monday, an amount that was included in the $388 million that JFNA announced Tuesday.
While the sums raised now are a spike when compared to recent years, they are so far dwarfed by previous crises. In the week following Oct. 7, New York's UJA-Federation raised $75 million. The week after the 1967 war, it raised the equivalent of $180 million in today's dollars. (That $75 million, like the money raised by the Washington federation, is part of the total JFNA announced.)
But the current fundraising drive comes after years of fraught relations between Israel and American Jews, as well as longstanding anxiety over a growing subset of Jewish Americans who feel increasingly distant from Israel. This year, another subset of American Jews expressed their ties to Israel through sympathy with the hundreds of thousands of Israelis who protested Prime Minister Benjamin Netanyahu and his effort to weaken the courts.
Now, American Jews who weeks ago might not have paid attention to Israel, or even felt alienated from it, were turning up and opening their wallets, Preuss said.
"We had two couples, probably around the age of 40, convene their network of friends, some who had been involved with Federation, but most who weren't involved and didn't give previously to the federation," he said, recalling an event that took place last Thursday, five days after the attack. "And that night, they raised a million dollars."
Platt said that giving was the most immediate and convenient thing a Jew could do in the face of the helplessness they felt when confronted with images and accounts of Hamas terrorists murdering families in their homes and young adults at an outdoor party.
"You're able to express your emotions in this way," she said. "It's the one very concrete and tangible thing that we can do. It's a way for us to express our deep grief and fear and love for the people of Israel."
One big difference from 1967 and 1973 is that U.S. Jews can now donate with relative ease directly to Israeli charities and to research a wide array of possible destinations for their financial support. That means the fundraising totals reported by JFNA are likely to reflect a smaller proportion of the total transfer of resources from the United States toward Israel this week.
Still, traditional fundraising venues, including synagogues and federations, were proving durable. And some of their appeals have been dramatic: The Forward reported that New York City's Park Avenue Synagogue set a goal of $18 million; by Friday, six days after the war broke out, the synagogue had reached $16 million. Rabbi Elliott Cosgrove, citing the Jewish imperative to save a life, asked congregants to break their Sabbath observance and scan a QR code on their programs to reach the goal, and by Sunday, they were within striking distance.
Included in the $75 million UJA raised is $22,000 brought in by New York University students who came together to read psalms as they learned of the carnage and decided they needed to do something more tangible.
Block said his organization was edging close to $100,000 as of Wednesday — not a huge amount compared to the millions others are pulling in, but a significant sum for a group that focuses more on advocacy than fundraising. The money will go to the World Zionist Organization's crisis response efforts.
The appeal, he said, is immediate gratification of the need to do something. 
"Here's something that I can do, you know, at my desk," he said. "The uniqueness of this situation, it's something that is unprecedented in every way."
—
The post American Jewish giving to Israel spikes as a 'tangible' way to express grief after Hamas attack appeared first on Jewish Telegraphic Agency.
Javier Milei cites Hanukkah story, gives menorah to Zelensky during inauguration as Argentina's president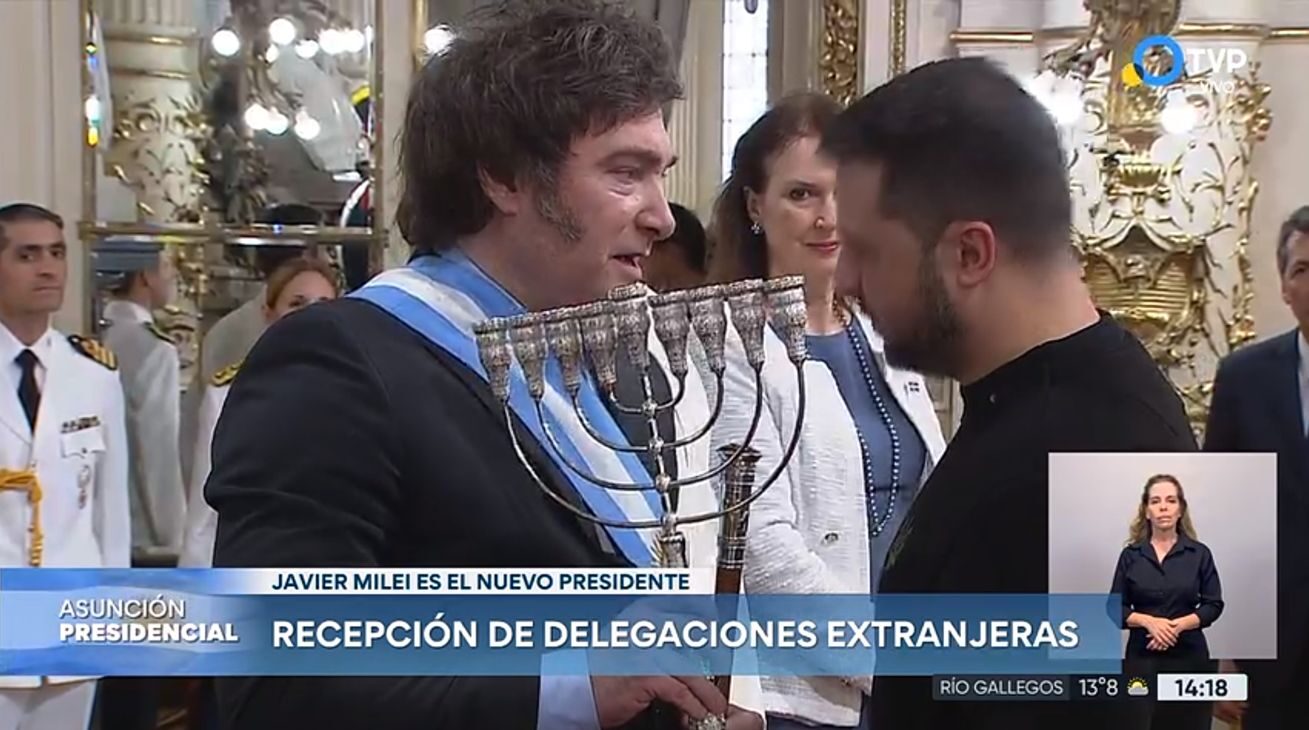 (JTA) — Javier Milei invoked the story of the Maccabees in his inaugural address as Argentina's president on Sunday, extending the right-wing populist's prominent fascination with Judaism as he celebrated his own improbable victory.
"It is not by chance that this assumption takes place in the holiday of Hanukkah, the festival of light, and that the same celebrates the true essence of freedom," Milei said during his speech on the steps of the parliament building in Buenos Aires. "The war of the Maccabees is the symbol of the victory of the weak over the powerful, of the few over the many, of the light over darkness and overall of the truth over untruth."
Milei, 53, defied expectations when he was elected last month. A self-declared "anarcho-capitalist" who was the most right-wing of the five candidates, he ascended rapidly over the last year as he assailed the outgoing government, saying that its policies had fueled unemployment and inflation.
He delivered his speech with his back to the country's lawmakers, in a break with tradition allowing him to face a large rally outside the parliament building.
Toward the tail of his speech warning Argentineans to prepare for a difficult economic reforms, he said he recalled how he and his now-vice president, Victoria Villaruel, had initially been told that their two-year-old political party, Freedom Advances, would have little influence.
"We were told we couldn't do anything because we were only two in 257 congressmen," he said. "And I also remember that my answer that day was a quote from the Book of Maccabees, 3:19, that goes: It is not the size of the army that victory in battle depends on, but strength comes from heaven."
The speech was in keeping with Milei's unusual relationship with Judaism. The non-Jewish economist has been studying with an Argentinean rabbi and has said he is interested in converting, though he says he does not see the role of president as compatible with Jewish observance. He visited the grave of the Chabad-Lubavitch rabbi in New York City in his first trip abroad after being elected and has vowed to make Israel — where he promised to move Argentina's embassy from Tel Aviv to Jerusalem — his first foreign destination as president.
At campaign rallies, Milei has often walked on stage to the sound of a shofar, and in one of his final public appearances before the election, Milei was seen waving an Israeli flag among a large crowd in Rosario.
One Israeli flag was visible amid the sea of Argentinean flags at his speech in footage of the inaugural event broadcast to Argentineans.
Milei, whose term will last four years, was flanked by world leaders, including the king of Spain; Chilean President Gabriel Boric, a left-wing critic of Israel; Hungarian Prime Minister Viktor Orban, a populist who cruised to a fourth term last year; and Ukraine's president, Volodymr Zelensky, who was making his first trip to Latin America since Russia attacked his country in February 2022. Jair Bolsonaro, the populist leader recently unseated in Brazil, also attended.
Milei handed a menorah to Zelensky, who is Jewish, after the two leaders greeted each other warmly outside Casa Rosada, the country's government headquarters, in a handoff captured on the live TV broadcast of the ceremony. Zelensky has embraced Milei as he has sought to build support for Ukraine in Latin America.
On Saturday night, on the eve of his inauguration, Milei met with a group of relatives of Israeli hostages kidnapped in Gaza since Oct. 7, lighting the Hanukkah candles with them and Israeli Foreign Minister Eli Cohen, who was in the country for the inauguration.
—
The post Javier Milei cites Hanukkah story, gives menorah to Zelensky during inauguration as Argentina's president appeared first on Jewish Telegraphic Agency.
Moroccans Demand Halt to Ties with Israel
Moroccans waving Palestinian flags took to the streets of the capital Rabat on Sunday calling on the government to cut ties with Israel in protest against Israel's military campaign against the terrorist group Hamas in the Gaza Strip.
Protests against Israel's war in Gaza have repeatedly drawn thousands of people in Morocco since the conflict began two months ago, mostly led by pan-Arab and Islamist groups.
Sunday's march by about 3,000 protesters was the first to have been led by the PJD — Morocco's biggest Islamist party which led the elected government from 2011 until 2021 — a sign the movement is growing more vocal in opposition.
Protesters chanted "Palestine is not for sale," "Resistance go ahead to victory and liberation" and "the people want an end to normalization," referring to the policy of Morocco and other Arab states normalizing ties with Israel.
Israel vowed to annihilate Hamas, which has ruled Gaza since 2007, after Hamas terrorists burst across the fence on Oct. 7 and went on a rampage through Israeli towns, gunning down families in their homes, killing 1,200 people and seizing 240 hostages.
Since then, Hamas-controlled health authorities in Gaza say thousands of people have been killed during Israel's military campaign, although experts have cast doubt on the reliability of casualty figures coming out of Gaza.
Morocco agreed to strengthen ties with Israel in 2020, under a deal brokered by the US administration under then President Donald Trump that also included Washington recognizing Moroccan sovereignty over the disputed territory of Western Sahara.
Despite their policy of normalizing ties with Israel, Moroccan authorities have said they continue to back the creation of a Palestinian state and have urged a permanent ceasefire in Gaza and the protection of all civilians there.
Islamist and leftist parties and groups in Morocco have increasingly spoken out against the normalization policy since the start of the war in Gaza on Oct. 7.
Protesters on Sunday also called for a boycott of brands they accuse of supporting Israel.
"We call on Morocco to end diplomatic relations with Israel," said Ahmed El Yandouzi, as he was queuing to sign a petition with a Palestinian scarf around his neck.
Although Morocco and Israel have not yet completed the process of setting up full embassies in each other's countries as they agreed to do, they have moved closer together, signing a defense cooperation pact.
The PJD was in office when Morocco agreed the normalization deal with Israel, with its then leader Saad Dine El Otmani signing it as prime minister, but the policy was ultimately set by King Mohammed, who sets overall strategy.
The new PJD leader, Abdelilah Benkirane, has said signing the agreement was a mistake.
The royal court has previously asked the PJD to stop criticizing Morocco's ties with Israel.
The post Moroccans Demand Halt to Ties with Israel first appeared on Algemeiner.com.
Violence Escalates Between Israel, Lebanon's Hezbollah
Violence escalated at Lebanon's border with Israel on Sunday as the terrorist group Hezbollah launched explosive drones and powerful missiles at Israeli positions and Israeli air strikes rocked several towns and villages in south Lebanon.
Israel and the Iran-backed Hezbollah have been trading fire since the war in Gaza erupted two months ago, in their worst hostilities since a 2006 conflict. The violence has largely been contained to the border area.
Israeli attacks in south Lebanon included air strikes on the town of Aitaroun which destroyed and damaged numerous houses, Lebanon's National News Agency said. It did not say if there were any casualties.
The Israeli army did not immediately respond to a request for comment.
Senior Hezbollah politician Hassan Fadlallah, in a statement sent to Reuters, said Israeli air strikes were a "new escalation" to which the group was responding with new types of attacks, be it "in the nature of the weapons (used) or the targeted sites."
The Israeli army earlier said "suspicious aerial targets" had crossed from Lebanon and two were intercepted. Two Israeli soldiers were moderately wounded and a number of others lightly injured from shrapnel and smoke inhalation, it said.
Israeli fighter jets carried out "an extensive series of strikes on Hezbollah terror targets in Lebanese territory," it said. Sirens sounded in Israel at several locations at the border.
In Beirut, residents saw what appeared to be two warplanes streaking across a clear blue sky, leaving vapor trails behind them.
Hezbollah statements say its attacks aim to support Palestinians in the Gaza Strip.
Senior Hezbollah official Sheikh Ali Damoush said in a speech on Sunday the group would continue in its effort to "exhaust the enemy, and will not stop unless the aggression against Gaza and Lebanon stops."
Israeli Prime Minister Benjamin Netanyahu has warned that Beirut would be turned "into Gaza" if Hezbollah started an all-out war.
In one of several attacks announced by Hezbollah on Sunday, the group said it had launched the explosive drones at an Israeli command position near Ya'ara. In another, Hezbollah said it had fired Burkan (Volcano) missiles, which carry hundreds of kilograms of explosives.
Israeli air strikes were also reported on the outskirts of the Lebanese village of Yaroun, not far from the location of another of the Israeli positions Hezbollah said it had targeted on Sunday.
Those air strikes broke windows of houses, shops and a school in the nearby village of Rmeich, Toni Elias, a priest in Rmeich, told Reuters by phone.
Violence at the border has killed more than 120 people in Lebanon, including 85 Hezbollah fighters and 16 civilians. In Israel, the hostilities have killed seven soldiers and four civilians.
The post Violence Escalates Between Israel, Lebanon's Hezbollah first appeared on Algemeiner.com.