At a Jewish comic book festival, fans and creators take time to celebrate joy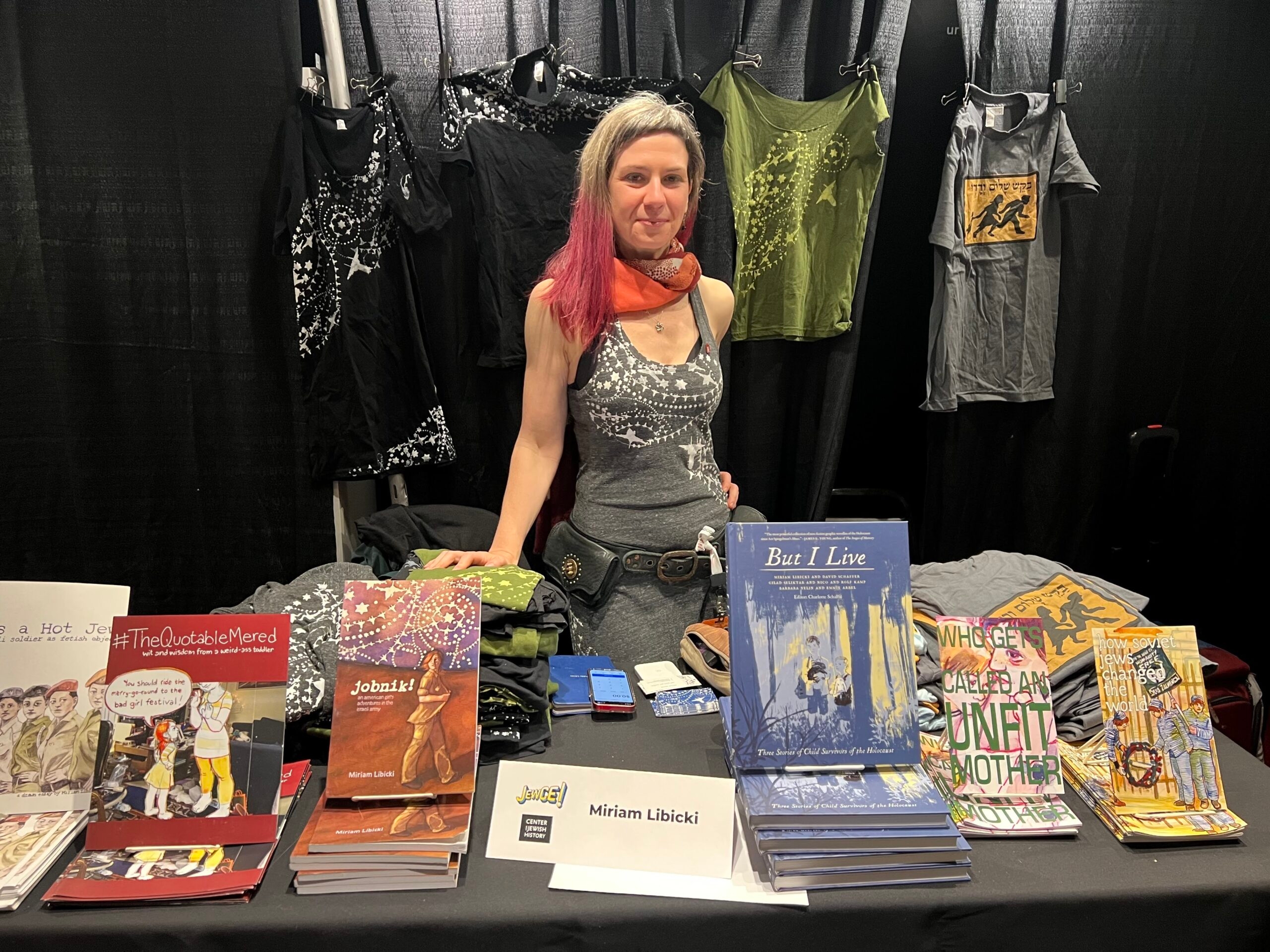 (New York Jewish Week) — More than 400 comic book lovers flocked to Manhattan's Center for Jewish History on Sunday for the first-ever Jewish Comics Experience, a pop culture convention that was billed as the "ultimate comics and pop culture event."
Some 35 comics creators participated in the inaugural JewCE, including "Sin City" creator Frank Miller and underground comics legend Barbara "Willy" Mendes. Others participating were artists who specialize in depicting Torah stories, creators of Jewish superheroes, autobiographical writers who just happen to be Jewish and non-Jewish authors and artists who create Jewish content. 
"It's high time that Jewish creators are recognized for their contribution to comic culture, a culture that was for the most part created by Jewish people," JewCE co-founder Fabrice Sapolsky told the New York Jewish Week. 
Though the event was planned long before Hamas' Oct. 7 attack on Israel and the subsequent war, the continued violence in the Middle East and its reverberating effects was resonant across the convention. In myriad panel conversations and in one-on-one discussions, the situation in Israel, increased antisemitism across the globe and the acute need for Jewish joy were frequent themes. For many creators and attendees, "showing up" and supporting the Jewish community was at the top of mind, while others noted the camaraderie among individuals who all shared a a love of Jewish culture. 
According to Miriam Mora, the co-founder of JewCE and the director of programming at the Center for Jewish History, the difficult moment made a Jewish comic convention more relevant than ever. "Comics are worth paying attention to because there's no better way to lift up our community and to fight antisemitism than to educate people about Jewish contributions, Jewish identities, Jewish stories than to celebrate them," she said. 
Indie "comix" icon Mendes, best known for the classic comic "It Ain't Me, Babe," agreed. "We just need people to know how wonderful we are because there's a lot of propaganda out there that we're terrible," she told the New York Jewish Week. "We need to counteract that with proof that Jews are wonderful, and that's what this is all about — and that's why I'm so happy to be part of the convention."
The history of Jews and comics is a long and rich one, beginning with the earliest comic book creators — nearly all Jews — to the continued presence of Jewish stories in both popular comics and more esoteric ones. For example, Marvel briefly had a Jewish Black Panther character, while, more recently, author Yehudi Mercato drew upon his Mexican-Jewish family for his middle-grade graphic memoir, "Chunky." Meanwhile, some traditional Jewish texts have gotten the graphic novel treatment, including Mendes' recent takes on the weekly Torah portion.
JewCE was created to spotlight this rich, diverse history, and the convention was born out of smaller Jewish comic cons that Sapolsky had organized in 2016 and 2018 at Congregation Kol Israel in Crown Heights, Brooklyn. In 2022, Mora reached out to Sapolsky to propose the idea of a larger Jewish comic con at the Center for Jewish History. A lifelong comic book fan herself, Mora thought the center, with its central location near Union Square, was the perfect locale. 
"I always regretted that I couldn't do more Jewish comic cons and Miriam said the magic words. She said 'let's be creative,'" Sapolsky told New York Jewish Week. 
That creativity was on full display Sunday as creators spoke at panels such as "Jewish Folklore in Comics," "Queering Jewish Comics" and "Getting Past Ashkenormativity and Secularism in Comics." Jewish publishers sold a variety of books and individual creators signed their work and mingled with fans. One table was run by the mother of a writer of a Holocaust education comic who couldn't make the trip from Los Angeles. 
Miriam Libicki, an artist and author, traveled many hours from her home in Vancouver to attend the inaugural event. "I knew I really would love to be part of this new con starting up," Libicki, the author of "But I Live: Three Stories of Child Survivors of the Holocaust," told the New York Jewish Week. "All the creators are so many people that I'm huge fans of, or colleagues and just Jews in comics who have found each other."
For some attendees, JewCE was their entry into the world of Jewish comics.
Friends Tracy Weiss and Chavi Kahn had planned to see the Yeshiva University Museum exhibit "The Golden Path: Maimonides Across Eight Centuries" at the center when they discovered it closed for convention day. So instead, they attended JewCE, describing it as "completely out of our comfort zones." And yet, they were surprised at how much they learned about the Jewish origins of the comic industry. 
"You could really see the theme of trying to rise above our enemies and challenges," Kahn said. "And I think it's particularly resonant in this moment when there are so many challenges, and the depth of this expression is really impressive."
In addition to the convention, a concurrent exhibit at the Center for Jewish History, "The Museum and Laboratory of the Jewish Comics Experience," will be on view through the end of the year. Curated by Mora, the "museum" portion of the exhibit consists of five mini exhibits from the five partner organizations that make up the CJH. The Leo Baeck Institute, for example, has an exhibit on how superheroes fought fascism, while the YIVO Institute for Jewish Research's exhibit is about Yiddish cartoons — as well as a reading library made up of hundreds of Jewish comics. 
The laboratory, meanwhile, is an interactive, kid-friendly exhibit that allows museum-goers to try their hand at drawing comics and even dress up to become the Jewish superhero they've always dreamed of. 
A preview event on Saturday evening included the first-ever JewCie Awards, designed to highlight excellence in Jewish comics. Awards were handed out to numerous creatives for categories like best diverse representation, best historical narrative and best autobiographical comic. Among the winners were Neil Kleid, Asaf Hanuka and Dani Kolman, while famed satirist and Pulitzer Prize-winner Jules Feiffer and Eisner-nominated author Trina Robbins won the respective Macher and Macherke Awards for their lifetime contributions to comics. 
Chari Pere, who was nominated as Artist of the Year, told the New York Jewish Week on Sunday that she relished the opportunity to connect with Jewish peers and to find new audiences for her work. 
"This is something that people were hoping about for years," Pere said of the Jewish con. "As a Jewish cartoonist, what could be better to be among your peers and to be able to have your Hebrew-themed illustrations and 'Shabbos Tales' comics featured in an environment where people know what that means?"
Artist and comedian Danielle Brody began drawing cartoons during the pandemic, and only recently became a comics creator, publishing the "Don't Fuhaggadahboudit" Haggadah in the spring and the soon-to-be-released "Hot Hanukkah Book." 
She said she loved basking in the overwhelming Jewishness that surrounded the convention. "Sometimes when you're a creator, it feels like sometimes you're the only person doing something and it can get lonely," she said. "So to be in a space where everyone's a Jewish creator, and is channeling their Judaism into art and comics and telling stories, is everything."
Chicago-based writer Paul Axel, author of "Rotten Roots," emphasized that it was empowering to be in a space where participants shared both a love of comics and a love of Judaism — and how it was incredibly important to keep pushing for Jewish spaces in the comics industry. 
"When you go to a comic con, everybody's a comic book fan — everyone loves some aspect of that," he said. "To have a second layer, a deeper layer of the shared culture and ethnicity and identity and religion adds so much more to the show."
Sapolsky said that JewCE's first run in New York City is far from its last. The exhibit will run through the end of 2023 and those it are already in talks to take the exhibit to other cities
"For us, creating JewCE is not the end of the journey, it's the beginning of the journey," Sapolsky said. "We're ready to think that this event is bigger than any of us. It's something that has to count because Jews do count, but on top of counting, it's also important for non-Jews to discover who we are."
—
The post At a Jewish comic book festival, fans and creators take time to celebrate joy appeared first on Jewish Telegraphic Agency.
Protester Sets Self on Fire Outside Israeli Consulate in Atlanta
i24 News – A protester was in critical condition on Friday after setting themself on fire outside the Israeli consulate in Atlanta, Georgia, U.S. authorities said. A security guard who tried to intervene was also wounded.
A Palestinian flag found at the scene was part of the protest, Atlanta Police Chief Darin Schierbaum said at a news conference. He added that investigators did not believe there was any connection to terrorism and none of the consular staff was ever in danger.
JUST IN: A pro-Palestine protester is in critical condition after they set themselves on fire in "political protest" outside of the Israeli Consulate office in Atlanta.
The protester was reportedly draped in a Palestine flag.
The protester has severe burns and unfortunately, a… pic.twitter.com/B8nUQAj2nU
— Collin Rugg (@CollinRugg) December 1, 2023
"We do not see any threat here," he said. "We believe it was an act of extreme political protest that occurred." Everyone inside the consulate building was said to be safe.
Anat Sultan-Dadon, Consul General of Israel to the southeastern U.S., said: "We are saddened to learn of the self-immolation at the entrance to the office building. It is tragic to see the hate and incitement toward Israel expressed in such a horrific way."
"The sanctity of life is our highest value. Our prayers are with the security officer who was injured while trying to prevent this tragic act. We are grateful to the city of Atlanta's law enforcement and first responders for all they do to ensure safety."
The post Protester Sets Self on Fire Outside Israeli Consulate in Atlanta first appeared on Algemeiner.com.
Released Israeli Hostages Call for Captives to Be Freed
Israeli hostages released in the past week by Hamas in Gaza called on Saturday for the immediate release of fellow captives left behind, a day after a temporary truce that had allowed scores to come home broke down.
Tens of thousands gathered at a rally in Tel Aviv outside Israel's defense headquarters, where they cheered Yelena Trupanov, 50, standing on a stage just two days after being freed.
"I came to thank you because without you I wouldn't be here. Now we must bring back my (son) Sasha, and everyone. Now."
Similar pleas from other released hostages were shown on video.
A seven-day truce, during which Hamas had released more than 100 hostages, collapsed on Friday after Hamas breached the ceasefire.
Israel said on Saturday it had recalled a Mossad intelligence agency team from Qatar, host of indirect negotiations with Hamas, accusing the Palestinian faction of reneging on a deal that would have freed all children and women held hostage.
More than 240 people – Israelis and foreign nationals – were abducted to Gaza on Oct 7. by Hamas terrorists who burst through the border with Israel and killed 1,200 people.
The post Released Israeli Hostages Call for Captives to Be Freed first appeared on Algemeiner.com.
IDF Foils Stabbing Attack Near Nablus in West Bank, Eliminates Terrorist
i24 News – The Israel Defense Forces (IDF) reported thwarting a stabbing attack on Saturday afternoon against reserve Battalion 7037 at the X junction near Nablus in the West Bank.
According to the IDF spokesperson, the event unfolded when the forces at the roadblock became suspicious of an individual approaching the barricade.
During the questioning process, the suspect suddenly drew a knife and advanced towards the IDF personnel.
ניסיון פיגוע דקירה אירע לפני זמן קצר לעבר כוח צה"ל במילואים מגדוד 7037 שפעל בחסם בצומת האיקס סמוך לעיר שכם שבמרחב חטיבת שומרון.
הכוח חשד במחבל שהגיע לחסם והחל לתחקר אותו, המחבל שלף סכין והחל להתקדם לעבר הכוח.
הלוחמים חתרו למגע והגיבו בירי לעבר המחבל שחוסל. אין נפגעים לכוחותינו. pic.twitter.com/mEaJs58hpE
— דובר צה״ל דניאל הגרי – Daniel Hagari (@IDFSpokesperson) December 2, 2023
The soldiers, faced with the threat, engaged in contact procedures and ultimately responded by opening fire on the assailant. The spokesperson confirmed that the attacker was neutralized due to the IDF's action.
It was also noted that there were no casualties among the IDF forces involved in the incident. According to the spokesperson, the situation at the X junction has stabilized, and IDF continues to maintain vigilance in the area to prevent further attacks.
The post IDF Foils Stabbing Attack Near Nablus in West Bank, Eliminates Terrorist first appeared on Algemeiner.com.