At a small Tel Aviv protest ahead of the Israel-Hamas hostage deal, families feel hope and uncertainty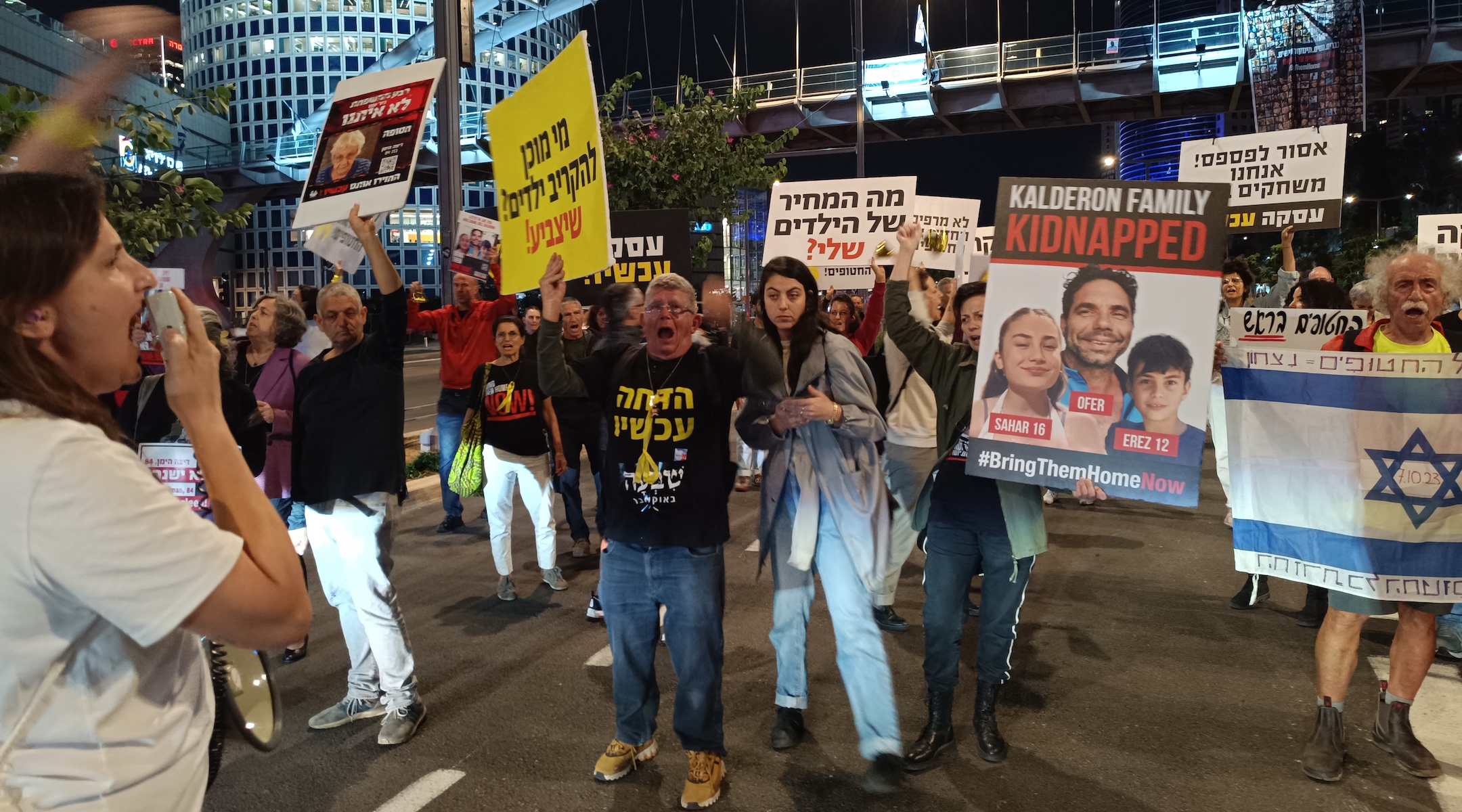 TEL AVIV (JTA) — Wearing a face that bore the marks of 47 days of anguished waiting, Hadas Kalderon took to the streets to block traffic on a central Tel Aviv thoroughfare next to Israel's military headquarters. 
Kalderon was demanding that Israel's leaders, who were meeting in the complex, approve a deal to release at least 50 of the hostages held by Hamas — including, possibly, her son and daughter. 
"We want them all back, I will fight to the end until everyone comes back," said Kalderon, whose 16-year-old daughter Sahar, 12-year-old son Erez and their father — her ex-husband, Ofer — were kidnapped from Kibbutz Nir Oz on Oct. 7. They are among the approximately 240 hostages held by Hamas and other terror groups in Gaza, abducted during the attack that day.
The deal set to be approved by Israel's government on Tuesday will free at least 50 Israeli hostages — among them women, children and the elderly — in exchange for some 150 Palestinian women and minors in Israeli prison on security offenses. Israel has also agreed to a four-day pause in its war against Hamas in Gaza. 
Kalderon understood that this hostage deal won't bring the entire family home. But she sees it as a crucial first step.
"The father of my children is there, I want my children to have a father but we have to live in reality," she said of the proposed deal, which will reportedly exclude men and soldiers. "At first we must take out the weak. Babies, children and elderly will not survive. And then it will be open to bring them all."
Compared to recent protests that brought tens of thousands of Israelis to the streets, and even a march from Tel-Aviv to Jerusalem last week that drew many supporters to call for freeing the hostages, only a small group of approximately 100 Israelis gathered Tuesday night to call for the hostage deal's approval. In spite of the small crowd blocking the busy Begin Boulevard, police made no effort to disperse the crowd and even some of the stranded motorists showed little of the frustration they have displayed about previous protests. 
"It is good that they are doing this," said a driver of a stalled Egged bus. Referring to a massive protest movement that spread across Israel for much of the year prior to Oct. 7, he said, "It is not like the judicial reforms. These are Israeli citizens captive in Gaza, it is much more important." 
Despite the milestone deal, there were few signs of celebration in light of the deal's fraught implications for those not included.
"The deal is not simple," said Shir Sella, a 24-year-old cousin of the Kalderon family. "We are very worried that it will make it harder to release the men and it is a question of what we are giving up. … I feel like the government betrayed us by not protecting us."
Concerns have also simmered over what kinds of dangers a multi-day pause in fighting might pose to Israeli soldiers fighting in Gaza; Israeli officials have said the soldiers would remain in place during the truce. Soldiers who are being held hostage are also not being released.
"As a mother of a soldier in captivity, I would be terrified," said Michal Roth, whose son is serving in Gaza as a soldier.  
"It is such an unhuman dilemma that we are in and I think that Hamas is trying to tear us apart with this deal," Roth added. "But there is no win-win and even with my own child in Gaza, as a mother my thoughts are with the kids held captive and not him."
On the other side of the road, a small group of counter-protesters gathered to express opposition to the hostage deal, a view mainly reflected by the far-right political parties in Israel's parliament who vowed to vote against the deal. Limor Son Har-Melech, a right-wing member of Knesset from Itamar Ben-Gvir's Jewish Power party, stood at a distance from both protests.
"It pains me to see the split," she said. "I have good relations with families on the other side calling for a deal but I think it is a very dangerous deal for us."
Son Har-Melech was badly injured while pregnant in a terrorist attack in 2003 that killed her first husband, Shuli Har-Melech. Terrorists who carried out that attack were among about 1,000 Palestinians released from Israeli prisons in 2011 as part of a deal with Hamas to free the Israeli soldier Gilad Shalit, she said. 
"We do not learn from history — we need to learn from the Shalit deal," Son Har-Melech said, noting that current Hamas leader Yahya Sinwar was also released at the time.
"Hamas is abusing our weaknesses and there would be a better chance to return them all if we showed strength," she said, adding that "if we do not have unity we lose anyways."
Atara Levy, an activist with Women Wage Peace, came to the protest to show solidarity for her friend Netta Heiman, whose 84-year old mother Ditza was taken captive from Kibbutz Nir Oz. (Vivan Silver, one of the group's cofounders, was murdered on Oct. 7 in her home on Kibbutz Be'eri. She had been thought to be one of the captives until her body was discovered.)
"We need a diplomatic solution and there is no choice but to accept the deal," Levy said. "I am not sure if this is a step towards peace, but it is definitely a step in the right direction for the nation to survive, because a state that cannot return its captives has no legitimacy."

While Levy does not have much hope for the country's leadership, tomorrow she will join a zoom meeting with "hundreds" of Palestinian women from the West Bank and Gaza who want peace and "are supporting us, that we are one."
Efrat, a protester from Tel Aviv who declined to share her last name, said that she feels "horrible" about the deal — because of how much pain and uncertainty remains.
"Even if 50 are brought home, there are still more than 150 left behind," she said. "I do not feel like I can be okay as a citizen of Israel or as a human being without them all home." 
—
The post At a small Tel Aviv protest ahead of the Israel-Hamas hostage deal, families feel hope and uncertainty appeared first on Jewish Telegraphic Agency.
I survived a pogrom in Iraq 82 years ago. I know where Hamas' extremism will lead today.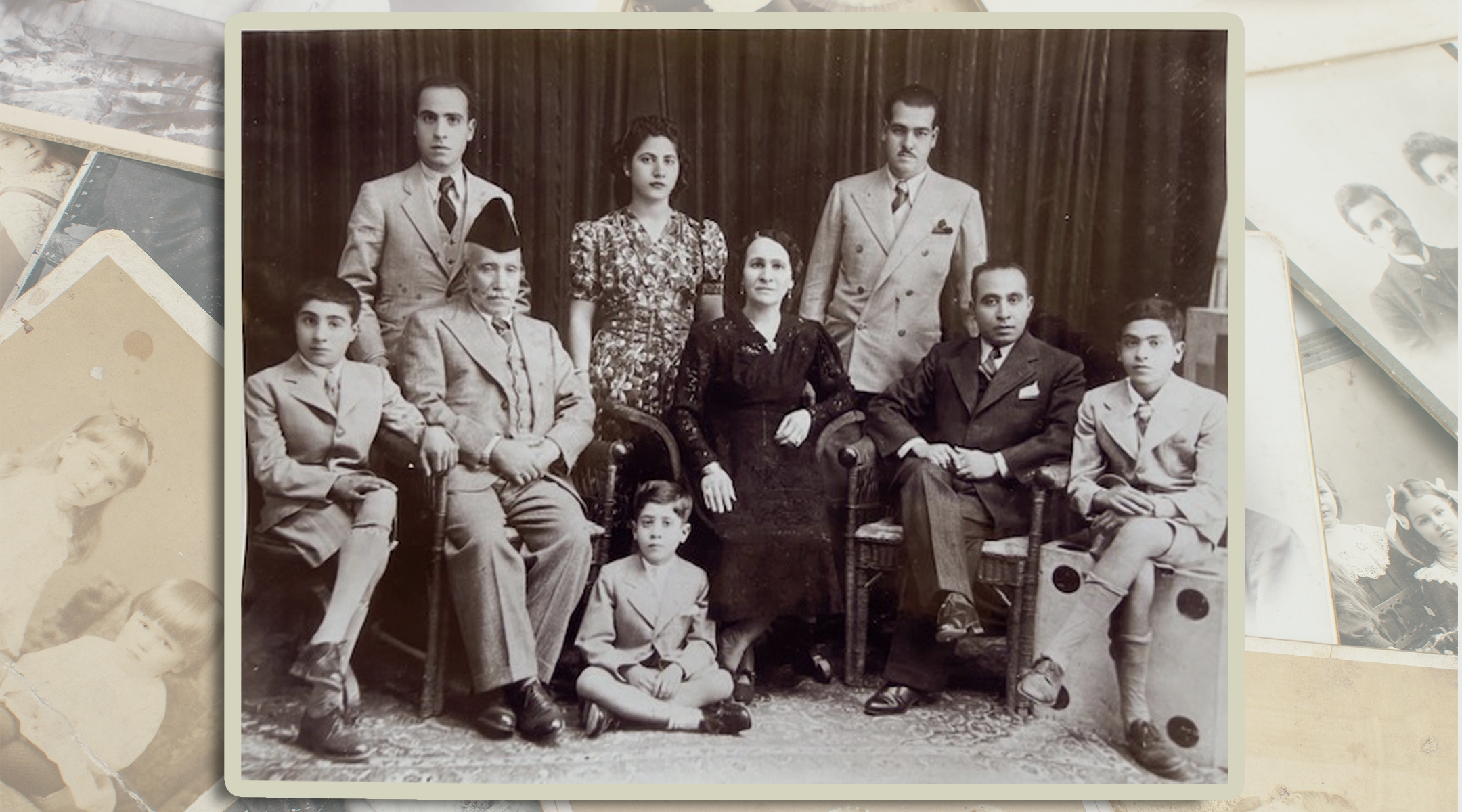 (JTA) — When I saw the photos and videos posted by Hamas murdering entire Israeli families, raping women and killing young people at a music festival on Oct. 7 — I was horrified and shocked. These images ignited the flames of a dormant trauma I suffered 82 years ago in Baghdad, Iraq, when I was just 10 years old.
 On June 1 and 2, 1941, two months after a pro-Nazi coup that plagued Baghdad, mobs — aided by the police and soldiers — broke into Jewish homes, raping women and girls and murdering Jews mercilessly in a rampage that came to be known as the "Farhud" — an Arabic term for pogrom. Jews could not fight back, and there was nowhere to run and no country to seek refuge. This horrendous massacre occurred during the festival of Shavuot, a holiday celebrating the giving of the Ten Commandments. 
My older brother, Eliyahu, unknowingly rode his bicycle to visit our cousins in the Old Jewish Quarter on the first day of the Farhud. The doors of my two uncles' homes were broken in and the interiors looted. Cycling back home through the main thoroughfare, Al Rashid Street, he witnessed a group of men stop a minibus, drag out the Jewish passengers, then rob and slaughter them. It still sends chills down my spine thinking of what he saw. 
Thank God, my family was spared. The mob, who could be heard just blocks away, didn't manage to reach us before the British forces entered Baghdad on the afternoon of June 2. After the events, none of the perpetrators was accused or convicted.
I also heard stories of courageous Muslim men who stood in front of Jewish homes with knives, daggers and guns, risking their lives and preventing the mob from breaking into homes. Some took Jews into their own homes to protect them, and took the injured to doctors. Some Muslim leaders condemned these brutal acts as heresy to Islam. 
I was conflicted and confused. My father, a textile importer, always praised his Muslim customers as honorable, and my older brothers had very close Muslim friends. When I asked my father about this dissonance, he told me, "Son, you must judge people by their individual actions, and not as a group." That was a lesson I carried throughout my life. 
When I saw the pro-Hamas demonstrations that erupted after the Oct. 7 massacre, it brought memories of the events after the United Nations approved the partition of Palestine into two states, one Arab and one Jewish, on Nov. 29, 1947. The Jews of Iraq and other Arab countries prayed that the Palestinian leaders would agree to start a new country, the 23rd Arab country, and live alongside the newly created Israel. The Arab League, however, unanimously rejected the partition and declared a war to eliminate the Jewish state. 
Frequent demonstrations took place in the streets of Baghdad, with screams of "death to Zionists" and calls to free Palestine. We feared another Farhud. We got lucky — there were only a few skirmishes — but the Jews of Aleppo, Syria, were raided by mobs, encouraged by the Syrian government, that looted and set ablaze homes, synagogues, schools and an orphanage in December 1947. An estimated 75 Jews were killed, and hundreds were injured. 
We Iraqi Jews faced a dilemma. If the Arab armies won and eliminated the new Jewish state, there would be a second Holocaust. But if they lost, would the Iraqi leaders turn against us, their Jewish citizens that had inhabited the area for over 25 centuries?
On May 15, 1948, five Arab armies, including Iraq, attacked Israel. Against enormous odds, Israel survived. The shame of failure caused Arab countries to, indeed, turn against their Jewish citizens. In Iraq, Zionism was declared a capital offense. Jews were fired from government jobs, and accusations, arrests, tortures and imprisonments culminated in the public execution of a prominent Jewish merchant, Shafiq Addas, on Sept. 23, 1948. This brought fear to every Jewish heart. 
I was accepted at three universities in America, but Iraq refused to grant me an exit visa. In December 1949, I got to Iran with the help of two Muslim smugglers. And two months after that, I arrived in Israel. I became a homeless, penniless refugee. I stood in line with a tin plate to get a free meal, and slept in a tent anchored in the sand. However, I felt liberated for the first time in my life. The sense of freedom overshadowed the feeling of victimhood. 
The continuous harassment, persecution, torture and execution in Iraq and other Arab countries forced 850,000 Jews to flee from their homelands. Jews lived in Iraq over 1,000 years before Islam conquered the region, and for 1,300 years after. Presently, there are only about 6,000 Jews remaining in Arab lands. They left their homes, businesses, synagogues, properties, everything. Like myself, they became refugees. But we all moved on. We had to learn a second language and were grateful to become equal citizens of the countries that accepted us.
This is not to say that the situation of the Mizrahi Jews who were made refugees after the creation of Israel and that of the Palestinians in Gaza are completely analogous. But it suggests that experiences of oppression and exile do not have to lead inevitably to the horrific events that played out on Oct. 7. 
Hamas's first order of business — like ISIS, Assad's Syria and other totalitarian regimes — is to eliminate the opposition. Hamas mercilessly crushed the Fatah movement who were giving them a fight for the 2006 election. Today, they continue to discriminate against minorities, women and homosexuals. 
As a Jew who survived the Farhud and who grew up with, and has, many faithful Muslim friends — and who knows the hardship of being a refugee — I cried for the massacre of Jews by Hamas. I also cried for the innocent Palestinians that were killed by Hamas for refusing to follow orders and join their movement. I pray that the Palestinian people will find the courage to stand up to Hamas, and make it a priority to establish a democratic and prosperous Palestinian state.
—
The post I survived a pogrom in Iraq 82 years ago. I know where Hamas' extremism will lead today. appeared first on Jewish Telegraphic Agency.
Israeli Cabinet Convenes to Discuss Looming Hostage Release Deal
Ismail Haniyeh, the leader of the Hamas terrorist organization, said on Tuesday that a truce with Israel was close while Israeli Prime Minister Benjamin Netanyahu voiced hope for good news regarding the more than 240 hostages seized during the Oct. 7 Hamas pogrom, the most optimistic signs so far of a deal to pause the devastating war in Gaza and free captives.
As negotiations appeared to be nearing agreement, however, the fighting on the ground raged on, with Israel saying its forces had encircled the Jabalia refugee camp, a major urban flashpoint and Hamas terrorist stronghold.
The Palestinian news agency said 33 people were killed and dozens wounded in an Israeli air strike on part of Jabalia, a congested urban extension of Gaza City where Hamas terrorists have been battling advancing Israeli armored forces.
In southern Gaza, Hamas-affiliated media said 10 people were killed and 22 injured by an Israeli air strike on an apartment in the city of Khan Younis.
If a deal on hostages transpires, it would be the first pause in hostilities and the first mass release of people held by both sides in a six-week-old war that has raised fears of wider conflict in the Middle East.
Hamas leader Ismail Haniyeh said in a statement sent to Reuters by his aide that group officials were "close to reaching a truce agreement" with Israel and the group had delivered its latest response to Qatari mediators.
Israeli Prime Minister Benjamin Netanyahu said, according to remarks released by his office: "We are making progress. I don't think it's worth saying too much, not at even this moment, but I hope there will be good news soon."
US President Joe Biden told reporters that an accord to release some of the more than 200 hostages held by Hamas was very near. "My team is in the region shuttling between capitals. We're now very close, very close, to bringing some of these hostages home very soon," he said.
Shortly afterwards, U.S. State Department spokesperson Matthew Miller said a hostage deal was close but not final.
Netanyahu summoned his war cabinet amid growing signs of a deal to free a number of the 240 hostages taken by Hamas militants to Gaza after their deadly cross-border raid into Israel on Oct. 7, which triggered the war.
A US official briefed on the discussions facilitated by Qatar said Hamas would free about 50 hostages, mostly women and children and including some foreigners, while Israel frees 150 Palestinian prisoners, with fighting paused for four to five days.
Israeli media outlets said later the government had convened to discuss approval of a deal, including a clause that would allow the Red Cross access to those hostages who remain in Gaza, including supplying them with their medical needs.
A Hamas official told the Qatari-controlled broadcaster Al Jazeera that negotiations were centered on how long the truce would last, arrangements for delivery of aid into Gaza and details of the exchange of captives. Both sides would free women and children, and details would be announced by Qatar, which is mediating in the negotiations, said the official, Issat el Reshiq.
Israel's chief military spokesperson, Rear Admiral Daniel Hagari, said the army was focused on fighting and the deal with Hamas, if clinched, would not affect its gains in Gaza, where Israel says it now controls much of the north.
"The military will know how to maintain its military achievements in Gaza while preparing for the next stages of the war," Hagari told a televised briefing on Tuesday evening.
He said Israeli forces had continued operations through the day in Gaza and completed an encirclement of Jabalia, "which is a significant combat area", adding that troops had also "deepened combat" in the nearby Zeitoun district of Gaza City.
Hamas' Oct. 7 rampage into Israeli communities near Gaza killed 1,200 people, according to Israeli tallies, the deadliest day in Israel's 75-year-old history.
The post Israeli Cabinet Convenes to Discuss Looming Hostage Release Deal first appeared on Algemeiner.com.
McGill students vote to approve a policy against 'genocide in Palestine' over the objections of Jewish students