I survived a pogrom in Iraq 82 years ago. I know where Hamas' extremism will lead today.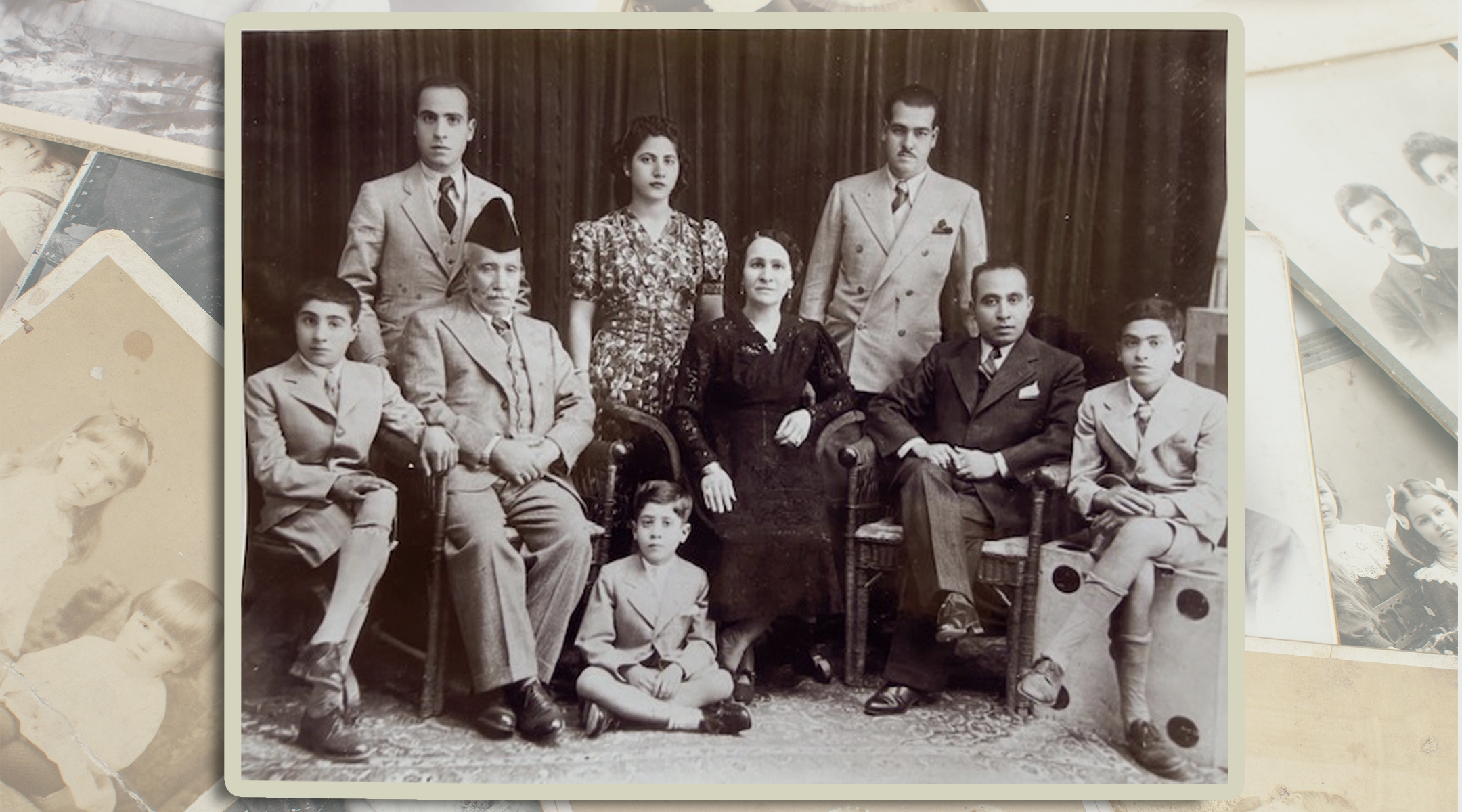 (JTA) — When I saw the photos and videos posted by Hamas murdering entire Israeli families, raping women and killing young people at a music festival on Oct. 7 — I was horrified and shocked. These images ignited the flames of a dormant trauma I suffered 82 years ago in Baghdad, Iraq, when I was just 10 years old.
 On June 1 and 2, 1941, two months after a pro-Nazi coup that plagued Baghdad, mobs — aided by the police and soldiers — broke into Jewish homes, raping women and girls and murdering Jews mercilessly in a rampage that came to be known as the "Farhud" — an Arabic term for pogrom. Jews could not fight back, and there was nowhere to run and no country to seek refuge. This horrendous massacre occurred during the festival of Shavuot, a holiday celebrating the giving of the Ten Commandments. 
My older brother, Eliyahu, unknowingly rode his bicycle to visit our cousins in the Old Jewish Quarter on the first day of the Farhud. The doors of my two uncles' homes were broken in and the interiors looted. Cycling back home through the main thoroughfare, Al Rashid Street, he witnessed a group of men stop a minibus, drag out the Jewish passengers, then rob and slaughter them. It still sends chills down my spine thinking of what he saw. 
Thank God, my family was spared. The mob, who could be heard just blocks away, didn't manage to reach us before the British forces entered Baghdad on the afternoon of June 2. After the events, none of the perpetrators was accused or convicted.
I also heard stories of courageous Muslim men who stood in front of Jewish homes with knives, daggers and guns, risking their lives and preventing the mob from breaking into homes. Some took Jews into their own homes to protect them, and took the injured to doctors. Some Muslim leaders condemned these brutal acts as heresy to Islam. 
I was conflicted and confused. My father, a textile importer, always praised his Muslim customers as honorable, and my older brothers had very close Muslim friends. When I asked my father about this dissonance, he told me, "Son, you must judge people by their individual actions, and not as a group." That was a lesson I carried throughout my life. 
When I saw the pro-Hamas demonstrations that erupted after the Oct. 7 massacre, it brought memories of the events after the United Nations approved the partition of Palestine into two states, one Arab and one Jewish, on Nov. 29, 1947. The Jews of Iraq and other Arab countries prayed that the Palestinian leaders would agree to start a new country, the 23rd Arab country, and live alongside the newly created Israel. The Arab League, however, unanimously rejected the partition and declared a war to eliminate the Jewish state. 
Frequent demonstrations took place in the streets of Baghdad, with screams of "death to Zionists" and calls to free Palestine. We feared another Farhud. We got lucky — there were only a few skirmishes — but the Jews of Aleppo, Syria, were raided by mobs, encouraged by the Syrian government, that looted and set ablaze homes, synagogues, schools and an orphanage in December 1947. An estimated 75 Jews were killed, and hundreds were injured. 
We Iraqi Jews faced a dilemma. If the Arab armies won and eliminated the new Jewish state, there would be a second Holocaust. But if they lost, would the Iraqi leaders turn against us, their Jewish citizens that had inhabited the area for over 25 centuries?
On May 15, 1948, five Arab armies, including Iraq, attacked Israel. Against enormous odds, Israel survived. The shame of failure caused Arab countries to, indeed, turn against their Jewish citizens. In Iraq, Zionism was declared a capital offense. Jews were fired from government jobs, and accusations, arrests, tortures and imprisonments culminated in the public execution of a prominent Jewish merchant, Shafiq Addas, on Sept. 23, 1948. This brought fear to every Jewish heart. 
I was accepted at three universities in America, but Iraq refused to grant me an exit visa. In December 1949, I got to Iran with the help of two Muslim smugglers. And two months after that, I arrived in Israel. I became a homeless, penniless refugee. I stood in line with a tin plate to get a free meal, and slept in a tent anchored in the sand. However, I felt liberated for the first time in my life. The sense of freedom overshadowed the feeling of victimhood. 
The continuous harassment, persecution, torture and execution in Iraq and other Arab countries forced 850,000 Jews to flee from their homelands. Jews lived in Iraq over 1,000 years before Islam conquered the region, and for 1,300 years after. Presently, there are only about 6,000 Jews remaining in Arab lands. They left their homes, businesses, synagogues, properties, everything. Like myself, they became refugees. But we all moved on. We had to learn a second language and were grateful to become equal citizens of the countries that accepted us.
This is not to say that the situation of the Mizrahi Jews who were made refugees after the creation of Israel and that of the Palestinians in Gaza are completely analogous. But it suggests that experiences of oppression and exile do not have to lead inevitably to the horrific events that played out on Oct. 7. 
Hamas's first order of business — like ISIS, Assad's Syria and other totalitarian regimes — is to eliminate the opposition. Hamas mercilessly crushed the Fatah movement who were giving them a fight for the 2006 election. Today, they continue to discriminate against minorities, women and homosexuals. 
As a Jew who survived the Farhud and who grew up with, and has, many faithful Muslim friends — and who knows the hardship of being a refugee — I cried for the massacre of Jews by Hamas. I also cried for the innocent Palestinians that were killed by Hamas for refusing to follow orders and join their movement. I pray that the Palestinian people will find the courage to stand up to Hamas, and make it a priority to establish a democratic and prosperous Palestinian state.
—
The post I survived a pogrom in Iraq 82 years ago. I know where Hamas' extremism will lead today. appeared first on Jewish Telegraphic Agency.
Treasure Trove: How some sheet music in the Theresienstadt Ghetto became a symbol of hope
Protester Sets Self on Fire Outside Israeli Consulate in Atlanta
i24 News – A protester was in critical condition on Friday after setting themself on fire outside the Israeli consulate in Atlanta, Georgia, U.S. authorities said. A security guard who tried to intervene was also wounded.
A Palestinian flag found at the scene was part of the protest, Atlanta Police Chief Darin Schierbaum said at a news conference. He added that investigators did not believe there was any connection to terrorism and none of the consular staff was ever in danger.
JUST IN: A pro-Palestine protester is in critical condition after they set themselves on fire in "political protest" outside of the Israeli Consulate office in Atlanta.
The protester was reportedly draped in a Palestine flag.
The protester has severe burns and unfortunately, a… pic.twitter.com/B8nUQAj2nU
— Collin Rugg (@CollinRugg) December 1, 2023
"We do not see any threat here," he said. "We believe it was an act of extreme political protest that occurred." Everyone inside the consulate building was said to be safe.
Anat Sultan-Dadon, Consul General of Israel to the southeastern U.S., said: "We are saddened to learn of the self-immolation at the entrance to the office building. It is tragic to see the hate and incitement toward Israel expressed in such a horrific way."
"The sanctity of life is our highest value. Our prayers are with the security officer who was injured while trying to prevent this tragic act. We are grateful to the city of Atlanta's law enforcement and first responders for all they do to ensure safety."
The post Protester Sets Self on Fire Outside Israeli Consulate in Atlanta first appeared on Algemeiner.com.
Released Israeli Hostages Call for Captives to Be Freed
Israeli hostages released in the past week by Hamas in Gaza called on Saturday for the immediate release of fellow captives left behind, a day after a temporary truce that had allowed scores to come home broke down.
Tens of thousands gathered at a rally in Tel Aviv outside Israel's defense headquarters, where they cheered Yelena Trupanov, 50, standing on a stage just two days after being freed.
"I came to thank you because without you I wouldn't be here. Now we must bring back my (son) Sasha, and everyone. Now."
Similar pleas from other released hostages were shown on video.
A seven-day truce, during which Hamas had released more than 100 hostages, collapsed on Friday after Hamas breached the ceasefire.
Israel said on Saturday it had recalled a Mossad intelligence agency team from Qatar, host of indirect negotiations with Hamas, accusing the Palestinian faction of reneging on a deal that would have freed all children and women held hostage.
More than 240 people – Israelis and foreign nationals – were abducted to Gaza on Oct 7. by Hamas terrorists who burst through the border with Israel and killed 1,200 people.
The post Released Israeli Hostages Call for Captives to Be Freed first appeared on Algemeiner.com.