At House hearing, pro-Palestinian protester interrupts Jewish student's recounting of antisemitic death threats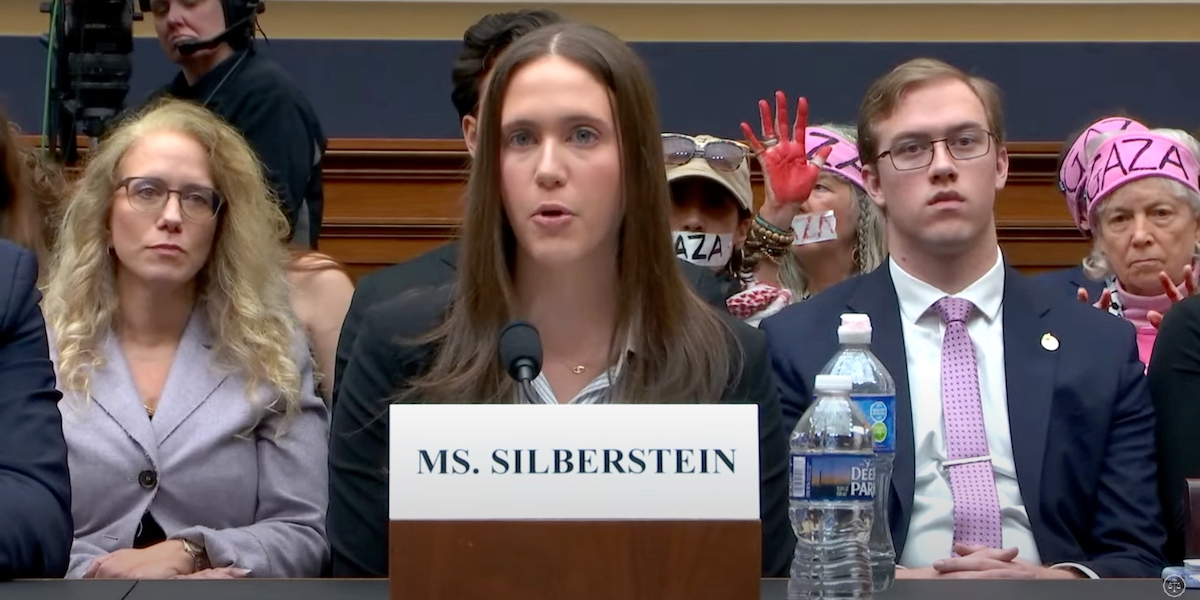 (JTA) – As Amanda Silberstein testified to the U.S. House of Representatives on Wednesday about how a student at her university had threatened to kill and rape Jewish students, she was interrupted.
"Free Palestine," a protester shouted from the audience during Silberstein's testimony at a hearing on free speech and antisemitism on college campuses. "Anti-Zionism is not antisemitism."
Silberstein is an undergraduate at Cornell University, where a student was recently arrested for making antisemitic death threats. Silberstein, a member of the student board at Cornell's Chabad-Lubavitch movement chapter, had just described how "professors and student organizations have been fueling Jew-hatred and spreading it across campus with disregard or potentially even with deliberate intent to incite." 
It was one of several times when pro-Palestinian protesters interrupted witnesses at the House Judiciary Committee hearing titled "Free Speech on College Campuses." Throughout the more than three-hour hearing, they called for a ceasefire in the Gaza Strip; decried a purported silencing of Palestinian students on campus; and protested the recent House censuring of Michigan Democratic Rep. Rashida Tlaib, who is Palestinian-American, for her use of the pro-Palestinian phrase "From the river to the sea," which Jewish groups and others have called antisemitic.
This was not the first time in recent days when pro-Palestinian protesters disrupted congressional proceedings: Last week, hecklers also tried to derail U.S. Secretary of State Antony Blinken as he implored Congress to allocate emergency funds for Israel. 
But the dissonance of the moment — Silberstein, unlike Blinken, was not using her testimony to advocate for Israel — exemplified the tense atmosphere, as Republicans and Democrats alike openly pondered the question of whether, and how, speech about Israel and Jews should be policed on campus and in the House. 
"I happen to believe in the eradication of Hamas. The same freedom of speech that protects my right to advocate that position is at stake here, is it not?" California Republican Rep. Tom McClintock said at one point to Kenneth Marcus, a witness who served in the Trump administration's Education Department and chairs the Brandeis Center for Human Rights Under Law, a pro-Israel group that has repeatedly brought legal challenges against universities it says fail to properly discipline anti-Zionist speech. 
The hearing was originally intended to focus on the issue of conservative college students allegedly being silenced. But in light of Hamas' Oct. 7 attack on Israel, it largely centered on antisemitism on campus and beyond as student and faculty rhetoric around Israel has reached a fever pitch. 
Silberstein had been invited to testify in part because Cornell recently canceled classes for a day because of the threats against its Jewish students. That incident followed a professor at the Ivy League university publicly praising the Hamas attacks, turning the school into a flashpoint for the rising temperature around antisemitic and anti-Zionist speech on campuses.
Some Republicans, including hardline right-wing Florida Rep. Matt Gaetz, suggested that efforts to restrict pro-Palestinian or pro-Hamas speech on campuses were misguided. Another, California Rep. Kevin Kiley, accused university administrators at schools such as Harvard of relying on free speech as an excuse to avoid condemning students with pro-Hamas views. 
A Cornell alum, Texas Rep. Wesley Hunt, condemned the school's administration for not immediately firing the pro-Hamas professor, suggesting administrators would have done so if he had shared anti-trans or anti-Black views instead.
One Democrat, Georgia Rep. Hank Johnson, said the hearing itself was hypocritical in light of the House's vote the previous night to censure Tlaib over speech related to Israel. 
"It's ironic that we're holding this hearing today about censorship and speech on campus, but last night, MAGA Republicans and others censured the only Palestinian voice in the House of Representatives because they didn't like what she had to say," Johnson said. "She didn't threaten anybody. She did not advocate for violence. She stated a view, as happens on college campuses." (Nearly two dozen Democrats also voted to censure Tlaib, saying that they believed her use of the phrase "From the river to the sea" implied threats of violence toward Jews and Israel.)
McClintock grilled Silberstein and Marcus about whether certain Israel-related speech should be protected on campus. He asked Marcus if "the mere repetition" of the phrase "From the river to the sea" should be "banned or punished."
In his answer, Marcus referred to an executive order by President Donald Trump that included some anti-Israel speech under the Education Department's civil rights protections. Speech, he said, could be used "as an indicator of the nature of conduct." He added that, if a violent antisemitic action followed anti-Israel speech, the prior speech could be policed as an example of predicting that conduct.
"Conduct often follows words," Silberstein said in agreement, linking chants at Cornell of "From the river to the sea" to antisemitic threats to students. "Speech advocating for violence should not be tolerated on a college campus," she added.
"Well, what about the eradication of Hamas?" McClintock asked her. Silberstein responded that Hamas is "a recognized terror organization," which led McClintock to ask, "So it depends upon your viewpoint, is that what you're saying?"
Gaetz, too, pushed Marcus on whether punishing students who voice support for Hamas amounts to the suppression of legitimate speech. He suggested that those who have called for the suppression of bigoted speech are being inconsistent. 
"I am reminded of the great philosopher Austin Powers, who said, 'There's only two things I can't stand: people who are intolerant of other people, and the Dutch,'" Gaetz said, referencing the series of spy comedies starring Mike Myers. "And a similar tension seems to be on display today."
Silberstein and Marcus were joined on the witness panel by Stacy Burdett, a senior executive at the Anti-Defamation League; two non-Jewish conservative campus activists; and Pamela Nadell, the director of American University's Jewish studies program and the author of a forthcoming book on antisemitism in America. 
Nadell sparred with Gaetz over whether criticisms of "globalists" or progressive Jewish philanthropist George Soros, both frequent targets of Gaetz's ire, should always be seen as antisemitic.
Elsewhere during the hearing, Judiciary Committee Chair Jim Jordan, a Republican, refused to respond to California Democratic Rep. Eric Swalwell's queries about why his committee left up a tweet reading "Kanye. Elon. Trump." for months after the rapper Kanye West embarked on a stream of antisemitic comments. 
—
The post At House hearing, pro-Palestinian protester interrupts Jewish student's recounting of antisemitic death threats appeared first on Jewish Telegraphic Agency.
This Manhattan restaurant is serving a $95 latke for Hanukkah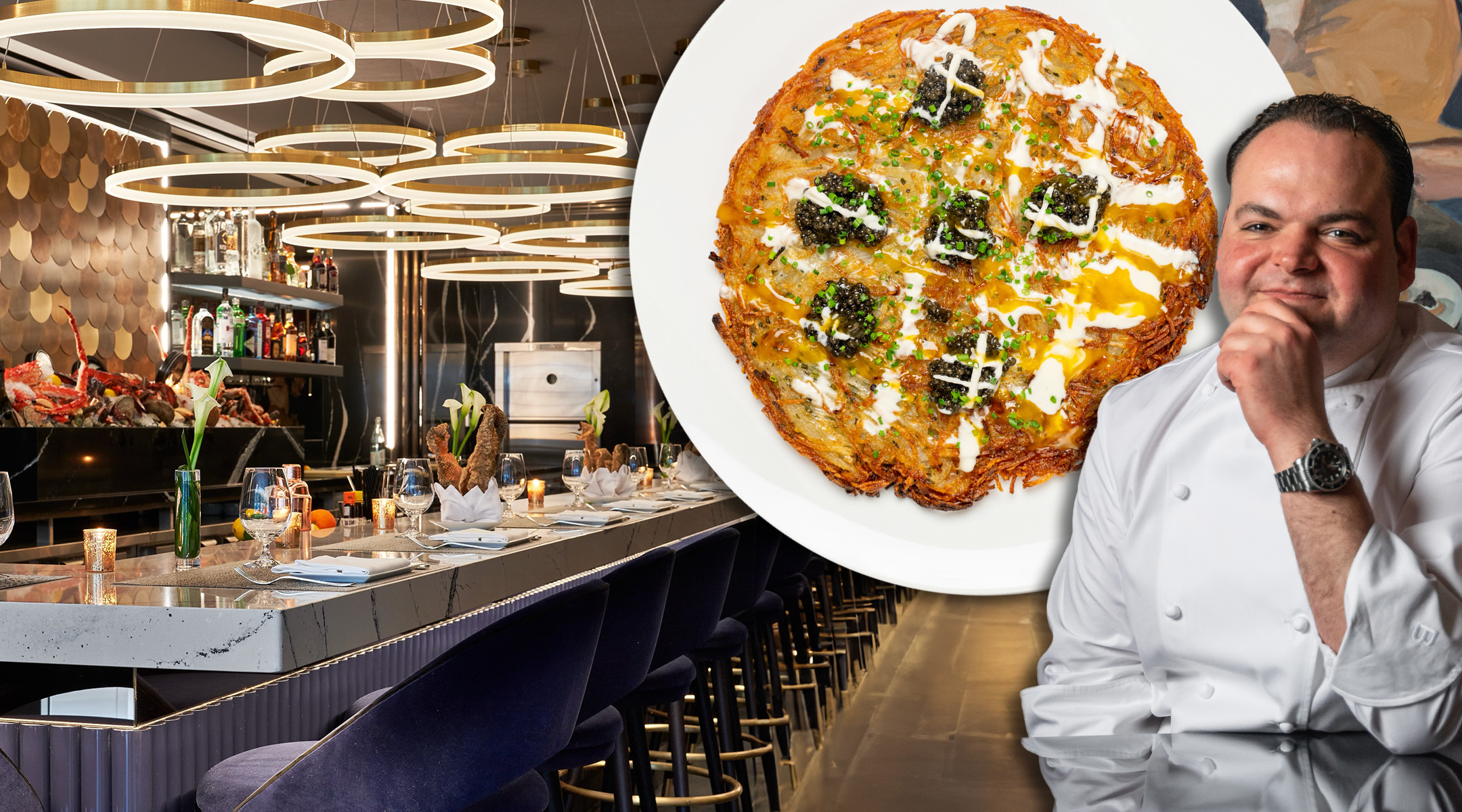 (New York Jewish Week) — With movie tickets that cost $30 and apartments that can reach staggering, nine-digit figures, New York City is notoriously expensive. And yet, one restaurant's new luxury latke is still pricey enough to make jaws drop.
For Hanukkah this year, Caviar Russe, an upscale seafood restaurant in Midtown, is serving an oversized latke topped with caviar, priced at a cool $95. 
The restaurant's executive chef Edgar "Teddy" Panchernikov told the New York Jewish Week that this is the first time he has created a holiday-specific menu item, Hanukkah or otherwise, calling the pricey potato pancake a "one-off."
The latke is an amped-up version of the mini potato pancakes the Madison Avenue restaurant serves year-round as one of the accoutrements to their caviar service, with prices that range from $65 for 25 grams of Pacific sturgeon caviar up to $10,445 for 500 grams of Almas osetra, an "exceptionally rare" caviar. 
The restaurant, which opened in 1997, is just one element of Caviar Russe, a caviar business owned by Jewish refugees from the former Soviet Union that regularly appears on lists of the best places to buy the fish roe. The company consists of a wholesale and online business, a caviar boutique and two restaurants, one in New York City and the other in Miami. The New York eatery has been awarded a Michelin star every year since 2014. 
The limited-time latke consists of Yukon gold potatoes mixed with salt, pepper and chives — no egg, flour or any kind of filler is used. Chef Panchernikov, the 32-year-old son of Caviar Russe's founders, then fries it all in clarified butter (no olive oil for these babies!). The crispy plate-sized potato pancake is then topped with creme fraiche, a creamy "egg jam" made by cooking the yolks in a sous vide bath, and one ounce of osetra caviar — which typically retails for about $100 an ounce at Caviar Russe and is one of their most popular varieties, according to a publicist for the restaurant.  
In a video shared with the New York Jewish Week of Panchernikov making the latke, he slices it into quarters — so, rest assured, the treat is designed to be shared. However, the latke needs to be ordered 24 hours in advance; interested customers should email jgergeos@caviarrusse.com.
The idea for the luxury latke came from marketing consultant Elana Levin, who was hired by the Caviar Russe team three months ago. "I thought it would be a nice way to tap into his heritage with a potato latke to celebrate Hanukkah at the restaurant," Levin said of Panchernikov. "He was immediately open to it — he was excited to get creative in the kitchen and to do something that represents their culture and heritage and have a way to celebrate with his guests."
"The presentation and how he built the latke was the chef's idea," she added.
As it happens, the luxury latke isn't the only Jewish happening at Caviar Russe: "My Unorthodox Life" stars and internet influencers Julia Haart and her daughter, Batsheva, are holding a fundraiser, "Caviar for a Cause," at the Manhattan restaurant's bar and lounge. Tickets to the afternoon event on Sunday — which are nearly sold out — are $300, with all proceeds going to Magen David Adom, Israel's Red Cross. 
The owners of the restaurant are donating the food – passed cocktails and hors d'oeuvres – and the space. And although Panchernikov describes his family as "not very religious," he told the New York Jewish Week that he felt compelled to show his support. "Given the recent events, we want to support other Jews and Israel," he said.
—
The post This Manhattan restaurant is serving a $95 latke for Hanukkah appeared first on Jewish Telegraphic Agency.
The most Jewish moments from Barbra Streisand's memoir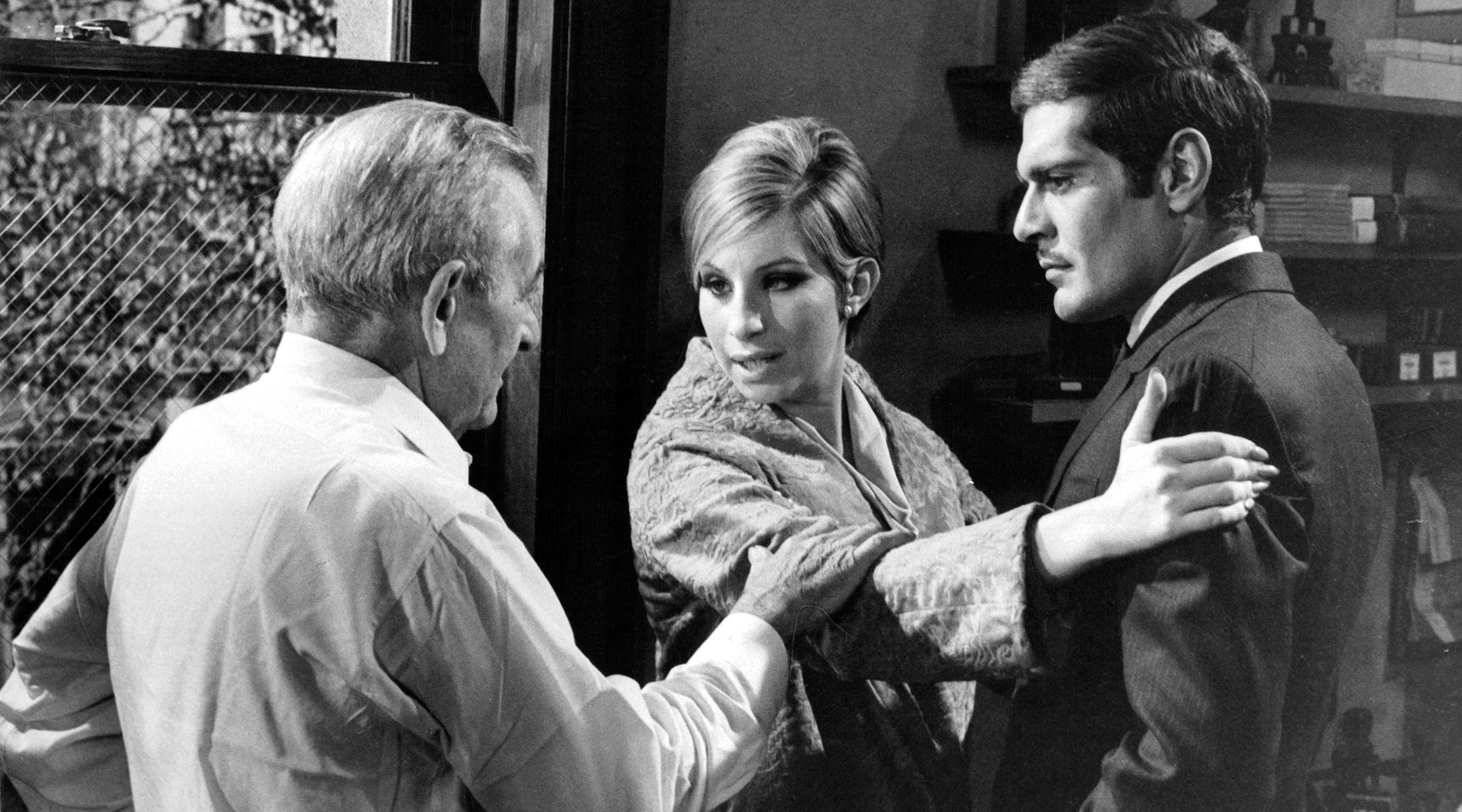 (JTA) — Throughout Hollywood history, many stars of Jewish ancestry have soft-pedaled that heritage, changing their names or speaking rarely, if at all, about their Jewishness.
No one can accuse Barbra Streisand of either.
The singer and actress of the stage and screen — one of the most beloved Jewish American icons of the past half-century — published her long-awaited memoir, "My Name is Barbra," earlier this month. Throughout, Streisand references her Jewish background constantly, often peppering in Yiddish words and callbacks to her Brooklyn Jewish upbringing.
Here are the Jewish highlights from "My Name is Barbra."
Brooklyn days 
Streisand was born in Brooklyn, in April 1942. In the book, she writes of her grandfather taking her to an Orthodox synagogue and of attending a yeshiva when she was young — an experience that later prepared her for her movie "Yentl."
Streisand's father died when she was 15 months old. She first lived with her grandparents, on Pulaski Street in Williamsburg. When she was eight, her mother remarried and they moved to a different part of Brooklyn.
"We pulled up to a tall brick building (one of many that all looked alike) on Newkirk Avenue in Flatbush, part of a big public housing project called the Vanderveer Estates (a very fancy name for a not-so-fancy place)," she writes in the book. "I remember being very impressed that there was an elevator. I thought we were rich now."
Broadway bound 
The very first Broadway show Streisand ever attended, at age 14, was a 1950s staging of "The Diary of Anne Frank," and it activated ambitions to one day star on Broadway herself.
"I was mesmerized by the play," she writes. "Anne is fourteen, I'm fourteen. She's Jewish, I'm Jewish. Why couldn't I play the part?" In an early theater role, she appeared in the same cast as legendary Jewish comedian Joan Rivers, then still going by her given name Joan Molinsky.
Later, Streisand's first big Broadway part was in the musical "I Can Get It For You Wholesale," in which she played a Jewish secretary named Yetta Tessie Marmelstein. While working on that show, she met Elliott Gould, the Jewish actor who would become her first husband and the father of her son Jason.
Described by the author as "two Jewish oddballs who found each other," Gould and Streisand married and divorced entirely prior to their respective movie star heydays in the 1970s.
Jewish food 
Streisand writes repeatedly about her love of food — from complaining about the subpar offerings at a Jewish camp she attended in the Catskills at age 8 to her inability to find New York-quality food while traveling overseas. She also discusses her habit of bringing food with her everywhere.
"Maybe it's part a collective unconscious of European Jews, because what if a pogrom came and you had to get across the border fast?" she writes. "You have to have a little something to eat until you get to the next country."
Later, she gushes about knishes from Yonah Schimmel's on Houston Street in New York.
Jewish collaborators 
Streisand worked with many Jewish songwriters, directors, and arrangers during her Broadway days, including Jerome Robbins, Marvin Hamlisch and Jule Styne. "My Name is Barbara," the song that provides the book its title (albeit with a slightly different spelling), was written by Leonard Bernstein, and she took it up after discovering a book of sheet music of Bernstein's compositions.
"Can you believe it? I was amazed that such a thing existed," Streisand writes of finding the song. "Now that's bashert," she added, using the Yiddish word for "meant to be."
"Funny Girl," on stage and screen 
"Funny Girl," the 1964 Broadway musical in which Streisand played the Jewish comedian Fanny Brice, made her a household name.
"Obviously, we were both Jewish, born in New York City… she was raised on the Lower East Side… so there would be a similar cadence in our speech," Streisand writes of playing Brice. "I'd already noticed that if I spoke in the Brooklyn accent I had heard growing up, with that distinctive Jewish delivery, people would often laugh… we both had Jewish mothers who were concerned about food and marrying us off.. not necessarily in that order."
The Jewish Broadway legend Stephen Sondheim, who had been considered to write "Funny Girl" but ultimately didn't, had insisted that a Jewish performer play Brice. "And if she's not Jewish — she at least has to have the nose!" Sondheim said at the time, according to Streisand. In 1985, Streisand would lead off her "Broadway Album" with Sondheim's "Putting It Together" and include several other of his songs.
A troubled production that became a huge hit, the success of "Funny Girl" on Broadway led to a 1968 film adaptation, directed by Jewish filmmaker William Wyler, that won Streisand the Best Actress Oscar. In the film, the Egyptian actor Omar Sharif was cast in the male lead opposite Streisand. In a movie shot not long after the Six-Day War, Streisand writes, "Some people didn't like the idea of an Arab man romancing a Jewish woman."
When headlines stated that the reaction to the casting in Sharif's homeland had been negative, Streisand joked, "'Egypt angry?' You should hear what my aunt Anna said."
In 1973, another hit movie starring the actress, "The Way We Were," involved a love story set against the backdrop of the House Un-American Activities Committee hearings, between a "Jewish girl" (Streisand)  and "gentile boy" played by Robert Redford.
A "nice Jewish girl" on the cover of Playboy 
A notable sex symbol throughout the 1970s, Streisand famously appeared on the cover of Playboy in 1977 with the headline "What's a nice Jewish girl like me doing on the cover of Playboy?" She did not pose nude but did participate in a lengthy interview. The book, for the first time, includes a photograph, from that same shoot but unused, of Barbra in a Playboy bunny costume.
Barbra and Bella 
Streisand has been a supporter and friend of numerous Democratic presidents and other political figures. When she started to get politically active, around 1970, she became a close friend and supporter of Jewish politician Bella Abzug, when she ran for Congress.
"Here we were, two Jewish girls… Bella from the Bronx and Barbra from Brooklyn… who made good!" Streisand writes.
Streisand later discovered that both she and Abzug were included on President Richard Nixon's enemies list.
"Yentl" stories 
In 1983, Streisand made her directorial debut with "Yentl," an adaptation of the Isaac Bashevis Singer short story "Yentl, the Yeshiva Boy," about a girl in 19th-century Poland who disguises herself as a boy to attend a yeshiva.
"I've always been proud of my Jewish heritage," Streisand writes, about her desire to make "Yentl." "I never attempted to hide it when iI became an actress. It's essential to who I am… And I wanted to make this movie about a smart Jewish woman who represented so many qualities I admire."
Her son, Jason, studied for his bar mitzvah around the same time that his mother was preparing to make "Yentl."
The movie was filmed in what was then Czechoslovakia, beyond the Iron Curtain, at a time when the communist government was cracking down on Jewish worship. But Streisand wore a Jewish star on her cap while in that country — and "wore it defiantly," she writes.
Streisand also clashed with her co-star, the famed Jewish actor Mandy Patinkin, on the set of "Yentl." She hadn't wanted to cast Patinkin, who at that point was much better known as a Broadway actor, and she considered Richard Gere for the role. According to the book, once filming started, Patinkin behaved in a hostile way on the set. When Streisand asked why, he answered: "I thought we were going to have an affair."
When Streisand replied "I don't operate that way," she writes, the actor, then in his late 20s, cried. She threatened to replace him, and they continued to clash after that, but Streisand ultimately praises Patinkin's work in the film.
Many years later, Streisand writes, Patinkin asked Streisand to write a blurb on one of his albums, and she brought up what had happened on the set. As an explanation for his behavior, Patinkin told her that he was "scared."
Barbra and Israel 
A premiere was held for "Yentl" in Israel in April of 1984, and on the same visit, Streisand dedicated the Emanuel Streisand School of Jewish Studies at Hebrew University in Jerusalem, named for her father. On the trip, she met with both the then-current prime minister, Yitzhak Shamir, and a future prime minister and president, Shimon Peres. Streisand was not daunted by a terrorist shooting that took place in Jerusalem while she was in the country and continued her trip as scheduled.
In 1993, during the negotiations that would lead to the Oslo Accords, Streisand was invited to a luncheon with Prime Minister Yitzhak Rabin, through her close friendship with President Bill Clinton. Streisand was later involved with an effort to make a film about the lives of Rabin and Yassir Arafat, leading up to their handshake at the White House. The project remained alive even after Rabin's assassination in 1995 but later fell apart due to a financial dispute between the Showtime network and the director.
Streisand returned to Israel in 2013, for her first-ever concert in the country, and also to sing at a 90th birthday celebration for Shimon Peres. On that trip, she drew controversy when she gave a speech about the treatment of women in Israel.
"It's distressing… to read about women in Israel being forced to sit in the back of the bus… or when we hear about the Women of the Wall having metal chairs hurled at them while they attempt to peacefully and legally pray," she said in a speech while receiving an honorary doctorate from Hebrew University.
Obama's Jewish joke
In 2015, Streisand received the Presidential Medal of Freedom, along with fellow honorees Sondheim and Steven Spielberg. "Born in Brooklyn to a middle-class Jewish family," President Barack Obama joked in his introduction speech. "I didn't know you were Jewish, Barbra."
—
The post The most Jewish moments from Barbra Streisand's memoir appeared first on Jewish Telegraphic Agency.
There's a new Jewish Caucus in Congress. Its mission is still unclear.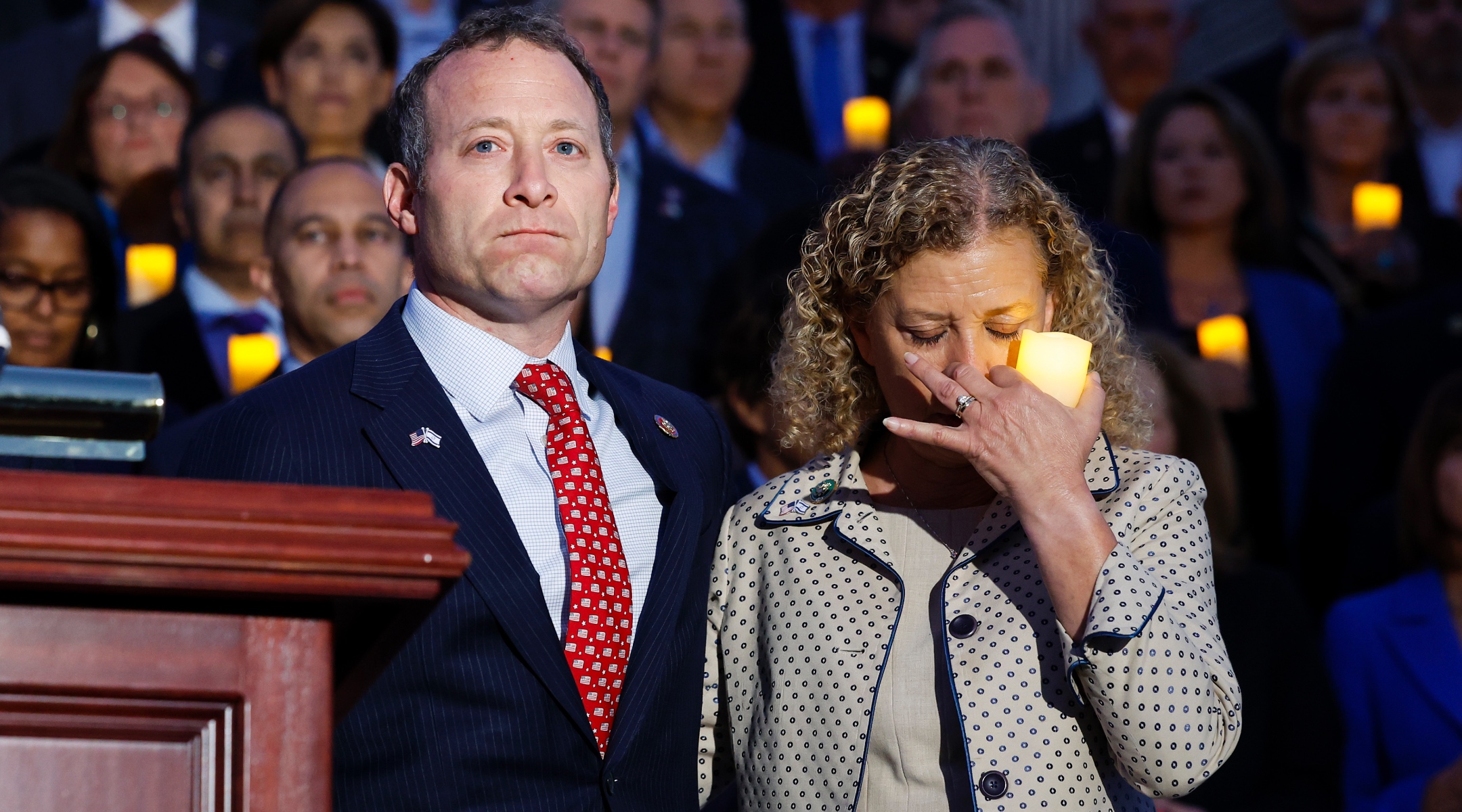 WASHINGTON (JTA) — More than a dozen Jewish members of Congress gathered on Friday for the first meeting of the U.S. House of Representatives Jewish Caucus.
But following the meeting, held in the offices of Rep. Debbie Wasserman Schultz, an influential Jewish Democrat from Florida, it remains unclear what the caucus will stand for as the chamber's Jews are deeply divided over the Israel-Hamas war and other issues. A statement from Wasserman Schultz's office suggested the caucus was still finding its feet.
"We had a very-well attended, constructive meeting focused on how we can work together and develop our broader mission," the statement said. "We did a lot of listening and considering one another's opinions and thoughts. We left looking forward to continuing to engage in these discussions with our colleagues so that we can come together in consensus on how a secular Jewish Caucus can be most effective."
The House has 26 Jewish lawmakers, all but two of them Democrats, and it is unclear which attended the meeting and whether either of the Republicans made it — especially because six congresspeople who RSVPed canceled at the last minute due to illness or sudden conflicts. Ohio Republican Max Miller had said he would attend, but he did not confirm whether he was there. Nor did Tennessee Republican David Kustoff.
Wasserman Schultz is alarmed at the spike in antisemitic attacks and rhetoric in the United States since Hamas terrorists massacred 1,200 people in Israel on Oct. 7, launching the current war in Israel and Gaza. She wants to formalize a united front among Jews in Congress to confront the hatred.
For decades, Jewish members of Congress had been gathering unofficially. Earlier this month, Axios reported that Wasserman Schultz got the go-ahead from House administrators to make the Jewish Caucus official — though it appears that not all Jews in the House believe the caucus should exist.
For the last decade, the unofficial gatherings were helmed by Rep. Jerry Nadler, a New York Democrat who is the longest-serving Jew in Congress. He told Axios that he would attend Friday's meeting, but was concerned that the organizers — i.e., Wasserman Schultz — did not consult with all the Jews in the chamber before creating the caucus.
"In the rush to form this new group, by contrast, most Jewish members were left out of the discussion altogether," he said. He also said the hurt feelings would be a distraction as the caucus seeks unanimity on the Israel-Hamas war.
There are currently official Black, Hispanic and Asian-Pacific caucuses in the House, and there are formal Jewish caucuses in state governments; one of the most active is in California. But one issue that may have prevented the formation of a House Jewish Caucus until now is the age-old question of what "Jewish" means.
A concern reported by Axios — which has long been discussed among Jews in the U.S. Capitol — is that some Jewish lawmakers fear setting the precedent of establishing an explicitly religious caucus — especially because Jews tend to cherish the separation of church and state. That may be why Wasserman Schultz's statement included the word "secular" right before "Jewish Caucus."
Another fear is that the wide differences among members of a Jewish Caucus would undermine its purported purpose: Jewish unity.
In late October, Nadler wrangled all 24 Jewish Democrats into signing a statement backing the Biden administration's robust support for Israel in its war against Hamas. Within weeks, that united front was crumbling, as a number of Jewish Democrats joined calls for a ceasefire.
Beyond differences about the war, there are vast differences among Jews in Congress over, well, everything. Wasserman Schultz sought, and got, Miller's membership in the caucus, making it the only one of the ethnic caucuses to have bipartisan membership. But Miller is among the most enthusiastic endorsers of former President Donald Trump, while the caucus also includes Nadler and Reps. Jamie Raskin of Maryland, Dan Goldman of New York and Adam Schiff of California — all of whom played leading roles in one or both impeachments of Trump. Schiff and Trump routinely express the hope that the other is jailed.
Some members, such as Florida Democrat Jared Moskowitz (who hoped to attend but was unable to), see Jews as an ethnic minority subject to persecution.
"At a time when there's people marching through the streets with signs calling to 'Gas the Jews,' it is absolutely critical that Jewish members form a united front against antisemitism and for the safety and security of the Jewish people," Moskowitz told the Jewish Telegraphic Agency.
The sensitivity of the get-together made even the most voluble of lawmakers clam up about it. A number of spokesmen promised to get back to the Jewish Telegraphic Agency about whether their bosses were in attendance but never did. A spokeswoman for Vermont's Becca Balint, a Democrat who joined Congress earlier this year, simply said that she was not in attendance.
Kathy Manning, a North Carolina Democrat, attended the meeting and said it centered on the need to confront antisemitism.
"I'm pleased to join in the founding of the Congressional Jewish Caucus," she said. "During this time of rising antisemitism, it's imperative that the Jewish community have its unique experience and perspective represented at the leadership table in Congress."
—
The post There's a new Jewish Caucus in Congress. Its mission is still unclear. appeared first on Jewish Telegraphic Agency.