Benjamin Netanyahu and Benny Gantz, a centrist rival, form emergency wartime government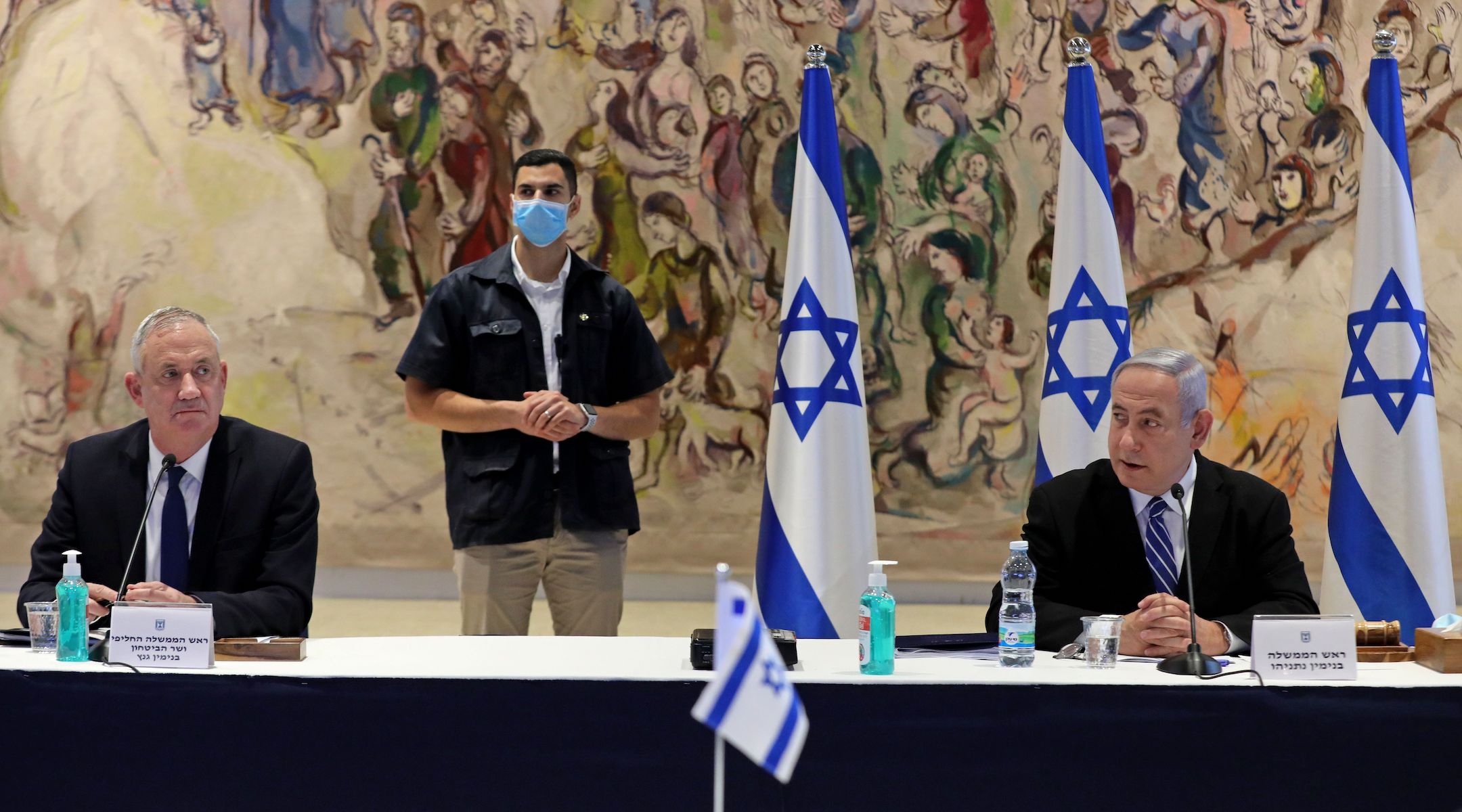 (JTA) — Israeli Prime Minister Benjamin Netanyahu and Benny Gantz, a centrist opposition party leader, have formed an emergency unity government to prosecute Israel's war against Hamas. 
The formation of the wartime coalition means Netanyahu and Gantz have put aside bitter schisms — over the government's judicial overhaul and other issues — that have split the country over the past year. It reflects the country's singular focus on waging war against Hamas — whose invasion of Israel on Saturday killed more than 1,200 Israelis and wounded thousands more — and other terror groups.
Gantz is a former defense defense minister and Israel Defense Forces chief of staff. He is currently the head of the National Unity party in Israel's Knesset. Under the agreement, Netanyahu, Gantz and current Defense Minister Yoav Gallant will form a three-person emergency cabinet to manage the war. 
The cabinet will also have two observers: Gadi Eizenkot, a member of Gantz's party who was also a former IDF chief of staff, and Ron Dermer, Israel's strategic affairs minister and a close Netanyahu ally. 
"After a meeting between the prime minister and the chairman of the National Unity party that took place today, the two agreed on establishing an emergency government and a war management cabinet," Netanyahu and Gantz said in a joint message released by the Knesset.
The announcement said a place had been reserved in the cabinet for Opposition Leader Yair Lapid, another centrist, "if he joins." 
The government will not propose laws or decisions unrelated to war until the conflict finishes, the statement said. All senior government appointments that were set to expire will be automatically extended.
Five members of the National Unity party will be added to the existing security cabinet, which is a separate body from the three-person emergency cabinet and generally manages Israeli security policy. 
Members of the far-right Otzma Yehudit, or Jewish Power, party hailed the agreement, as did lawmakers from Netanyahu's Likud party. Public Security Minister Itamar Ben-Gvir, who leads Otzma Yehudit, wrote on X, "I welcome unity, now we need to win."
This is not the first time that Gantz, who has run against Netanyahu in a series of elections, has joined up with him to address a crisis. The two men formed a short-lived unity government in 2020 to address the COVID-19 pandemic, but it collapsed after about a year. Gantz subsequently helped form another short-lived coalition that unseated Netanyahu in 2021.
—
The post Benjamin Netanyahu and Benny Gantz, a centrist rival, form emergency wartime government appeared first on Jewish Telegraphic Agency.
Sense of duty mixes with fear for Israeli soldiers preparing to enter Gaza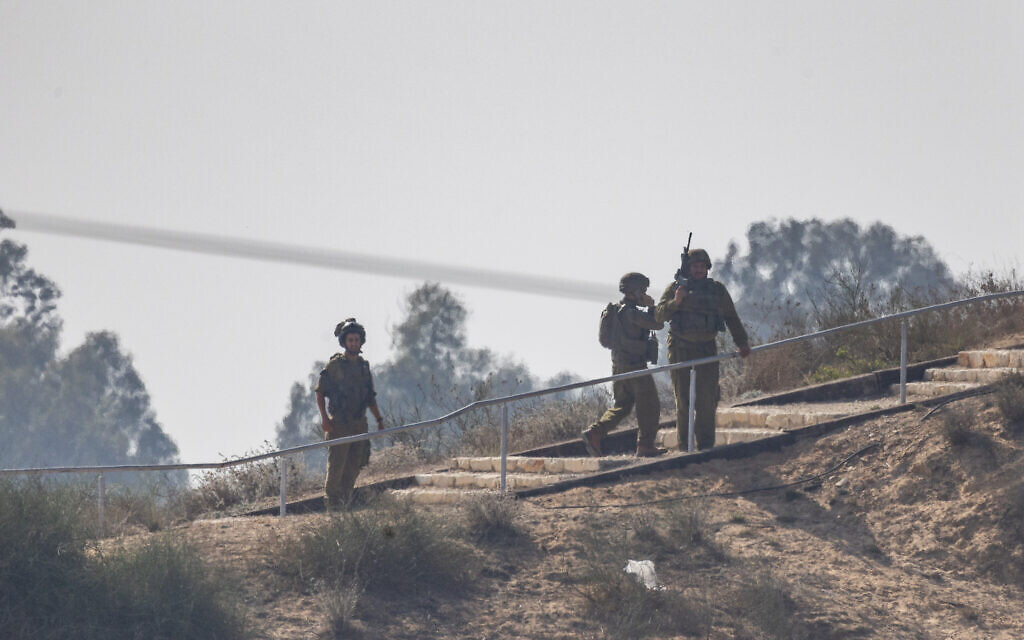 UAE says it will establish field hospital to treat Palestinians in Gaza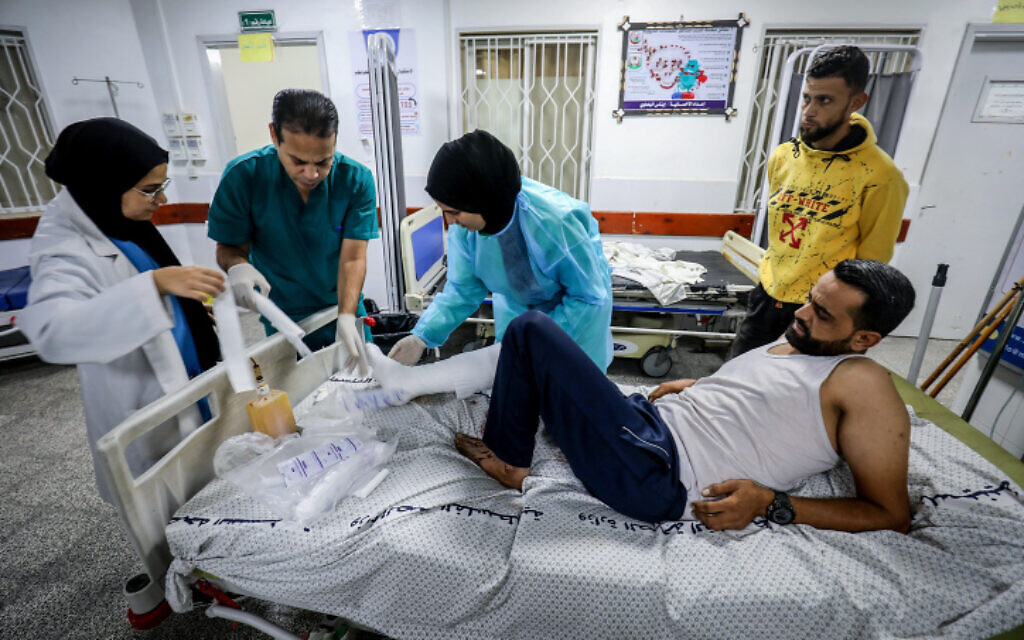 Thousands gather for pro-Israel rally in NYC 30 days after Oct. 7 massacre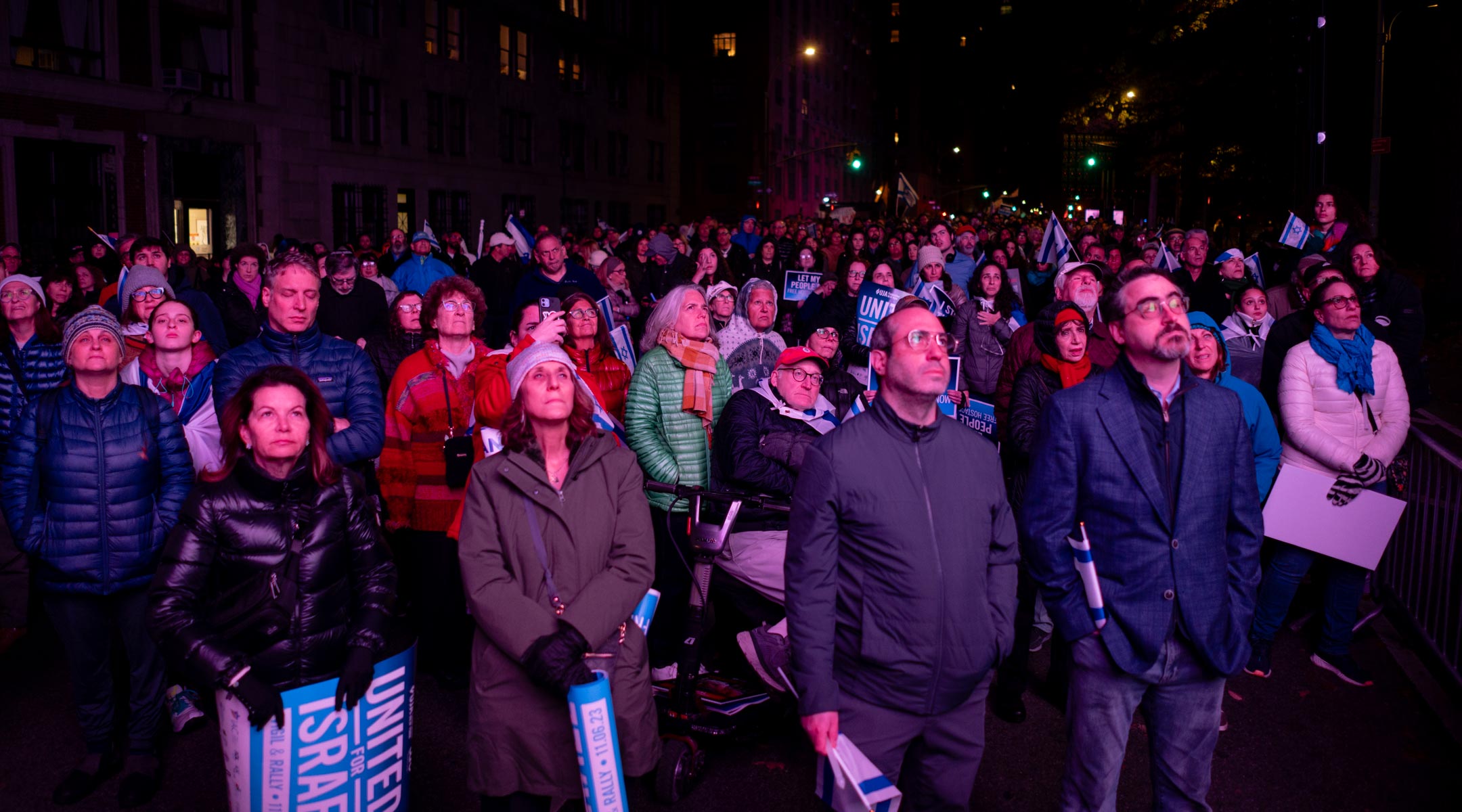 (New York Jewish Week) — Thousands gathered next to Central Park on Monday night for a vigil and rally marking 30 days since Hamas' Oct. 7 attack on Israel.
Speakers at the event, held along Central Park West on Manhattan's Upper West Side, mourned the attack's 1,400 victims, demanded the release of the more than 200 hostages held by Hamas and decried rampant antisemitism in the U.S. in recent weeks. Organizers estimated the crowd size at around 12,000 people.
Participants carried photos of the hostages and signs reading, "Bring our children home," "Let my people go," and "We stand with Israel." Thousands streamed past police cruisers on their way to the event chanting, "Bring them home" and singing Israel's national anthem, "Hatikvah."
Speakers included Sen. Chuck Schumer and Rep. Daniel Goldman, both Jewish Democrats; actors Brett Gelman and Debra Messing; and two relatives of hostages. Israeli singers Gad Elbaz and Idan Raichel performed for the audience.
The rally occurred around the 30-day milestone that traditionally marks the end of an acute Jewish mourning period, known as shloshim, following a death. It happened a little more than a week before a mass pro-Israel is due to take place on the National Mall in Weshington D.C. That rally will also call for the release of the hostages, decry antisemitism and cheer on continued American support for Israel as it fights a war against Hamas in Gaza, with the aim of deposing the terror group.
Ofri Haggai, an Israeli whose aunt and uncle were shot and taken hostage by Hamas, told the crowd, "All I'm asking from anyone who can help us is to bring all the hostages home."
"They are not part of any conflict, they are not part of any war, they are civilians, babies, kids, mothers, fathers, grandparents who just want to be brought home safely," she said.
Haggai  knows only that her aunt and uncle were badly injured and kidnapped. She does not know if they have received any medical care or their whereabouts, she said.
Goldman decried a "small but very loud fringe" in Congress that has opposed Israel since the attack, and urged the crowd to keep demonstrating to shore up support for the country. His mention of President Joe Biden, who has firmly supported Israel, drew cheers from the crowd.
"Every opportunity you have to rally, to express your support for Israel, I promise you it matters," he said.
The event was led by the UJA Federation New York and the Jewish Community Relations Council of New York, and was co-sponsored by an array of Jewish groups including the Israeli American Council, the Anti-Defamation League, the Union for Reform Judaism and the Orthodox Union.
—
The post Thousands gather for pro-Israel rally in NYC 30 days after Oct. 7 massacre appeared first on Jewish Telegraphic Agency.