Birthright cancels Israel trips for December, citing security concerns during Gaza war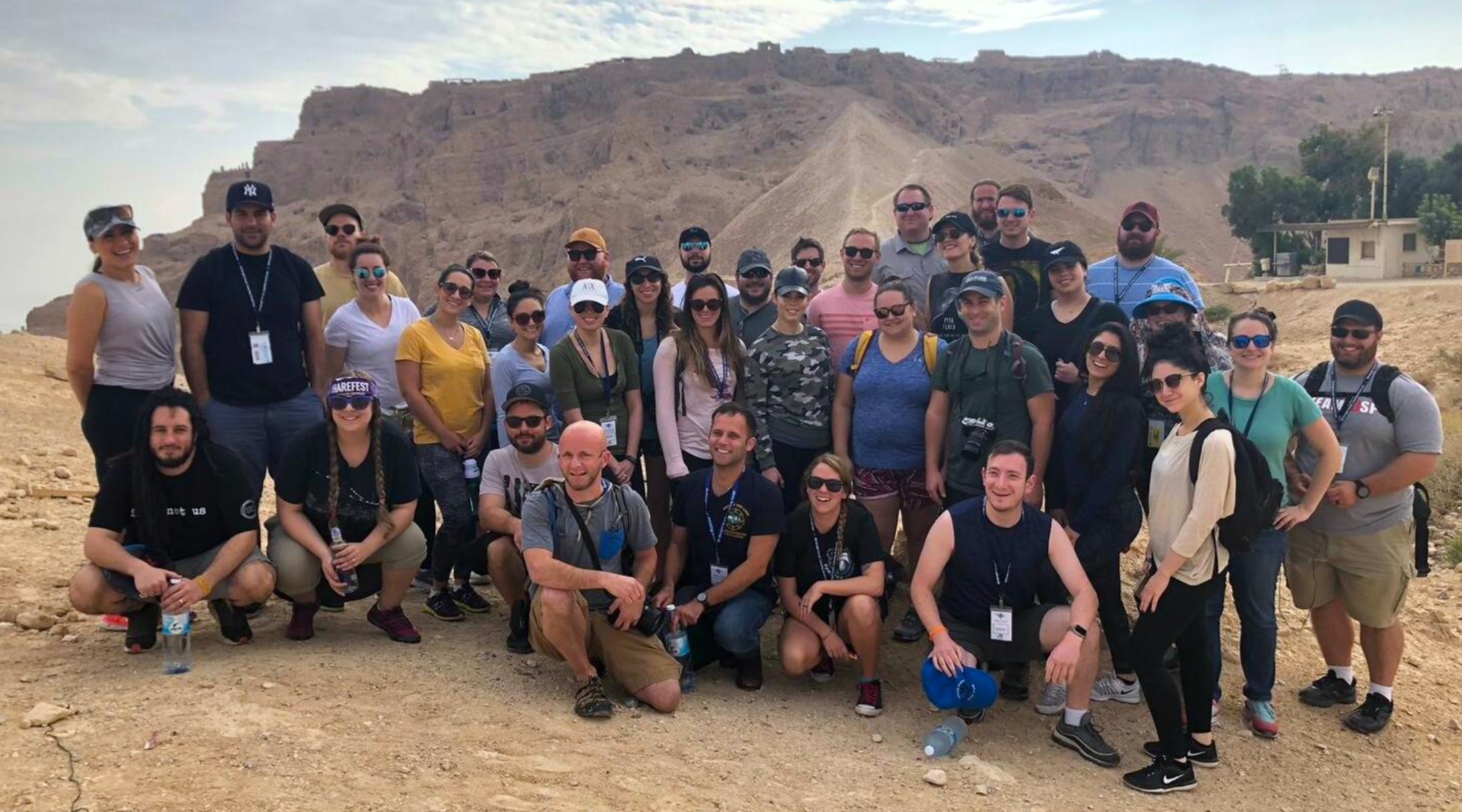 (JTA) — Birthright Israel has canceled its trips that had been scheduled for December due to safety concerns from the ongoing Israel-Hamas war, reportedly the first time in its history the group has pulled programs due to war in the region.
A Birthright spokesperson told the Jewish Telegraphic Agency the group expects to resume trips soon. The nonprofit's CEO Gidi Mark told eJewishPhilanthropy that the trips could resume before the end of the year if the situation in Israel becomes "more stable."
Launched in 1999, the organization's free trips to Israel for Jewish young adults have become a staple of many Jews' college or post-college experiences, though participation in the program has waned in recent years. Funding for the organization has also been jeopardized after losing some major donors in recent years. The only previous time the organization has canceled trips was at the height of the COVID-19 pandemic. 
During previous periods of violence in the region, in 2014, 2015, 2018 and 2019, Birthright continued trips as scheduled but altered them to avoid violent areas, according to eJewishPhilanthropy. That meant, in 2019, that trips briefly avoided visiting the same Gaza border communities that were massacred on Oct. 7 of this year. The Kibbutz Movement, which represents some of those communities, criticized Birthright at the time for its decision, saying the move ran contrary to Zionist values.
Last month the organization had denied rumors of the December trips' cancellations to JTA, saying that they were still on schedule. Birthright typically schedules many winter tours to Israel for college students starting in mid-December.
In the meantime, Birthright is getting hands-on with the current conflict in other ways. The organization is now running a program to bring alumni back to Israel to volunteer in agriculture and donation centers while the country's workforce is being redirected to the war. Those joining in are part of a wave of volunteers looking to fill in the gaps in the country's agriculture and other industries. Unlike its regular Israel trips, participants in this program are required to buy their own flights and travel insurance.
Though the organization normally bills itself as not political, Birthright also launched a social media campaign to encourage alumni to share positive posts about Israel to combat anti-Israel sentiment on social platforms in the wake of Oct. 7. Noa Bauer, a marketing executive for Birthright based in Israel, told JTA last month, "I think this is the time for Birthright to make sure that every alumni stands up for Israel." 
—
The post Birthright cancels Israel trips for December, citing security concerns during Gaza war appeared first on Jewish Telegraphic Agency.
Climate Change Activist Greta Thunberg Meets Storm of Criticism in Germany Over 'Antisemitic' Comments on Gaza Conflict
The outspoken Swedish climate change activist Greta Thunberg has encountered a storm of criticism in Germany over a speech she delivered to a rally in Amsterdam last weekend that sought to insert opposition to Israel's defensive war in Gaza into the environmentalist movement's agenda.
Thunberg's statements on the war are being closely watched in Germany, following the decision last month of the German section of the "Fridays for Future" green movement she launched to suspend ties with its international organizers over a series of anti-Israel statements. Luisa Neubauer, the head of the German section, said that her group would have no interactions with the the global social media accounts of "Fridays for Future" until "we can be sure that a single group can no longer use global Fridays for Future accounts for disinformation and hate." Recent posts from the account condemned Western media coverage of the Israel-Gaza conflict as "imperialist brainwashing" and described the Hamas terrorists who carried out the Oct. 7 pogrom in southern Israel as "martyrs."
In the interim, Thunberg has doubled down on her statements. With a Palestinian keffiyeh scarf draped around her neck at the rally in Amsterdam on Sunday, she introduced a Palestinian speaker — Sarah Rachdan, a doctoral student — by claiming that "as a climate justice movement, we have to listen to the voices of those who are being oppressed and those who are fighting for freedom and for justice. Otherwise, there can be no climate justice without international solidarity."
Rachdan has justified the Oct. 7 atrocities in social media posts that praised the "Palestinian resistance." And in an earlier post last April, she mocked the Holocaust by commenting on a story about Israeli soldiers "gassing" Palestinian demonstrators by asking, "I wonder where we've seen that before?"
Rachdan's speech was received critically by many climate activists frustrated by Thunberg's insistence on linking Palestinian solidarity with climate change. Erjan Dam — a Dutch activist who attempted to seize the microphone from Thunberg's hand before being bundled off the stage — told the Suddeutsche Zeitung news outlet that he and others present at the Amsterdam rally had felt "abused" by her actions.
"The climate protection movement should concentrate on its core issue: climate protection," Dam said. "When Greta Thunberg or other leading activists constantly talk about the Palestine issue, it creates disunity."
German politicians and Jewish leaders also expressed anger with Thunberg following the scenes in Amsterdam. Ricarda Lang — a German parliamentarian and the co-leader of the left-wing Green Party — said that Thunberg's comments were "not only depressing, but absolutely indecent." Thunberg had "brushed aside the question of Israel's right to exist" and was guilty of "swapping the victim with the perpetrator," Lang continued.
Martin Huber — the secretary-general of the center-right Christian Social Union (CSU) — went even further, calling Thunberg an "antisemite who supports Hamas and stirs up hatred of Israel."
In a separate TV interview, Josef Schuster — president of the Central Council of German Jews — said he was reaching the conclusion that Thunberg was motivated by anti-Jewish bigotry.
"There is no doubt that she is very, very naive," Schuster remarked in the Monday night interview. "Assuming antisemitism is always a serious accusation. But what I am seeing here — I am very close to that on this accusation."
Schuster urged the German section of "Fridays for Future" to sever all ties with Thunberg, expressing concern that impressionable young activists with little knowledge of the Middle East would be influenced by her statements to adopt anti-Israel positions.
The post Climate Change Activist Greta Thunberg Meets Storm of Criticism in Germany Over 'Antisemitic' Comments on Gaza Conflict first appeared on Algemeiner.com.
March for Israel: Massive Rally in Washington, DC to Support Jewish State, Denounce Surging Antisemitism
Droves of demonstrators gathered in Washington, DC on Tuesday for a "March for Israel" to show solidarity with Israel in its war with Hamas and condemn rising antisemitism.
Streets were closed around much of downtown amid heightened security, as people gathered in bright sunshine on the National Mall, many draped in Israeli and US flags.
"We are here to show the world that we won't be exterminated again," said Marco Abbou, 57, a personal trainer from Hackensack, New Jersey, who is originally from Israel.
Protests and public demonstrations — both pro-Palestinian and pro-Israel — have rippled around the world since gunmen from the Palestinian terrorist group Hamas rampaged through southern Israel on Oct. 7, killing 1,200 people, according to Israel, and taking about 240 hostages back to Gaza.
Israel responded with a military campaign of air strikes and ground operations against Hamas in Gaza, seeking to incapacitate the Iran-backed terror group's leadership and military capabilities.
As well as protests, the conflict has sparked a rise in antisemitic incidents in the United States including violent assaults and online harassment, according to advocacy groups.
Organizers of Tuesday's demonstration said they estimated 200,000 people were attending to show US support for Israel, demand the release of hostages, and condemn antisemitic violence and harassment.
The largest demonstration in Washington so far related to the conflict on Nov. 4 drew thousands who called for the US government, Israel's main backer, to call for a ceasefire.
"A ceasefire is a pause that would allow Hamas to rearm," said Ariel Ben-Chitrit, 33, a federal government worker from Herndon, Virginia, who was carrying a blue and white Israeli flag at Tuesday's protest.
Ben-Chitrit expressed regret that Palestinian civilians were suffering and Gaza hospitals being subjected to extreme conditions, but said the only way to end the conflict was to eliminate Hamas.
"Hamas has proven they are not interested in peace," he said.
The terror group, which rules Gaza, has used hospitals and the civilians in them as "human shields" while fighting Israel.
The Biden administration has rebuffed calls for a ceasefire but has urged Israel to grant pauses in the fighting for civilians to move to safer locations and for humanitarian aid to enter Gaza.
Underscoring support in the US Congress for Israel, busloads of senators and members of the House of Representatives attended the pro-Israel rally. Senator Charles Schumer, the Senate's Democratic majority leader, and the highest-ranking Jewish elected US official, rescheduled his weekly press conference so he could attend.
Authorities ordered an increased police presence for the demonstration, the House of Representative's Sergeant at Arms said in a notice on Monday, adding there was no specific threat but measures were being taken out of an abundance of caution.
Tuesday's rally included Orthodox Jews wearing long black coats and black felt hats, gaggles of children, and self-described "progressive liberals" such as Erica Taxin, 56, a yoga studio owner from Philadelphia.
She said she disagreed with other progressives calling for a ceasefire.
"We can disagree about some of Israel's policies. What I do disagree with is that this was terrorism," she said of Hamas' Oct. 7 assault.
The terrorists "didn't just take hostages but killed children and peacemakers," she said, referring to murdered Israeli activists who advocated peace with the Palestinians. "How does that have anything to do with social justice?"
The post March for Israel: Massive Rally in Washington, DC to Support Jewish State, Denounce Surging Antisemitism first appeared on Algemeiner.com.
UNC Professor Said Israel Wanted to Kill Gazans Before Hamas Massacre; Will School Finally Do Something?
On October 17, at the University of North Carolina at Chapel Hill (UNC), students taking a communications class were told:
"The majority of Palestinians are children. They are seen as legitimate targets of violence."
"Israel and the United States do not give a shit about international law or war crimes."
"White nationalists like Richard Spencer see Israel as a model to be emulated."
"The attack by Hamas was not senseless, there is context."
These are just some of the things that professor E. Chebrolu said during a class titled, "Rhetoric and Public Issues" (COMM 170).
Chebrolu told students, "What has been happening in Gaza and the West Bank is genocide."
He went on, saying that "it is the mass killing of a people on the basis of their racialization. … It is ethnic cleansing. … It is what happens after a colonial apartheid state based on segregation decides that children and other non-combatants should be held collectively responsible for any act of violence taken to end that apartheid state."
A student asked Chebrolu if Hamas still has Israeli hostages, and if that is why Israel is "mad." Chebrolu responded, "Israel was going to do this at some point. That's what I think."
Seeking clarification, the student asked, "You said Israel was going to do it anyway?"
Chebrolu responded, apparently realizing the line he had just crossed, "Yeah, I think they were going to find an excuse. But it's not something I should have said just now."
Chebrolu called for a one state solution, twice telling students that the existence of Israel is "somewhat ridiculous."
This UNC lecture occurred only 10 days after the October 7 massacre, in which Hamas terrorists invaded Israel, killing 1,200 people, taking more than 240 hostages, and raping and torturing many others.
After the class, Chebrolu apparently sent students an email which included five "resources," explaining, "I don't want to pretend as if I'm being impartial here — these are obviously from one perspective that I agree with."
Chebrolu's class is just one of many issues raised in a widely circulated petition, addressed to UNC Chancellor Kevin Guskiewicz, written by "UNC Students, Parents, Alumni, Faculty, Staff, Friends, and Donors."
The petition, which quickly reached 4,000 signatures, expresses "profound concerns" about campus antisemitism and "the hostile campus environment for Jews."
This issue of safety on UNC's campus is a serious one.
In a November 7 column in the campus paper, a UNC student explained, "I can no longer study Hebrew, the language of my people, in person due to safety concerns held by my Israeli professor."
A local news outlet reported that at the October 12 "Day of Resistance Protest for Palestine" at UNC, "an Israeli professor was pushed down the stairs."
The main sponsor of this protest, UNC's chapter of Students for Justice in Palestine, published a statement on October 8 — the day after the October 7 massacre — proclaiming: "It is our moral obligation to be in solidarity with the dispossessed, no matter the pathway to liberation they choose to take. This includes violence."
The flier for the protest celebrated terrorism and violence by featuring a Hamas paraglider en route to kill, rape, and kidnap Israelis.
Matthew Kotzen, professor and chair of the UNC Department of Philosophy, wrote in the student newspaper that this image was "utterly indefensible" and endorsed "hateful violence."
A protester at the rally was captured on video yelling, "All of us Hamas."
For years, UNC faculty and students have been demonizing Israel in its classrooms, conference halls, and online spaces. As just one example, UNC's 2021 course on Israel and the Palestinians was taught by Kylie Broderick who tweeted last month, "F**k Israel." On November 10, Broderick reposted, "Israel & the United States have zero interest in retrieving those hostages." Her anti-Israel track record is beyond vile, and has been reported on extensively.
Of all the possible people in the world who could educate our young about the complicated and tragically intertwined histories of Israelis and Palestinians, why would UNC ever choose Broderick?
The UNC administration holds a large amount of responsibility for its campus climate, which is increasingly hostile and unsafe for Jews and Israelis. Now a professor has been caught demonizing Israel, and its conflict with the Palestinians. If the UNC administration still refuses to act, it's hard to draw any conclusion except that they are willing to accept it.
Peter Reitzes writes about issues related to antisemitism and Israel.
The post UNC Professor Said Israel Wanted to Kill Gazans Before Hamas Massacre; Will School Finally Do Something? first appeared on Algemeiner.com.