Claudia Sheinbaum is on track to become Mexico's first Jewish and woman president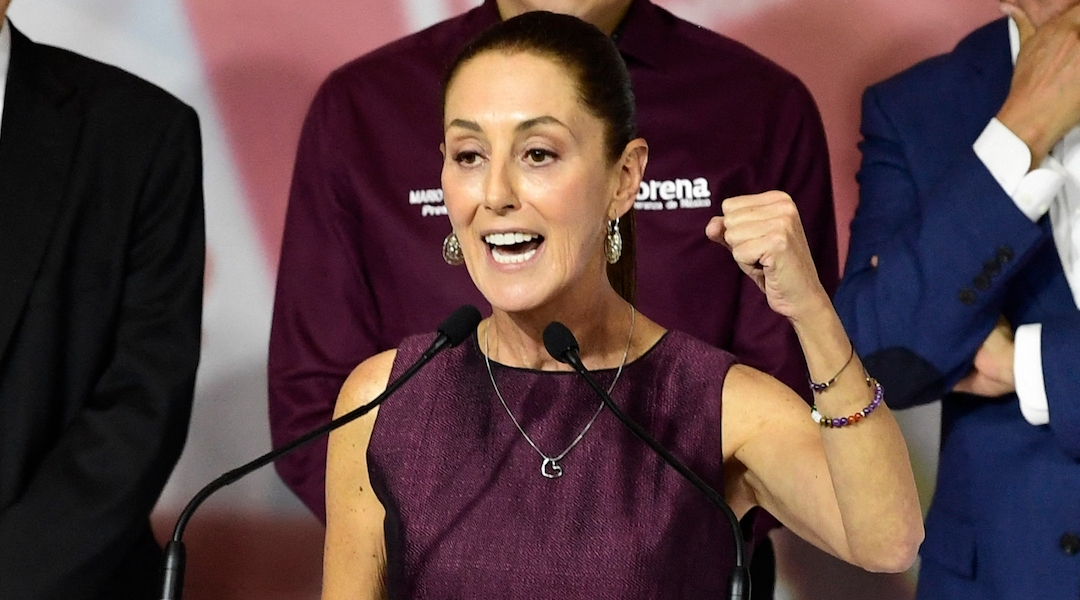 (JTA) — The way things stand now, Mexico is headed to elect its first woman president next year. The two leading candidates in the polls for the 2024 election are Claudia Sheinbaum, Mexico City's former mayor, and Xóchitl Gálvez, a senator representing the center-right opposition bloc.
The polls point to another first: Sheinbaum, currently the frontrunner, could become the country's first Jewish president, too.
Earlier this month, Sheinbaum, 61, was announced as the candidate for the left-wing Morena party, which has been led by the country's outgoing president, Andrés Manuel López Obrador. Since then, her momentum has only grown — a poll taken by the El Pais newspaper has 47% of voters supporting her, while Gálvez, her closest competitor, notched 30%.
If elected, Sheinbaum would join the ranks of the few Jews outside Israel who have been elected to their country's highest office, including Janet Jagan of Guyana, Ricardo Maduro of Honduras, Pedro Pablo Kuczynski of Peru and Volodymyr Zelensky of Ukraine. Sheinbaum would also likely be the first Jewish person in history to lead a country of more than 50 million people.
Here is a primer on Sheinbaum and how her Jewishness has become part of the campaign.
She is a Nobel Prize-winning scientist and political liberal who has beaten back crime.
Born to two science professors in Mexico City, Sheinbaum herself studied physics and became an engineering professor at the National Autonomous University of Mexico. Her research focused on, among other things, energy usage in Mexico's buildings and transportation system. Along with a group of other experts on the United Nations' Intergovernmental Panel on Climate Change, she would go on to win the 2007 Nobel Peace Prize.
As Mexico City's head of government, Obrador appointed Sheinbaum as his environmental secretary in 2000. She became a close ally and joined his new left-wing Morena party (named after the country's Catholic patron saint, the Virgin of Guadalupe) in the early 2010s. In 2015, she was elected mayor of Tlalpan, Mexico City's largest borough, before becoming mayor of the entire city in 2018. She stepped down as mayor this summer to enter the presidential race.
Like the term-limited Obrador — whose approval rating of over 60% has been one of the highest in the world — Sheinbaum's platform includes fighting Mexico's deeply rooted corruption, continuing cash transfers to Mexico's most vulnerable populations and developing Mexico's energy sovereignty. But Sheinbaum will likely be more pro-environment than Obrador — while the current president has bolstered Mexico's oil industry, Sheinbaum has said most of the country's future "has to be related to renewable energy."
As mayor of Mexico City, Sheinbaum led the city through the worst of the COVID-19 pandemic. While Obrador appeared to minimize the threat of the virus, Sheinbaum advocated for masks and increased testing early on. And in a country plagued by violence, she has reduced her city's murder rate by nearly half.
But some controversy also brewed during her time as mayor. Despite ​​expanding public transport, there were at least a dozen accidents, some deadly, in the city's subway system. Critics say she hasn't done enough to fix the city's crumbling infrastructure.
Sheinbaum also faced controversy involving infrastructure disaster as head of Tlalpan. In 2017, during an earthquake that killed more than 300 people in total, an elementary school collapsed in Sheinbaum's district, killing 19 children and six adults. An apartment had been built on top of the school, destabilizing it, and some criticized her for allowing district officials to approve the construction permits. She apologized for what happened, but some parents of the deceased children still hold her accountable.
Her Jewish identity is more political than religious.
Sheinbaum had Ashkenazi grandparents who immigrated from Lithuania in the 1920s and Sephardic grandparents who left Sofia, Bulgaria, in the 1940s to escape the Holocaust. She has said that she celebrated holidays at her grandparents' houses, but at home, her family life was secular.
Sources told the Jewish Telegraphic Agency in 2018 that Sheinbaum feels connected to the history of Jews in political activism, but not as much so to the religion or its traditions. Like many secular, leftist Jews in Mexico, her parents moved to the south of the city to be closer to the National Autonomous University of Mexico, a hotbed of political activism. She told a group of Jewish women voters during her mayoral campaign in 2018 that she was a proud Jewish woman.
She also hasn't made any public pronouncement about Israel or spoken as a member of a minority, even though Jews make up less than 1% of the capital city's population. It is not known if she belongs to any synagogue or other Jewish institution.
"In Mexico, most of the [Jewish community] is affiliated to one of the five or six major communities," said Daniel Fainstein, the dean of Jewish Studies at the Hebraica University in Mexico City. The country is known for being home to multiple tight-knit Orthodox communities, many of whom don't mingle much. "I don't think she's affiliated to any of those communities. … She's not seen as, let's say, one of us. … I think that she's seen as someone from Jewish origins that is developing her work as an academician and then as a politician."
Sheinbaum's Jewishness is shaping up as a simmering issue in the race.
Even though Mexicans are generally devout Catholics, according to Juan Pablo Pardo-Guerra, a Mexican sociologist at the University of California San Diego, the country has a strong history of separating religion from politics.
"Mexican politics has actually been quite secular," he told JTA. "So the religion of the president and the religious practices of the president are never discussed."
In a break from that unspoken tradition, former President Vicente Fox called Sheinbaum a "Bulgarian Jew" in an apparent attempt to minimize her candidacy. "The only Mexican is Xóchitl," Fox added, referring to Sheinbaum's opponent.
Fox later apologized, and Gálvez condemned Fox's comments. But since announcing her candidacy, in only a few months of official campaigning, Sheinbaum has already released her birth certificate on Twitter — twice — and published campaign ads emphasizing her Mexican identity in the face of attacks about her origins.
Pardo-Guerra said he didn't think Sheinbaum's Jewish identity would play a major role when the votes are counted next year. But he said it can be difficult to distinguish "stupidity from antisemitism" in Mexican political discourse.
"What has been said about Claudia Sheinbaum on some occasions is very close to antisemitism," he said. "Most of it is ignorance, but I wouldn't say there isn't some other position out there."
Tabea Alexa Linhard, a comparative literature professor at Washington University in St. Louis who teaches courses on Mexican and Jewish Diaspora cultures, also said Fox's tweet had "a little bit of both" antisemitism and ignorance.
"Different forms of antisemitism endure in Mexico, as they do elsewhere," she wrote in an email. "It is hard not to see echoes of the conspiracy theories involving Barack Obama's place of birth. It is a political ruse, but in the U.S., this certainly had important consequences, and this kind of dog whistle may also be consequential in Mexico."
Most Mexican Jews probably won't vote for her.
The average Mexican may not care about Sheinbaum's religion, but the average Mexican Jew is probably not voting for her. Like most other Latin American Jewish communities, the majority of Mexico's Jews lean conservative politically. Sheinbaum's platform is not radically left-wing when compared to other leftist leaders in Latin America, but Gálvez, who founded two tech firms, may be more appealing to conservative-leaning Jews, many of whom are business owners.
"I think that most [Mexican Jews] will vote for Xochitl Galvez," said Fainstein. "[Their decision] is not related to the Jewish or non-Jewish origins of the candidates."
He added that most "upper middle class" people vote against Morena, not just Jews. However, he did mention that "there are other groups of Jews who are active in Morena and support Morena also."
Linhard also said the Jewish vote will not be dependent on the ethnic background of the candidate.
"Mexico's Jewish community is very diverse," he said. "Some will identify with Sheinbaum, others will not. But the vote of Jewish Mexicans will likely depend … on her and her opponent's platform."
—
The post Claudia Sheinbaum is on track to become Mexico's first Jewish and woman president appeared first on Jewish Telegraphic Agency.
Left-wing Jews usher in Hanukkah in NY with rally demanding a ceasefire and mourning Gaza casualties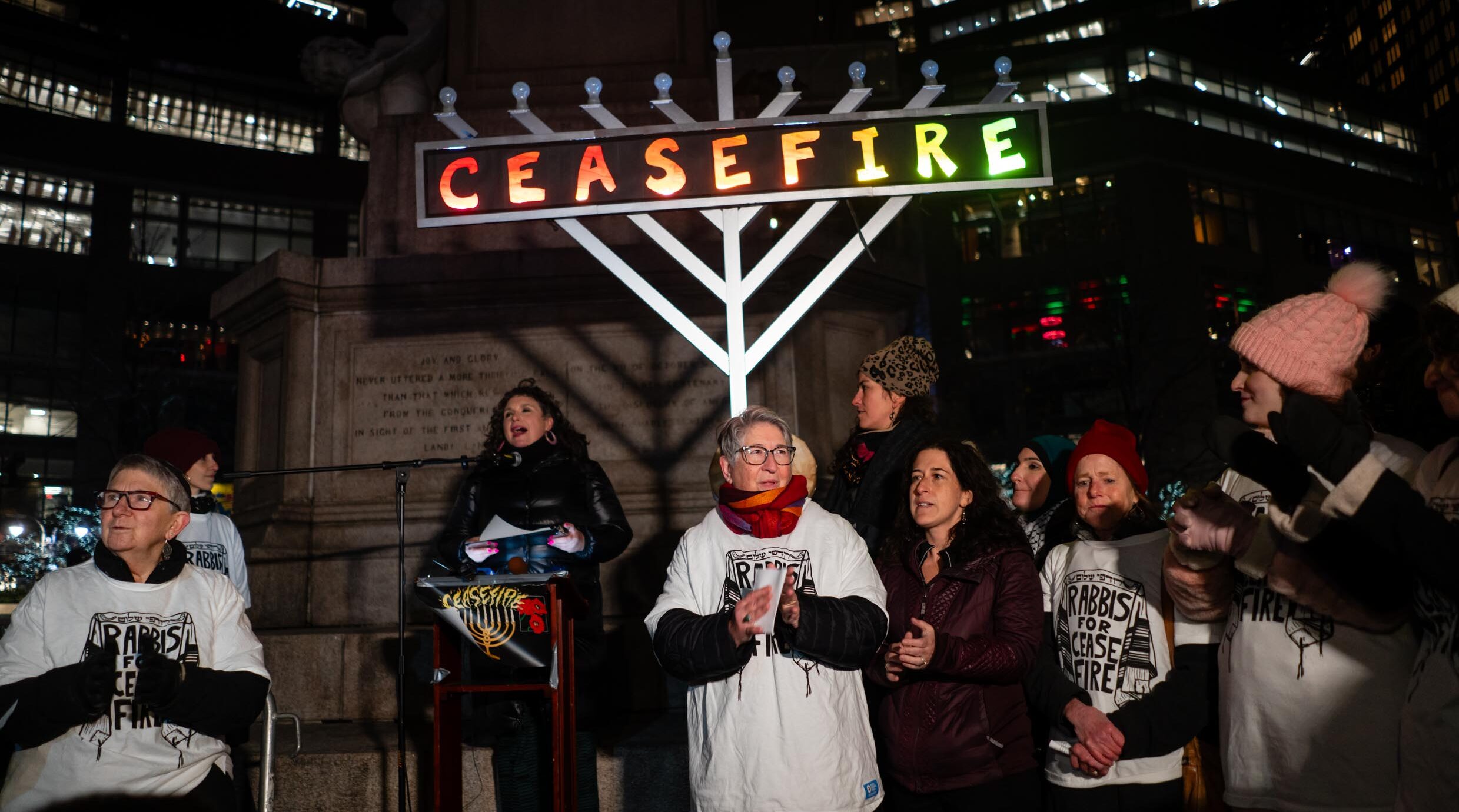 (New York Jewish Week) – Hundreds marched around Columbus Circle in the biting cold on Thursday night, holding electric candles and signs calling for a ceasefire, as they sang a biblical verse calling for the end of war as a tuba and a drum played along.
The activists then raised a 9-foot tall menorah emblazoned with the word "ceasefire" in multi-colored lights, each letter adorning one of the nine candle stems, ushering in the Hanukkah holiday with pleas for a halt to the Israel-Hamas war.
"We light our Hanukkah candles in public, we put them in our windows and in our town square to proudly display our Jewish heritage and to call upon the miracles of this time of year," Rabbi Ari Lev Fornari of the Philadelphia synagogue Kol Tzedek told the crowd. "We are each here to kindle the lights of Hanukkah and to call, together, for a ceasefire."
The event on the first night of Hanukkah also took place exactly two months after Hamas began the war with an invasion of Israel that killed 1,200, largely civilians, and took more than 240 hostages. In the period since then, some of the groups organizing Thursday's menorah lighting have led frequent rallies in New York City, Washington, D.C. and elsewhere calling for an immediate ceasefire — blocking entrances to buildings and bridges and sometimes ending in dozens of arrests. 
Their advocacy, so far, hasn't met its goal. Israel rejects ceasefire calls because they would leave Hamas in power in Gaza, and Hamas has continued to rain rockets on Israel and hold more than 130 hostages. The United States has backed Israel's military campaign. 
Israel recently began focusing its firepower on the Gaza city of Khan Younis, where Hamas' leadership is believed to be based. According to the Hamas-run Gaza Health Ministry, more than 17,000 Palestinians have been killed in the fighting — a number that does not differentiate between civilians and combatants or denote deaths from misfired Palestinian rockets. 
And while only 37% of New Yorkers approve of Israel's war effort, according to a recent poll, the Jewish ceasefire activists have the support of only a minority of their own community: 72% of Jewish New Yorkers support Israel's war effort, while only 19% disapprove. 
​​"I think people are spiritually depleted and morally depleted and it's really painful to open the news every day and see what's happening on the ground in Gaza," said Rabbi Alisa Wise, the lead organizer of the recently-founded Rabbis for Ceasefire. That group was one of the organizers of the event along with IfNotNow, Jewish Voice for Peace, Jews for Racial and Economic Justice and a new group called Shoresh. Many of those groups have called for a ceasefire since the Oct. 7 Hamas attack and have focused their criticism on Israel, accusing it of "genocide." 
Wise said many on the Jewish left are "exhausted and depressed" by the war and find protest activities draining, but also feel the urge to make their voices heard. She added that there is also "this sense of determination, and now that we've seen what we're capable of and what we can do it really feels like people are going to not stop pushing."
At the entrance to the gathering, three towering banners bore the words "ceasefire," "justice" and "peace" in Hebrew, English and Arabic, near tattered posters of Israeli hostages on lamp poles. Some in the crowd wore keffiyehs and several carried Palestinian flags. Alongside the Jewish public figures who attended the event — among them the commentator Peter Beinart and actor Wallace Shawn — one of the speakers was Palestinian-American activist Linda Sarsour. 
Organizers said 700 people attended the rally. In between the speeches, the crowd chanted the blessings upon lighting the menorah and sang songs calling for peace.
In Israel and elsewhere, supporters of the country's war in Gaza have pointed to the story of Hanukkah — a small Jewish army defeating a foe that sought to destroy it — as a historical parallel to the current conflict. On Thursday, a rabbi in a suburb of New York City wrote on Facebook that taking the holiday as an opportunity to call for a ceasefire is "absolutely ridiculous, since Chanukah is literally a celebration of a military victory against an enemy that wanted to wipe out Judaism in Israel. Sound familiar?!"
Wise told the New York Jewish Week that the holiday presents an opportunity to fortify the Jewish left — and said that her group focuses on the way the rabbis of the Talmud approached the holiday. A passage in the Talmud describing Hanukkah includes only a passing reference to the military victory and instead stresses the miracle of one day's worth of oil lighting a menorah for eight days. 
"We were thinking about the way the rabbis really deemphasized the militarism and emphasized the miracle," Wise said. "Those rabbis were leading us away from the militarism. They brought the story of [the] miracle, and we're thinking about that."
Like Jews across the United States, Wise's group has adapted the holiday's messages and rituals to the current moment. The group issued a guide for the holiday with different kavanot, or intentions, for each night's candle lighting, including focusing on themes such as courage, healing and peace, and has sought to lean into the holiday's themes of miracles and spreading light.
"Every year we return to this holiday and we have the opportunity to figure out this year, what from the tradition do we need, what thread do we need to pull?" she said. "So that's how we're approaching it this year."
The war has also sparked a surge in antisemitism in New York and elsewhere in the U.S., according to law enforcement and Jewish security groups, and rising hate crimes have heightened tensions and fears surrounding the conflict. Speakers at the rally decried the increase in antisemitism and Islamophobia, which has also increased, although to a much lesser extent.
"This is a holiday that's about light in the darkness. Even in the darkest, coldest time of year we bring this light in," Wise said. "As we light, we bring the possibility of the ceasefire movement growing and a possibility of peace and justice closer."
—
The post Left-wing Jews usher in Hanukkah in NY with rally demanding a ceasefire and mourning Gaza casualties appeared first on Jewish Telegraphic Agency.
'She's Dead!' Brutal Antisemitic Assault Leaving Woman Unconscious Reported in London
A Jewish woman was brutally assaulted in London this week by two suspects who pummeled her with punches and kicks for over a minute, according to footage posted on social media by Shomrim of Stamford Hill, a Jewish organization that reports on antisemitism.
The attack, which occurred on Thursday evening in the Stamford Hill neighborhood, left the woman unconscious and only ended after two female suspects reportedly said that the woman was "dead" after kicking her while she was on the ground for over thirty seconds, according to Shomrim, which also serves as a neighborhood watch group.
#HateCrime #Antisemitism #ViciousAssault
See dramatic footage of the horrendous #Racist vicious assault leaving the female victim unconscious!
The brutal attack ended after the two female offenders kept on kicking the unconscious victim in the head before laughing over her body… pic.twitter.com/FLxC3re1As
— Shomrim (Stamford Hill) (@Shomrim) December 8, 2023
Metropolitan Police are currently searching for the female suspects. No arrests have been made.
Information on the condition of the victim was not immediately available.
The Stamford Hill section of London is no stranger to antisemitic incidents. In October, days after Hamas' Oct. 7 massacre across southern Israel, two Jewish primary schools in the area were vandalized and doused with red paint.
The post 'She's Dead!' Brutal Antisemitic Assault Leaving Woman Unconscious Reported in London first appeared on Algemeiner.com.
Menorahs in Brooklyn Stolen and Vandalized, NYPD Investigating as Hate Crime
Multiple public menorahs in the Sunset Park neighborhood of Brooklyn, New York were stolen and vandalized, according to a spokesman for the Chabad Jewish movement.
The stolen menorah was seen on Sunset Park Center lawn on Wednesday evening, according to Yaacov Behrman, a spokesperson for Chabad. On Thursday, it was found broken.
In a separate incident captured on video, a man is seen riding up to a menorah in Sunset Park on a bicycle and pushing it over.
"The holiday hasn't begun, and the vandalism has already started," Behrman said on X/Twitter.
The New York City Police Department (NYPD) is investigating the incidents as hate crimes.
The post Menorahs in Brooklyn Stolen and Vandalized, NYPD Investigating as Hate Crime first appeared on Algemeiner.com.