Daily Briefing Nov 3: Day 28 – Fighting heats up in north as Gaza City is encircled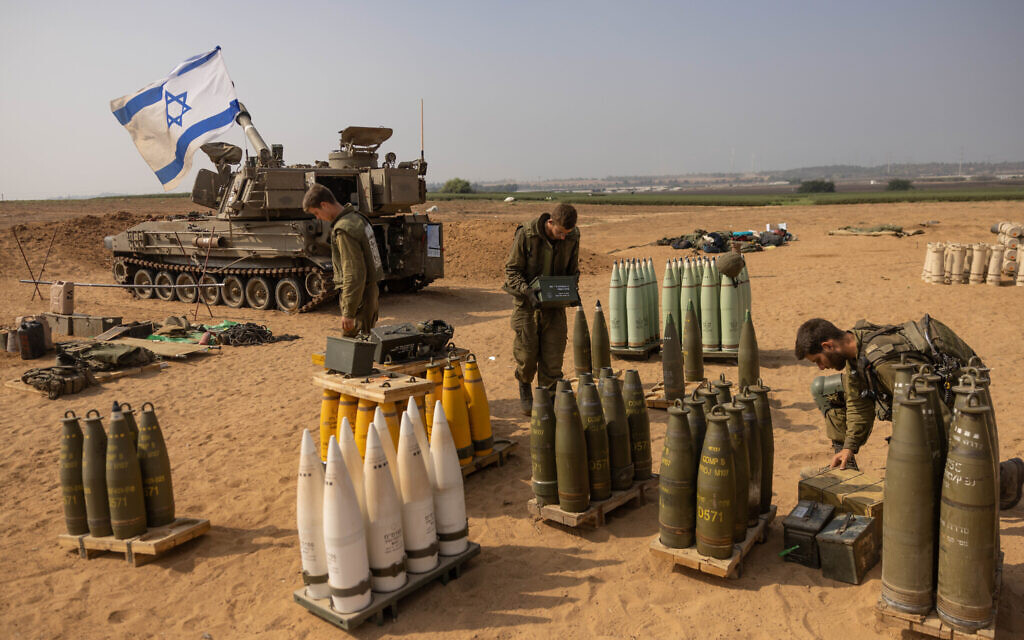 PA President Abbas Blames U.S. for Gaza 'Children's Tragedy' After UN Veto
i24 News – Palestinian Authority President Mahmoud Abbas condemned the United States' on Saturday, attributing responsibility for the tragic loss of children's lives in Gaza to the U.S. after it vetoed a UN Security Council resolution advocating for a ceasefire in the region.
In a statement from Abbas's office, the president criticized the American stance as aggressive and in violation of humanitarian values, directly holding the U.S. accountable for the bloodshed of Palestinian civilians, including children, women, and the elderly in Gaza, due to its unwavering support for Israel.
The U.S. veto, which thwarted efforts led by UN chief Antonio Guterres and Arab nations towards an immediate humanitarian ceasefire in Gaza, drew criticism.
American envoy Robert Wood dismissed the resolution as detached from reality and unlikely to effect change on the ground.
While Israel welcomed the veto, the resolution's sponsor, the United Arab Emirates, expressed deep disappointment over the outcome.
The emergency Security Council meeting convened by Guterres followed weeks of conflict started by Hamas's October 7 attack on Israel that claimed 1,200 lives, primarily civilians, with 240 taken hostage.
The post PA President Abbas Blames U.S. for Gaza 'Children's Tragedy' After UN Veto first appeared on Algemeiner.com.
Israel Orders More Evacuations in Khan Younis after US blocks UN's Gaza ceasefire call
Israel ordered residents out of the center of Gaza's main southern city Khan Younis on Saturday and pounded the length of the enclave, after the United States wielded its U.N. Security Council veto to shield its ally from a demand for a ceasefire.
Since a truce collapsed last week following Hamas's refusal to release female hostages, Israel has expanded its ground campaign into the southern half of the Gaza Strip by launching the storming of Khan Younis. Simultaneously, both sides have reported a surge in fighting in the north.
Israel's Arabic-language spokesperson posted a map on X highlighting six numbered blocks of Khan Younis that residents were told to evacuate "urgently." They included parts of the city center that had not been subject to such orders before.
Israel issued similar warnings at the start of this week before storming the eastern parts of the city. Residents said they feared new evacuation orders heralded a further assault.
"It might be a matter of time before they act against our area too. We have been hearing bombing all night," said Zainab Khalil, 57, displaced with 30 of her relatives and friends in Khan Younis near Jalal street where troops told people to leave.
"We don't sleep at night, we stay awake, we try to put the children to sleep and we stay up fearing the place would be bombed and we'll have to run carrying the children out. During the day begins another tragedy, and that is: how to feed the children?"
The vast majority of Gaza's 2.3 million residents have already been forced from their homes, many fleeing several times. With fighting raging across the length of the territory, residents and U.N. agencies say there is now effectively nowhere safe to go, though Israel disputes this.
Israel has blocked Gazans from fleeing along the main north-south route down the spine of the narrow strip, and is shunting them instead towards the Mediterranean coast.
THOUSANDS MISSING PRESUMED DEAD
A house in the city was engulfed in a roaring blaze after being struck overnight.
Footage obtained by Reuters inside another hospital in Deir al-Balah, the Jaffa hospital, showed extensive damage from a strike on a mosque next door. The obliterated ruins of the mosque could be seen through the blown-out windows.
There were no new figures on Saturday for dead and wounded from other parts of Gaza, including the entire northern half, where hospitals have ceased functioning and ambulances often can no longer reach the dead.
"We believe the number of martyrs under the rubble might be greater than those received at hospitals," health ministry spokesperson Ashraf al-Qidra told Reuters.
An ambulance worker in Gaza City's Shejaiya district told Reuters by telephone that crews were often unable to respond to calls they were receiving from the wounded.
"It pains our hearts, but we have tried before in the past days to head there and our teams came under Israeli fire," he said, asking his name not be printed for fear of reprisals. "We believe there are martyrs in some of the areas east of Shejaiya and some other places, but no one can get in."
Northern Gaza families were posting messages on the internet pleading with emergency crews to venture into Gaza City.
"We appeal to the Red Cross and the civil emergency to immediately go to Attallah house. People are besieged inside their house in Jala street in Gaza City, near Zaharna building. The house is on fire," wrote members of the Attallah family.
U.S. VETO MAKES WASHINGTON 'COMPLICIT'
In a vote at the United Nations on Friday, 13 of the Security Council's 15 members backed a resolution calling for an immediate humanitarian ceasefire. It was blocked by Washington's veto, while Britain abstained.
Israel launched its campaign to annihilate Hamas after the Iran-backed Islamist group's fighters burst across the Gaza border fence on Oct. 7, killing 1,200 people, raping women, and capturing 240 hostages in a rampage though Israeli towns.
Israeli forces say they are limiting civilian casualties by providing them with maps showing areas that are safe, and blame Hamas for causing harm to civilians by hiding among them, which the terrorists deny.
Washington has continued to support Israel's position that a ceasefire would benefit Hamas. "We do not support this resolution's call for an unsustainable ceasefire that will only plant the seeds for the next war," Deputy U.S. Ambassador to the U.N. Robert Wood told the Security Council before exercising Washington's veto.
Ezzat El-Reshiq, a member of Hamas' political bureau, condemned the U.S. veto as "inhumane." Mahmoud Abbas, president of the Palestinian Authority which lost control of Gaza to Hamas in 2007, said the veto made the United States complicit in Israeli war crimes.
Israel's U.N. Ambassador Gilad Erdan said in a statement: "A ceasefire will be possible only with the return of all the hostages and the destruction of Hamas."
The post Israel Orders More Evacuations in Khan Younis after US blocks UN's Gaza ceasefire call first appeared on Algemeiner.com.
US Government Uses Emergency Authority to Provide Tank Shells to Israel
The Biden administration has used an emergency authority to allow the sale of about 14,000 tank shells to Israel without congressional review, the Pentagon said on Saturday.
The State Department on Friday used an Arms Export Control Act emergency declaration for the tank rounds worth $106.5 million for immediate delivery to Israel, the Pentagon said in a statement.
The shells are part of a bigger sale that was first reported by Reuters on Friday that the Biden administration is asking the U.S. Congress to approve. The larger package is worth more than $500 million and comprises of 45,000 shells for Israel's Merkava tanks, regularly deployed in its offensive in Gaza.
As the war intensified, how and where exactly the U.S. weapons are used in the conflict has come under more scrutiny, even though U.S. officials say there are no plans to put conditions on military aid to Israel or to consider withholding some of it.
U.S. Secretary of State Antony Blinken determined and provided detailed justification to Congress that the tank shells must immediately be provided to Israel in the national security interests of the United States, according to the Pentagon statement.
The sale will be from U.S. Army inventory and consist of 120mm M830A1 High Explosive Anti-Tank Multi-Purpose with Tracer (MPAT) tank cartridges and related equipment.
"Israel will use the enhanced capability as a deterrent to regional threats and to strengthen its homeland defense," the Pentagon said, adding that there will be no adverse impact on U.S. defense readiness as a result of the sale.
The post US Government Uses Emergency Authority to Provide Tank Shells to Israel first appeared on Algemeiner.com.