Displaced by ethnic violence, India's Bnei Menashe Jews construct sukkahs nonetheless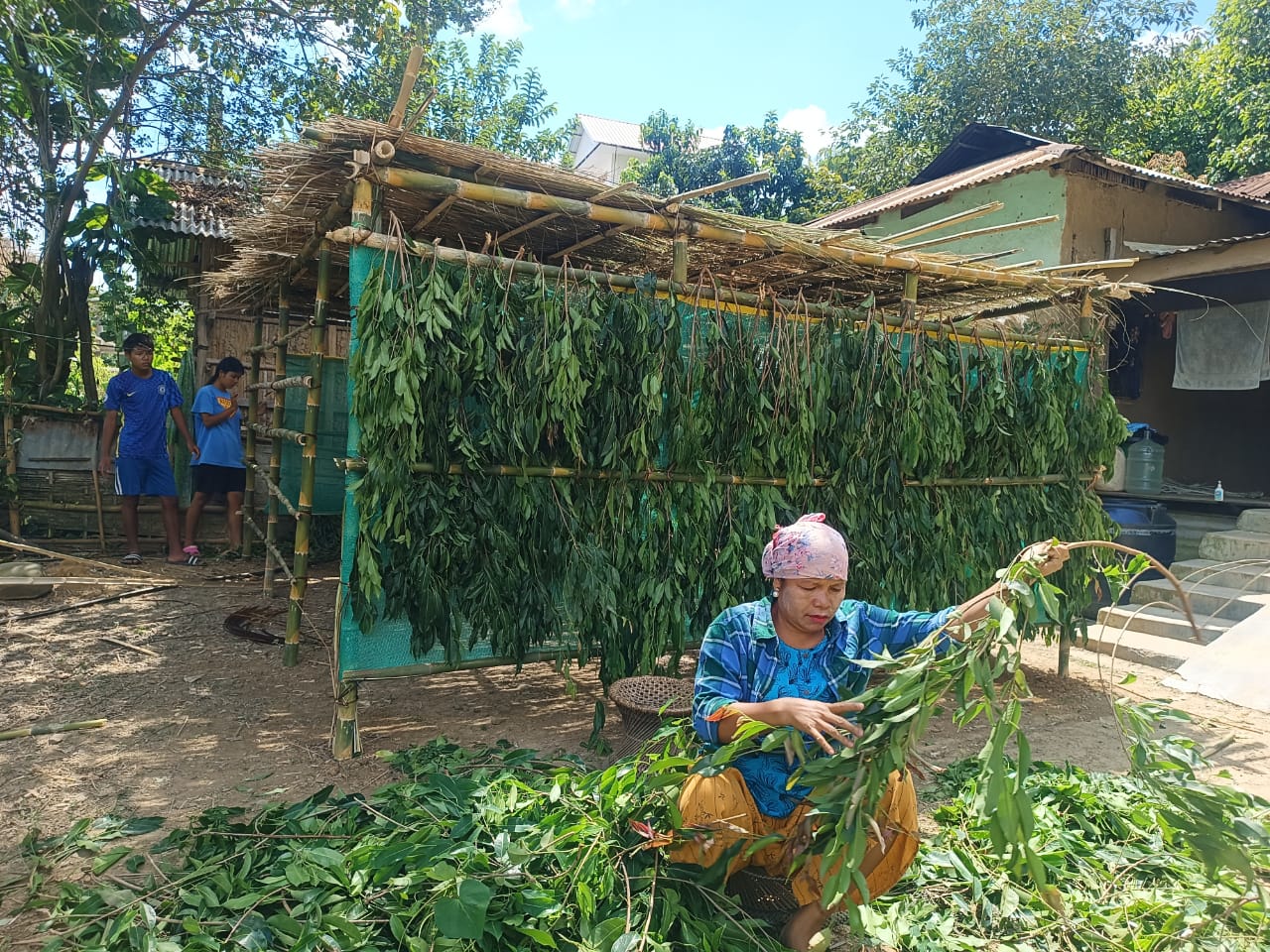 (JTA) — The temporary shelters that Jews erect during the holiday of Sukkot are meant in part to recall a time when Jews had nowhere permanent to live. In Northeast India, that symbolism is heavy with additional meaning this year.
That's because large numbers of Bnei Menashe, the Jewish community that lives there, have fled their homes in the state of Manipur since ethnic unrest broke out in early May.
According to the Israeli organization Shavei Israel, about 2,000 people from the Jewish community have been displaced. A different nonprofit that works with the community, Degel Menashe, cites a smaller number, 700.
But either way, the community has been ravaged, with three locations that have been home to large numbers of Bnei Menashe decimated in the violence. Synagogues and homes have burned to the ground, and the number of displaced people has only grown with time.
Now, as the conflict enters its sixth month, what many believed would be temporary displacements in the Manipur hills or the neighboring state of Mizoram are becoming permanent.
"Despite these challenging times for the Bnei Menashe and even in the farthest reaches of northeastern India, they have continued to uphold the ancient tradition of building Sukkot in honor of the festival," said Michael Freund, chairman and founder of Shavei Israel, which helps "lost tribe" communities return to Israel.
Shavei Israel distributed pictures showing members of the community constructing sukkahs out of bamboo. Their efforts come as their own safety in their areas where they live is in question — or already compromised.
"[For] the Bnei Menashe and the rest of the people who have left Imphal, I don't think there is any chance of them returning back because there is no security," said Isaac Thangjom, the Israel-based director of Degel Menashe, which assists Bnei Menashe communities in Israel and India, referring to Manipur's capital city. "If you ask me honestly, the separation is complete."
The Bnei Menashe identify as descendants of a "lost tribe" group, tracing their origins to the Israelite tribe of Menasseh. In 2005, a chief rabbi of Israel affirmed their identity as a "lost tribe" group with historic Jewish ties, but researchers have not found sufficient evidence to back the claim. Bnei Menashe Jews began immigrating to Israel in the 1990s, and because of their "lost tribe" status, they all undergo formal Orthodox conversions upon arrival. Around 5,000 remain in the states of Manipur and Mizoram today, and about 5,000 have already immigrated to Israel.
Many have struggled to gain entry into Israel over the past two decades, and they are now asking the Jewish state to expedite the immigration process to help them escape the violence.
Israeli authorities have yet to comment publicly about the situation and did not respond to multiple requests for comment from the Jewish Telegraphic Agency. Israel has recently been seeking to advance its relations with India.
Conflict erupted in May when tribal groups in Manipur launched a protest against the ethnic majority Meitei's demand for Scheduled Tribe status, which is traditionally reserved for minority tribes. The Bnei Menashe Jews belong to the minority Kuki tribe.
The Kukis (about 16% of the population and majority Christian) say the Meiteis (53% and majority Hindu) already have outsized privilege and political representation in Manipur.
According to local reports, unofficial "but very real" borders have been drawn between what have become Kuki and Meitei areas. Prime Minister Narendra Modi's government has been criticized for failing to control the situation. In August, opposition lawmakers called for a no-confidence vote over Modi's handling of the situation, but it was easily defeated.
Some 190 people have died in the conflict since May, according to local media, including at least one Bnei Menashe community member. Over 60,000 are displaced.
Several other Bnei Menashe Jews are hospitalized with injuries, according to Shavei Israel.
In the face of displacement, the Bnei Menashe Jews have remained religiously observant, even as some fled with nothing more than their prayer books and the clothes on their backs, a Mizoram Jewish community member told JTA in June.
"It was so sudden," said Ariella Haokip, a Bnei Menashe community member taking shelter in Thingdawl, Mizoram. "Funds were sent to us to buy special items for Rosh Hashanah and now for Sukkot. In spite of our misery, it is comforting to think that we are remembered."
Some are currently staying at government shelters, others at schools and homes of other community members, or rented homes paid for by nonprofit groups. In Thingdawl, Mizoram, one young member has begun organizing Hebrew classes for displaced members, said Thangjom.
Both Shavei Israel and Degel Menashe have been working since May to provide continued support to the Bnei Menashe Jews through donations of food, mattresses, mosquito nets, infant formula, medicines and other necessities. Both organizations have arranged shelters for displaced families. Additional financial support has poured in from Jewish and Christian organizations in the United States and Israel.
For some, the High Holiday season also represents a new beginning, as Degel Menashe races to construct homes for several Bnei Menashe families. Lalam Hangshing, chairman of the Bnei Menashe Council-India, donated a piece of land of about 200 acres in Churachandpur on which nine homes are being constructed.
"It was hoped that it could be ready by Rosh Hashanah but there were some unforeseen delays and challenges," said Thangjom. "Each family will be allotted a piece of land to grow or raise something of their choice so that it can be a source of livelihood for them."
—
The post Displaced by ethnic violence, India's Bnei Menashe Jews construct sukkahs nonetheless appeared first on Jewish Telegraphic Agency.
Treasure Trove: How some sheet music in the Theresienstadt Ghetto became a symbol of hope
Protester Sets Self on Fire Outside Israeli Consulate in Atlanta
i24 News – A protester was in critical condition on Friday after setting themself on fire outside the Israeli consulate in Atlanta, Georgia, U.S. authorities said. A security guard who tried to intervene was also wounded.
A Palestinian flag found at the scene was part of the protest, Atlanta Police Chief Darin Schierbaum said at a news conference. He added that investigators did not believe there was any connection to terrorism and none of the consular staff was ever in danger.
JUST IN: A pro-Palestine protester is in critical condition after they set themselves on fire in "political protest" outside of the Israeli Consulate office in Atlanta.
The protester was reportedly draped in a Palestine flag.
The protester has severe burns and unfortunately, a… pic.twitter.com/B8nUQAj2nU
— Collin Rugg (@CollinRugg) December 1, 2023
"We do not see any threat here," he said. "We believe it was an act of extreme political protest that occurred." Everyone inside the consulate building was said to be safe.
Anat Sultan-Dadon, Consul General of Israel to the southeastern U.S., said: "We are saddened to learn of the self-immolation at the entrance to the office building. It is tragic to see the hate and incitement toward Israel expressed in such a horrific way."
"The sanctity of life is our highest value. Our prayers are with the security officer who was injured while trying to prevent this tragic act. We are grateful to the city of Atlanta's law enforcement and first responders for all they do to ensure safety."
The post Protester Sets Self on Fire Outside Israeli Consulate in Atlanta first appeared on Algemeiner.com.
Released Israeli Hostages Call for Captives to Be Freed
Israeli hostages released in the past week by Hamas in Gaza called on Saturday for the immediate release of fellow captives left behind, a day after a temporary truce that had allowed scores to come home broke down.
Tens of thousands gathered at a rally in Tel Aviv outside Israel's defense headquarters, where they cheered Yelena Trupanov, 50, standing on a stage just two days after being freed.
"I came to thank you because without you I wouldn't be here. Now we must bring back my (son) Sasha, and everyone. Now."
Similar pleas from other released hostages were shown on video.
A seven-day truce, during which Hamas had released more than 100 hostages, collapsed on Friday after Hamas breached the ceasefire.
Israel said on Saturday it had recalled a Mossad intelligence agency team from Qatar, host of indirect negotiations with Hamas, accusing the Palestinian faction of reneging on a deal that would have freed all children and women held hostage.
More than 240 people – Israelis and foreign nationals – were abducted to Gaza on Oct 7. by Hamas terrorists who burst through the border with Israel and killed 1,200 people.
The post Released Israeli Hostages Call for Captives to Be Freed first appeared on Algemeiner.com.