Dueling activists clash at public Orthodox Yom Kippur service in Tel Aviv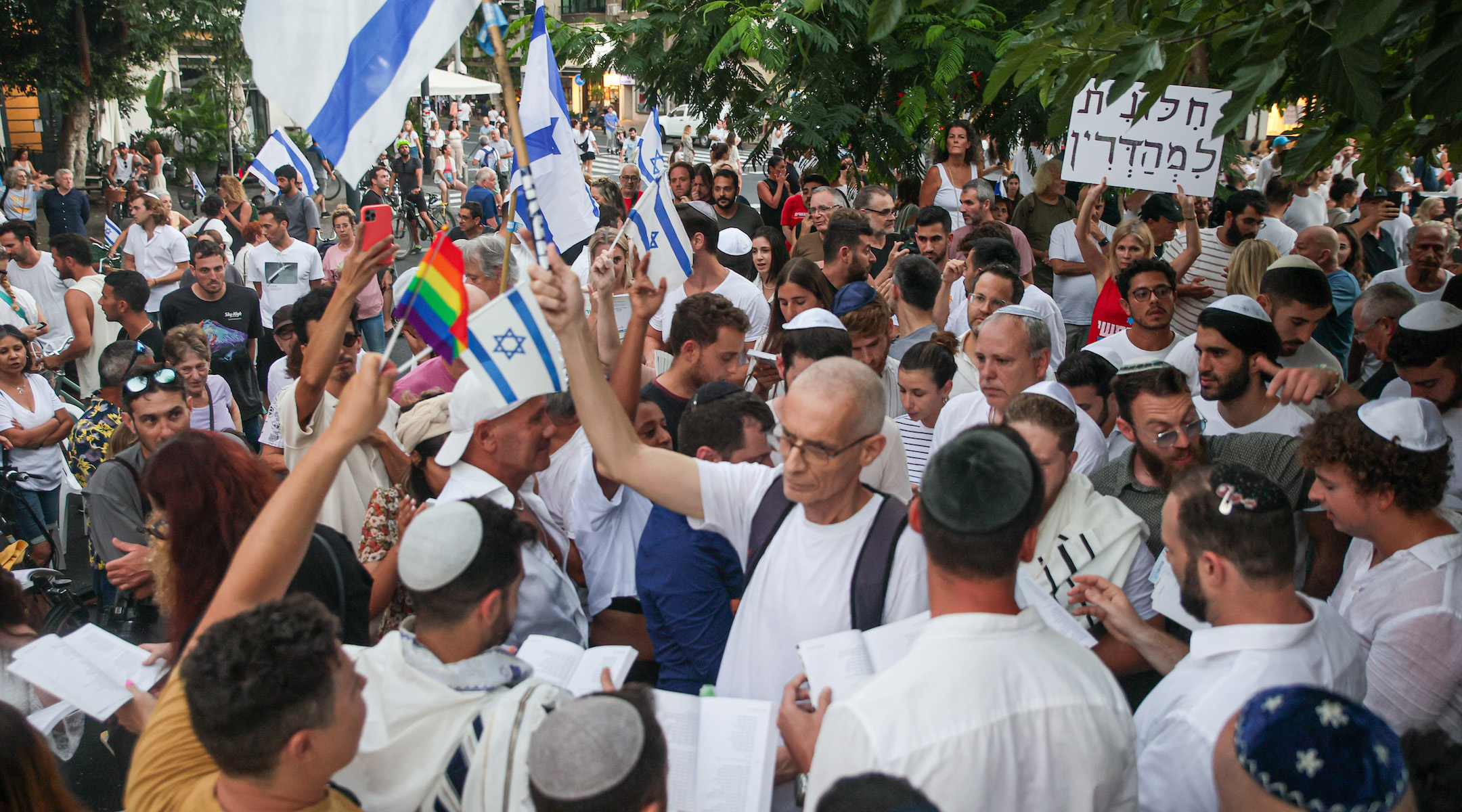 (JTA) — Multiple dimensions of Israel's ongoing civil strife came to a head on the holiest day of the Jewish calendar, as secular activists shut down a public Orthodox Yom Kippur service in the center of Tel Aviv that had been barred by the Supreme Court.
On Yom Kippur and in the hours afterward, Israeli social media accounts filled with videos of Orthodox worshippers and secular protesters shouting epithets at each other — including several instances, from both sides, of the word "Nazi." A far-right event is planned in the same space on Thursday, promising further fighting, and Israel's most senior politicians have released dueling statements about the clash.
Israeli President Isaac Herzog lamented that the country appears to be torn apart again half a century after the 1973 Yom Kippur War.
"I know that I speak for the absolute majority of Israeli citizens when I express deep sorrow and shock at the sight of our own people fighting one another on a day that has always been a symbol of unity," Herzog said at a memorial ceremony for the war.
Israeli Prime Minister Benjamin Netanyahu, by contrast, took a side in the dispute, squarely blaming "extremists on the left" for the disturbance. And his political opponents took the opposite view: Benny Gantz, a centrist leader, called Netanyahu "the biggest hatemonger," while Tel Aviv Mayor Ron Huldai blamed the incident on "religious and messianic extremists [who] trampled on a court decision."
The fighting surrounded an Orthodox Kol Nidre service on Sunday evening in Tel Aviv's Dizengoff Square — a religious event that has taken place annually for several years in the heart of Israel's largely secular metropolis. This year, Israel's Supreme Court ruled that the organizers of the service could not erect a divider to separate between men and women — known as a mechitzah — in a public square.
But the organizing group, known as Rosh Yehudi, defied the order and proceeded with the prayer service anyway, setting up a makeshift divider made of Israeli flags. Secular protesters — including many from the mass protest movement that has mounted weekly demonstrations against the right-wing government all year — also showed up to rally against the event. The protesters chanted "Shame," a cry that has become a mainstay of the antigovernment protests, and the prayer service came to a halt. A similar clash, with a similar result, occurred on Monday.
The incident has become a Rorschach test in Israel, which has grown deeply divided over Netanyahu's effort to weaken the Supreme Court and has also erupted recently over increasing efforts to impose Orthodox standards of dress and conduct on women in public spaces. The Yom Kippur event was a confluence of the two: a moment when an Orthodox group ignored a Supreme Court decision and established a gender-segregated space in the central square of a largely non-Orthodox city.
For Netanyahu and others on the right, the incident is further evidence that Israel's Supreme Court functions as a left-wing activist body that is out of touch with Israel's population, and that the protest movement has resorted to violent tactics in its antipathy toward traditionally observant Jews.
"The Jewish people wanted to unite on Yom Kippur to ask for forgiveness, atonement and unity among us," Netanyahu posted. "To our astonishment, in the Jewish state of all places, on the holiest day for the Jewish people, left-wing protesters disturbed Jews in their moment of prayer. It seems there are no boundaries, norms or limits to the hate of the left-wing extremists. I, like most Israeli citizens, reject that. There's no place for such violent conduct among us."
For Netanyahu's opponents, by contrast, Sunday's scuffle was a moment that demonstrated what his government is trying to achieve: a state where court orders carry no force, and where exclusionary religious practices will be imposed on formerly secular public spaces. A flier that was taped to the center of Dizengoff Square admonished visitors to respect the area's secular culture, in an imitation of fliers in Orthodox neighborhoods warning visitors to adhere to standards of modest dress.
In the past, "no one sought to coerce their form of Judaism on the other," Yair Lapid, the leader of Israel's parliamentary opposition, said in a statement. "Until messianic, racist cohorts came here, who are trying to coerce their version of Judaism upon us."
The fight appears to be far from over. On Tuesday, Itamar Ben-Gvir, Israel's far-right national security minister, announced that he and other activists from his Jewish Power party will come to Dizengoff Square to hold another Orthodox prayer service. In his statement, he issued an open challenge to the city's secular protesters.
"I and other members of Jewish Power will come to the same place on this coming Thursday to pray the evening service," he posted. "Let's see you try to kick us out."
Gilad Kariv, an opposition lawmaker and Reform rabbi, appeared to take up the challenge, likening Ben-Gvir to the extremist Rabbi Meir Kahane, a former mentor of the far-right minister.
"Just as we stood against his spiritual father Meir Kahane 35 years ago every time he tried to speak in Tel Aviv, so we will stand against him," Kariv wrote.
—
The post Dueling activists clash at public Orthodox Yom Kippur service in Tel Aviv appeared first on Jewish Telegraphic Agency.
Hamas Terrorists Surrendering in Large Numbers to Israeli Forces: Reports
Photos and videos shared by Israeli journalists on social media show scores of Hamas terrorists surrendering to the Israel Defense Forces (IDF) in the city of Khan Younis in southern Gaza.
"Hamas fighters surrendering here in seemingly large numbers," wrote defense analyst Jonathan Schanzer on X/Twitter. "This is a good sign, if the trend continues. Questioning them will also lead to more intelligence that could also help bring a speedier end to this phase of the war."
Some videos from correspondents in the region reportedly showed the IDF arresting dozens of men who surrendered and were being checked to determine if they were operatives for Hamas or Islamic Jihad, both Palestinian terror groups operating out of Gaza.
כוחות צה"ל עצרו במהלך התמרון ברצועת עזה עשרות גברים שנכנעו והרימו ידיים. כעת בודקים אם יש בניהם מחבלים או פעילי חמאס או גי'אהד איסלמי pic.twitter.com/28zVu0LMqD
— איתי בלומנטל Itay Blumental (@ItayBlumental) December 7, 2023
Some of the heaviest fighting of the Israel-Hamas war has occurred in recent days, as IDF troops have pushed into multiple Hamas strongholds across northern and southern Gaza.
The IDF "launched a combined attack on the area of ​​the city of Khan Younis, against the 'centers of gravity' of the Hamas terror organization," the IDF said in a statement on Wednesday evening. It added that the forces broke through Hamas defenses within a few hours.
"The entire leadership of the Hamas terror organization — political and military — grew up in the area of ​​the city of Khan Younis, including Yahya Sinwar, Muhammad Sinwar, and Mohammed Deif. Now the city is surrounded by the 98th Division," the IDF said.
Israeli Prime Minister Benjamin Netanyahu released a video statement saying that IDF forces were "currently surrounding Sinwar's house."
"His home isn't his castle, and he can flee, but it's just a matter of time until we get to him," Netanyahu added.
Sinwar is Hamas' leader in Gaza.
The IDF announced on Thursday the deaths of three more soldiers, bringing the current toll from the military's ground operation to 87. Israel launched its military campaign against Hamas in Gaza following the terror group's Oct. 7 invasion of the Jewish state, in which Palestinian terrorists rampaged across southern Israeli communities, murdering 1,200 people and kidnapped 240 as hostages.
"Hamas is losing control of Gaza," said Schanzer, the military analyst. "The IDF may be drawing closer to [Hamas leaders] Yahya Sinwar & Mohammed Deif. The question now: will they flee Gaza by tunnel to Egypt or fight to the end?"
The post Hamas Terrorists Surrendering in Large Numbers to Israeli Forces: Reports first appeared on Algemeiner.com.
GOP candidates spar in debate over whether to send US troops to Gaza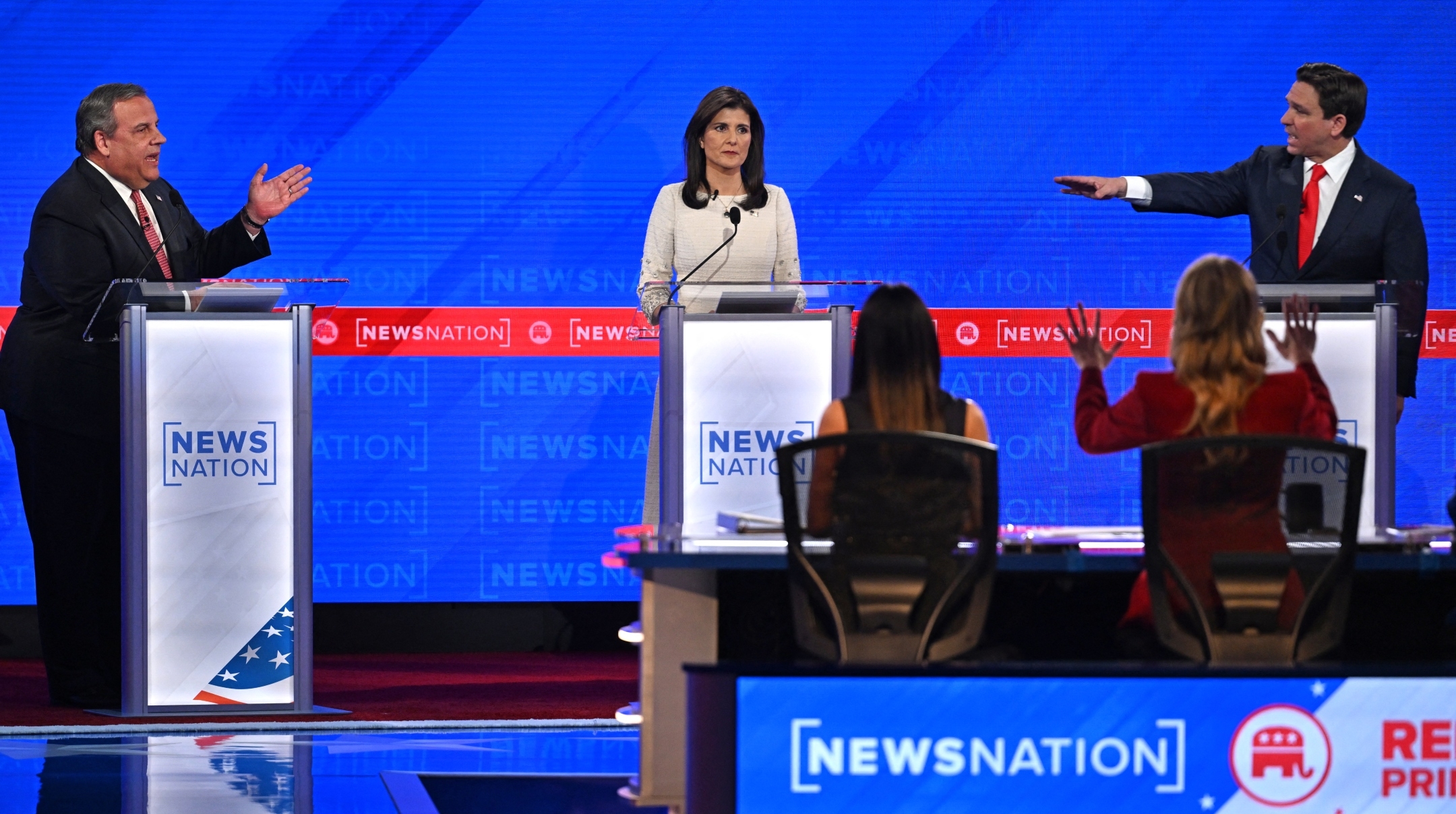 WASHINGTON (JTA) –  Candidates sparred over whether to send U.S. troops to Gaza and Vivek Ramaswamy endorsed a conspiracy theory that has inspired antisemitic violence at the Republican primary debate last night. 
The debate, held at the University of Alabama less than six weeks before the Iowa caucuses kick off the nominating contest, did not include the frontrunner, Donald Trump. The former president, who leads polls by a wide margin, has skipped every debate thus far. 
Haley, the former United Nations ambassador who is rising in the polls and has received an infusion of donor money, was the prime target of the other three candidates on stage: former New Jersey Gov. Chris Christie, Florida Gov. Ron DeSantis and Ramaswamy, an investor and political newcomer. 
Israel came up almost immediately  in the debate, hosted by the small cable network News Nation. Moderators asked whether candidates would send troops into combat to free the eight Americans who are among the more than 100 hostages still held by Hamas, which launched the current war when its terrorists attacked Israel from Gaza on Oct. 7.
Christie said, "You're damn right, I'd send the American army in there to get our people home and get them home now." 
DeSantis said "We have to look out for our people when they're hostages" and segued into attacking President Joe Biden for not doing enough to confront Iran. He later said he wouldn't accept Gazan refugees into the United States "because of the antisemitism and because they reject American culture.".
Haley also didn't answer the question about U.S. troops directly, also attacking Biden for not being aggressive enough toward Iran. She added that Russia, Iran and Hamas are linked and pose a threat to global stability, an argument Biden has also made. 
"You've got to punch them, you've got to punch them hard and let them know that — that's the only way they're going to respond, so the way you do that is you go after their infrastructure in Syria and Iraq where they're hitting our soldiers," Haley said of Iran. "That's what you do, and then that's when they'll back off." 
Ramaswamy attacked Haley for comments she has previously made where she called Hamas' invasion of Israel an "attack on America."
"If you can't tell the difference between where Israel is and the U.S. is on a map I can have my three year old son show you the difference," he said. "That is irresponsible, because it has major consequences, because that doesn't leave room for what actually is an attack on America."
Late in the debate, Ramaswamy leaned into promoting  conspiracy theories that Trump had embraced — including the false claim that Trump won the 2020 election; that the Jan. 6, 2021 mob at the U.S. Capitol, aimed at keeping Trump in power, was an "inside job;" and that the George W. Bush administration covered up the real perpetrators of the Sept. 11, 2001 attacks; 
He also said that "the Great Replacement Theory" is the policy of the Democratic Party. The theory in its original form claims falsely that Jews are orchestrating the mass immigration of people of color into Western nations in order to replace their white populations. 
The theory fueled the deadliest attack on Jews in U.S. history, when a gunman murdered 11 Jews at a Pittsburgh synagogue in 2018, as well as other violent mass killings.
"The Great Replacement Theory is not some right wing conspiracy theory, but a basic statement of the Democratic Party's platform," he said. He did not directly mention Jews. 
Ramaswamy also attacked Haley for accepting the backing of wealthy donors. The most significant of these is the Koch network, named for the industrialist brothers who are not Jewish; Ramaswamy named only Jewish backers, including LinkedIn founder Reid Hoffman and BlackRock CEO Larry Fink. 
He called Hoffman "George Soros Jr.," referring to the liberal Jewish financier and philanthropist who has become a bogeyman of the right and who frequently appears in antisemitic conspiracy theories. DeSantis also namechecked Soros, noting that he had removed two prosecutors in Florida whom he said Soros backed.
Haley said her greatest concern about porousness on the U.S.-Mexico border was that it could facilitate the entry into the United States of Iran-backed terrorists.
She also took a question about a confrontation in Congress Tuesday between Republican Rep. Elise Stefanik and the presidents of three elite universities who declined to say outright that calling for the genocide of Jews would violate university anti-harassment policies. Two of the presidents have since partially walked those statements back. 
Haley called the remarks of the university presidents "disgusting" and said she would alter President Joe Biden's strategy to combat antisemitism by making clear that anti-Zionism is antisemitism. Congress just passed a resolution to that effect as well.
She also pivoted to one of her key talking points, which is to fault the Chinese-owned TikTok social media app as a potential tool of the Chinese government.
"For every 30 minutes someone watches TikTok every day they become 17 percent more antisemitic," she said, apparently referring to an analysis posted on Twitter last week by an investor, Anthony Goldbloom, who posted that the data "suggests TikTok is a meaningful driver of a surge in antisemitism."
—
The post GOP candidates spar in debate over whether to send US troops to Gaza appeared first on Jewish Telegraphic Agency.
Meta oversight board will rule — at unusual speed — on two deleted posts related to Israel-Hamas war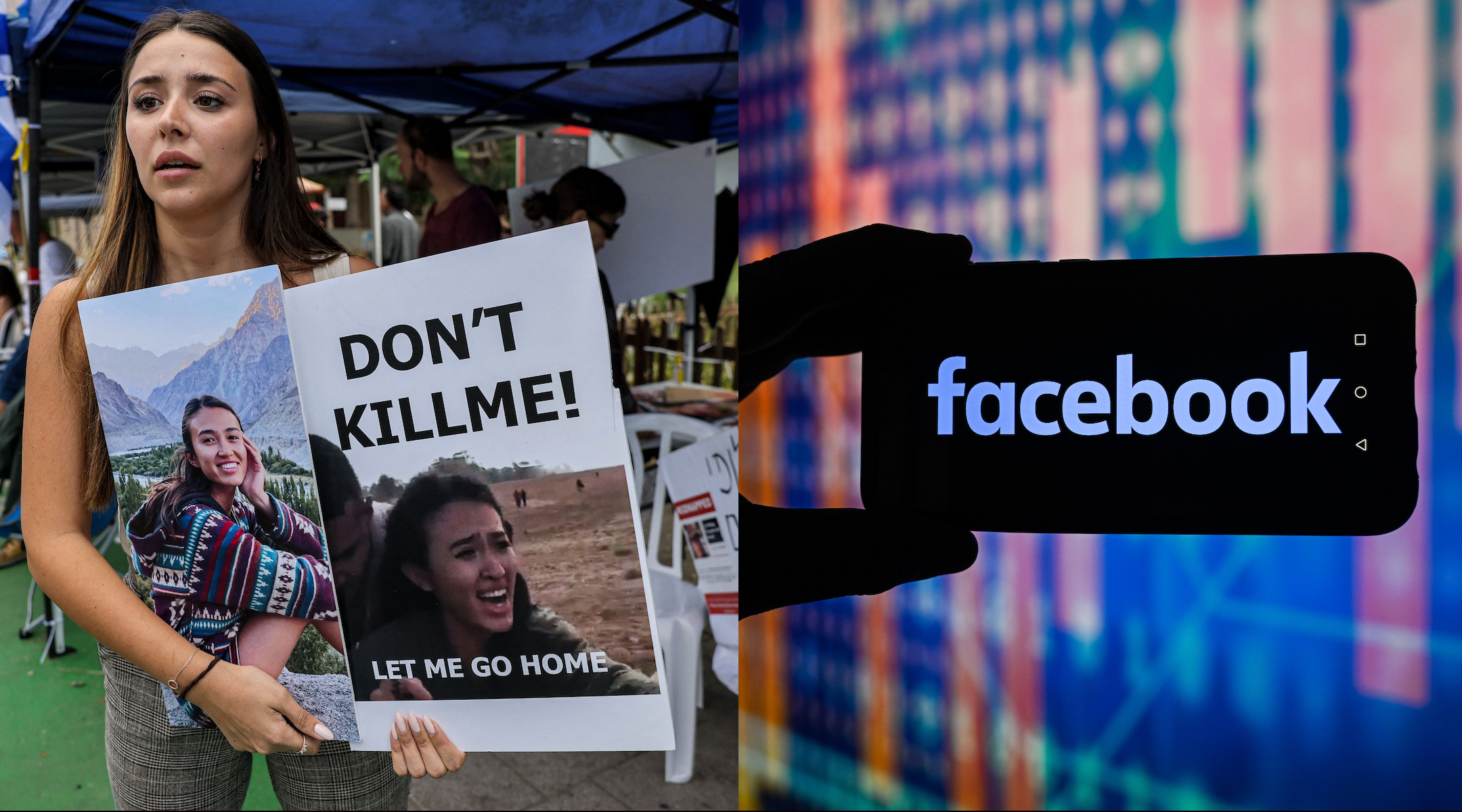 (JTA) – The independent panel that rules on disputes at the world's largest social media company is taking up two challenged posts about the ongoing Israel-Hamas war, in cases with potential ramifications for how users will be able to talk about the war online.
The cases are the first to be taken on under a new expedited process adopted by the oversight board at Meta, which owns Facebook and Instagram, earlier this year. 
The two appeals relate to posts about the war from both sides of the conflict. One is about a Facebook video appearing to show a Hamas militant kidnapping a woman during the terror group's Oct. 7 attacks in Israel. The other was an Instagram video appearing to show the aftermath of a strike outside Al-Shifa hospital in the Gaza Strip.
Meta had initially removed both of the videos, claiming they violated the company's terms of service, which specifically prohibit sharing violent content. But the company has since changed its mind, restoring both with tags warning of graphic content. The oversight board said it would issue a decision on the matter within 30 days, and the company is bound to follow the board's decisions.
Social media has become the primary way most of the world has engaged with the war, as more and more images and videos purporting to be from Israel and Gaza circulate online — joining a stew of content that includes a large amount of misinformation and doctored or mislabeled images. Meta and other social media companies X/Twitter and TikTok have struggled with how to balance allowing freedom of expression on their platforms with curbing violent imagery or the spreading of terror propaganda.
In the case of the disputed posts, Meta initially claimed both violated its rules on sharing violent and graphic content. The company has also designated Oct. 7 as a terrorist attack, subject to rules that any content showing "identifiable victims" of such an attack is forbidden from its platforms. It has updated its own rules frequently since Oct. 7, most recently determining that hostage footage shown "in order to raise awareness and condemn the attacks" is permissible.
"Meta's goal is to allow people to express themselves while still removing harmful content," the company wrote in an update to its policies Tuesday. "If the user's intent in sharing the content is unclear, we err on the side of safety and remove it."
The disputed Oct. 7 Facebook video was posted by a user who appeared to be condemning Hamas and "urge[d] people to watch the video to gain a 'deeper understanding' of the horror that Israel woke up to on October 7, 2023," according to the oversight board's description of the post. The board did not share the post itself, but the description suggests that the video showed Noa Argamani, who became an early symbol of the hostage crisis after being abducted with her boyfriend from the Nova music festival. She remains a hostage in Gaza.
The video purporting to show the hospital bombing, meanwhile, was posted by a user who referred to the Israeli army as the "usurping occupation" and tagged various human rights organizations, the board said. The Al-Shifa hospital has become an epicenter of both Israel's military operation and the larger information war, as Israel targeted the hospital while claiming that Hamas was using it as a command center — a claim that Israel later backed up by taking media outlets on a tour of a tunnel network connected to the hospital.
Even though both posts were restored, the oversight board's rulings on them could affect how Meta moderates content about the war, and how permissive the company will be about images depicting its victims. Meta's oversight board has taken up other Jewish issues in the past, including the company's failure to remove a Holocaust-denying post and its decision to remove a post of a journalist criticizing Kanye West's praise of Hitler.
"Crisis situations are not an excuse for social media platforms to suspend rules or default to censorship, they're a reminder to double down on efforts to protect voice and safety," Thomas Hughes, director of the Oversight Board Administration, said in a statement. "The Israel-Hamas conflict underscores the many challenges to content moderation during crisis situations. The Board looks forward to reviewing how Meta is following through on its human rights commitments, as well as past recommendations from the Board on how to manage crises." 
Jewish former Meta executive Sheryl Sandberg has also become ensnared in an information war related to the conflict, as her claim that Hamas raped female Israeli victims of Oct. 7 has been disputed on the very platforms she used to oversee.
Both TikTok and X have faced intense criticism for allowing antisemitic content to spread on their platforms, and — in X's case — for owner Elon Musk's own engagement with antisemitic content.  
—
The post Meta oversight board will rule — at unusual speed — on two deleted posts related to Israel-Hamas war appeared first on Jewish Telegraphic Agency.