Erdogan calls Hamas a 'liberation group' that is 'waging a battle to protect its lands'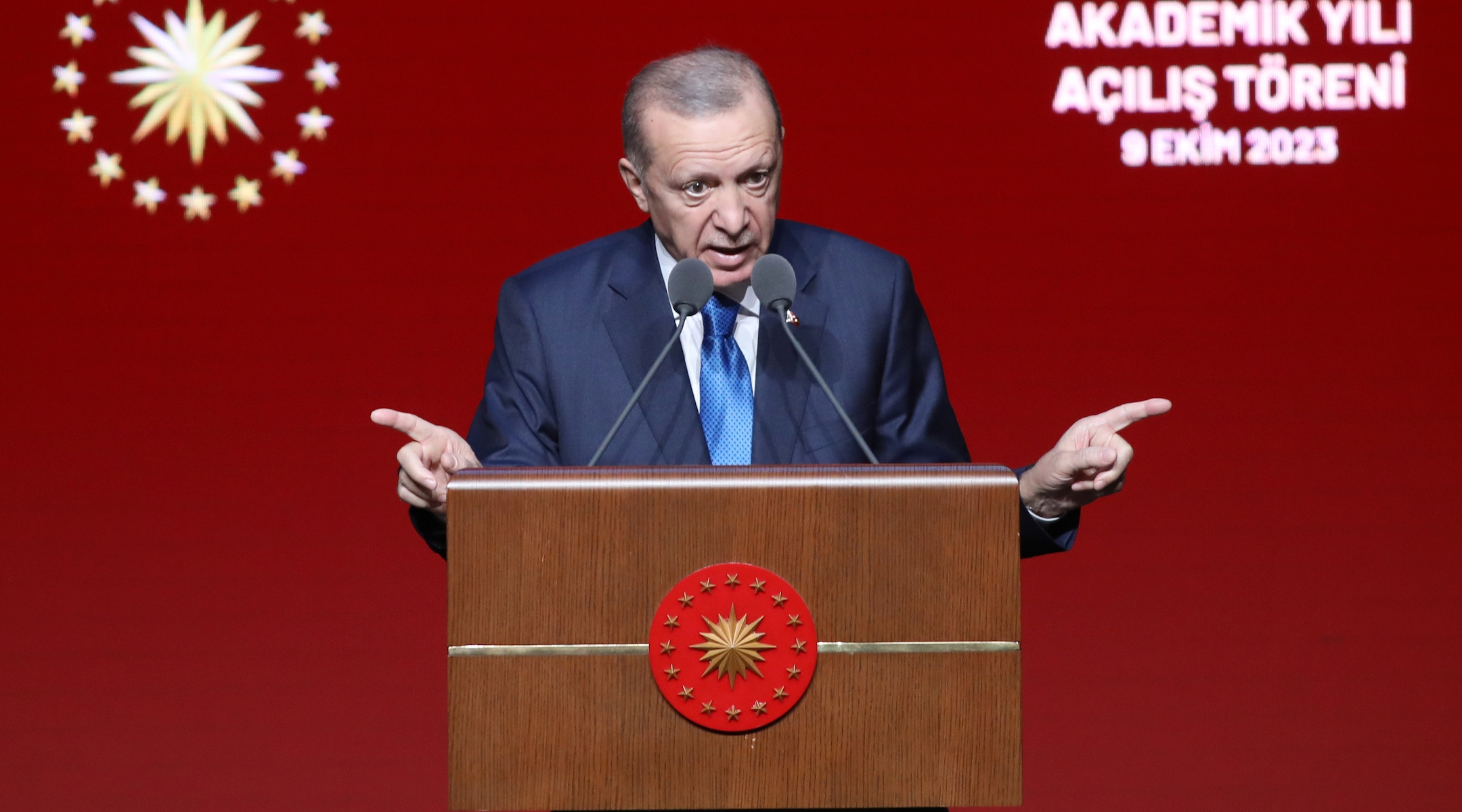 (JTA) — Turkish President Recep Tayyip Erdogan praised Hamas and canceled a trip to Israel as it fights a war with the terror group in Gaza.
"Hamas is not a terrorist organization, it is a liberation group, mujahideen waging a battle to protect its lands and people," Erdogan said Wednesday in remarks to his ruling AK Party, as translated by Reuters. "Mujahideen," an Arabic term, means "holy warrior."
Erdogan said calling Hamas a terrorist group is a policy of the West. "We aren't indebted to Israel," he said. "But the West is."
Turkey condemned Hamas' invasion of Israel on Oct. 7, in which terrorists killed more than 1,400 people, most of them civilians, wounded thousands and abducted more than 200.
Israel subsequently declared war and has launched airstrikes on Gaza, killing more than 5,000, including a large number of children, according to the territory's Hamas-controlled health ministry. It is not clear how many of those killed in Gaza are terrorists.
Erdogan's statement Wednesday is an example of how the war's ripple effects across the Middle East. Before Oct. 7, Turkey was reconciling with Israel after more than a decade of tensions that were sparked in 2010 by a deadly Israeli raid on a Turkish flotilla attempting to breach Israel's blockade of Gaza.  Then, as now, the territory was under Hamas control.
Turkish-Israeli ties began warming again after the 2020 Abraham Accords. The treaty normalized relations between Israel and four Arab countries, boosted regional commerce and left Iran increasingly isolated. The Biden Administration encouraged Turkish-Israeli reconciliation, seeing it as a key piece of further isolating Iran, and its ally Russia, which invaded Ukraine.
Turkey is a member of the NATO military alliance, and Biden is rushing defense assistance and U.S. military personnel to the Middle East to deter an expansion of the war. Erdogan's hostility toward Israel could complicate aspects of that effort.
The Israel-Hamas war has also led to the suspension of U.S.-led negotiations over an Israel-Saudi Arabia treaty, another diplomatic process that grew out of the Abraham Accords.
—
The post Erdogan calls Hamas a 'liberation group' that is 'waging a battle to protect its lands' appeared first on Jewish Telegraphic Agency.
Left-wing Jews usher in Hanukkah in NY with rally demanding a ceasefire and mourning Gaza casualties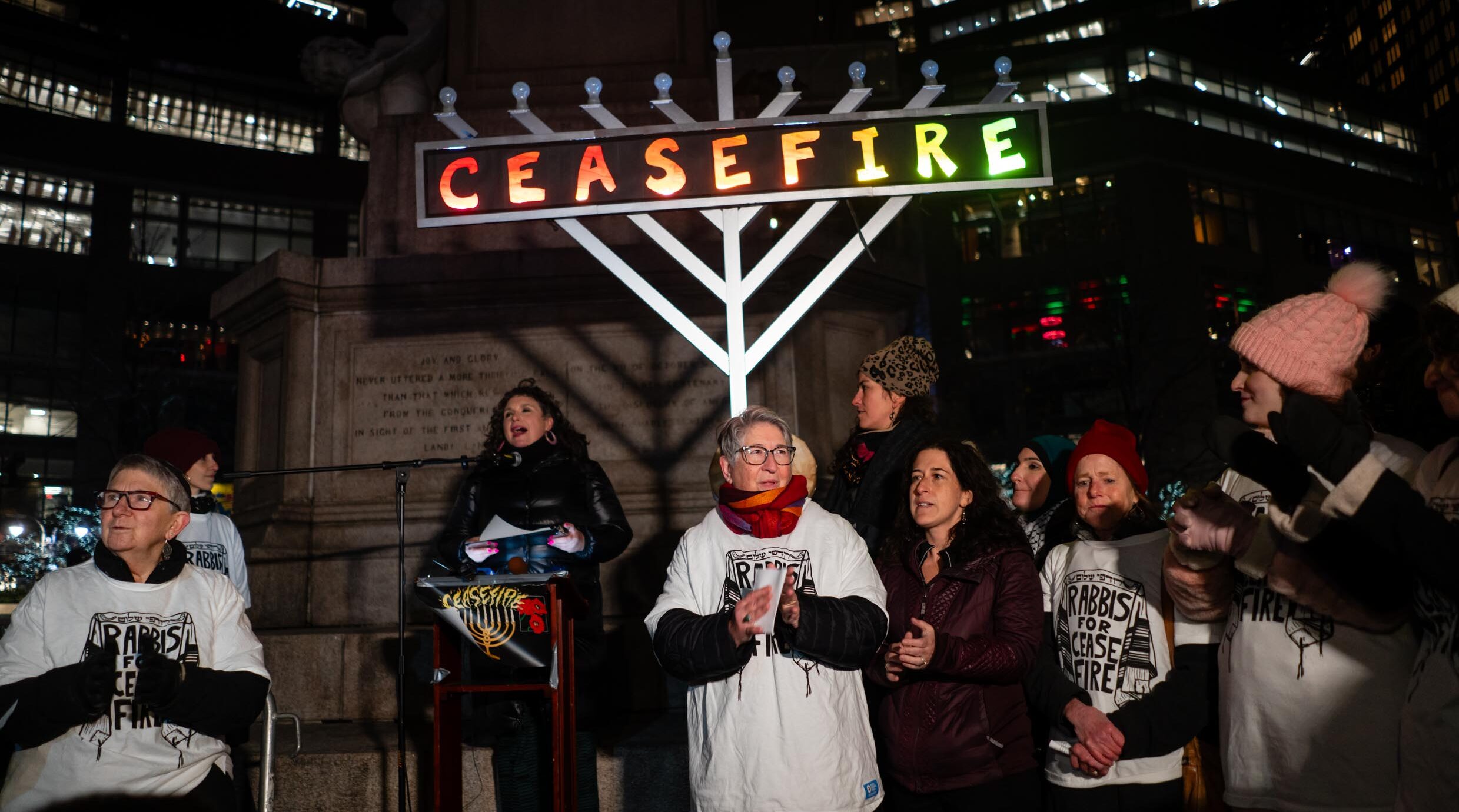 (New York Jewish Week) – Hundreds marched around Columbus Circle in the biting cold on Thursday night, holding electric candles and signs calling for a ceasefire, as they sang a biblical verse calling for the end of war as a tuba and a drum played along.
The activists then raised a 9-foot tall menorah emblazoned with the word "ceasefire" in multi-colored lights, each letter adorning one of the nine candle stems, ushering in the Hanukkah holiday with pleas for a halt to the Israel-Hamas war.
"We light our Hanukkah candles in public, we put them in our windows and in our town square to proudly display our Jewish heritage and to call upon the miracles of this time of year," Rabbi Ari Lev Fornari of the Philadelphia synagogue Kol Tzedek told the crowd. "We are each here to kindle the lights of Hanukkah and to call, together, for a ceasefire."
The event on the first night of Hanukkah also took place exactly two months after Hamas began the war with an invasion of Israel that killed 1,200, largely civilians, and took more than 240 hostages. In the period since then, some of the groups organizing Thursday's menorah lighting have led frequent rallies in New York City, Washington, D.C. and elsewhere calling for an immediate ceasefire — blocking entrances to buildings and bridges and sometimes ending in dozens of arrests. 
Their advocacy, so far, hasn't met its goal. Israel rejects ceasefire calls because they would leave Hamas in power in Gaza, and Hamas has continued to rain rockets on Israel and hold more than 130 hostages. The United States has backed Israel's military campaign. 
Israel recently began focusing its firepower on the Gaza city of Khan Younis, where Hamas' leadership is believed to be based. According to the Hamas-run Gaza Health Ministry, more than 17,000 Palestinians have been killed in the fighting — a number that does not differentiate between civilians and combatants or denote deaths from misfired Palestinian rockets. 
And while only 37% of New Yorkers approve of Israel's war effort, according to a recent poll, the Jewish ceasefire activists have the support of only a minority of their own community: 72% of Jewish New Yorkers support Israel's war effort, while only 19% disapprove. 
​​"I think people are spiritually depleted and morally depleted and it's really painful to open the news every day and see what's happening on the ground in Gaza," said Rabbi Alisa Wise, the lead organizer of the recently-founded Rabbis for Ceasefire. That group was one of the organizers of the event along with IfNotNow, Jewish Voice for Peace, Jews for Racial and Economic Justice and a new group called Shoresh. Many of those groups have called for a ceasefire since the Oct. 7 Hamas attack and have focused their criticism on Israel, accusing it of "genocide." 
Wise said many on the Jewish left are "exhausted and depressed" by the war and find protest activities draining, but also feel the urge to make their voices heard. She added that there is also "this sense of determination, and now that we've seen what we're capable of and what we can do it really feels like people are going to not stop pushing."
At the entrance to the gathering, three towering banners bore the words "ceasefire," "justice" and "peace" in Hebrew, English and Arabic, near tattered posters of Israeli hostages on lamp poles. Some in the crowd wore keffiyehs and several carried Palestinian flags. Alongside the Jewish public figures who attended the event — among them the commentator Peter Beinart and actor Wallace Shawn — one of the speakers was Palestinian-American activist Linda Sarsour. 
Organizers said 700 people attended the rally. In between the speeches, the crowd chanted the blessings upon lighting the menorah and sang songs calling for peace.
In Israel and elsewhere, supporters of the country's war in Gaza have pointed to the story of Hanukkah — a small Jewish army defeating a foe that sought to destroy it — as a historical parallel to the current conflict. On Thursday, a rabbi in a suburb of New York City wrote on Facebook that taking the holiday as an opportunity to call for a ceasefire is "absolutely ridiculous, since Chanukah is literally a celebration of a military victory against an enemy that wanted to wipe out Judaism in Israel. Sound familiar?!"
Wise told the New York Jewish Week that the holiday presents an opportunity to fortify the Jewish left — and said that her group focuses on the way the rabbis of the Talmud approached the holiday. A passage in the Talmud describing Hanukkah includes only a passing reference to the military victory and instead stresses the miracle of one day's worth of oil lighting a menorah for eight days. 
"We were thinking about the way the rabbis really deemphasized the militarism and emphasized the miracle," Wise said. "Those rabbis were leading us away from the militarism. They brought the story of [the] miracle, and we're thinking about that."
Like Jews across the United States, Wise's group has adapted the holiday's messages and rituals to the current moment. The group issued a guide for the holiday with different kavanot, or intentions, for each night's candle lighting, including focusing on themes such as courage, healing and peace, and has sought to lean into the holiday's themes of miracles and spreading light.
"Every year we return to this holiday and we have the opportunity to figure out this year, what from the tradition do we need, what thread do we need to pull?" she said. "So that's how we're approaching it this year."
The war has also sparked a surge in antisemitism in New York and elsewhere in the U.S., according to law enforcement and Jewish security groups, and rising hate crimes have heightened tensions and fears surrounding the conflict. Speakers at the rally decried the increase in antisemitism and Islamophobia, which has also increased, although to a much lesser extent.
"This is a holiday that's about light in the darkness. Even in the darkest, coldest time of year we bring this light in," Wise said. "As we light, we bring the possibility of the ceasefire movement growing and a possibility of peace and justice closer."
—
The post Left-wing Jews usher in Hanukkah in NY with rally demanding a ceasefire and mourning Gaza casualties appeared first on Jewish Telegraphic Agency.
'She's Dead!' Brutal Antisemitic Assault Leaving Woman Unconscious Reported in London
A Jewish woman was brutally assaulted in London this week by two suspects who pummeled her with punches and kicks for over a minute, according to footage posted on social media by Shomrim of Stamford Hill, a Jewish organization that reports on antisemitism.
The attack, which occurred on Thursday evening in the Stamford Hill neighborhood, left the woman unconscious and only ended after two female suspects reportedly said that the woman was "dead" after kicking her while she was on the ground for over thirty seconds, according to Shomrim, which also serves as a neighborhood watch group.
#HateCrime #Antisemitism #ViciousAssault
See dramatic footage of the horrendous #Racist vicious assault leaving the female victim unconscious!
The brutal attack ended after the two female offenders kept on kicking the unconscious victim in the head before laughing over her body… pic.twitter.com/FLxC3re1As
— Shomrim (Stamford Hill) (@Shomrim) December 8, 2023
Metropolitan Police are currently searching for the female suspects. No arrests have been made.
Information on the condition of the victim was not immediately available.
The Stamford Hill section of London is no stranger to antisemitic incidents. In October, days after Hamas' Oct. 7 massacre across southern Israel, two Jewish primary schools in the area were vandalized and doused with red paint.
The post 'She's Dead!' Brutal Antisemitic Assault Leaving Woman Unconscious Reported in London first appeared on Algemeiner.com.
Menorahs in Brooklyn Stolen and Vandalized, NYPD Investigating as Hate Crime
Multiple public menorahs in the Sunset Park neighborhood of Brooklyn, New York were stolen and vandalized, according to a spokesman for the Chabad Jewish movement.
The stolen menorah was seen on Sunset Park Center lawn on Wednesday evening, according to Yaacov Behrman, a spokesperson for Chabad. On Thursday, it was found broken.
In a separate incident captured on video, a man is seen riding up to a menorah in Sunset Park on a bicycle and pushing it over.
"The holiday hasn't begun, and the vandalism has already started," Behrman said on X/Twitter.
The New York City Police Department (NYPD) is investigating the incidents as hate crimes.
The post Menorahs in Brooklyn Stolen and Vandalized, NYPD Investigating as Hate Crime first appeared on Algemeiner.com.