European countries increase synagogue security as Jews brace for antisemitism after Hamas attack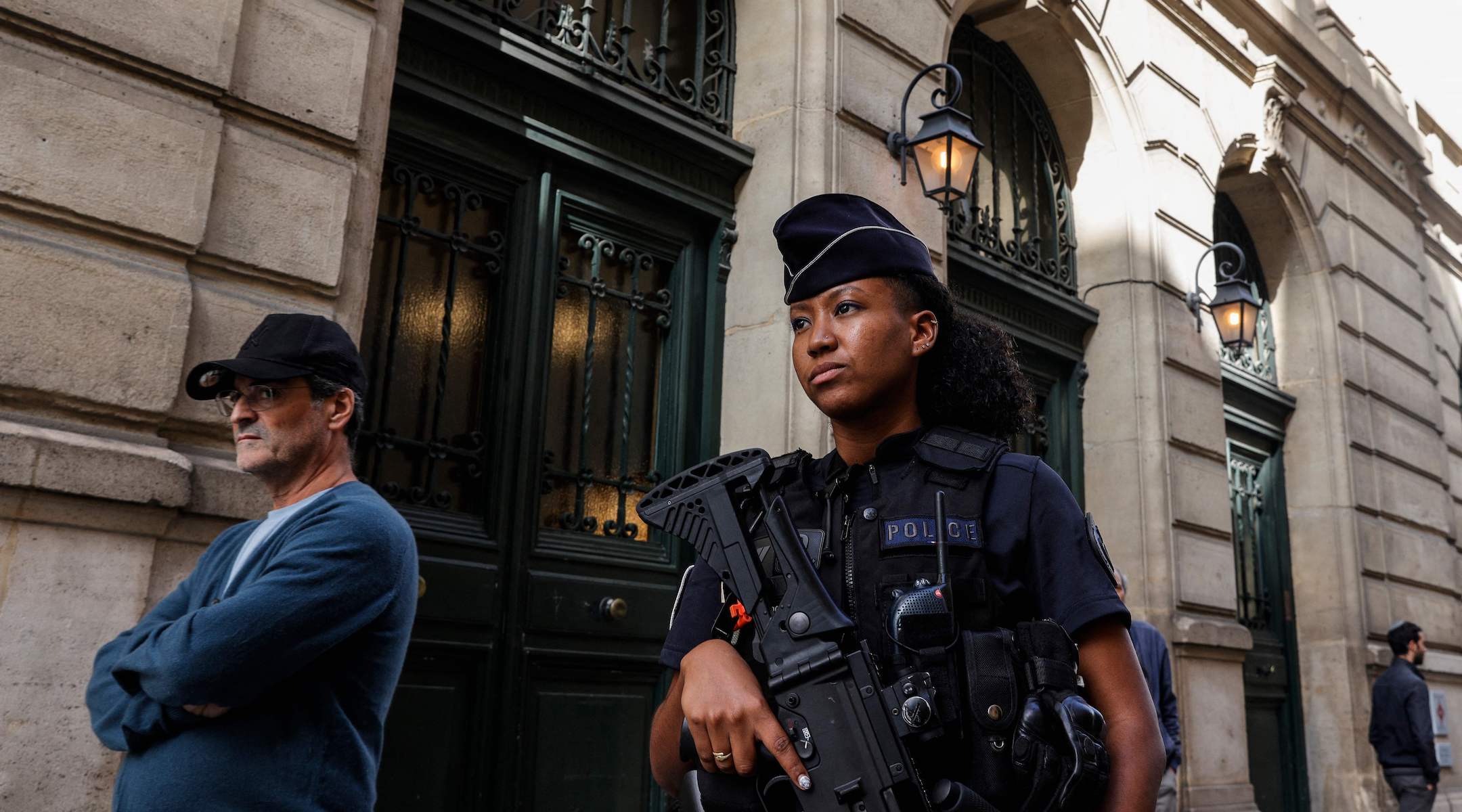 MADRID, PARIS and LONDON (JTA) — As the bloody war in Israel and Gaza continues to escalate, many European Jews are bracing for reverberations far from the frontlines.
On Saturday, Hamas launched a surprise attack by land, air and sea, killing at least 900 Israelis, wounding more than 2,000 and taking more than 100 captive. Israel has responded with airstrikes that have killed close to 700 Palestinians. Israeli Defense Minister Yoav Gallant has ordered a complete siege on the Gaza Strip, while Hamas has threatened to execute its civilian hostages.
But in cities across Europe, crowds have celebrated just streets away from vigils for the dead. Groups cheering the Hamas assault as "Palestinian resistance" to the Israeli occupation have danced on the street in London and handed out sweets in Berlin. In France, far-left movements called the terror attack "heroic."
Jewish communal officials in Europe anticipate that the fighting in Israel will ignite antisemitic threats in their communities. Police have increased surveillance around synagogues, Jewish schools and other institutions in Germany, Britain, France and Spain.
Germany
Berlin police were on alert Saturday night, just hours after Hamas' incursion, as dozens of people gathered to cheer and hold up victory signs on the Sonnenallee, a boulevard in the city. Police announced they disbanded the gathering for chants "glorifying violence" and made multiple arrests. Two officers were injured in the clashes. Earlier in the day, officers also responded to activists who were celebrating with baked sweets while draped in Palestinian flags.
"An escalation of the situation in Israel unfortunately always has an impact on our community," said Ilan Kiesling, a spokesperson for the Jewish Community of Berlin group.
Kiesling told the Jewish Telegraphic Agency that the fighting in Israel and Gaza triggered "great uncertainty" in the local community, with parents asking for detailed information about the security measures in kindergartens and schools.
The Central Council for Jews in Germany also said it was in close contact with security authorities to ensure that Jewish institutions nationwide had heightened protection.
"No violence, no riots and no hatred on German streets," the group said in a statement.
Britain
In London, Daniel Sugarman saw that a local kosher restaurant had its glass door shattered on Monday morning. Pita, a business in the heavily Jewish neighborhood of Golders Green, reported its cash register was stolen. New graffiti that read "Free Palestine" also appeared on a bridge nearby, though it is not known if the slogan and the burglary are connected.
The Metropolitan Police Service told the JTA that no arrest has been made and the incident is not currently being treated as a hate crime. But Sugarman, Director of Public Affairs for the Board of Deputies of British Jews, worried the fighting in Israel would set off hate in his community.
"This is about trying to make British Jews feel unwelcome and threatened where they live," he said on X, formerly known as Twitter.
Mayor Sadiq Khan condemned the incident, saying he stood with Jewish Londoners and the culprit would "face the full force of the law."
RELATED: 'There are not 2 sides,' British PM Rishi Sunak says at synagogue as London is split by pro-Israel and pro-Palestinian protests
The Community Security Trust (CST), a charity dedicated to security for British Jews, reported  an increase in antisemitic abuse and threats over the past few days, and said it was prepared for more serious attacks.
"The number of incidents that have come in since Saturday is running at roughly triple what we would normally expect for this period," Dave Rich, head of policy at the CST, told the JTA.
"We expect that number to go up," Rich added. "We are still logging and verifying things before they are put into the system."
The Metropolitan Police confirmed it was increasing patrols across the city and providing safety advice to synagogues, mosques and businesses. Officers said they have attended to some "low level public order incidents" that circulated on social media, such as a celebration in the Acton area in which a group of men danced, cheered and waved Palestinian flags while cars honked in support, but all of the incidents were resolved without arrests.
The CST was working closely with the police to ensure it has a reinforced presence in Jewish areas. "We are not starting from scratch," Rich said. "We've been around this course several times before. We have built up plans over many years."
France
In France, which has the largest Jewish population in Europe, police have arrested 10 people in connection with 20 reported antisemitic incidents since the Hamas assault. The reports include threats to synagogues and to customers who have visited Jewish businesses. Police also received a flood of complaints about antisemitic hate speech and glorification of terrorism online, resulting in 44 open investigations.
This spike in incidents over three days was "dramatic," Interior Minister Gerald Darmanin said on Monday, announcing reinforced security measures in 400 Jewish gathering places across France. As a sign of solidarity with Israel, the Eiffel Tower was lit in white and blue, the colors of the Israeli flag, on Monday night.
A segment of the country's political left has distanced itself from near-unanimous condemnations of the Hamas offensive within the French political class. Some self-described "post-colonial" movements on and parties on the far left in France have praised the attacks.
Among them is the Indigenous Party, which tweeted on Sunday, "May the Palestinian Resistance, which carries out its actions with determination and confidence in heroic conditions, receive our militant fraternity in these terrible hours. Palestine will triumph, and its Victory will be ours."
The statement sparked public outrage and calls for the party's dissolution. Simone Rodan-Benzaquen, director of the American Jewish Committee in France and several other European countries, noted that penalties for advocating terrorism in France can reach five years' imprisonment and a fine of 75,000 euros. Offenses committed on social media can lead to seven years of imprisonment and a fine of 100,000 euros, taking into account the broader reach of such activity online.
Myriam Ackermann-Sommer, the first Modern Orthodox female rabbi in France, said her community was stung by the way some political leaders had celebrated Hamas' acts of terror.
"Of course, we were hurt by how far-left parties have reacted. Many people in our congregation consider themselves on the left of the political spectrum and this is very hurtful to them," she told JTA.
Rabbi Yves Marciano of Paris' Les Tournelles Synagogue said that while bolstered security around places of worship was helpful, the risk to individuals is often greatest when they are not at synagogue.
"With my kippah, I can be seen from afar," he said. "I am identified and identifiable. And, Mr. Darmanin can't do anything about that. So, we are very worried about the near future."
Spain
In Spain, Madrid's main synagogue in the heart of the Chamberí district was defaced with graffiti that read "Free Palestine" next to a crossed-out Star of David on Sunday. Officials from the Federation of Jewish Communities in Spain told the JTA the graffiti was removed from the synagogue's main doors a couple of hours after its discovery.
The Spanish interior ministry has also bolstered police surveillance around synagogues and Jewish landmarks, according to Isaac Benzaquén Pinto, president of the Jewish federation. There are an estimated 12,000-15,000 Jews living in Madrid.
"Our community has always been known for being tightly knit whenever it is targeted, and this is an attack on Israel and all of Jewry as a whole. We stand unconditionally with the victims, all of them, the State of Israel and its army whose mission is to defend its people," said Benzaquén Pinto.
In Ceuta, a small Spanish enclave on the North African coast near Morocco notable for its concentration of Spanish Jews, local authorities have particularly reinforced police surveillance and protection at the local synagogue and Jewish cemetery. Jews in Ceuta, mostly of Sephardic descent, have historically been targeted by antisemitism due to the geopolitical situation of the region, including a series of antisemitic incidents in recent years.
"As to this new wave of violence against Israel and the Jewish people, unfortunately, this is not new. We, as well as international organizations and the European Union, have been condemning this renewed surge of violence for a long time," said Benzaquén Pinto.
Madrid Mayor José Luis Martínez-Almeida called the Hamas attack "unjustifiable" on Monday. He expressed concern that members of the Sumar political coalition — which includes far-left and green parties and is working to join a ruling parliamentary coalition after elections in July — hesitated to denounce Hamas.
The far-left Podemos party posted on X that the violence in Israel and Gaza was the fruit of Israel's occupation and avoided outright condemnation of Hamas' actions. On Monday night, the party led hundreds of people in a demonstration at Madrid's Puerta del Sol square to "convey all our solidarity to the Palestinian people." Demonstrators chanted slogans such as "Zionist State, terrorist State" and "It is not a war, it is a genocide."
The Anti-Defamation League reported a spike in antisemitic rhetoric online during the 18 hours after war broke out on Saturday. Its data indicated that extremists and white supremacists across the world were emboldened in online spaces, some cheering Hamas, some circulating conspiracy theories and some discussing hopes for violence against Jews in the rest of the world.
—
The post European countries increase synagogue security as Jews brace for antisemitism after Hamas attack appeared first on Jewish Telegraphic Agency.
Menorahs in Brooklyn Stolen and Vandalized, NYPD Investigating as Hate Crime
Multiple public menorahs in the Sunset Park neighborhood of Brooklyn, New York were stolen and vandalized, according to a spokesman for the Chabad Jewish movement.
The stolen menorah was seen on Sunset Park Center lawn on Wednesday evening, according to Yaacov Behrman, a spokesperson for Chabad. On Thursday, it was found broken.
In a separate incident captured on video, a man is seen riding up to a menorah in Sunset Park on a bicycle and pushing it over.
"The holiday hasn't begun, and the vandalism has already started," Behrman said on X/Twitter.
The New York City Police Department (NYPD) is investigating the incidents as hate crimes.
The post Menorahs in Brooklyn Stolen and Vandalized, NYPD Investigating as Hate Crime first appeared on Algemeiner.com.
More than 500 staffers of Jewish groups, most of them progressive, appeal to Biden to press for ceasefire in Israel-Hamas war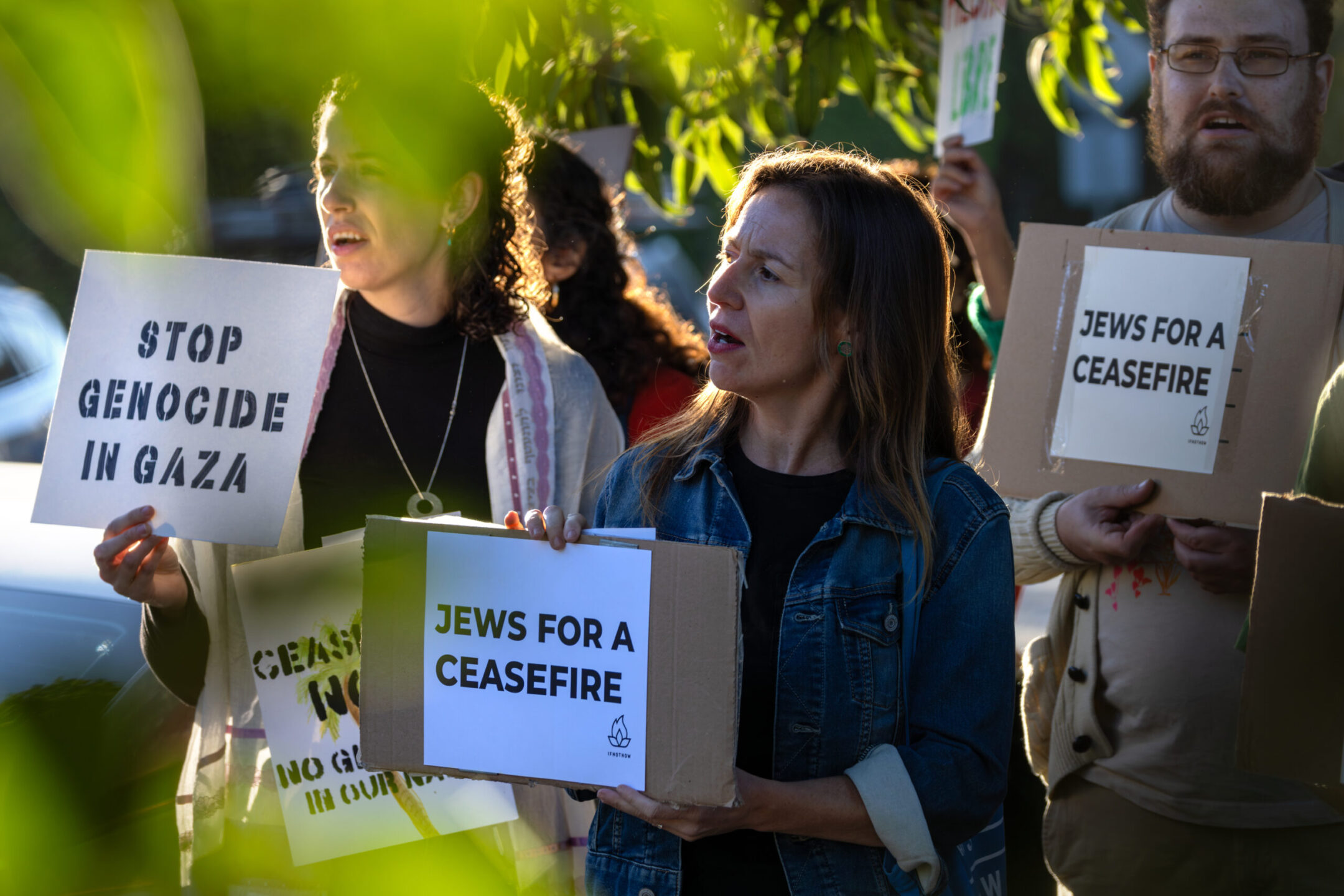 WASHINGTON (JTA) — Hundreds of staffers for 140 Jewish organizations, most of them progressive, signed a letter to President Joe Biden and Congress urging them to press Israel to agree to a ceasefire in its war with Hamas, citing their work "building thriving Jewish communities."
The letter, which does not necessarily reflect the views of the signatories' employers, is the latest sign that differences among American Jews regarding Israel's response to Hamas' deadly Oct. 7 invasion are becoming more public and pronounced. A number of Jewish Congress members now back a ceasefire, after having initially presented a unanimous voice in support of Biden's backing for Israel.
"We are individuals who work for a wide array of Jewish organizations across the United States, coming together across the broad range of beliefs, practices, backgrounds and identities that make up the rich fabric of the American Jewish community," said the letter, first reported Thursday by NBC.
"We are uniting together in this moment to call for a ceasefire, the release of all hostages, and a commitment towards a long-term political solution that ensures the freedom and collective safety of Israelis and Palestinians," the letter said.
The letter comes just weeks after a mass pro-Israel rally on the National Mall, during which speakers enthusiastically endorsed Israel's refusal to halt its military campaign until Hamas is dismantled and all the hostages it abducted on Oct. 7 are returned home. Hamas released more than 100 hostages in exchange for hundreds of security prisoners during a seven-day ceasefire that ended last week
The letter suggests to the president that the vocal Jewish groups that have opposed the war are also representative of a wide swath of American Jews. Biden prides himself on being attuned to Jewish sensibilities; he has cited his decades of closeness to Israel and to the American Jewish community in resisting calls from the left to press Israel into a ceasefire.
"As a group of professionals from a wide spectrum of Jewish organizations, many of us have devoted our life's work to building thriving Jewish communities," said the letter. "Our organizations may or may not join the call for a ceasefire themselves, but we feel moved to speak as individuals to demonstrate broad support within the Jewish community for a ceasefire."
Most of the organizations listed as affiliates of the signatories are on the left of the political spectrum, among them Bend the Arc, Jews For Racial and Economic Justice, and Workers Circle and its affiliates, all of them social justice advocacy groups. Some of the social justice groups themselves have not endorsed a ceasefire, in part because their focus is on domestic issues. (A Boston spinoff of Workers Circle is an exception, and so is JFREJ.)
There are also staffers from the two leading groups that have mobilized Jewish opposition to Israel's military campaign in Gaza and backed a ceasefire: IfNotNow and Jewish Voice for Peace, which is anti-Zionist. Left-wing activists point to Tthe visible presence of activists for these groups at antiwar protests to assert that there is Jewish backing for a ceasefire.
But some of the signatories come from groups focused on Israel that have opposed a ceasefire, including J Street, the liberal Jewish Middle East policy group. But in another sign of shifting sentiments, J Street said in a press release Thursday that it was reconsidering its position on the war.
There are also staffers for synagogues, some but not all known for their liberal outlook, that have not taken a position on a ceasefire.
More than 80 of the staffers signing asked for anonymity but listed their employers, which include mainstream groups that have backed Israel's war effort, among them the Reform and Conservative movements. The list includes three anonymous staffers for UJA-Federation of New York, which has raised millions for Israel during the war.
"I signed this letter because all decisions at this fragile moment must be made with lasting peace and safety in mind for all people in the region," the group's press release quoted one of the unnamed UJA staffers as saying. "I call on President Biden to take immediate action for a permanent ceasefire, release of all hostages, and a just resolution to this brutal war."
Heather Booth, a consultant for Jewish groups who did not sign the letter, urged the mainstream Jewish groups employing some of the signatories not to retaliate.
"Those who have signed the letter are responding to their values," Booth told the Jewish Telegraphic Agency. "We may or may not agree with what they're signing and saying and I didn't sign this myself for many reasons. But I support their right to share their passionate commitment to their values.And it's a sign of these times at some on the list fear retribution for signing."
In a press release, a Boston-area rabbi said her support for a ceasefire stemmed in part from her revulsion from Hamas.
"For the sake of defeating the insidious ideology of Hamas, for the sake of returning all of the hostages to their homes, for the sake of the wellbeing of all of the Israelis and Palestinians caught up in this war, I urge the Biden administration to do all it can to bring about a ceasefire as a first step to a lasting, political solution to the conflict," said Rabbi Tovah Spitzer of Dorsey Tzedek, a Reconstructionist synagogue in Newton.
The letter comes as a number of Jewish Democrats in Congress have in recent days called for a ceasefire, or have called for restrictions on emergency aid Biden has requested for Israel that has yet to be approved. One of the Democrats, Rep. Becca Balint of Vermont, made a statement in support of the letter.
"Thousands of Palestinians, including thousands of children, have been killed. Many more have been displaced, without water, food, medical supplies, and fuel," she said. "This is inhumane. What is needed is a negotiated bilateral ceasefire that ensures the release of all hostages and paves a path toward peace, security and safety for Israelis and Palestinians."
Hamas killed more than 1,200 people and wounded thousands on Oct. 7, most of them civilians. Since Israel launched counterstrikes and a ground invasion of Gaza, the Hamas-controlled Gaza Health Ministry has reported that some 17,000 people have been killed, including thousands of children. What portion of that number are combatants, and what portion were killed by misfired rockets aimed at Israel, is not known. Israel has estimated that twice as many civilians as militants have died in its counteroffensive.
—
The post More than 500 staffers of Jewish groups, most of them progressive, appeal to Biden to press for ceasefire in Israel-Hamas war appeared first on Jewish Telegraphic Agency.
Shots fired fired at Albany synagogue with preschool, suspect in custody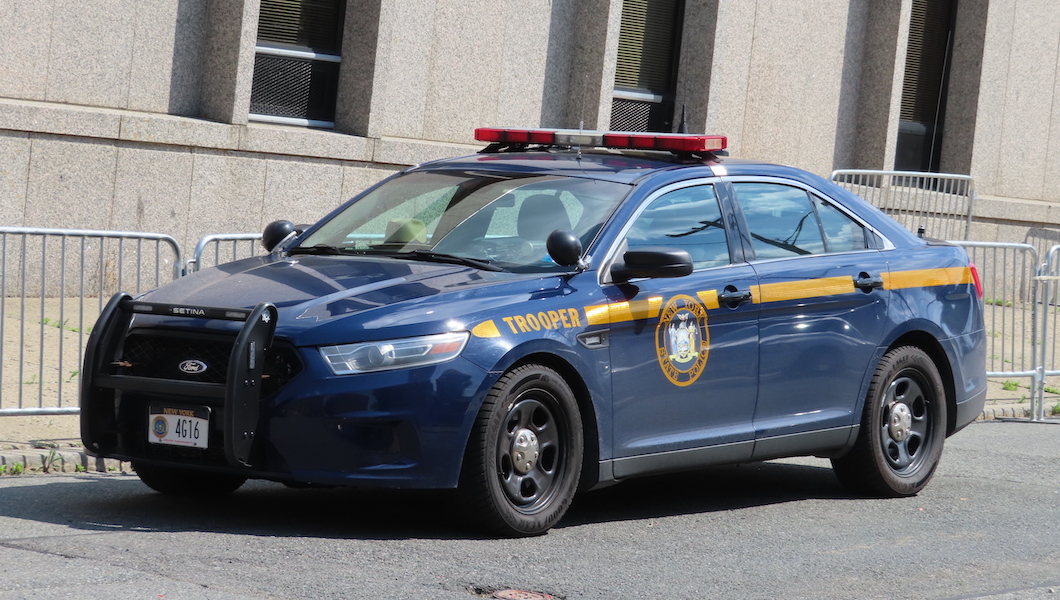 (New York Jewish Week) — Shots were fired at Temple Israel in Albany on Thursday, the first night of Hanukkah, as U.S. Jews grapple with a surge in antisemitism following Hamas' Oct. 7 attack on Israel and the Israeli military's military campaign in Gaza.
There were no injuries in the shooting on the premises of the Conservative synagogue in New York's capital, Gov. Kathy Hochul said in a statement, adding that she had spoken with the congregation's rabbi. She said in a press briefing, however, that the synagogue has an on-site early learning center, "with at least two dozen children, preschoolers, who were on the premises." She added that the facility went into lockdown but that all children have been released safely to their parents. 
A 28-year-old male is in custody, said Hochul's press secretary, Avi Small.
The suspect shouted "Free Palestine" during the incident, Albany's Times Union reported, citing police and another source.
Hochul said she had directed the New York State Police and the state's national guard to be on high alert and step up patrols of at-risk sites for Hanukkah, such as synagogues, yeshivas and community centers throughout the state — including New York City, which is home to the largest Jewish population in the United States. 
"Any act of antisemitism is unacceptable, and undermining public safety at a synagogue on the first night of Hanukkah is even more deplorable," Hochul said. "We reject hate, antisemitism and violence in all forms."
Hochul visited the synagogue on Oct. 7 in a show of solidarity amid Hamas' attack. 
The governor said that, following Thursday's incident, she contacted Temple Israel's Rabbi Wendy Love Anderson, and "assured her that the state of New York will do everything possible to restore the sense of security her congregation needs at this time," adding that she plans to attend Shabbat services there this Friday evening. 
In the briefing, Hochul noted that the synagogue had been one of several targeted with bomb threats in September. 
There was no immediate public comment on the incident from the synagogue or the Albany police department.
Law enforcement and Jewish community security groups have reported a surge in antisemitism since the outbreak of the Israel-Hamas war.
In New York City, the NYPD reported 62 antisemitic hate crimes last month and 69 attacks in October, a steep increase. Anti-Jewish incidents made up 65% of all hate crimes reported to police last month. There is no comparable data available for antisemitic hate crimes in upstate New York.
Synagogues and other Jewish institutions have been targeted in the wave of hate crimes. On Friday, bomb threats were made against 15 synagogues in New York State, including five in upstate areas. 
The threats were made as part of a campaign intended to interrupt synagogue operations by forcing law enforcement to go to a location, and there did not appear to be any actual danger to the targets, said the director of the Jewish security group the Community Security Initiative, Mitch Silber. 
"The bottom line is this: The safety of Jewish New Yorkers is non-negotiable," Hochul said in the briefing. "Every act, whether it's verbal or physical, any act of antisemitism is unacceptable, and undermining the public safety at our synagogue, on the first night of Hanukkah, is even more deplorable." 
"I remind everyone: As New Yorkers, this is not who we are. This must stop, " she added. "We reject hate, antisemitism, Islamophobia. All hate crimes must stop, and all violence in every form must cease. We have no tolerance for these acts of evil that have now permeated our society."
Ahead of questions, the briefing concluded with the lighting of Hanukkah candles, led by Eva Wyner, the state's deputy director of Jewish affairs.
—
The post Shots fired fired at Albany synagogue with preschool, suspect in custody appeared first on Jewish Telegraphic Agency.