Families of hostages, Jewish leaders plead to put politics aside and bring home Hamas captives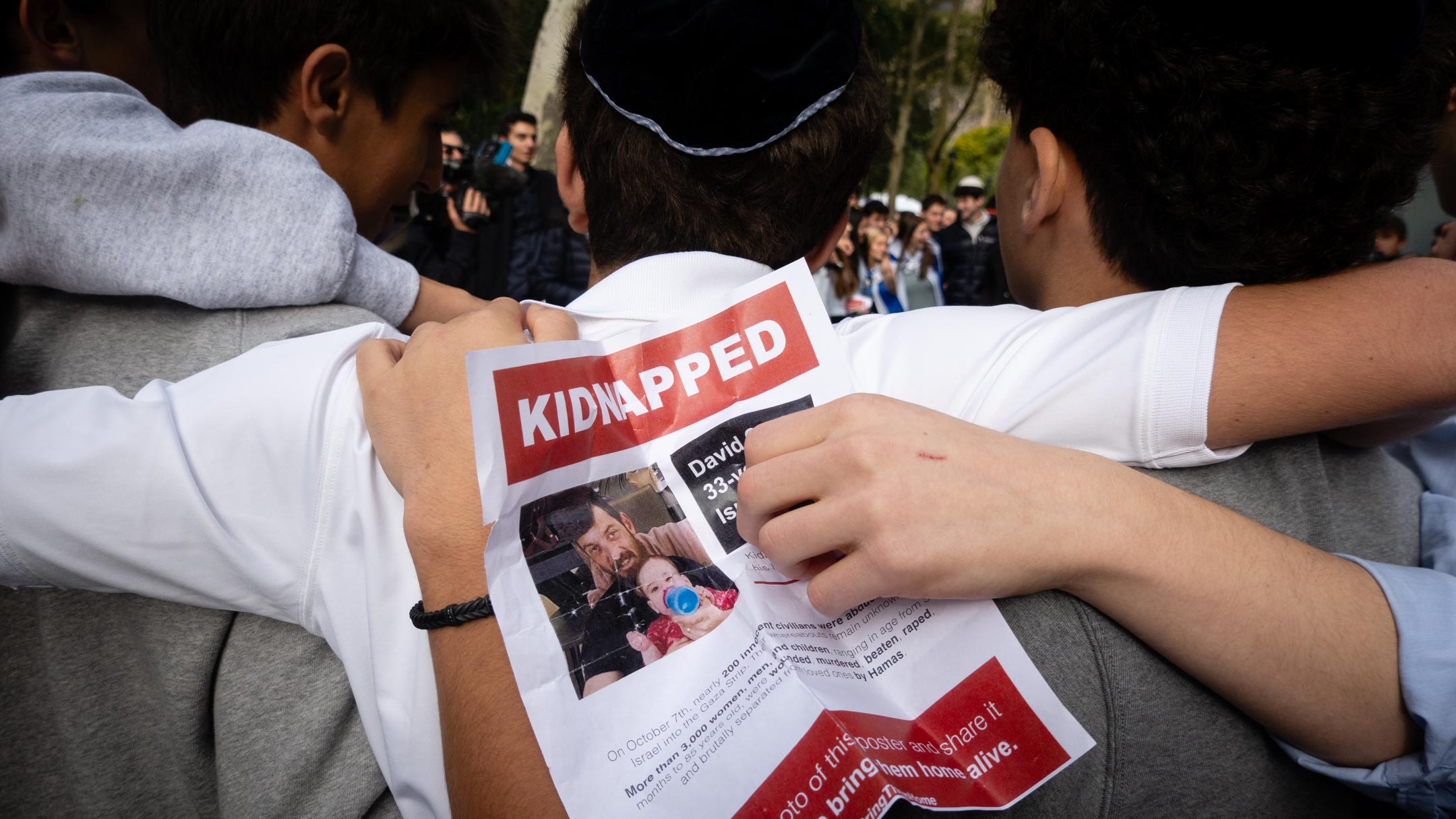 (New York Jewish Week) – In front of a crowd of 200 outside the United Nations, Navé Strauss described his cousin, Hagar — who loves traveling, trying new food, listening to Radiohead, and has three children, one of whom celebrated their 10th birthday on Oct. 6.
"Have I humanized it enough?" Strauss said. "Do you know this person? I'm sure you know this person. But she's somewhere in Gaza and I don't know where and I don't know when I'm going to see her next."
Like hundreds of other Israelis, Hagar and her three children are being held by Hamas, which took the captives when it invaded Israel from Gaza on Oct. 7, killing 1,400 and wounding thousands. At the gathering on Wednesday morning, relatives of the hostages pressed for their release and criticized the international response to the abductions.
Strauss, other family members of hostages and New York City politicians and Jewish leaders addressed the crowd, vowing to keep the hostages' plight on the public agenda — and to prevent it from being subsumed by debate over the war between Hamas and Israel.
"I'm not interested in politics, I'm not interested in 'othering,'" Strauss said. "There are children in danger."
In all, Israel says it has notified the families of 199 hostages that their loved ones are in Gaza. Hamas says other terror groups operating in the territory are holding about 50 additional people. Hamas released footage of one of the captives on Monday, a video widely understood as a psychological ploy.
"We feel this viscerally in New York. We feel as if these children are our children," said Manhattan Borough President Mark Levine, who is Jewish. "Because of their pain we will not be silent. We are demanding the immediate and unconditional release of the hostages."
Flanked by students from the Ramaz School, an Orthodox day school in Manhattan, holding fliers with images of the captives, Levine said in Hebrew, "We're not forgetting and we're not giving up. We will do all we can to return them home in peace. We promise."
Also at the rally at Dag Hammarskjöld Plaza were New York City Comptroller Brad Lander, who is Jewish; the chair of the City Council's Jewish Caucus, Eric Dinowitz; other New York City lawmakers; and representatives of the New York Board of Rabbis, the Jewish Community Relations Council of New York, the UJA-Federation of New York and the American Jewish Committee's New York chapter; and Shany Granot-Lubaton, a prominent Israeli activist.
Several speakers lamented that the hostage crisis hasn't drawn harsher condemnations, decrying what they said was a double standard against Israel.
"Kidnapping is very straightforward. Somehow that message gets lost," Dinowitz said. "In every generation we face strife and challenges, and in every generation there are people who question our simple right to exist."
Levine compared the situation to the global outcry when Boko Haram terrorists abducted 276 girls in Nigeria, sparking a massive international response.
"Where is that level of outrage now?" he said. "Where are the government denunciations? Where is the clear messaging from the United Nations? Where's the outrage on social media?"
Ahead of the protest, the Ramaz students led the crowd in a rendition of traditional Jewish songs calling for God to help those in distress and protect children. Attendees stood in a circle, some holding images of the hostages and Israeli flags. The conference wrapped up with the audience singing Israel's national anthem, "Hatikvah."
In the area around the plaza, fliers with photos of the captives and information about them were taped to streetlights and parking meters, part of an international campaign to raise awareness of the crisis.
Speakers largely did not address how Israel should conduct its war on Hamas or what the outcome of the fighting should be, though Strauss did suggest that arms should be laid down so that the hostage crisis could be addressed.
"There are actual human beings who are in danger right now," Strauss told the crowd. "Drop the weapons, stop the fighting, prioritize the hostages."
—
The post Families of hostages, Jewish leaders plead to put politics aside and bring home Hamas captives appeared first on Jewish Telegraphic Agency.
Los Angeles charter school says teachers who taught first graders about 'genocide of Palestine' will not return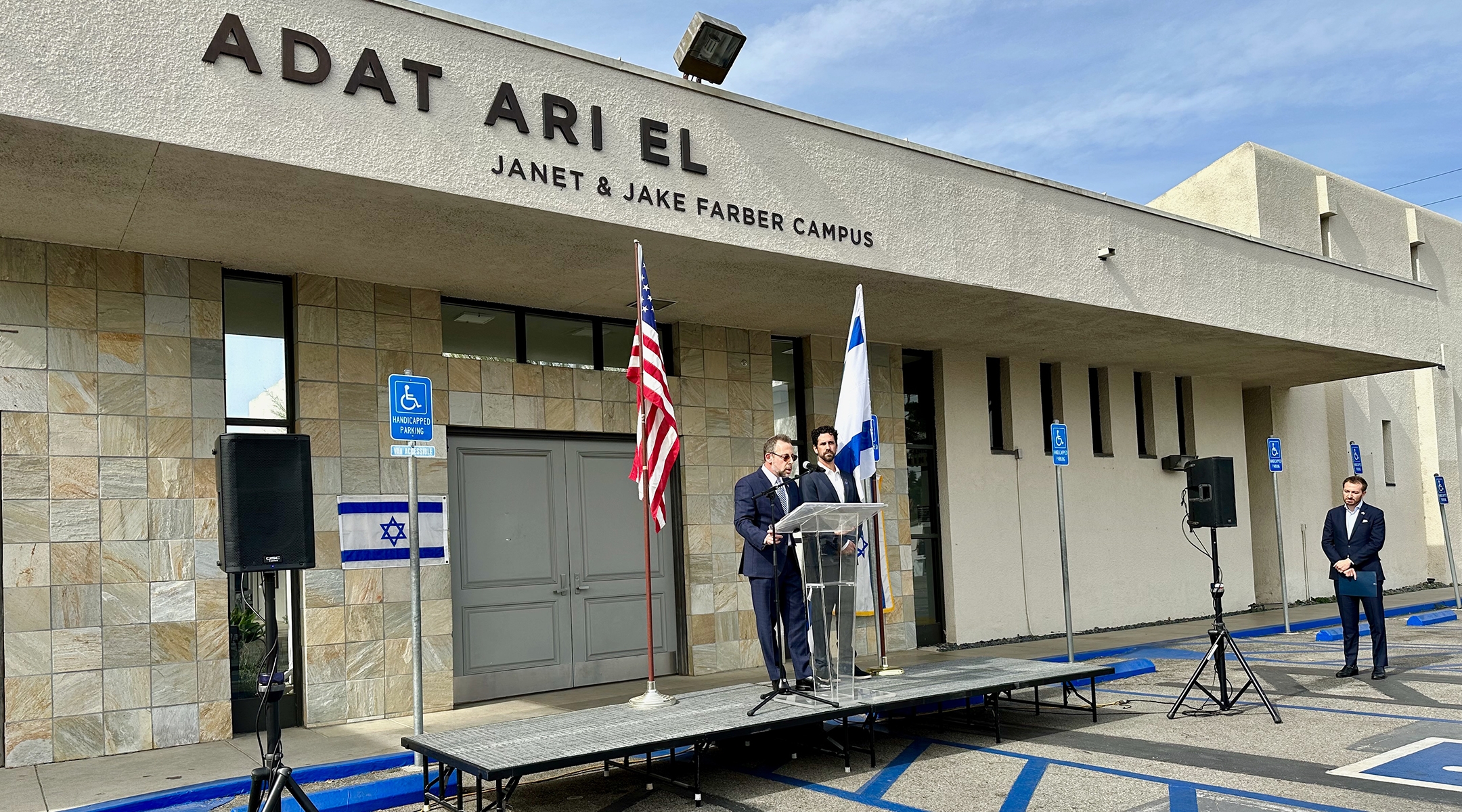 LOS ANGELES (JTA) — The Los Angeles charter school that stirred controversy at the synagogue where it is housed after first-grade teachers taught lessons about "the genocide of Palestine" announced steps on Friday to "repair this harm."
Two teachers have been removed from the school and the principal has been placed on leave at Citizens of the World Charter School-East Valley, announced Melissa Kaplan, the school network's executive director, at a press conference held outside Adat Ari El synagogue.
Hye-Won Gehring, the school's principal, had relayed complaints from her staff to the synagogue's rabbi about Israeli flags that were hung up on the campus after Hamas' Oct. 7 attack on Israel, according to Kaplan and Brian Schuldenfrei, Adat Ari El's senior rabbi. Kaplan said Gehring would be going on a two-week leave to "focus on learning how to combat antisemitism and engage in sensitivity training to learn from this experience."
Gehring had sent an email to Schuldenfrei on Oct. 16 asking how long the flags would be up, according to the rabbi. Kaplan called the question "insensitive and inappropriate," and Schuldenfrei recounted that he had told Gehring her email was "offensive."
"I told the principal that inquiring when our flags were coming down was like asking someone on Sept. 11 to take down their American flags just a few days later. It is painfully insensitive," Schuldenfrei said during the press conference. He added that the principal had apologized to him, but that "this was not the end of the issue."
Gehring made a brief statement at the press conference.
"I am deeply apologetic for my insensitive questions to Rabbi Schuldenfrei and how I mishandled this important set of events," Gehring said. "I did not understand the impact of my actions, and I am committed to creating a safe environment for all of my students, including my Jewish students, staff and families."
Kaplan, who was not made available to reporters after the press conference, acknowledged the "pain and distress" that many in the Jewish community are experiencing, and said she "deeply apologize[s] for these missteps" on behalf of her staff.
"CWC unequivocally condemns the social media posts by our staff members, including the use of the word 'genocide' to describe Israel's actions," Kaplan said. "CWC unequivocally condemns the disturbing suggestion that Jews should leave the region, and we unequivocally condemn any lesson that creates bias or fear among our students."
Kaplan added that the findings of the investigation would be kept confidential, but that the community will receive updates as needed, and that the outcome of the process would inform any further consequences from this episode. She also said that CWC is coordinating with the Anti-Defamation League to train its leadership and staff.
During his remarks, Schuldenfrei shared the sequence of events that occurred at the school, saying that he hopes the incident can be "an educational moment."
Schuldenfrei questioned why the content of the lessons was not reviewed, saying that the teachers "weaponized their role as educators to indoctrinate the youngest of children with a radical and hateful agenda."
"We know what happens when a blind eye is turned to such hatred, and we will not cower in the corner while our campus and community is defiled," Schuldenfrei said.
Schuldenfrei also referenced teshuvah, the Jewish idea of repentance, adding that he finds it "heartening to see Citizens of the World take these first steps," and he reiterated his synagogue's commitment to working with the school "to ensure that this is a learning moment for everyone."
In an interview with the Jewish Telegraphic Agency, Schuldenfrei acknowledged that is it rare for synagogues to call press conferences — an indication, he said, that "we're living in rare times where we feel, unlike any other time since the Holocaust, we feel the pressure of this pernicious antisemitism. And we also feel for something like that to occur in our own backyard, we felt that we couldn't simply stand by."
Schuldenfrei said he is comfortable with the first steps the school is taking and hopes his community is, too. He also said he hopes this debacle does not dissuade future collaborations between Jewish and non-Jewish groups. He noted that his synagogue offers its space to church groups, Alcoholics Anonymous meetings and other non-Jewish events.
"We as Jews are proud Americans, and here at Adat Ari El, one of the holiest endeavors we engage is working with non-Jews," he said. "We want this to specifically be a home to Jews, but we want this to be a campus that is of service to all of humanity."
The final speaker at the press conference was Nick Melvoin, a school board member for the Los Angeles Unified School District and a Democratic candidate for Congress who is running for the district that Adam Schiff currently represents. (Schiff is running for a Senate seat that has a primary vote in March.) Melvoin commended the school for its efforts to respond to the incident and added that he will be bringing a policy package to the district's board of education to address concerns of bias and antisemitism.
Melvoin said he would push for a comprehensive definition of antisemitism; a thorough review of curriculum to ensure that there is no bias; and the inclusion of Jewish experiences and antisemitism in diversity, equity and inclusion frameworks; and funding for students to visit Holocaust museums.
—
The post Los Angeles charter school says teachers who taught first graders about 'genocide of Palestine' will not return appeared first on Jewish Telegraphic Agency.
Hebrew pocket watch, frozen in time of Titanic wreck, headed for auction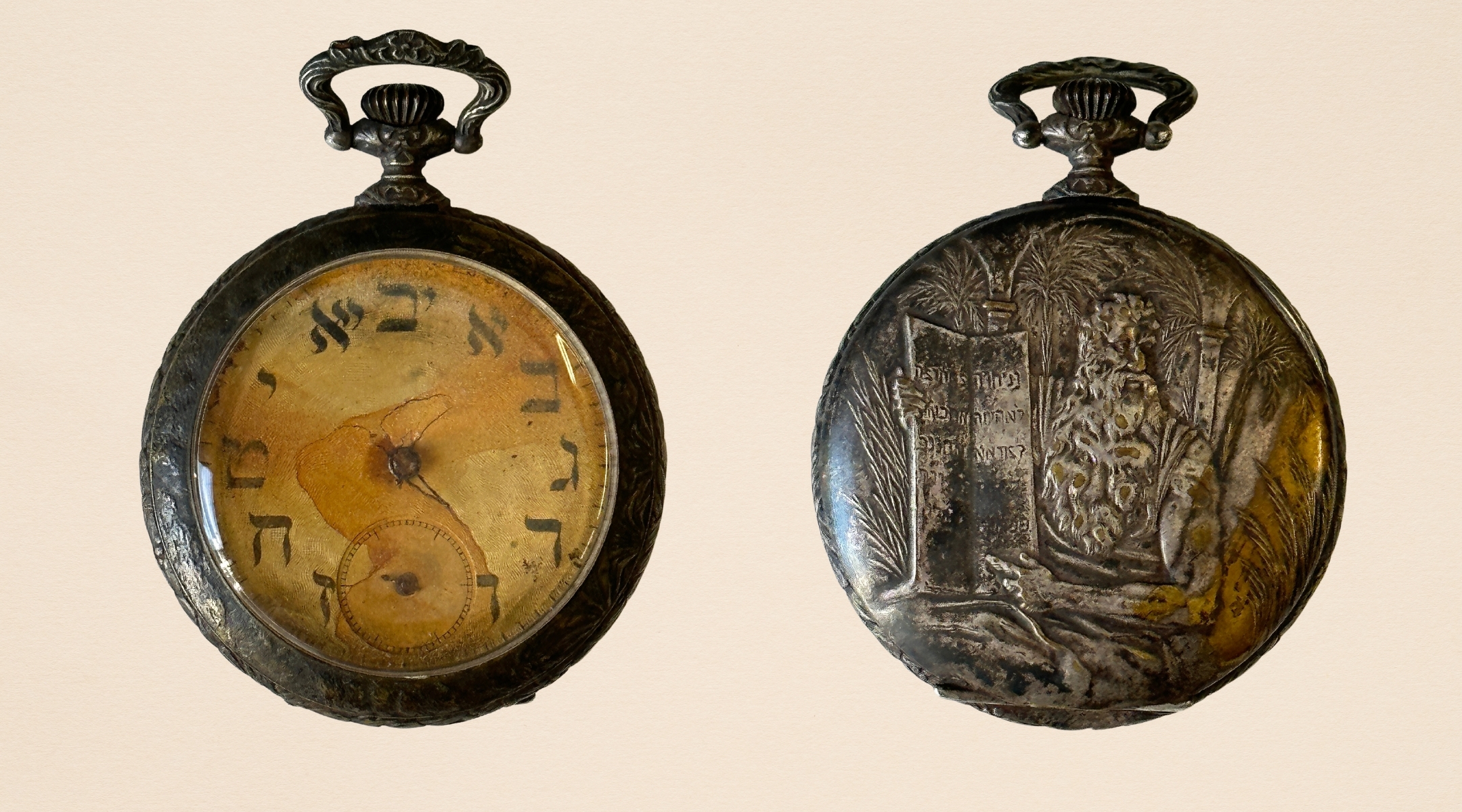 (JTA) — A pocket watch, frozen in time when the Titanic went underwater, is set to sell at auction Saturday, with an expected sales price of nearly $100,000.
That's nearly 30 times the value of the ticket that Sinai Kantor, a Russian Jew on his way to New York City, spent for his ticket on the "unsinkable" ship.
Numbers on the Swiss-made, silver-on-brass watch are written in Hebrew numerals and its hands are nearly all deteriorated, due to saltwater exposure — but dried water marks indicate that time stopped at 2:25 a.m., about five minutes after the Titanic sank. Its back features an embossed, solemn, muscular Moses holding the Ten Commandments on a background of date palms.
The silver pocket watch once belonged to Kantor, 34, a second-class passenger traveling with his wife Miriam, 24. The pair were recently married university graduates, on their way to New York where Kantor planned to sell furs while they studied dentistry and medicine, as part of a flood of Jewish immigration underway at the time.
Kantor paid £26 — worth about $3,100 today — for ticket No. 244367 on the Titanic, which they boarded on April 10, 1912, in Southampton, England.
"On the night of the disaster, like so many couples, they were forced to separate because of the 'women and children only' rule," Michael Findlay, former president of the Titanic International Society told the Washington Post. "Mr. Kantor had to remain behind."
Miriam alone was saved in lifeboat 12, according to information provided by the auction house. According to records collected by Titanic enthusiasts, she later became a U.S. citizen, taking the name Mary, and worked as a pharmacist in Brooklyn before being institutionalized at a psychiatric hospital where she spent the rest of her life before dying at 63 in 1950.
Kantor's body was recovered eight days after the accident. His pocket watch and some of his other possessions, including his Russian passport, a notebook, money, wallets, a telescope and a corkscrew were returned to his widow in May 1912 by the White Star Line, according to Henry Aldridge and Son, the auction house selling his possessions and other Titanic memorabilia. Kantor was buried at Mount Zion Cemetery in Queens.
His watch was previously sold at auction in 2018 for $57,500.
Of the timepieces that survived the shipwreck, most are stopped between 2:20 and 2:30, Findlay said. "It all depends when the individual went into the water," he said. "It's haunting."
—
The post Hebrew pocket watch, frozen in time of Titanic wreck, headed for auction appeared first on Jewish Telegraphic Agency.
Columbia University suspends Jewish Voice for Peace and Students for Justice in Palestine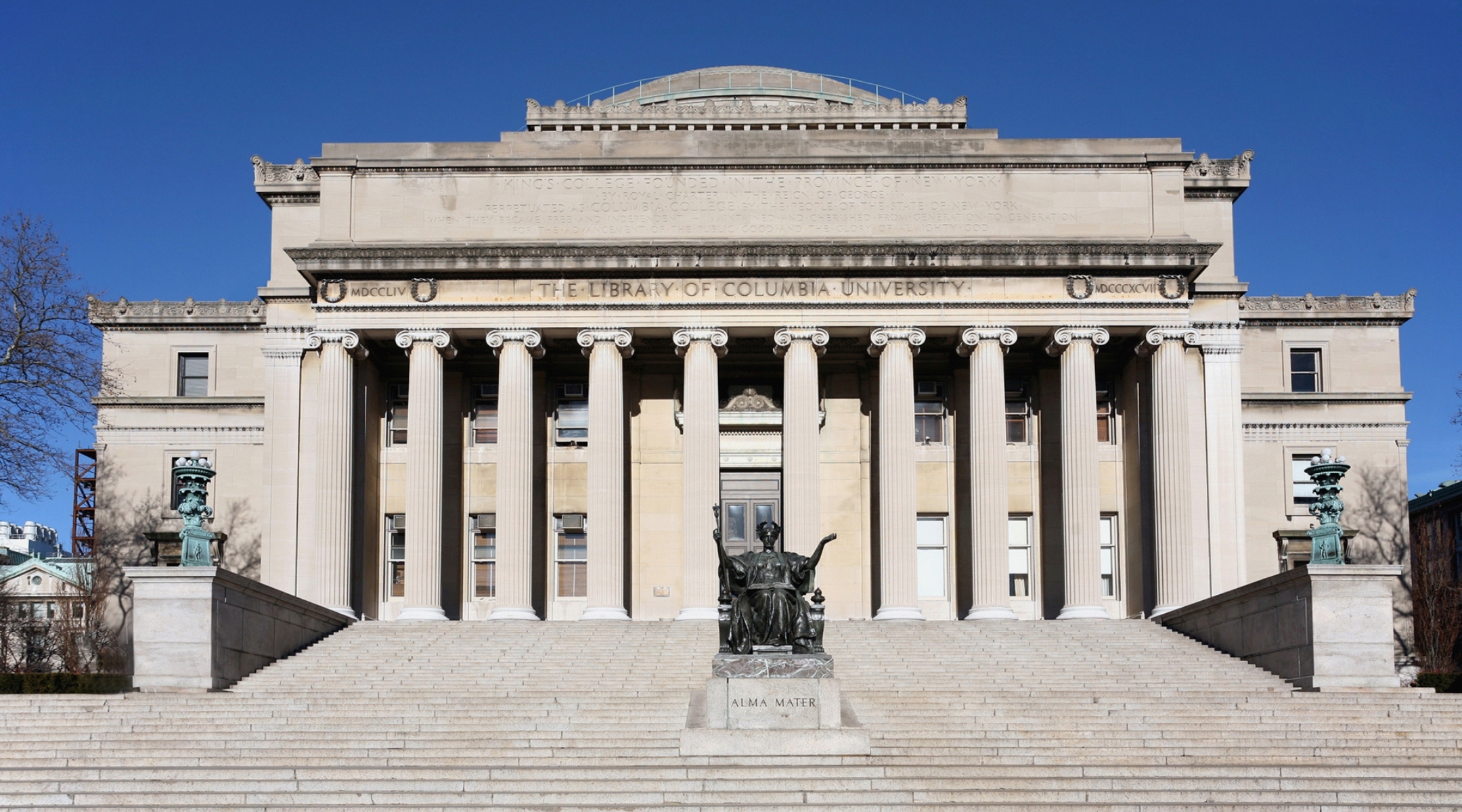 (New York Jewish Week) — Columbia University has suspended two pro-Palestinian student groups — Jewish Voice for Peace and Students for Justice in Palestine — saying they violated university policies and expressed "threatening rhetoric and intimidation."
The suspension runs through the end of the fall semester, about six more weeks, and marks a significant crackdown by the school on the two groups as campuses nationwide have erupted in debate, activism and occasional violence surrounding the war between Israel and Hamas in Gaza.
"This decision was made after the two groups repeatedly violated University policies related to holding campus events, culminating in an unauthorized event Thursday afternoon that proceeded despite warnings and included threatening rhetoric and intimidation," read a statement issued Friday by Gerald Rosberg, Columbia's senior executive vice president and chair of its Special Committee on Campus Safety.
A spokesperson for JVP's national organization said it was deferring to the student group to comment on the suspension. Columbia SJP posted on X, formerly known as Twitter, that followers should "stay tuned for an official response."
The suspensions mean that the groups cannot receive university funding or hold events on university space. To be reinstated, Rosberg said, they will need to show "a commitment to compliance with University policies" and meet with university officials.
SJP, whose national umbrella celebrated Hamas' Oct. 7 attack on Israel, has been banned at Florida's public universities as well as Brandeis University. This appears to be the first time a university has suspended JVP, a Jewish anti-Zionist group.
At Columbia, the two groups have held a series of protests and other actions calling for a ceasefire in Israel's war against Hamas in Gaza, and accusing Israel of "genocide." Columbia has been a hotspot for campus activism surrounding the conflict, and an Israeli student was assaulted there in what police called a hate crime. Supporters of Israel have criticized the school for what they call a tepid response to the anti-Israel activism, and late last month, Jewish billionaire Henry Swieca quit the board of Columbia Business School, saying that the campus is "unsafe" for Jews.
On Thursday, the two suspended groups held a "die-in" in front of the school's Low Library, and SJP put up a placard with a series of demands that the JVP chapter promoted online. The final demand, "No more dual degree," was an apparent reference to the school's undergraduate dual-degree program with the Jewish Theological Seminary, a Conservative Jewish institution.
Rosberg threatened anti-Israel activists with formal punishment on Wednesday, when a group staged a nine-hour sit-in at the Columbia School of Social Work that was promoted by SJP. According to the Columbia Spectator, the campus newspaper, Rosberg communicated through representatives that the activists were in violation of school rules and faced academic sanctions. The Spectator reported that Rosberg told the activists they were "interfering with the traffic of people who are trying to come in and get an education here and pursue their goals here in the School of Social Work."
He added, "I want to say to you as clearly as I possibly can that what you are doing, all of you, just by being here, is a serious violation of our rules."
The announcement of the suspension comes after dozens of national Jewish groups, campus organizations and state legislators signed a letter demanding universities withdraw their schools' recognition of and funding for SJP following Oct. 7. It also comes about a week after Columbia announced the formation of a task force to identify short- and long-term strategies to combat antisemitism at the university and its affiliated institutions.
"During this especially charged time on our campus, we are strongly committed to giving space to student groups to participate in debate, advocacy, and protest," Rosberg wrote. "This relies on community members abiding by the rules and cooperating with University administrators who have a duty to ensure the safety of everyone in our community."
—
The post Columbia University suspends Jewish Voice for Peace and Students for Justice in Palestine appeared first on Jewish Telegraphic Agency.