Henry Ford's history with antisemitism to become a movie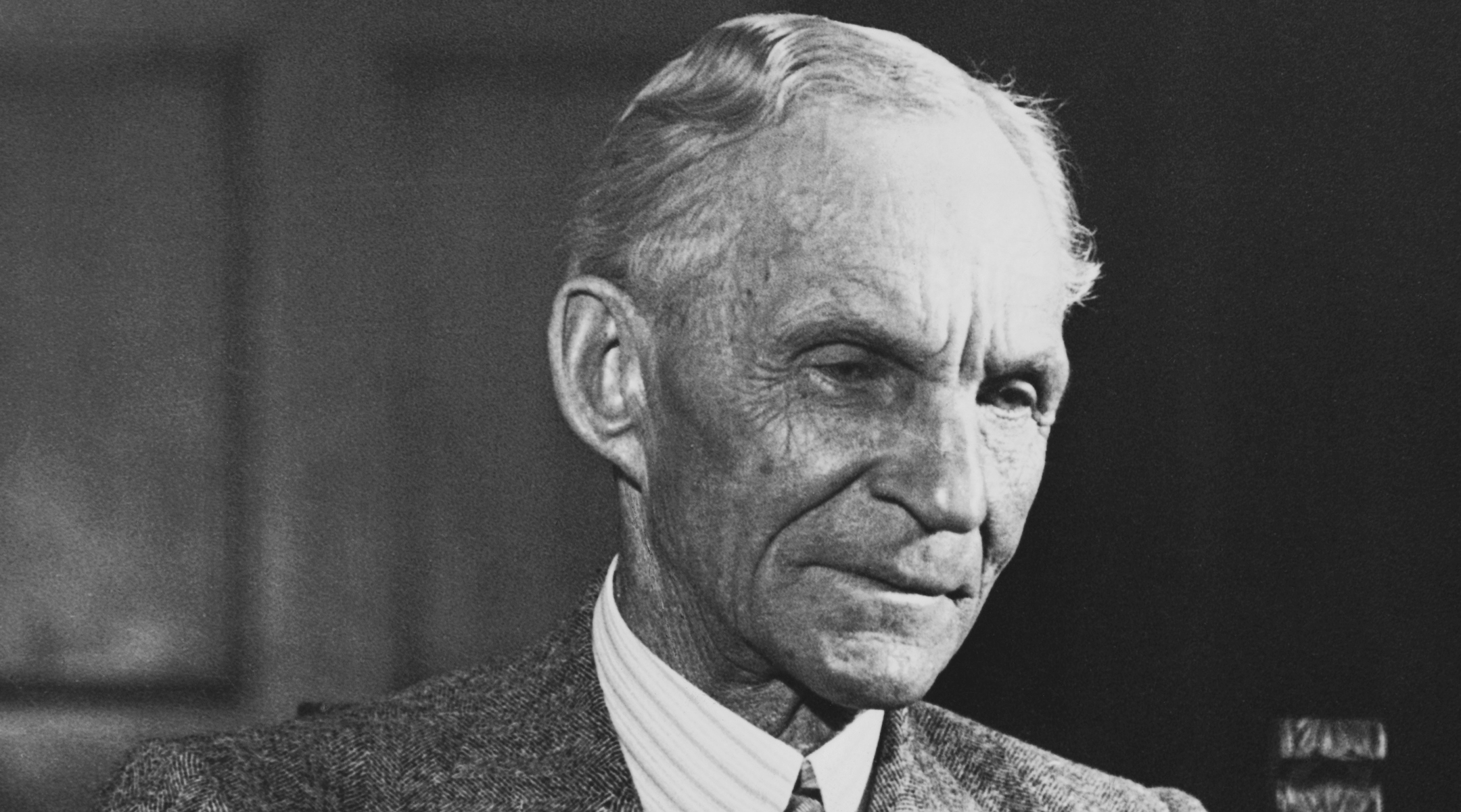 (JTA) — A lawsuit filed by a Jewish labor activist in 1925 took down Henry Ford's antisemitic newspaper, The Dearborn Independent, in a real-life drama that riveted Americans.
A century later, the saga is set to become an on-screen drama, too, as a Jewish-interest production company is developing a film based on an academic study of Ford's antisemitism and the libel lawsuit that blunted its reach.
Leviathan Productions is adapting the 2012 book "Henry Ford's War on Jews and the Legal Battles Against Hate Speech" by Victoria Saker Woeste, a research professor at the American Bar Foundation. The book focuses on Ford's acquisition of the Independent in 1919, which he transformed into an antisemitic tabloid while at the height of his fame and influence as an automotive visionary.
Under Ford's ownership, the Independent published, among other headlines, "The International Jew: The World's Problem," and the paper was freely distributed at Ford dealerships. It played a major role in disseminating "The Protocols of the Elders of Zion," an antisemitic forgery purporting to detail the secret plan for Jewish world domination, throughout the United States in the interwar period. That document continues to animate antisemitism today.
Aaron Sapiro, a farm workers' rights advocate, sued the paper for libel in 1925 after it published antisemitic allegations about his California cooperative farming movement. The trial two years later was a major First Amendment case and resulted in Ford agreeing to shutter the paper. 
Leviathan Productions launched last year with a goal of bringing more Jewish stories to screen. It was founded by Ben Cosgrove, a film and TV producer whose credits include the Oscar-winning "Syriana," and Josh Foer, journalist and co-founder of the adventure travel brand Atlas Obscura as well as of the online Jewish text repository Sefaria. The company previously announced that it is producing a film version of "The Pledge," a nonfiction account of U.S. Jews' role in Israel's 1948 war for independence, and a horror film based on the Golem of Prague.
Ford's antisemitism was also a plot point in the 2020 HBO adaptation of the Philip Roth novel "The Plot Against America." In the story's alternate-history United States where Charles Lindbergh becomes president, Ford serves in his cabinet and helps implement antisemitic policies. A recent experimental documentary, "Ten Questions For Henry Ford," directed by Jewish filmmaker Andy Kirshner, also delved into his antisemitism.
—
The post Henry Ford's history with antisemitism to become a movie appeared first on Jewish Telegraphic Agency.
Skydivers in California Form a Human Star of David in Solidarity With Israel, Against Antisemitism
A total of 50 skydivers gathered to form a human Star of David in the sky in solidarity with Israel amid its war against Hamas terrorists in the Gaza Strip.
Skydivers, with only a three-day notice, gathered at the skydiving center Skydive Perris in Southern California for the jump that took place on Nov. 11, Veterans Day. Most were locals, but others traveled from San Francisco, Arizona, Denver, and Iowa. They managed to create the Star of David in just one jump.
The skydive was organized by world champion skydiver, author, and coach Dan Brodsky-Chenfeld, who shared a video from the jump on social media on Monday. Brodsky-Chenfeld has led the USA's four- and eight-person skydiving teams to multiple world championships, and also set a new world record for the largest freefall formation with a team that he assembled of 300 skydivers.
View this post on Instagram
"Hate has a loud voice. Love needs to be louder," Brodsky-Chenfeld said of the show of solidarity with Israel. He shared on YouTube last week an extended video from the jump, titled "Skydivers United Against Hate." The clip shared the message that "skydivers are welcoming & inclusive. We embrace everyone who dreams of human flight. But the haters have a very loud voice. We will not stay quiet. This is us speaking out."
Brodsky-Chenfeld talked to the Israeli news outlet Ynet about organizing the project.
"In the past year, there have been numerous instances of antisemitism in the United States against Jews and Israelis. Following the black Saturday on Oct. 7 and the war in Gaza, all the hatred and antisemitism intensified significantly. Everything became much worse, and I wanted to do something about it," he said.
"It was amazing," he added about the jump. "It involved a complex jump with six connected triangles. The last and only time I performed such a jump was in 1997 for a fundraising project for the Los Angeles Jewish community. We were fortunate because just a day after the scheduled jump, I had to undergo shoulder surgery, and our first jump turned out perfect, so everything worked out excellently."
He told Ynet that out of the 50 skydivers who participated, only five were Jewish but everyone felt "a strong sense of unity and a desire to do something positive" He said the non-Jewish skydivers who joined in are his "good friends, skydivers of all ages, who love Israel and stand for humanity, against hatred and bigotry."
The post Skydivers in California Form a Human Star of David in Solidarity With Israel, Against Antisemitism first appeared on Algemeiner.com.
The Israeli Military Is Risking Soldiers' Lives to Defend Palestinians From Hamas
On October 7, 2023, Hamas perpetrated the largest loss of Jewish life in a single day since the Holocaust: including mass rape, beheadings, torture, the murder of some 1,200 people and the capture of over 240 hostages. Hamas is recognized as a terrorist organization by the US, European Union, and countless governments and institutions around the world.
In the wake of those horrors, Israel has set out to not only rescue the hostages, but also to protect Israelis in the future by putting an end to Hamas as a functioning entity.
Over the course of the fighting, Hamas' use of human shields combined with Israel's extraordinary care for civilians (a topic which I've previously addressed in greater depth), has produced a situation unparalleled in history: the Israeli military has found itself fighting to defend Palestinian civilians against Hamas.
International law requires that Israel not cause harm to civilian life or infrastructure that is "excessive" in relation to its military objectives (another topic I addressed in greater depth previously).
Limiting harm to civilians is a significant challenge in the face of Hamas' intentional use of civilians as human shields, and its thorough integration of military operations into the civilian infrastructure. Israel is nonetheless making a herculean effort to do so.
Among many other measures, Israel has established a humanitarian evacuation corridor through which civilians in Gaza can move out of the combat areas and into the relative safety of southern Gaza. According to both Israeli and Palestinian sources, Hamas has been firing on this corridor: directly targeting civilians, including with mortar shells and anti-tank missiles.
In response, Israel has returned fire toward Hamas: to protect Palestinian civilians.
The extraordinary implications of this unusual situation cannot be overstated: Israeli troops are quite literally fighting to protect Palestinians against Hamas. That is at least rare, if not entirely unique, in human history: an army fighting on behalf of enemy civilians, who are under attack by their own armed forces.
This calls into question the entire concept of "sides" given that Israel is now fighting on behalf of both Israelis and Palestinians, while Hamas is fighting against both.
Israel's military defense of Palestinians raises another uncomfortable question that the international community seems reluctant to address: if there were to be a ceasefire or an extended "humanitarian pause" (which according to rumors seems to be imminent), who would protect Palestinian civilians if they continue to try to flee from Hamas?
When considering "humanitarian" measures it is critical to remember that Israelis are human too. Every moment that Israel delays its military campaign is another moment that Israeli hostages remain in captivity.
Any pause is also wasting precious time during which Hamas can attempt to regroup and rearm. And as discussed, any pause in IDF protection puts Palestinians in danger of being attacked by Hamas. In short, the only party that benefits from a ceasefire, or even an "extended pause," is Hamas itself.
Given that more than 60 Israeli soldiers have fallen so far, it is not an exaggeration to say that Israelis are risking, and in some cases losing, their lives to not only protect Israelis, but also to protect Palestinians. In the history of human civilization that is at least extraordinary, and possibly even unprecedented.
Daniel Pomerantz is the CEO of RealityCheck, an organization dedicated to deepening public conversation through robust research studies and public speaking.
The post The Israeli Military Is Risking Soldiers' Lives to Defend Palestinians From Hamas first appeared on Algemeiner.com.
Hamas Threats to 'Cut Off Heads,' 'Slit Throats,' and 'Slaughter Every Jew on the Planet' Were Ignored in 2019
Hamas' massacre of Israelis on October 7 shocked everyone in Israel and abroad. So did the brutality of the attack, the cruelty of the murders, and the inhumanity of the torture.
But there were warnings, and the slaughter of at least 1,200 Israelis, the wounding of more than 4,800, and the kidnapping of at least 238 hostages should not have come as a surprise.
One of those warnings occurred in 2019, when Hamas Political Bureau member Fathi Hammad explained in detail Hamas' intentions, goals, and aspirations: To murder "every Jew on the planet":
Hamas Political Bureau member Fathi Hammad: "We are sharpening the knives … We were created here in Gaza to shatter and get rid of this [Zionist] entity … If we die it will be when we are killing you [Jews], and we will cut off your heads, Allah willing … There are seven million Palestinians abroad … You have Jews everywhere. We must attack every Jew on the planet — slaughter and kill … And you, the people of the West Bank … We want the knives to come out. Five shekels [for a knife] — isn't the throat of a Jew worth five shekels to us? … I will die as I blow up and cut — what? The throats of the Jews and their legs. We will tear them to shreds, Allah willing."
[Al-Aqsa TV (Hamas), July 12, 2019]
Through the prism of Hamas' massacre and attack on Israel on Oct. 7, the statement by Hammad in 2019 now looks like a chilling forecast.
Hammad's words also stress that Hamas' goal — as the terror organization states in its charter — is to destroy Israel and kill all Jews, not only in Israel, but in the entire world.
But Hamas is not alone in this goal. Palestinian Media Watch has exposed numerous statements by Palestinian Authority (PA) and Fatah officials that prove they share the goal of Israel's destruction.
The PA has likewise been making genocidal threats for years and justified killing of Israelis and Jews. For example, PA leader Mahmoud Abbas' advisor on Islam, Mahmoud Al-Habbash, who Abbas appointed to be the Supreme Shari'ah Judge, explained to Palestinian viewers of official PA TV that Islam explicitly calls to "kill" people who "attack my home … my land … my homeland … my property … my honor" —  all crimes the PA accuses Israel of committing:

Similar calls and teachings have been disseminated by PA officials saying that Jews are Satan in human form, humanoids, apes and pigs, evil, human waste, and that Palestinians therefore are justified in killing them and that Islam even wants it.
During the current war, the next generation of PA leaders — members of Fatah's Student Movement — have been calling on Allah to murder Jews, while the PA has instructed preachers in mosques to teach that killing of Jews is an Islamic imperative.
Hamas' threats were ignored until it was too late. It is time Israel and the world took the PA's genocide threats at face value.
 The authors are the founder and senior analyst at Palestinian Media Watch, where a version of this article was originally published.
The post Hamas Threats to 'Cut Off Heads,' 'Slit Throats,' and 'Slaughter Every Jew on the Planet' Were Ignored in 2019 first appeared on Algemeiner.com.