How do we keep the worst days in the last 50 years of Jewish history from tearing us apart?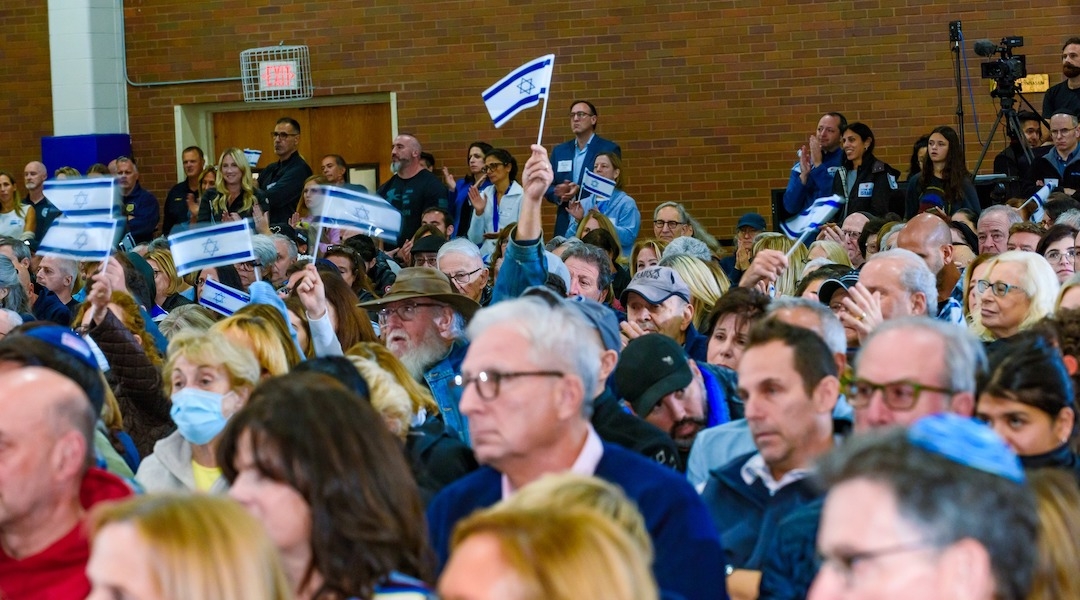 This piece originally appeared as a letter to the Hebrew College community.
(JTA) — Like so many others, I spent much of last week searching for language to describe and respond to the new reality in which we find ourselves. As Israeli novelist David Grossman wrote last Thursday in the Financial Times, "I look at people's faces and see shock. Numbness. Our hearts are weighed down by constant burden. Over and over again we say to each other: it's a nightmare. A nightmare beyond comparison. No words to describe it. No words to contain it."
For me, some important language came unexpectedly while I was sitting in shul this past Shabbat morning. Our teacher Rabbi Allan Lehmann was serving as gabbai at our minyan, and as he offered a mi sheberach, a blessing for each person who had been called up to the Torah to recite an aliyah, he concluded with the words, "b'toch she'ar avelei ameinu" — "among all the mourners of our people."
It was an exquisitely simple and profound gesture of pastoral care. I hadn't understood until that moment how deeply I needed to be named as a mourner, among all the mourners of our people. I wept with recognition and relief.
Many of you have been reaching out, wondering what to think, what to say, what to do.
Sadly, we know we are only at the beginning of a very long, difficult and uncertain road. A road that will make new demands of all of us as Jewish leaders. Heartbreakingly, it is also a road riddled with the risk of communal rupture and fragmentation — at a time when we so desperately long to come together, to hold one another and to be held, in our shared grief, fear, and love.
I have no road map for this moment, and I am wary of anyone who says they do. But I want to share some thoughts on what I believe this terribly dark hour for our people asks of us.
Allow yourself to be at a loss for words. The speechlessness that we feel in the face of what we have witnessed is a sign of humanity and of humility. Honor it, protect it, do not rush past it. 
Listen to the moral voice within you that knows there is no context, no intellectual contortion that can possibly justify Hamas' acts of horror. These are acts that deserve nothing but our unequivocal condemnation. I have asked myself, again and again and again over the course of the last week, why this seems so hard for some good people to do (I'm not even talking about the shocking celebration of these acts in some quarters). There are many answers to this question, some more sinister than others. I recommend that you listen to the very powerful sermons given on this topic this past Shabbat by Rabbi Sharon Brous  and Rabbi Angela Warnick Buchdahl.
For some, blaming the actions of Hamas on Israeli occupation is a way of trying to hold onto a world that makes sense, a world in which all hate flows from hurt, a world in which we can somehow keep horror at bay. I understand this impulse, but I believe its impact — blaming victims of unbearable cruelty for their own suffering, for the sake of preserving our own ideological and moral comfort and convenience — is insidious.
Let yourself be uncertain about what Israel should do next in this impossibly painful and frightening moment. We are already being bombarded with requests to sign petitions, make statements and participate in protests. Many of us understandably feel a growing sense of urgency as conditions worsen in Gaza and we fear an even more severe humanitarian crisis. I trust that every member of this community longs desperately to do what is possible to prevent further suffering and the death of innocent civilians, both Palestinian and Israeli. I hear the same longing from my Israeli friends and family as well. Let us be very, very humble as we share ideas about how best to do so. Beware of facile answers.
Do not equate concern for Palestinian suffering and the loss of innocent Palestinian lives with betrayal of the Jewish people. Let us not allow the inhumanity of Hamas to strip us of our basic humanity. Here I share the powerful words of my colleague, Rabbi Shawn Ruby, an Orthodox rabbi who lives in Zichron Yaakov. We've been friends and part of the Bronfman Youth Fellowship community together for the last 30 years. Last Monday he wrote these words to the Bronfman listserve (shared here with his permission):
I live in Israel. I have a child in the IDF. I am attending the funeral tomorrow morning of a young man whom I have known since he was a child who was killed on the first day of fighting. I am in unbearable pain. That said, I have no problem with people raising concern, mourning, sadness or horror about the loss of life in Gaza alongside with that on our side. The human tragedy there is overwhelming. Recognizing that does not diminish from the Jewish/Israeli tragedy … For all of us reacting one way or the other to each other, let's take a breath, and exercise some compassion and forgiveness for those of us who are reacting to a horrifying situation by being more unwilling to hear the other side than usual. Let's not let the worst days in the last 50 years of Jewish history fragment us.
Yes. Let's not let the worst days in the last 50 years of Jewish history fragment us.
Those of us living on this side of the ocean are not living through what they are living through there, but we are feeling our own grief, fear, loneliness and pain. Let us learn from their example. As my friend and colleague, Rabbi Mishael Zion, wrote to his community in Jerusalem last week: "Seek to be in the company of others who can support you and share their warmth with you. In addition, seek to give and act in support of others. … Allow yourself to experience every emotion that arises, but try not to dwell on it too much. Instead, focus on actions and activities that are aimed at doing good and are spiritually uplifting."
Every day, I hear stories from friends and students and alumni in Israel about the ordinary and extraordinary ways in which people are caring for each other — through daily acts of kindness, concrete expressions of chesed. I am inspired and in awe.
—
The post How do we keep the worst days in the last 50 years of Jewish history from tearing us apart? appeared first on Jewish Telegraphic Agency.
Left-wing Jews usher in Hanukkah in NY with rally demanding a ceasefire and mourning Gaza casualties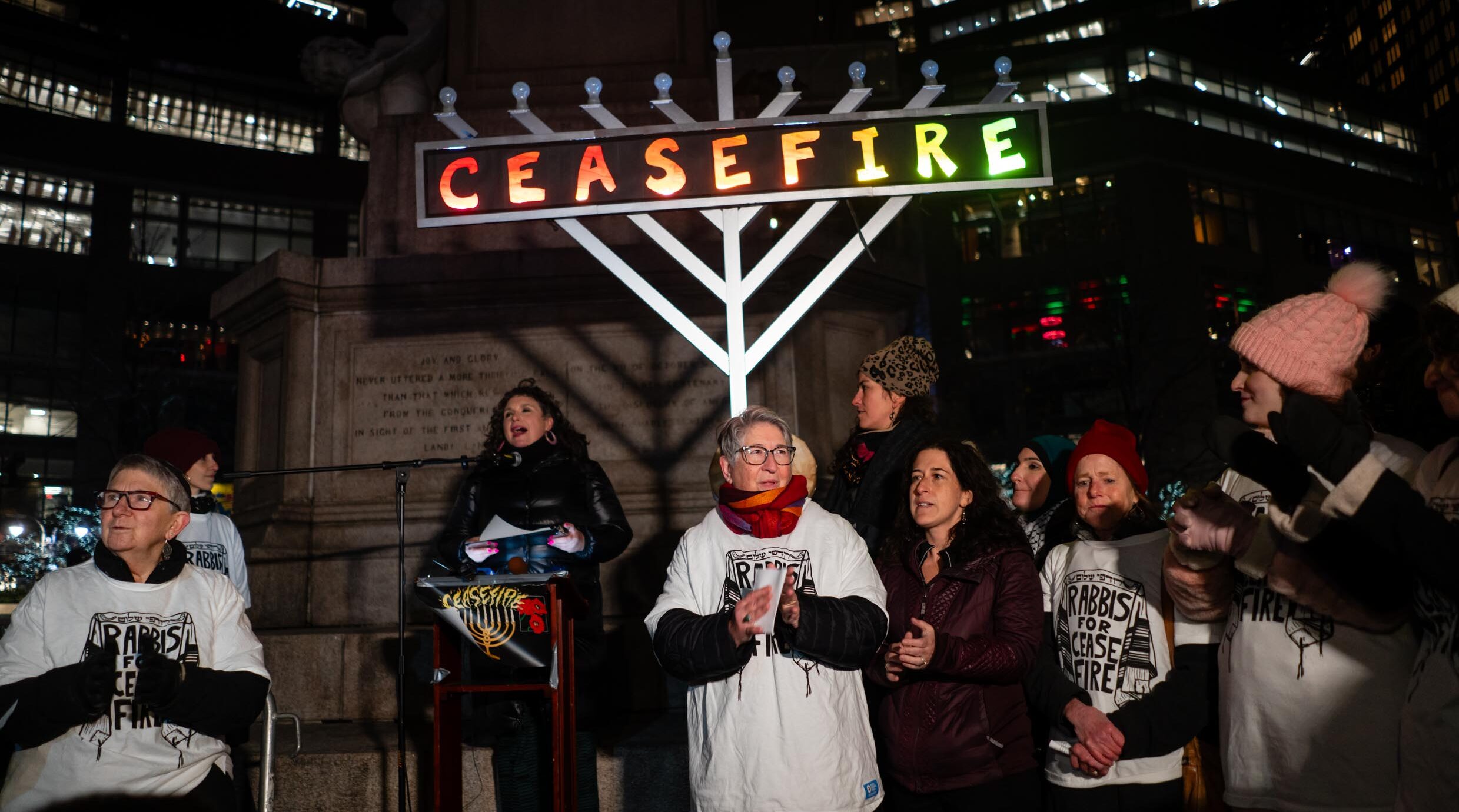 (New York Jewish Week) – Hundreds marched around Columbus Circle in the biting cold on Thursday night, holding electric candles and signs calling for a ceasefire, as they sang a biblical verse calling for the end of war as a tuba and a drum played along.
The activists then raised a 9-foot tall menorah emblazoned with the word "ceasefire" in multi-colored lights, each letter adorning one of the nine candle stems, ushering in the Hanukkah holiday with pleas for a halt to the Israel-Hamas war.
"We light our Hanukkah candles in public, we put them in our windows and in our town square to proudly display our Jewish heritage and to call upon the miracles of this time of year," Rabbi Ari Lev Fornari of the Philadelphia synagogue Kol Tzedek told the crowd. "We are each here to kindle the lights of Hanukkah and to call, together, for a ceasefire."
The event on the first night of Hanukkah also took place exactly two months after Hamas began the war with an invasion of Israel that killed 1,200, largely civilians, and took more than 240 hostages. In the period since then, some of the groups organizing Thursday's menorah lighting have led frequent rallies in New York City, Washington, D.C. and elsewhere calling for an immediate ceasefire — blocking entrances to buildings and bridges and sometimes ending in dozens of arrests. 
Their advocacy, so far, hasn't met its goal. Israel rejects ceasefire calls because they would leave Hamas in power in Gaza, and Hamas has continued to rain rockets on Israel and hold more than 130 hostages. The United States has backed Israel's military campaign. 
Israel recently began focusing its firepower on the Gaza city of Khan Younis, where Hamas' leadership is believed to be based. According to the Hamas-run Gaza Health Ministry, more than 17,000 Palestinians have been killed in the fighting — a number that does not differentiate between civilians and combatants or denote deaths from misfired Palestinian rockets. 
And while only 37% of New Yorkers approve of Israel's war effort, according to a recent poll, the Jewish ceasefire activists have the support of only a minority of their own community: 72% of Jewish New Yorkers support Israel's war effort, while only 19% disapprove. 
​​"I think people are spiritually depleted and morally depleted and it's really painful to open the news every day and see what's happening on the ground in Gaza," said Rabbi Alisa Wise, the lead organizer of the recently-founded Rabbis for Ceasefire. That group was one of the organizers of the event along with IfNotNow, Jewish Voice for Peace, Jews for Racial and Economic Justice and a new group called Shoresh. Many of those groups have called for a ceasefire since the Oct. 7 Hamas attack and have focused their criticism on Israel, accusing it of "genocide." 
Wise said many on the Jewish left are "exhausted and depressed" by the war and find protest activities draining, but also feel the urge to make their voices heard. She added that there is also "this sense of determination, and now that we've seen what we're capable of and what we can do it really feels like people are going to not stop pushing."
At the entrance to the gathering, three towering banners bore the words "ceasefire," "justice" and "peace" in Hebrew, English and Arabic, near tattered posters of Israeli hostages on lamp poles. Some in the crowd wore keffiyehs and several carried Palestinian flags. Alongside the Jewish public figures who attended the event — among them the commentator Peter Beinart and actor Wallace Shawn — one of the speakers was Palestinian-American activist Linda Sarsour. 
Organizers said 700 people attended the rally. In between the speeches, the crowd chanted the blessings upon lighting the menorah and sang songs calling for peace.
In Israel and elsewhere, supporters of the country's war in Gaza have pointed to the story of Hanukkah — a small Jewish army defeating a foe that sought to destroy it — as a historical parallel to the current conflict. On Thursday, a rabbi in a suburb of New York City wrote on Facebook that taking the holiday as an opportunity to call for a ceasefire is "absolutely ridiculous, since Chanukah is literally a celebration of a military victory against an enemy that wanted to wipe out Judaism in Israel. Sound familiar?!"
Wise told the New York Jewish Week that the holiday presents an opportunity to fortify the Jewish left — and said that her group focuses on the way the rabbis of the Talmud approached the holiday. A passage in the Talmud describing Hanukkah includes only a passing reference to the military victory and instead stresses the miracle of one day's worth of oil lighting a menorah for eight days. 
"We were thinking about the way the rabbis really deemphasized the militarism and emphasized the miracle," Wise said. "Those rabbis were leading us away from the militarism. They brought the story of [the] miracle, and we're thinking about that."
Like Jews across the United States, Wise's group has adapted the holiday's messages and rituals to the current moment. The group issued a guide for the holiday with different kavanot, or intentions, for each night's candle lighting, including focusing on themes such as courage, healing and peace, and has sought to lean into the holiday's themes of miracles and spreading light.
"Every year we return to this holiday and we have the opportunity to figure out this year, what from the tradition do we need, what thread do we need to pull?" she said. "So that's how we're approaching it this year."
The war has also sparked a surge in antisemitism in New York and elsewhere in the U.S., according to law enforcement and Jewish security groups, and rising hate crimes have heightened tensions and fears surrounding the conflict. Speakers at the rally decried the increase in antisemitism and Islamophobia, which has also increased, although to a much lesser extent.
"This is a holiday that's about light in the darkness. Even in the darkest, coldest time of year we bring this light in," Wise said. "As we light, we bring the possibility of the ceasefire movement growing and a possibility of peace and justice closer."
—
The post Left-wing Jews usher in Hanukkah in NY with rally demanding a ceasefire and mourning Gaza casualties appeared first on Jewish Telegraphic Agency.
'She's Dead!' Brutal Antisemitic Assault Leaving Woman Unconscious Reported in London
A Jewish woman was brutally assaulted in London this week by two suspects who pummeled her with punches and kicks for over a minute, according to footage posted on social media by Shomrim of Stamford Hill, a Jewish organization that reports on antisemitism.
The attack, which occurred on Thursday evening in the Stamford Hill neighborhood, left the woman unconscious and only ended after two female suspects reportedly said that the woman was "dead" after kicking her while she was on the ground for over thirty seconds, according to Shomrim, which also serves as a neighborhood watch group.
#HateCrime #Antisemitism #ViciousAssault
See dramatic footage of the horrendous #Racist vicious assault leaving the female victim unconscious!
The brutal attack ended after the two female offenders kept on kicking the unconscious victim in the head before laughing over her body… pic.twitter.com/FLxC3re1As
— Shomrim (Stamford Hill) (@Shomrim) December 8, 2023
Metropolitan Police are currently searching for the female suspects. No arrests have been made.
Information on the condition of the victim was not immediately available.
The Stamford Hill section of London is no stranger to antisemitic incidents. In October, days after Hamas' Oct. 7 massacre across southern Israel, two Jewish primary schools in the area were vandalized and doused with red paint.
The post 'She's Dead!' Brutal Antisemitic Assault Leaving Woman Unconscious Reported in London first appeared on Algemeiner.com.
Menorahs in Brooklyn Stolen and Vandalized, NYPD Investigating as Hate Crime
Multiple public menorahs in the Sunset Park neighborhood of Brooklyn, New York were stolen and vandalized, according to a spokesman for the Chabad Jewish movement.
The stolen menorah was seen on Sunset Park Center lawn on Wednesday evening, according to Yaacov Behrman, a spokesperson for Chabad. On Thursday, it was found broken.
In a separate incident captured on video, a man is seen riding up to a menorah in Sunset Park on a bicycle and pushing it over.
"The holiday hasn't begun, and the vandalism has already started," Behrman said on X/Twitter.
The New York City Police Department (NYPD) is investigating the incidents as hate crimes.
The post Menorahs in Brooklyn Stolen and Vandalized, NYPD Investigating as Hate Crime first appeared on Algemeiner.com.