'I decided to play dead … My son is still missing': A survivor's account from Kibbutz Nir Oz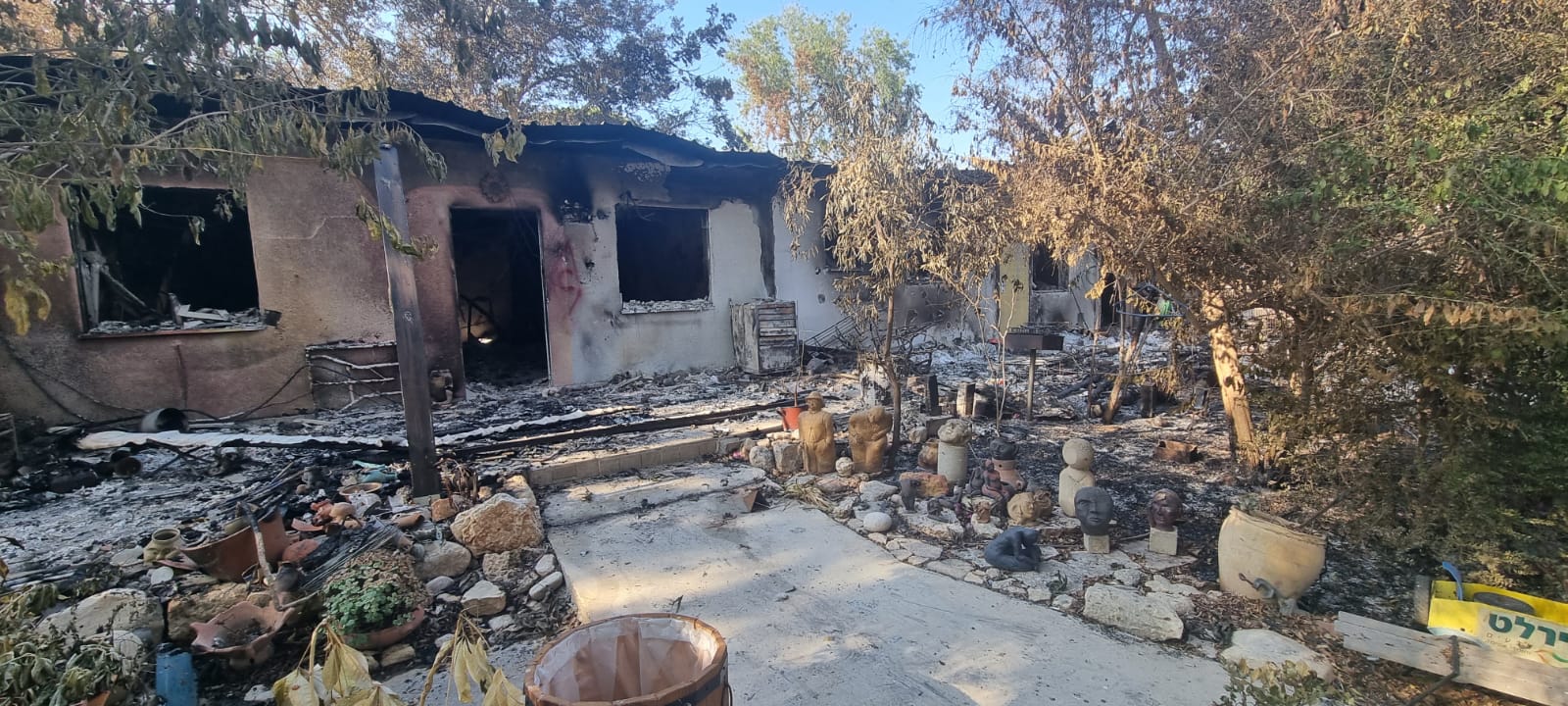 Neomit Dekel-Chen, 63, has been a resident of Kibbutz Nir Oz for the last 30 years. This is her account of what happened on Oct. 7, when Hamas attacked her kibbutz and others near the border of Gaza. Dozens of Nir Oz residents were murdered and dozens more were taken hostage during the assault.
This account is adapted from Dekel-Chen's account to Ynet, an Israeli Hebrew-language news site.
(JTA) — After a half hour of nonstop red-alert sirens and incoming missiles, we started receiving messages that Hamas terrorists were everywhere in the kibbutz. My son, Sagi, who is still missing, wrote to me that there were two terrorists walking around near the clinic. Afterwards he sent me another message about two more terrorists on a motorbike.
Sagi told me to lock my door, which I did, and I went into the security room alone. I heard all around people speaking Arabic; they had entered my house, they were breaking everything. I crept into a bed-linen chest. My daughter-in-law wrote to me that there were terrorists in  her house; I wrote back that they were in my house, too. We understood then from others that they were starting to set the houses on fire, and that we should put wet towels at the threshold of the security room door.
Once I heard them leave my house, I got out of the linen chest to quickly get a bottle of water and returned to the security room. I locked myself in. But more and more smoke was seeping in. I opened the window of the room, but the pergola was on fire. I closed the window – then the whole room started filling up. I ran out and saw a neighbor who had shot two terrorists.
I thought this was my chance to escape, but I was wrong. They captured me.
They caught my neighbor too. I was barefoot and they held me tight so I wouldn't flee. I don't understand a word of Arabic but I understood they were telling me not to try and run away. They led me barefoot in the direction of the fields, to the back gate of the kibbutz, toward Gaza. Along the way I saw houses in flames, and I understood no one was going to get  out of those burning houses alive. I had left my house to save myself.
We walked for about 150 meters on the road toward Gaza. I saw the terrorists walking with their loot, bulging suitcases, televisions, electric wagons used by elders. They had taken  everything. I was with a neighbor who told me they had killed her son and taken her husband. I told her we would stay together and see what to do next. About 150 meters later, a tuktuk vehicle pulling an open cart stopped beside us. In the cart there were five people, all from the kibbutz. My good friend was there with three little girls, two of them only 3 years old; they were crying, looking lost.
They continued to drive with us in the back, toward Gaza, when an IDF helicopter appeared above us. At some point the helicopter shot at the terrorists, the driver and the others. There was screaming in the tuktuk.
All the terrorists were dead and we were alive, except for one for one of the women with us. She had died in the arms of her daughter, who had come to the kibbutz to visit and now would not leave her mother. I took one of the little girls in my arms, another friend took a second little girl and we started running towards the fields. There was a young couple with us with twin girls, but only one of them was in the cart. They, too, started running with us. We called out to the woman whose mother had been shot that she should flee with us, because her mother was dead. She kept weeping: "Mama died in my arms, and I didn't protect the girls."
We were 50 meters into the fields when I was hit with shrapnel in my head, knee and back. I was bleeding. I lay down on the ground and a tractor showed up. It was my tractor, the one I work with. There were terrorists on it. They saw us and started coming toward us to put us on the tractor and take us with them. I said to myself that it was now or never; I decided to play dead — and they didn't take me. They ignored me. They took the three little girls, the parents of the twin girl, everyone who was there and still alive. They took them all to Gaza.
More terrorists in more cars drove by, loaded with the things they had looted. The IDF helicopter was overhead. I tried to signal to them that I was alive; I tried to move forward. Every time more terrorists drove by, I played dead again, which I could do as I was covered in blood. At noon it was hot and I drank water from the field irrigation pipes. I continued toward a row of tamarisk trees. I know all the roads in the fields. I lifted up my head and saw the kibbutzim in flames — Magen, Nir Oz and Nirim. They were all burning.
Even though I didn't know if there was anywhere to return to, I kept telling myself I had to reach my children and see what had happened to them. I have two children and four grandchildren. That is what kept me going.
I crept for two hours through the fields and I finally managed to reach my kibbutz. I searched for a place that wasn't on fire. I couldn't feel my legs anymore. On the way I saw ruin everywhere, massive destruction.
There are no words to describe the pogrom. Everything was burnt, broken; there were no houses left. The wooden houses had been consumed by flames and only the metal security rooms were still standing. Terrible sights. I reached my daughter's house which wasn't burned. I pounded on the door but they wouldn't open it. I shouted: "Ofir, it's Ima," and still they didn't open because they thought it was terrorists.
Finally, they opened the door and I fell onto the mattress in the room. I was bleeding everywhere. And from that moment I'm just waiting to hear something about my son who is still missing.
I told them to let everyone know I was alive. Later, rescue forces arrived and tended to me and evacuated me to Soroka Hospital in Beersheba. It took them hours to arrive. When I got back to the kibbutz at 1:30, the army had still not arrived; everything had started at 6:30, and seven hours later, still no soldiers had shown up. I walked to my house terrified terrorists would shoot me in the back. I was determined to find my children.
It was my war of survival, to reach my children and grandchildren. The kibbutz is completely destroyed. There is nowhere to return to, no starting point for rebuilding. I can't stop wondering how we reached this situation. How?
My heart is with those who stayed on the tractor. But I had to save myself and reach my children.
—
The post 'I decided to play dead … My son is still missing': A survivor's account from Kibbutz Nir Oz appeared first on Jewish Telegraphic Agency.
Ryan Lavarnway played with Team Israel one week before Oct. 7. Now he's speaking out to support Jews.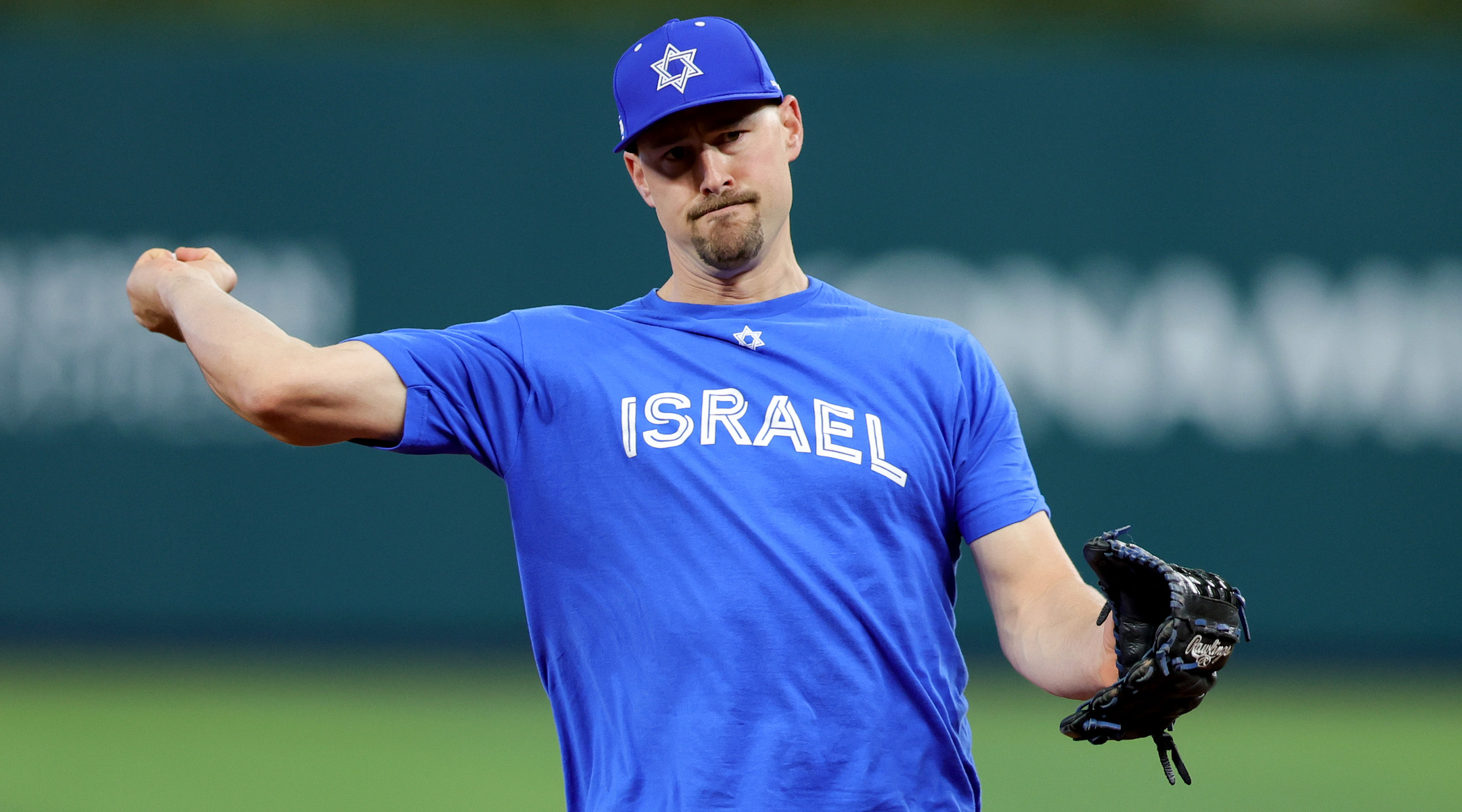 (JTA) — On Sept. 30, Ryan Lavarnway and Team Israel took the field in the Czech Republic to battle the host country for fifth place at the 2023 European Baseball Championship. Israel lost 5-1 and finished sixth in the biennial tournament.
One week later, some of Lavarnway's teammates were hastily called into active duty by the Israel Defense Forces in the wake of Hamas' surprise attack on Oct. 7 that killed and injured thousands.
"It's crazy to see people that I was playing a game with, doing the thing I love with, then be activated and on the frontlines of this conflict," Lavarnway told the Jewish Telegraphic Agency in a phone interview.
Lavarnway, 36, was a journeyman catcher in the MLB, playing for eight different teams over 10 years. He played for Israel in the 2017 World Baseball Classic qualifier and tournament, the 2020 Summer Olympics and the 2023 WBC. He obtained Israeli citizenship prior to the Olympics and recently wrote a children's book about his experience.
Though Lavarnway officially retired from the MLB earlier this year, he was named captain of Team Israel ahead of the European tournament, which Israel is scheduled to host in 2025. He said he is undecided about playing for Israel in the future.
But even as his on-field presence is up in the air, Lavarnway has become a go-to speaker at pro-Israel events on college campuses and for Jewish organizations around the country.
Lavarnway will appear at two upcoming Israel solidarity events with the Jewish National Fund-USA, an organization that advocates for American support for Israel. The group has also helped support Israel's burgeoning baseball program, including by funding a portion of the team's Olympics expenses and by helping build new baseball fields in Israel. Lavarnway will speak at JNF's Global Conference for Israel in Denver at the end of November and at another event in Chicago in December.
According to a JNF spokesperson, the two events will "serve as an opportunity for supporters of Israel to unite as a community during Israel's darkest days, while also learning about the organization's emergency aid efforts providing housing, food, clothing, and more to thousands of displaced and traumatized families."
"Anything that I can do to help people feel like they're not alone and to give them an excuse to to distract themselves or free themselves from drowning in it even for a short while, I feel like that is a positive role I can play without trying to know what the right answer or the right thing to say is," Lavarnway said.
Lavarnway grew up with a Jewish mother and Catholic father and said that he got closer to his Jewish faith in high school. But he told JTA he "didn't feel a huge connection to my Judaism, to any religion, to the community at all" until playing for Team Israel — an experience that many of the team's American Jewish players went through.
He said he has lost sleep over the war in Israel and is especially disheartened by the rise of antisemitism and misleading information that has circulated online since the violence began.
"The biggest thing that our Israeli native counterparts keep asking is to help spread the truth, because there's so much misinformation out there," Lavarnway said. "So many people are hearing things that stem from propaganda from the terrorist group, that we just want people to understand what's really happening."
Instead of getting involved in debates over Israel's military response or other political issues, Lavarnway said his main focus is on supporting Jews.
"Being the captain of the Team Israel national team puts me in a position where I feel a responsibility to stand up and speak out," he said. "As a baseball player, I don't know the right answer. I don't know the right thing to say. I don't know that there is a right thing to say, and I don't know that there is an answer, but what I've taken my role and my responsibility to do is just try to help people in the community not feel isolated and alone, and try to spread hope and positivity where I can."
Lavarnway said athletes have a critical role to play in supporting fans during difficult times — and he commended some of his fellow Jewish baseball players for recent acts of solidarity, like a video he was part of from a large group of Jewish baseball players calling on fans to stand up for Israel.
"I think athletes have the unique ability to be visible in a strictly positive and supportive way," he said. "We're not politicians, we're not members of the military. People are not looking for us or to us for the right answer. If anything, they're looking to us for representation and for role models. And that is what Alex Bregman did. That is what Ian Kinsler did. That is what Kevin Youkilis is doing. It's helping people feel like they're not alone, and that there's hope."
Last week, Lavarnway participated in a video put together by Hillel International and a number of other Jewish organizations, with the goal of sending support to Jewish college students amid a spike in antisemitism on campuses. (Lavarnway speaks around the 43:30 mark.)
"I think that we need community more than ever right now," Lavarnway told JTA. "I got many messages through my social media channels from college students that just said, 'Thank you for helping me not feel like I'm alone.'"
Plenty of non-Jewish athletes have spoken out, too, including NBA stars LeBron James and Kyle Kuzma, the latter being a teammate of the league's lone Israeli, Deni Avdija. Lavarnway said those messages of support go a long way.
"I think the Jewish community has taken a lot of pride for a very long time in supporting other cultures, other ethnicities, other oppressed minorities," he said. "And right now, Jewish people need that support back. So when other people that are not Jewish offer that support or reach out a hand in a time where it feels like there's not a lot of people doing that, it speaks volumes."
The former big leaguer is no stranger to the role sports can play in the face of tragedy. Lavarnway was a key member of the 2013 Boston Red Sox that won the World Series just months after the Boston Marathon bombing, which killed three and injured hundreds.
"What I learned after the Boston bombings and playing for that 2013 Boston Red Sox team that embodied 'Boston Strong,' was by playing a game and by doing what we had always done and what we loved, we gave people a sense of normalcy for three hours," Lavarnway said. "Unfortunately Team Israel is not playing baseball right now to offer that solution, but when I speak in public, or I speak at conventions or gatherings, my hope is to give people 45 minutes where we don't have to feel like we're drowning in this right now."
—
The post Ryan Lavarnway played with Team Israel one week before Oct. 7. Now he's speaking out to support Jews. appeared first on Jewish Telegraphic Agency.
International news outlets deny photographers colluded with Hamas after report suggests they knew attack plans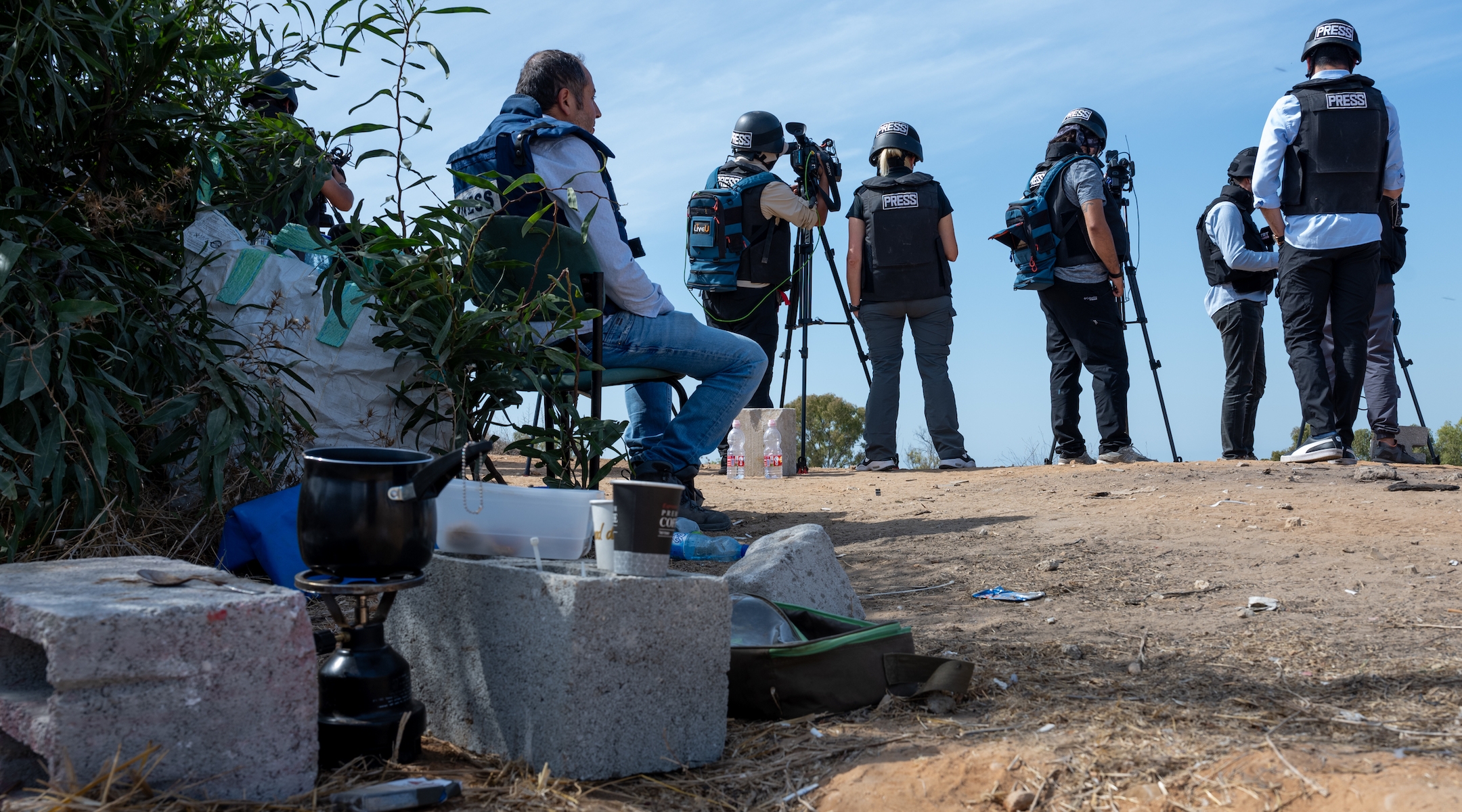 (JTA) — International news outlets denied that photographers they hired had advance knowledge of Hamas's Oct. 7 attack on Israel, after a report suggested without hard evidence that the journalists may have coordinated with the terror group ahead of the invasion.
But the Associated Press and CNN have said they will no longer work with one of the photographers named in the report, Hassan Eslaiah. The other publications named in the report are Reuters and The New York Times. 
The report, by pro-Israel media watchdog Honest Reporting, said freelance photographers working with the four publications were at the scene in the early hours of the Hamas attack, saying their presence raised "ethical questions."
It comes as dozens of journalists have been killed in the war, mostly in Gaza, and as reporters and photographers in the territory face scrutiny for their approach to the conflict. According to the Committee to Protect Journalists, 39 journalists have been killed since the start of the war, including 34 Palestinians, four Israelis and one Lebanese journalist. (Some have died in their homes and not while engaging in journalism.)
On Thursday, Sherif Mansour, the Committee to Protect Journalists' Middle East and North Africa program coordinator, said in a statement that "journalists are civilians doing important work during times of crisis and must not be targeted by warring parties."
But citing the Honest Reporting document, the Israeli Government Press Office said it "demands explanations" of the international outlets, adding that the "involvement of their photographers" in the attack "crosses every red line, professional and moral." Israeli Communications Minister Shlomo Karhi wrote a letter to the news outlets, demanding they investigate possible collusion between the photographers and Hamas. 
The report  released on Wednesday, did not include concrete evidence of collusion. But it suggested the photographers knew ahead of time about the assault or "coordinated" with the attackers, since Hamas breached Israel's border early on a Saturday morning when the journalists would likely not be working. 
"Is it conceivable to assume that 'journalists' just happened to appear early in the morning at the border without prior coordination with the terrorists? Or were they part of the plan?" the report said, placing quotation marks around the word "journalists."
"Even if they didn't know the exact details of what was going to happen, once it unfolded did they not realize they were breaching a border?" the report added. "And if so, did they notify the news agencies?"
The four publications all denied that they coordinated with Hamas. Reuters said in a statement that it "categorically denies that it had prior knowledge of the attack or that we embedded journalists with Hamas." AP said it "had no knowledge of the Oct. 7 attacks before they happened." The New York Times called the allegations "untrue and outrageous." 
CNN told the Israeli publication Ynet it has not "found reason to doubt the journalistic accuracy of the work [Eslaiah] has done for us," even as it cut ties with him.
The four photographers named in the report took pictures of a burning Israeli tank from which soldiers were killed or kidnapped, as well as attacks on Israeli homes and terrorists taking hostages and bodies back into Gaza. 
HonestReporting, citing screenshots of deleted tweets, said Eslaiah posted footage of himself in front of a burning tank and photographed attacks on Kfar Aza, the scene of one of the worst massacres of the day. Eslaiah was not wearing a press vest or helmet to identify him as a member or the media, the report said. 
Eslaiah, who works with CNN and AP, was also seen in an undated photograph with Hamas leader Yahya Sinwar that Honest Reporting shared after the report was released. Sinwar is kissing Eslaiah's cheek in the image, suggesting that he was friendly with the terror group official in a way that crosses clear ethical lines in journalism.
And here is footage of Eslaiah after he crossed into Israel and took photos of a burning Israeli tank. He then captured infiltrators entering Kibbutz Kfar Azza.
Note that he is not identifiable as a member of the press. But AP & CNN deemed it acceptable to use his services. pic.twitter.com/fA0VI2df2i
— HonestReporting (@HonestReporting) November 8, 2023
Amit Segal, a prominent Israeli reporter, said Eslaiah appeared to hold a grenade while riding a motorcycle on the day of the attack in a video posted to Eslaiah's Facebook page. His face is not clearly visible in the video.
Yo, @AP, @Reuters, @cnn – what your freelancer in Gaza Hassan Eslaiah is doing on a motorbike with a grenade, on his way to the massacre of women and babies? Is a grenade part of the equipment you provide? pic.twitter.com/jU85KEo7Ec
— עמית סגל Amit Segal (@amit_segal) November 9, 2023
The publications say they haven't breached any journalistic ethics. Reuters said it had no prior relationship with the photographers before Oct. 7, though it did not elaborate on that, and said that their images were taken two hours after Hamas launched a rocket barrage against Israel. The terrorists breached the border shortly after the salvo.
AP said the first pictures it used had been taken more than an hour after the attack started. 
The New York Times, which has worked with a different photographer named in the report, said, "It is reckless to make such allegations, putting our journalists on the ground in Israel and Gaza at risk." 
The Times drew fire from Israel supporters last month for rehiring a Gaza freelancer after finding out he made statements in support of Adolf Hitler. It also received criticism for initially reporting claims by Hamas that Israel bombed a hospital. Later assessments by Israel, the United States and a range of other governments and press outlets have found that a misfired Palestinian rocket was very likely the cause of the explosion. 
The Times later said its early coverage of the incident "relied too heavily on claims by Hamas, and did not make clear that those claims could not immediately be verified," said an Oct. 23 editor's note. "The report left readers with an incorrect impression about what was known and how credible the account was."
Pro-Palestinian activists have also criticized the Times, filling its lobby in a protest on Thursday that called for a ceasefire. According to a video posted to X, formerly known as Twitter, protesters held mock copies of the paper with the headline, "Ceasefire Now! Honoring Gaza's dead — and fighting for the living."
Israel has drawn criticism for not adequately protecting the lives of reporters covering the region's violence. But on Thursday, Benny Gantz, a member of Israel's emergency war cabinet, wrote on social media that Israel would not make allowances for journalists who coordinated with Hamas.
"Journalists found to have known about the massacre, and still chose to stand as idle bystanders while children were slaughtered — are no different than terrorists and should be treated as such," he wrote.
—
The post International news outlets deny photographers colluded with Hamas after report suggests they knew attack plans appeared first on Jewish Telegraphic Agency.
Three-quarters of American Jews fear Israel-Hamas war is making their communities less safe, poll finds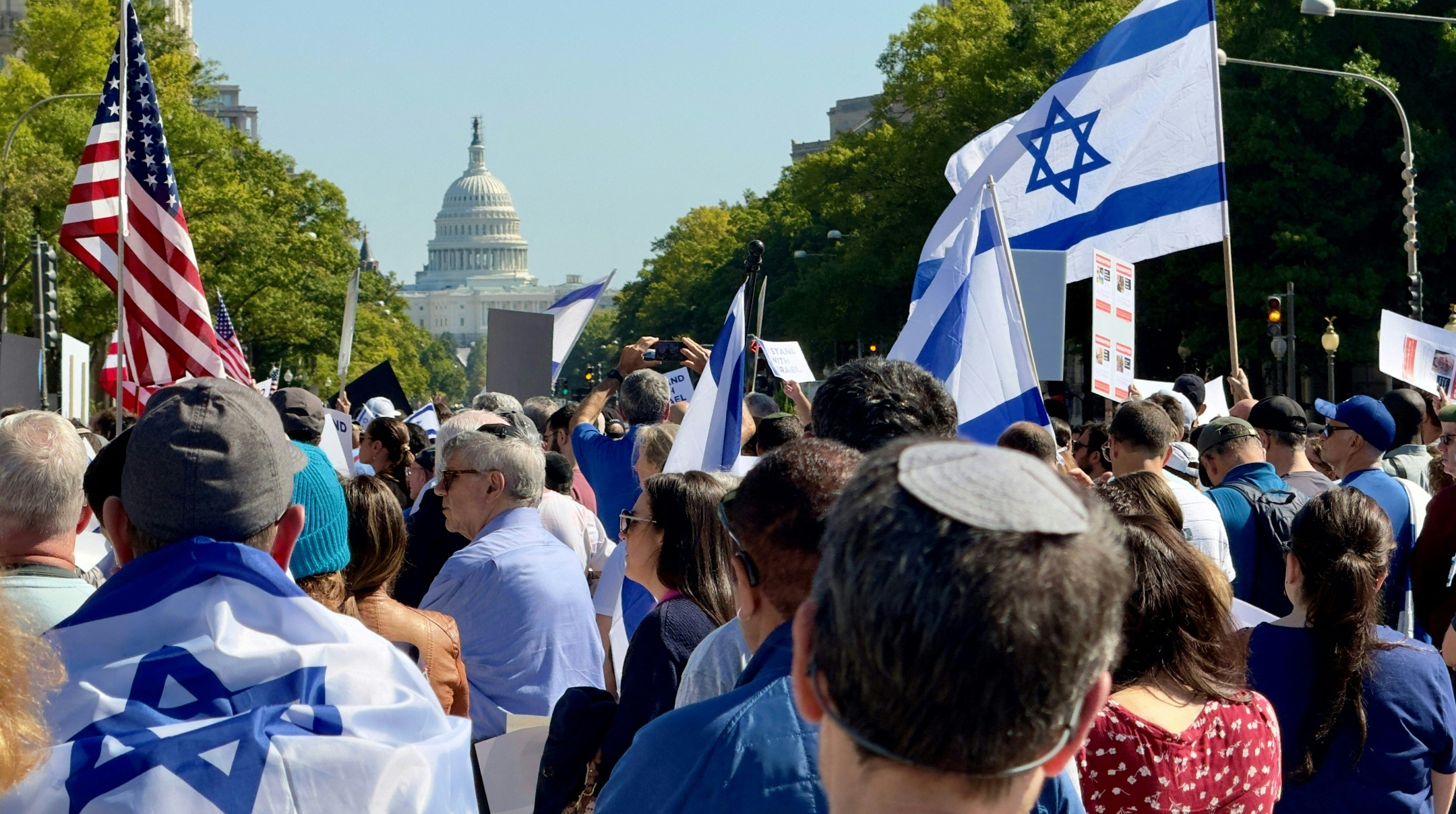 (JTA) — Large majorities of American Jews are worried for their safety amid Israel's war with Hamas and believe antisemitism is on the rise, according to a new poll.
Two-thirds of American Jews also support the Biden administration's policy on Israel and the vast majority support military aid for Israel. Most Americans overall also support military aid for Israel, the poll found.
According to the poll, which was commissioned by the Jewish Federations of North America and published Thursday, 75% of American Jews are either very or somewhat concerned that the war will cause issues in terms of security and safety in their communities. Nearly three in 10 said they knew of "physical acts of violence or acts of hate" against Jews in their communities, and
And 72% of Jews said antisemitism in their local communities has increased over the past few weeks. Zero percent believe it has decreased. Most Jews also believe antisemitism will continue to increase.
The poll, conducted by Benenson Strategy Group, is the first measure of the sentiments of American Jews since Hamas invaded Israel on Oct. 7, sparking a war in Gaza in which Israel has vowed to defeat the terror group. In the weeks since the war began, law enforcement agencies and Jewish security groups have documented a spike in antisemitic acts. Earlier this week, a Jewish man near Los Angeles died following a confrontation with a pro-Palestinian protester.
Asked to describe how they feel or the climate in their local community since the war started, 32% of Jews responded "tense," 21% said "uncomfortable" and 20% said "scary." Sixteen percent of Jews said it felt "normal."
A broad spectrum of Jewish groups have come out in support of Israel, pressed the Biden administration to support its military campaign and staged rallies on behalf of Israel and the hostages held by Hamas. Jewish groups are planning a large rally in Washington, D.C., on Tuesday to drive home those messages and speak out against antisemitism.
At the same time, a small number of Jewish groups have delivered statements and staged a series of large rallies and actions calling for a ceasefire and placing blame for the conflict on Israel, which they have accused of "genocide."
The poll did not ask about the particulars of Israeli policy or the war. The words "Gaza," "hostages" and "ceasefire" do not appear in its questions. But Eric Fingerhut, the CEO of the Jewish Federations, said the poll results show that those demonstrations do not represent most Jews or Americans.
"We know that large majorities of Americans support Israel in its fight against terror, and it's important not to let a vocal minority warp that view," he said in a statement.
The poll was taken form Oct. 29 to Nov. 1 and reached respondents via text message. It included 3,777 American adults, including 2,199 Jews. The margin of error was approximately 1.5% for the overall sample and 2% for the Jewish respondents.
The survey found that 85% of Jews and 53% of Americans overall have been following news about the war closely. An additional 15% of Jews are following the war news somewhat closely.
Among Jews, 46% strongly approve of Joe Biden's handling of U.S. policy toward Israel and an additional 22% somewhat approve. Twelve percent somewhat disapprove and 14% strongly disapprove. The survey did not segment out why people disapproved of Biden's policy. Americans overall are split: 44% strongly or somewhat approve of Biden's Israel policy, and 46% disapprove.
Regarding U.S. military aid to Israel, 73% of jews said it's very important and 14% said it is somewhat important, versus 13% who said it's not too, or not at all, important. Among U.S. adults overall, 60% say it is important and 40% say it is not.
The survey also found that both Jews and Americans overall feel there is significant prejudice in the United States against Jews, Muslims, Arabs and Palestinians. Two-thirds of Jews said there is "a lot" of discrimination against Jews, and an additional 26% said there is some, for a total of 92%. Likewise, 78% of Americans overall said Jews face a lot or some discrimination.
In addition, approximately 75% of Jews said Arabs as well as Muslims face discrimination in America, and 66% of Jews said Palestinians face discrimination. Majorities of Americans overall also said those groups face discrimination.
Jewish respondents have felt less secure over the past month, with 42% saying they have worried for their personal safety very much or all the time during that period, and an additional 30% saying they are somewhat worried. And 74% of Jews said there is a lot of antisemitism in the United States today; 86% say there's more antisemitism than there was five years ago.
Jews who wear Jewish symbols were twice as likely to say they worried for their personal safety "all the time."
—
The post Three-quarters of American Jews fear Israel-Hamas war is making their communities less safe, poll finds appeared first on Jewish Telegraphic Agency.