I grieved at a funeral in Israel this week. But not for too long — another was about to start.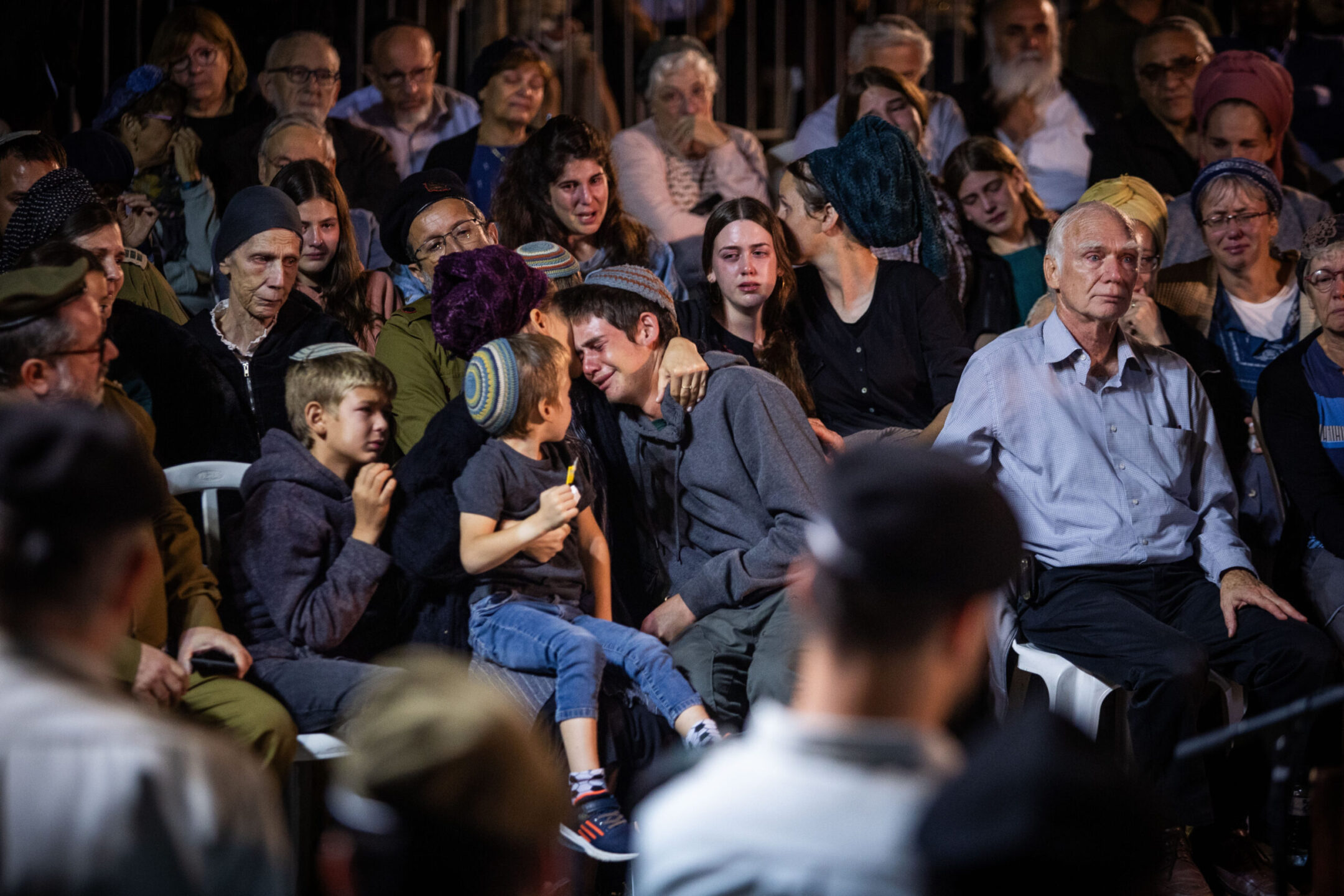 JERUSALEM (JTA) — When I arrived Wednesday night at the funeral of an Israeli soldier who was killed Sunday battling Hamas terrorists in southern Israel, I wasn't quite sure what I'd find.
Israel's Home Front Command had issued orders against gatherings of more than 50 people, and this funeral was scheduled for 8:30 p.m. But when I arrived at the Mount Herzl national military cemetery in Jerusalem, several hundred people already were gathered at the open gravesite, and more were streaming in.
The funeral was for Yosef Malachi Guedalia, a ­­­22-year-old sergeant-major from the Israeli Defense Forces' elite Duvdevan combat unit. The son of immigrants to Israel from the United States, Guedalia lived in Beit Shemesh and was only about five months short of completing his mandatory military service. 
I came to the funeral because I knew Guedalia's wife, a native of Boston who'd immigrated to Israel a few years ago and whose uncle is one of my closest friends. The couple had celebrated their first wedding anniversary just a few days earlier; now his 23-year-old wife was a war widow.
In Israel, funerals take place at all hours, including at night, to comply with the Jewish injunction to bury the dead as quickly as possible. In this war it's also a practical necessity: There aren't enough daylight hours to bury all the dead in a week when the death toll already has exceeded 1,300. 
As the minutes ticked by, the crowd of friends, relatives, soldiers and strangers who came to pay their respects stood with uncharacteristic silence for a country where everyone is always shouting or babbling about one thing or another. For several minutes, I could hear crickets in the cool Jerusalem night. When someone started humming a well-known song taken from the prayers recited when rolling a Torah scroll before its return to the holy ark, hundreds joined in in a subdued tone: 
"Our brothers of the entire House of Israel, who are in distress and in captivity, whether on sea or on land, may God have compassion on them and bring them out from trouble to safety, from darkness to light, from bondage to redemption — now, swiftly and soon, and let us say Amen." 
An organizer got on the microphone and explained that in the event of an air raid siren warning of an incoming rocket attack, everyone was to lay down on the ground between the gravestones and cover their heads with their hands. 
Guedalia's family arrived trailing a plain coffin draped in an Israeli flag. Most Israelis are buried just in shrouds, in keeping with the Jewish custom that the dead be laid to rest without anything suggesting differences in status or wealth and in a manner that puts as little physical material as possible between them and the earth. Israeli soldiers who fall in service, however, are always buried in coffins. This obscures the state of the deceased's body — a necessity given the violent deaths soldiers suffer. 
After Guedalia's coffin was lowered into the ground and covered with earth, family members offered eulogies in a mix of Hebrew and English, interweaving their remarks with biblical quotes. Guedalia was religious, and his wife spoke about how they studied Torah together every Shabbat. His siblings talked of his sweet nature, his athletic prowess, his diligent commitment to Torah, his love for his family and his dedication to being a great soldier.
One of Yosef's brothers is also a soldier; he, too, was rushed into combat this week after Saturday's attacks and learned of his brother's killing while fighting in southern Israel near Gaza. 
"Od Yosef chai!" he cried out in his eulogy, quoting the exclamation the forefather Jacob shouted when he heard that his son Joseph was alive after having been missing for 22 years: "Joseph still lives!" But for this Yosef felled by Hamas terrorists, 22 years would constitute the entire duration of his life, his brother wailed. There didn't appear to be a dry eye among the mourners. 
The last remarks before the gun salute marking the end of the service were delivered by a rabbinic representative of the Israeli Defense Forces, who in keeping with tradition offered a prayer asking forgiveness of the dead. 
"In the name of the military rabbinate, the chevra kadisha [burial society] and your relatives, your commanders, your fellows, and your friends that gathered her to pay their final respects, I ask for your forgiveness and pardon. Everything that was done we did to honor you in accordance with the traditions of Israel and the customs of our holy land. Rest in peace and receive your eternal destiny. And may we and all of Israel have life and peace forever, Amen." 
Three series of gunshots rang out, and the funeral was over. The crowd began to disperse, and among them I spotted a few newly injured soldiers — wearing casts, on crutches, in a wheelchair. Comrades in uniform helped escort them over the uneven stones to the street, helping them navigate between cars parked all over the sidewalks and in front of bus stops. Volunteers manning a table at the cemetery entrance offered passersby snacks and drinks. A hasty evening prayer minyan commenced.
It was past 10:30 p.m. but Guedalia's was not the last funeral of the night. As the mourners shuffled out, organizers asked the crowd to please hurry because another family had been waiting for over 20 minutes. 
It was time for the next funeral to begin.
—
The post I grieved at a funeral in Israel this week. But not for too long — another was about to start. appeared first on Jewish Telegraphic Agency.
'Merry Ham-mas': Australian Kmart removes Christmas ham bag from shelves after Jewish group complains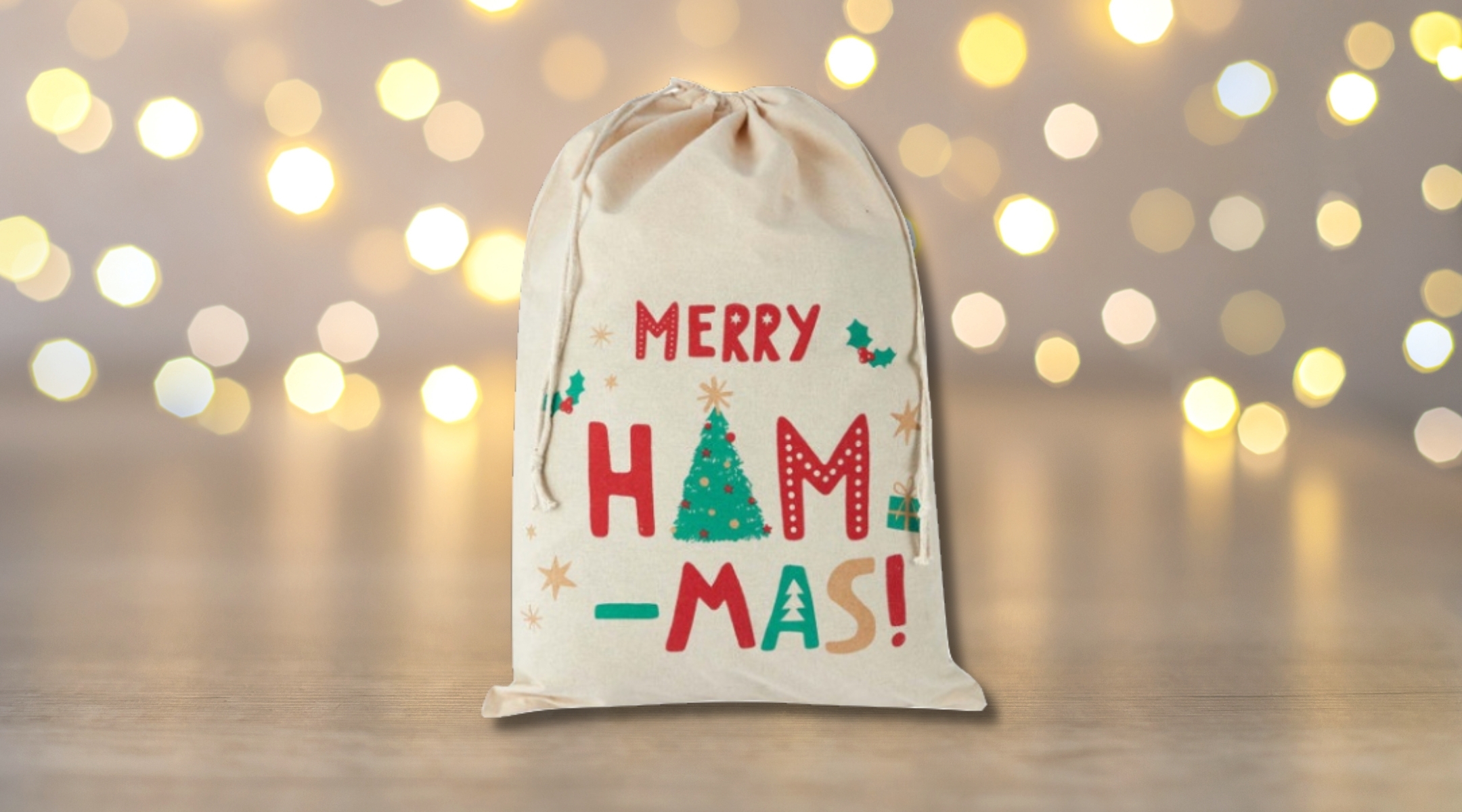 (JTA) — A ham bag has been removed from Australia's Kmart website after the Australian Jewish Association complained that its message, "Merry Ham-mas," looked too similar to Hamas, the terror group that invaded Israel on Oct. 7.
The text is printed on the ham bag in festive red and green lettering, with a Christmas tree replacing the first "A." 
"Although this is potentially funny (the AJA committee has tossed around some non-PC jokes) it's really not a good look," the AJA wrote in a post on X, formerly known as Twitter. "We suspect some product manager may cause the company some embarassment [sic]. So we've politely written to Wesfarmers corporate suggesting the product be pulled," the group wrote, referring to Kmart's parent company in Australia.
In an update posted about an hour after its first post about the subject, the AJA wrote that the organization had been contacted by Kmart senior management and that the ham bag had been taken off store shelves and the Kmart website.
Ham bags, when lightly dampened with water and some vinegar, are used to keep meat fresh. A description on the now-deleted Kmart webpage says the bag costs roughly $2.50, is made of cotton with a drawstring closure, and includes instructions for use. It is also machine washable and can be paid for in installments, the webpage said.
"We got it wrong on this occasion, and we apologise unreservedly," a spokesperson for Wesfarmers told The West Australian. "When designing this product we clearly didn't think through all the implications and the product has been removed from sale."
David Adler, president of the Australian Jewish Association, said he wanted "to give credit to Kmart management as they acted very quickly."
"It's not normal times, there are people that will distort things and will harass the Jewish community," he told the West Australian. "Of course, there are bigger issues to be addressed, dealing with the actual terrorism is important, but one of the other things we are dealing with is propaganda."
—
The post 'Merry Ham-mas': Australian Kmart removes Christmas ham bag from shelves after Jewish group complains appeared first on Jewish Telegraphic Agency.
At House hearing, pro-Palestinian protester interrupts Jewish student's recounting of antisemitic death threats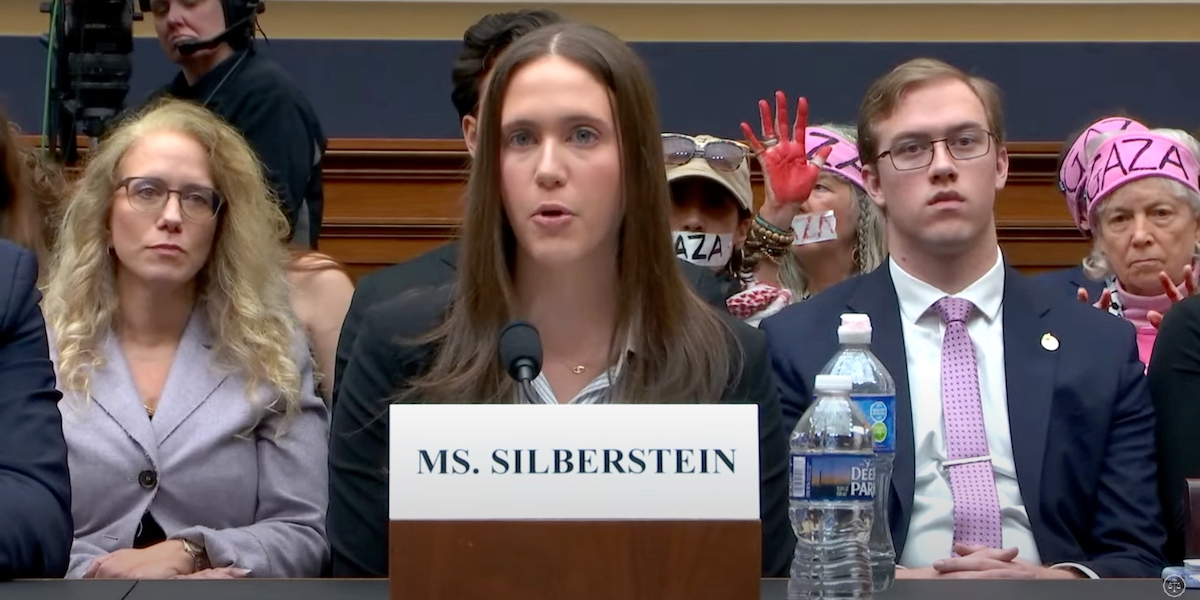 (JTA) – As Amanda Silberstein testified to the U.S. House of Representatives on Wednesday about how a student at her university had threatened to kill and rape Jewish students, she was interrupted.
"Free Palestine," a protester shouted from the audience during Silberstein's testimony at a hearing on free speech and antisemitism on college campuses. "Anti-Zionism is not antisemitism."
Silberstein is an undergraduate at Cornell University, where a student was recently arrested for making antisemitic death threats. Silberstein, a member of the student board at Cornell's Chabad-Lubavitch movement chapter, had just described how "professors and student organizations have been fueling Jew-hatred and spreading it across campus with disregard or potentially even with deliberate intent to incite." 
It was one of several times when pro-Palestinian protesters interrupted witnesses at the House Judiciary Committee hearing titled "Free Speech on College Campuses." Throughout the more than three-hour hearing, they called for a ceasefire in the Gaza Strip; decried a purported silencing of Palestinian students on campus; and protested the recent House censuring of Michigan Democratic Rep. Rashida Tlaib, who is Palestinian-American, for her use of the pro-Palestinian phrase "From the river to the sea," which Jewish groups and others have called antisemitic.
This was not the first time in recent days when pro-Palestinian protesters disrupted congressional proceedings: Last week, hecklers also tried to derail U.S. Secretary of State Antony Blinken as he implored Congress to allocate emergency funds for Israel. 
But the dissonance of the moment — Silberstein, unlike Blinken, was not using her testimony to advocate for Israel — exemplified the tense atmosphere, as Republicans and Democrats alike openly pondered the question of whether, and how, speech about Israel and Jews should be policed on campus and in the House. 
"I happen to believe in the eradication of Hamas. The same freedom of speech that protects my right to advocate that position is at stake here, is it not?" California Republican Rep. Tom McClintock said at one point to Kenneth Marcus, a witness who served in the Trump administration's Education Department and chairs the Brandeis Center for Human Rights Under Law, a pro-Israel group that has repeatedly brought legal challenges against universities it says fail to properly discipline anti-Zionist speech. 
The hearing was originally intended to focus on the issue of conservative college students allegedly being silenced. But in light of Hamas' Oct. 7 attack on Israel, it largely centered on antisemitism on campus and beyond as student and faculty rhetoric around Israel has reached a fever pitch. 
Silberstein had been invited to testify in part because Cornell recently canceled classes for a day because of the threats against its Jewish students. That incident followed a professor at the Ivy League university publicly praising the Hamas attacks, turning the school into a flashpoint for the rising temperature around antisemitic and anti-Zionist speech on campuses.
Some Republicans, including hardline right-wing Florida Rep. Matt Gaetz, suggested that efforts to restrict pro-Palestinian or pro-Hamas speech on campuses were misguided. Another, California Rep. Kevin Kiley, accused university administrators at schools such as Harvard of relying on free speech as an excuse to avoid condemning students with pro-Hamas views. 
A Cornell alum, Texas Rep. Wesley Hunt, condemned the school's administration for not immediately firing the pro-Hamas professor, suggesting administrators would have done so if he had shared anti-trans or anti-Black views instead.
One Democrat, Georgia Rep. Hank Johnson, said the hearing itself was hypocritical in light of the House's vote the previous night to censure Tlaib over speech related to Israel. 
"It's ironic that we're holding this hearing today about censorship and speech on campus, but last night, MAGA Republicans and others censured the only Palestinian voice in the House of Representatives because they didn't like what she had to say," Johnson said. "She didn't threaten anybody. She did not advocate for violence. She stated a view, as happens on college campuses." (Nearly two dozen Democrats also voted to censure Tlaib, saying that they believed her use of the phrase "From the river to the sea" implied threats of violence toward Jews and Israel.)
McClintock grilled Silberstein and Marcus about whether certain Israel-related speech should be protected on campus. He asked Marcus if "the mere repetition" of the phrase "From the river to the sea" should be "banned or punished."
In his answer, Marcus referred to an executive order by President Donald Trump that included some anti-Israel speech under the Education Department's civil rights protections. Speech, he said, could be used "as an indicator of the nature of conduct." He added that, if a violent antisemitic action followed anti-Israel speech, the prior speech could be policed as an example of predicting that conduct.
"Conduct often follows words," Silberstein said in agreement, linking chants at Cornell of "From the river to the sea" to antisemitic threats to students. "Speech advocating for violence should not be tolerated on a college campus," she added.
"Well, what about the eradication of Hamas?" McClintock asked her. Silberstein responded that Hamas is "a recognized terror organization," which led McClintock to ask, "So it depends upon your viewpoint, is that what you're saying?"
Gaetz, too, pushed Marcus on whether punishing students who voice support for Hamas amounts to the suppression of legitimate speech. He suggested that those who have called for the suppression of bigoted speech are being inconsistent. 
"I am reminded of the great philosopher Austin Powers, who said, 'There's only two things I can't stand: people who are intolerant of other people, and the Dutch,'" Gaetz said, referencing the series of spy comedies starring Mike Myers. "And a similar tension seems to be on display today."
Silberstein and Marcus were joined on the witness panel by Stacy Burdett, a senior executive at the Anti-Defamation League; two non-Jewish conservative campus activists; and Pamela Nadell, the director of American University's Jewish studies program and the author of a forthcoming book on antisemitism in America. 
Nadell sparred with Gaetz over whether criticisms of "globalists" or progressive Jewish philanthropist George Soros, both frequent targets of Gaetz's ire, should always be seen as antisemitic.
Elsewhere during the hearing, Judiciary Committee Chair Jim Jordan, a Republican, refused to respond to California Democratic Rep. Eric Swalwell's queries about why his committee left up a tweet reading "Kanye. Elon. Trump." for months after the rapper Kanye West embarked on a stream of antisemitic comments. 
—
The post At House hearing, pro-Palestinian protester interrupts Jewish student's recounting of antisemitic death threats appeared first on Jewish Telegraphic Agency.
Antisemitic incidents up 800% in the Netherlands since Oct. 7, Dutch watchdog reports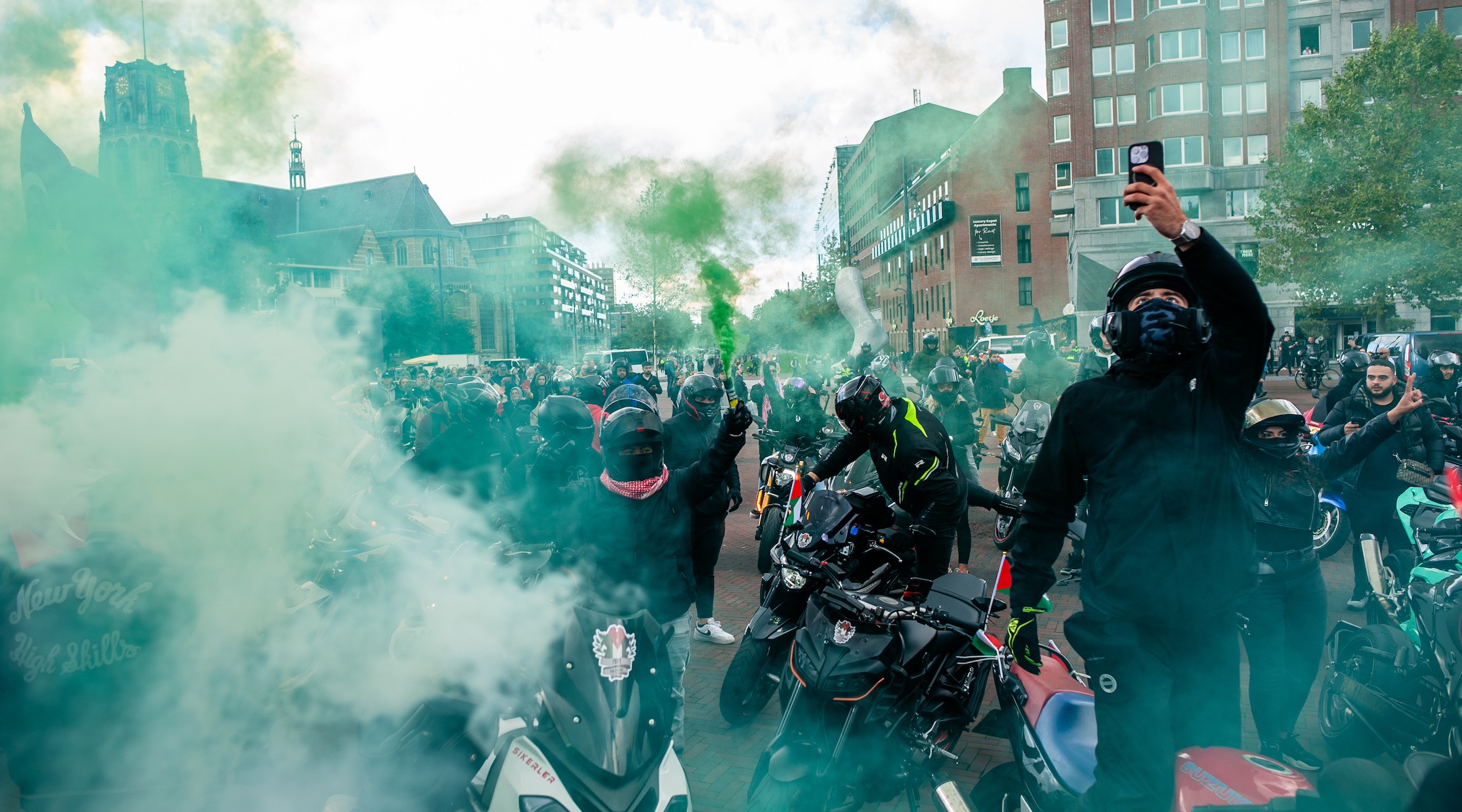 (JTA) — Reports of antisemitic incidents have spiked over 800% in the Netherlands since Oct. 7, a leading Dutch-Jewish watchdog has reported.
The surge only reflects antisemitic acts reported to the Center for Information and Documentation on Israel (CIDI), not all incidents filed to police departments and other anti-discrimination bureaus.
CIDI would not release specific incident numbers but said the barrage of reports it has received since the start of the Israel-Hamas war is 818% higher than its monthly average recorded over the past three years. The group tallied 183 total incidents for all of 2021.
"It is very worrying that Jews in the Netherlands are held responsible for conflicts taking place in the Middle East," read the CIDI report released on Tuesday. "It seems as if Israel is being used to beat Jews."
According to CIDI researcher and policy advisor Hans Wallage, it's not only the numbers that have grown — the range of attacks on Jews has increased as well.
"I see way more variety of different incidents that I didn't see before, and also more variety in the place where it happens," Wallage told the Jewish Telegraphic Agency. "There are a lot of schools — elementary, high schools, universities — having way more incidents that I didn't see before the 7th of October."
In one school, a Jewish boy was threatened with a knife and hit on the head with a bottle while classmates called him "kankerjood," a Dutch slur meaning "cancer Jew." Another boy was told that his classmates would throw him off a bridge and drown him because he was Jewish. Recurring reports describe students being accosted for wearing Star of David necklaces, being shown the Hitler salute and being told that Hitler "didn't finish his job."
Wallage believes the rash of school incidents has to do with social media, which gives children unprecedentedly rapid and unchecked access to hate speech, conspiracy theories and incitement.
"We don't have a filter as adults sometimes, but children completely don't have a filter of what to share — they share everything," he said. "What's a lie? After a while, if you read it all the time and share videos all the time online, it's going from the online world to the real-life world."
Most of the conspiracy theories circulating through Dutch schools follow old antisemitic tropes, simply repackaged for a younger generation, said CIDI director Naomi Mestrum.
"It's the same conspiracy theories," Mestrum told JTA. "Jews control the world and the media, and this [Hamas attack] must be fake, they staged this because it fits their agenda."
Outside of schools, CIDI has recorded mezuzahs torn off doors and swastikas sprayed on windows, along with frequent threats and verbal abuse. General antisemitic statements on social media are excluded from the figures, unless they were specifically sent to an individual through a direct message.
Shortly after Oct. 7, the only Jewish weekly magazine in the Netherlands — Nieuw Israelietisch Weekblad, known in English as the Dutch Jewish Weekly — switched from its clear plastic packaging to anonymous white envelopes, according to editor-in-chief Esther Voet. She said that her staff was flooded with calls from anxious subscribers who didn't want their neighbors to know they were Jewish.
Although it is typical for antisemitism to flare in the Netherlands during conflicts in Israel and the Palestinian territories, CIDI researchers said they have never seen a surge of incidents like this before. And like other Jewish communities across Europe, many Dutch Jews feel they are in new territory.
"People feel that it's different now, and it will be forever different from now on," said Mestrum.
—
The post Antisemitic incidents up 800% in the Netherlands since Oct. 7, Dutch watchdog reports appeared first on Jewish Telegraphic Agency.