In Budapest, a 'guerrilla-like' group is mobilizing against the alleged takeover of a historic synagogue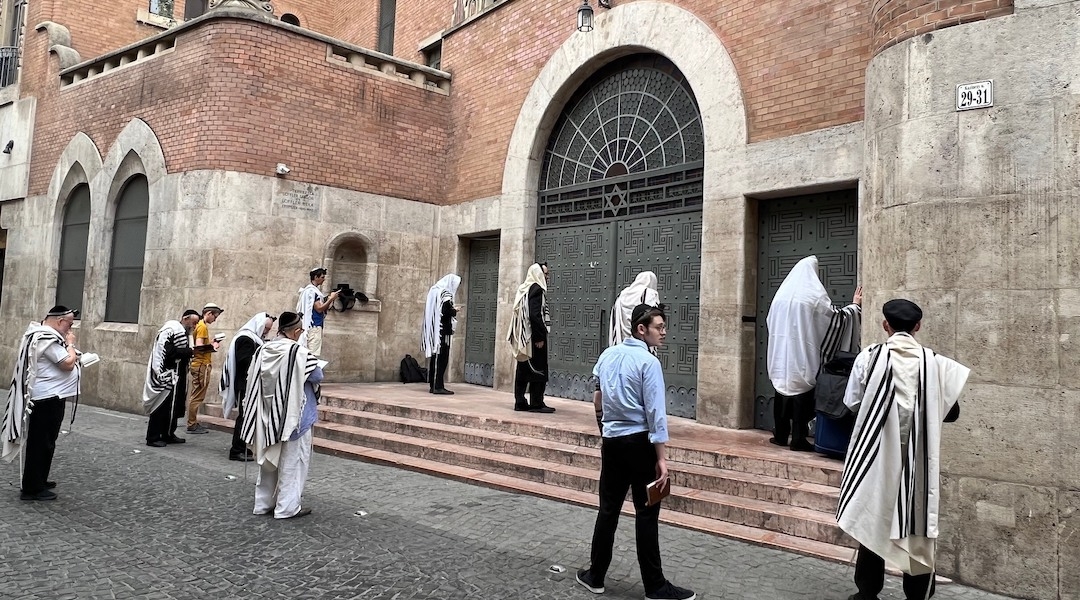 (JTA) – David Kelsey, a publicist from New York, was disturbed to hear about an alleged takeover of Budapest's historic Orthodox congregation, in part because of his Hungarian Jewish roots. So when he happened to be visiting the city last month, he decided to investigate the situation for himself.
His timing was eerily impeccable.
On the second morning of his visit, after spending time listening to community members, he found them gathered outside the locked doors of the historic Kazinczy Street Synagogue, barred from entering by the new management.
The photographs he took on the scene show an elderly man praying while seated on an overturned trash bin on the street, and the hood of a car serving as the best available surface to set down prayer books and ritual garments.
"That the dignified old man had to use the garbage can as a chair just really showed me how degraded and disgusting the whole thing was," Kelsey said. "It was all very strange and awful. They were in such pain. And so sad. … I was so angry."
Kelsey had witnessed an escalation in a saga that has been unfolding for more than two years. Members of the Autonomous Orthodox Jewish Community of Hungary, which operates the Kazinczy Street Synagogue and several other institutions, are accusing the Hasidic Chabad movement of usurping control of their group — and its funding and real estate — with the aid of the Hungarian government. Three religious courts have ruled that the leadership changes should be reversed or put on hold, but a secular court has sided with Chabad.
Representatives of Chabad have repeatedly rejected the allegation of a takeover of the Orthodox organization, known by its Hungarian acronym as MAOIH. They say the group remains independent and that the current leadership assumed its place legitimately through the MAOIH's formal process.
"Chabad did not and is not planning on 'taking over' MAOIH, whatever that is supposed to mean," Chabad's official organization in Hungary said in a statement.
But MAOIH's former president, Róbert Deutsch, says rabbis identified with Chabad took advantage of the process as part of a deliberate power grab. He says he had initially trusted them and gave them leverage that they eventually exploited to take control.
"I was betrayed, Deutsch said. "I totally take responsibility — for being friendly with these people and trusting them fully. But it's a very sad thing to me to realize that you cannot trust even the most religious-looking person. They care about gaining as much as possible financially, even if they need to destroy a local community. And to me that's such an evil."
Now, a group of Hungarian Jews has organized into a "sort of guerrilla organization," as one member put it, to resist the alleged takeover.
"We call ourselves 'Shomrei Hadas,' meaning 'guardians of the faith,'" said the member, Pál Hegedűs, a professor of mathematics at the Budapest University of Technology and Economics. "It's the original name of Orthodoxy here from 150 years ago. We use this name and try to be active in the media and in public life."
The historical reference serves as a reminder that a once-major center of Orthodox Jewry was decimated by the Holocaust and, later, under communist rule, further reduced by emigration. Membership in MAOIH dwindled to only about 50 people before the recent controversy, and the synagogue had no dedicated rabbi and lots of dysfunction, per several accounts. But the group still possessed an official status entitling them to government funding as well as a host of institutions, including a school and old-age home, and enviable real estate.
Perhaps the jewel in its holdings is the Kazinczy Street Synagogue, an Art Nouveau structure that was completed in 1913 and survived World War II relatively intact before falling into disrepair during the communist era. Renovation more recently has turned it into a tourist destination, with an onsite kosher restaurant serving traditional Ashkenazi and Hungarian foods, even as it has continued to function as an Orthodox synagogue.
Like MAIOH, Chabad operates a portfolio of institutions in Hungary and receives some government funding to do so. Its goal in the country is the same as elsewhere: to bring as many Jews as possible closer to their religion. In support of this mission, the movement has established services for the country's Jewish community, including a school, a kosher butchery and a mikveh, or ritual bath. It also operates multiple synagogues in and around Budapest.
But while Chabad has increased the number of Jews engaging with Jewish institutions and practices in some of the places where it operates, that's not what has happened so far on Kazinczy Street.
It closed the synagogue's doors on July 20, saying that it needed to make renovations. Shomrei Hadas members and Deutsch say the precipitating factor was different: They said the closure happened after a faction of MAIOH that has not recognized the new leadership recruited a new rabbi from a different Hasidic sect. They also say no sounds of construction can be heard from inside the synagogue complex and note that a sign placed outside invites visitors and tourists to enter the main sanctuary for a fee.
After Kelsey's photographs circulated on social media and amid a general outcry in the community, the new Chabad-aligned leadership erected a fence and scaffolding in front of the entrance allegedly, according to Shomrei Hadas, to prevent further worship. The group said the directive came from Rabbi Gábor Keszler, who allowed the community members the temporary use of an adjacent kosher restaurant he had also shuttered.
"It's a clear manifestation of Chabad's double measure," Zev Paskesz, the head of Shomrei Hadas, who claims to be the legitimate leader of MAOIH, said in a statement. "If you are a visitor you can buy tickets to the big Kazinczy shul and daven there, but if you are a simple Orthodox community member you can daven in the Hanna restaurant but you are not allowed to enter the big Kazinczy shul."
Paskesz and many others in the local Jewish community believe that recent events are part of a deliberate strategy to alter and monopolize the institutions and religious practices of Hungarian Jewry. According to this view, Chabad, a global but decentralized Orthodox Jewish outreach movement based in Brooklyn, has acted to take control of MAOIH's real estate and its annual allotment of about $1 million in government funding as one of three officially recognized Jewish communities in Hungary.
The other two are Chabad itself, acting through the Association of Hungarian Jewish Communities or EMIH, and the liberal Neolog Jewish movement led by a group called Mazsihisz. Orthodox Judaism is relatively small in Hungary and the vast majority of the country's estimated 100,000 Jews are represented by Mazsihisz.
Andras Heisler, Mazsihisz's former leader, took to Facebook in May to fume about the alleged takeover, which he dubbed "a sin against Judaism."
The Chabad-aligned rabbis now running MAOIH did not respond to questions. Through a spokesperson, the EMIH declined a request for an interview with its leader and provided answers to written questions by email, denying the allegations.
"Naturally, the two Orthodox communities have strong ties to each other, all Orthodox children learn in the Chabad institutions (including those affiliated to MAOIH), and there are many who are members in both communities, etc.," EMIH said. "Still, legally there are two communities, two independent entities. The Kazinczy Street synagogue complex does not belong to Chabad-affiliated EMIH and we have no authority over it."
Accusations of encroaching on existing institutions and attempting to take them over have long dogged Chabad as the movement has expanded rapidly in recent decades. In 2005, for example, a rabbi in Russia said that he was forced to hand over the congregation he had established to the Chabad-affiliated Federation of Jewish Communities of Russia. Similar stories have been reported in Ukraine, the Czech Republic, Massachusetts and elsewhere. In some cases, however, communities that had seen their institutions decline invited Chabad rabbis to take over and rejoiced over the infusion of new energy, as was the case in Buenos Aires in 2005 and Biloxi, Mississippi, in 2020. Part of what is driving the dynamic is that many Chabad emissaries come to their adopted community with little or no funding and face enormous pressure to quickly establish a presence.
For longtime affiliates of MAIOH, the leadership change at their organization reflects not just a pattern but a strategy. They believe the alliance between Chabad's chief rabbi in Russia, Berel Lazar, and Russia's president, Vladimir Putin, is a direct inspiration for Chabad's tactics in Hungary. Rabbi Shlomó Köves, the head of EMIH and Chabad's chief rabbi in Hungary, has built close ties with the government of Hungarian Prime Minister Viktor Orbán.
Critics believe Chabad has received favorable treatment in return for silence in the face of the authoritarianism that they say has characterized Orbán's rule, including the whitewashing of Hungarian complicity in the Holocaust and rhetoric against Hungarian-American Jewish financier George Soros. One possible measure of Chabad's standing is the money the government is pouring into a Chabad-sponsored university.
Referring to Chabad's ties with Putin in Russia, one Shomrei Hadas member who declined to be identified for fear of reprisal said, "They want to create the same model in Hungary."
It is not uncommon for Chabad to stir controversy and to stoke close ties with government officials when seeking to expand, according to Sue Fishkoff, a journalist who has written extensively about the movement.
"When Chabad moves into a new community, one of their first acts is to present themselves to the local media and political leaders as the representative of the local Jewish community," Fishkoff said. "Typically the emissaries call the media to give interviews about an upcoming Jewish holiday, and invite the mayor or other elected official to 'light' the Hanukkah menorah. It's all part of the value the movement places on getting along with the government, thus 'staying out of politics,' when in fact supporting the sitting government is taking a political stand. Not surprisingly, none of this sits well with other Jewish congregations in the area."
EMIH did not address JTA's questions regarding its relationship with the Hungarian government.
The story of the alleged takeover starts in January 2021 when Róbert Deutsch was elected president of the congregation. The owner of a dental supply company in his late 50s, Deutsch had decided to run for the job in the hope of improving a community he believed was unwelcoming and mired in financial and spiritual disarray.
"We inherited something that our ancestors worked very hard for. It was neglected and destroyed following the Holocaust. When I took over, my intention was to clean the mess and build a beautiful place," he said. "I didn't take a salary. I just wanted to dedicate my time and energy to change it into a flourishing place."
He also wanted to open up the community to more people including Chabad, with which had enjoyed "long-term and good relationships." Chabadniks had been helpful in his personal transition from secular to religious and he turned to his friends in Chabad for support.
"Shlomó Köves was very close to me. He was there to assist me when my father passed away," he said. "When I was thinking about running, I went to him and he was very supportive and said, 'We can do a lot of things together.'"
Deutsch hired two people who were referred to him by his Chabad contacts to help run MAOIH— fresh faces to reinvigorate the community, he thought. He would eventually accuse them of plotting a "coup" against him.
Soon, about 35 new people applied to join the organization. They were all employees of the Csengele Kosher Slaughterhouse, which is run by the Chabad-affiliated EMIH, according to Shomrei Hadas. But since the organization did not have a community rabbi or a quorum of board member seats in place, they could not have been enrolled in accordance with the group's bylaws, Shomrei Hadas allege.
Deutsch regarded the newcomers as members but his original membership didn't, which caused the organization to split into two factions. Each faction proceeded to operate independently, holding meetings, electing board members, and in the case of the Chabad-linked faction, making changes to the bylaws.
The Chabad-linked faction also began enrolling dozens more members with Deutsch's cooperation but without his vetting, which he would come to regret. "Most of them or maybe all of them have never even been to Hungary, don't speak Hungarian," he said. "They have zero connections to Hungarian Jewry."
To reclaim their organization from the Chabad-affiliated leaders they regarded as illegitimate, community members turned to rabbinical courts in Budapest and Jerusalem and to the court affiliated with the Conference of European Rabbis. And they won, with all of the courts ordering the reversal of recent decisions or at least a maintenance of the status quo until an investigation could be completed. They'd even managed to get Deutsch to switch to their side and convince him of what they had believed all along: Chabad was not interested in giving but in taking.
When the matter came before Hungarian authorities, the opposite conclusion from that of the religious courts was reached. The government quickly recognized the new Chabad-affiliated leaders. The outcome is being challenged, but Shomrei Hadas members say they don't expect a reversal given the judicial system's subordination to the government. Deutsch, who generally supports the Hungarian government and praises its relationship with the Jewish community, believes it erred in this case and should have deferred to religious authorities — the rabbinical courts — on an internal community matter.
Keszler, who replaced Deutsch atop the Chabad-linked faction, did not respond to questions. But in a May announcement to the congregation, Keszler argued that the conflict was personal. He said Deutsch's complaints were motivated by a desire to cover for his own record of mismanagement.
"We are convinced that Róbert Deutsch's personal fight harms the perception of Judaism and Orthodoxy and causes irreversible material and moral damage to the religious community," Keszler's announcement said.
For longtime MAIOH affiliates, the recent events are far from personal: They resound within the sweep of Jewish history in Hungary. Kelsey said that while watching the worshippers outside the locked synagogue, he found the historical echoes unmistakable.
"I was aware that Chabad was successfully delivering the final blow to a congregation that had survived both the Nazis and the communists," he said.
Deutsch framed it similarly. "Decades after the Holocaust in Budapest, Jews are not allowed to pray in their shul," he said. "Even during communism, they were allowed to. Now another Jewish group comes to destroy a place where they pray and close the doors to them."
—
The post In Budapest, a 'guerrilla-like' group is mobilizing against the alleged takeover of a historic synagogue appeared first on Jewish Telegraphic Agency.
More than 120 Jewish activists call on advertisers and app stores to drop Twitter/X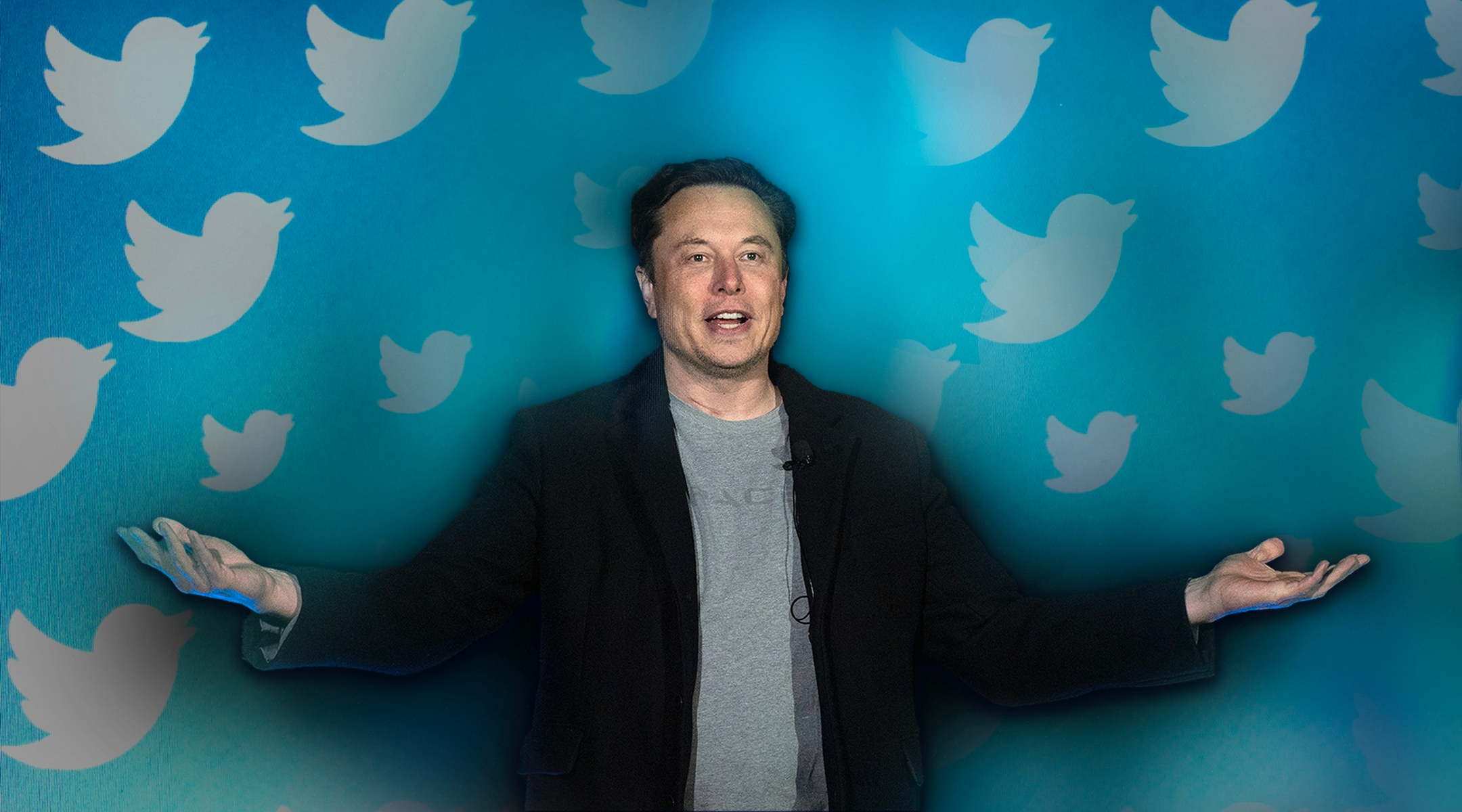 (JTA) — More than 100 Jewish activists have signed a letter appealing to major advertisers to end their relationship with X, the platform previously known as Twitter that is owned by Elon Musk, calling it "a breeding ground for antisemitism" that "represents one of the largest dangers to Jews in years."
The signatories are also calling on Apple and Google to remove the platform from their app stores, which would effectively make X's app inaccessible to the vast majority of mobile users.
The call, issued Tuesday, comes after weeks during which Musk has interacted with white supremacists and written a stream of posts attacking the Anti-Defamation League, the Jewish civil rights organization that has criticized his removal of hate speech guardrails on the site. The ADL also called on advertisers to pause their spending on the platform last year, and Musk has threatened to sue the group for, in his view, tanking X's ad revenue.
"We have watched in horror as a new stage in antisemitic discourse has spread like wildfire on one of America's largest social media networks," said the letter, spearheaded by Elad Nehorai, a progressive Jewish activist. "All of this has been facilitated and enabled by its owner: Elon Musk."
Many of the more than 120 signatories are progressives, among them cartoonist Eli Valley and Ruth Messinger, the former Manhattan borough president and onetime Democratic nominee for New York City mayor who later led the American Jewish World Service, a global aid group.
But a number of prominent Jewish thinkers and activists from across the political spectrum have signed on as well, including David Hazony, a conservative editor who just published "Jewish Priorities," a collection of essays; Archie Gottesman, who sits on the board of the Democratic Majority for Israel and co-founded JewBelong, a group that aims to combat antisemitism and reinforce Jewish identity; and Rabbi Yitz Greenberg, a longtime leading Orthodox Jewish scholar. The letter was also signed by Rabbi Rebecca Sirbu, the executive vice president of the Jewish Funders Network, and Rabbi Isaiah Rothstein, a scholar and public affairs adviser at the Jewish Federations of North America, though neither listed their organizational affiliations.
"We are alarmed by his targeting of the ADL: not because of our views of the organization (we represent a wide range of views, including some who fundamentally oppose the ADL as well as staunch supporters), but because of the way he has used the organization as a very clear stand in for an antisemitic representation of Jewish power," the open letter said.
—
The post More than 120 Jewish activists call on advertisers and app stores to drop Twitter/X appeared first on Jewish Telegraphic Agency.
A Jewish-owned hot dog empire began on this Coney Island street corner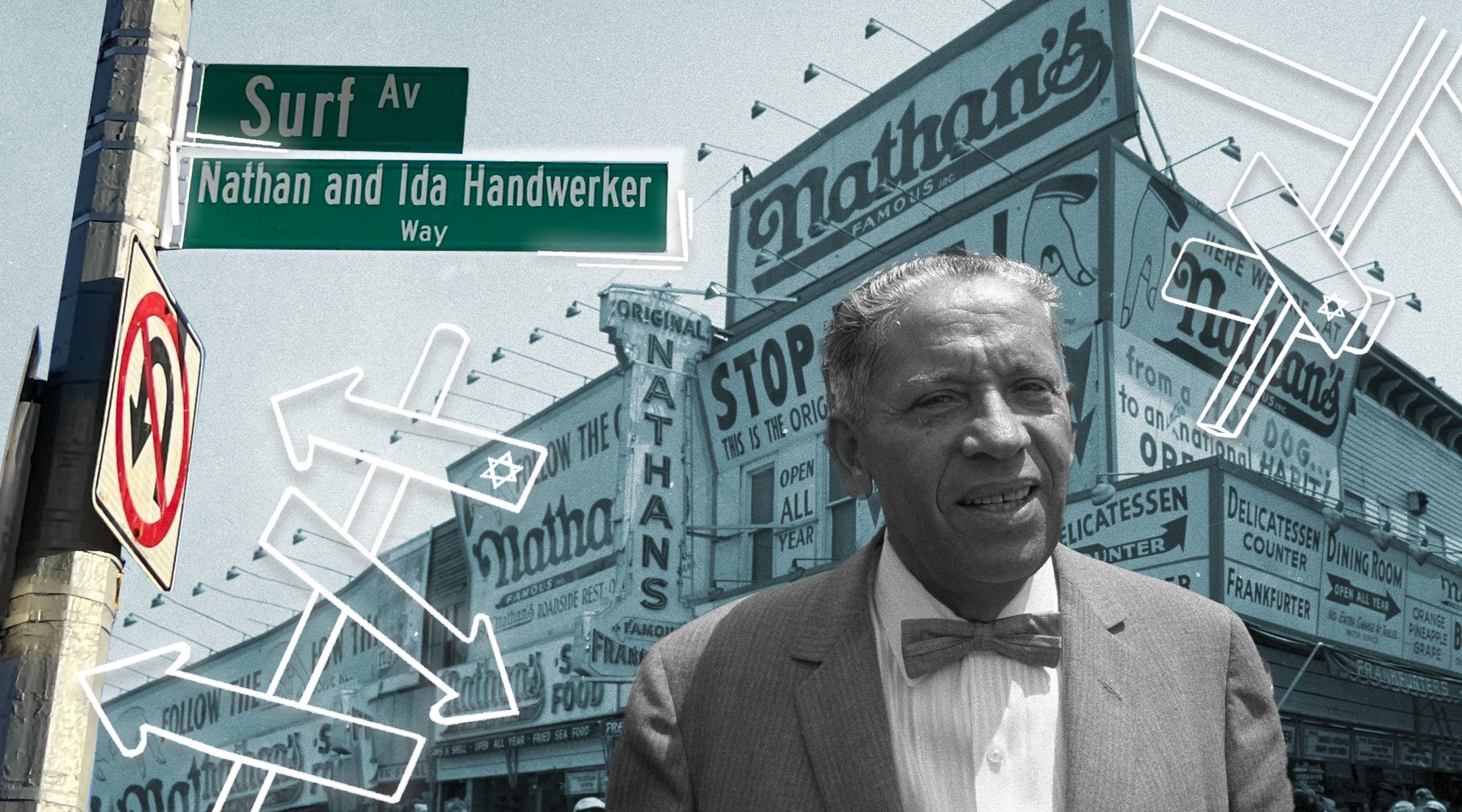 (New York Jewish Week) — For many generations of New Yorkers, eating a Nathan's Famous hot dog from their Coney Island flagship location is a staple of summer. The iconic hot dog stand just celebrated its 107th season at the city's iconic beachside destination. 
Nathan's Famous — which started as a nickel hot dog stand and grew to a franchised business that today has over 350 locations in 12 countries — may be most famous today for its annual Fourth of July hot dog eating contest. It is named for its founder, Nathan Handwerker, a Polish Jewish immigrant who, along with his wife, Ida, opened Nathan's Famous in 1916, when he was 19.
"It was his life," Handwerker's grandson, Lloyd Handwerker, who made a 2014 documentary and wrote an accompanying book about his family history, both titled "Famous Nathan," told the New York Jewish Week
"He had brilliant instincts about running a business — basic ideas which seem simple, but they work well," Lloyd said. "Which is keeping the price low, having the quality be great, being a stickler, paying people well and caring about the customer."
On Sept. 24, 2016, the 100th anniversary of the founding of Nathan's Famous, New York City co-named the corner of the Surf and Stillwell Avenues Nathan and Ida Handwerker Way. 
"Nathan and Ida Handwerker worked together for over 50 years and were part of the few generations who formed the rich Coney Island culture that is now renowned throughout the nation and all over the world," Lloyd Handwerker's cousin, William, said at the unveiling event. "It is an honor to celebrate their legacy by memorializing their names on the street corner that houses the original Nathan's."
(Lloyd was supposed to give a speech alongside his family, but his father, Sol, died just days before the ceremony.) 
Also present that day was Eric Adams, who at the time was Brooklyn Borough President, and Mark Treyger, the Jewish city council member for District 47, which includes Coney Island. "The corner of Surf and Stillwell Avenues in Coney Island is now known as Nathan and Ida Handwerker Way, after the husband and wife team who grew a hot dog food cart into a brand that is known worldwide," Treyger said at the ceremony. 
"The inspiring story of these two immigrants, who came to this country facing an uncertain future, working hard to create a product that means so much to so many, is what the American Dream is all about," he added.
Handwerker arrived in the United States from Poland in 1912 and took a job as a delivery boy during the week. On the weekends, he sliced rolls at Feltman's German Gardens, a restaurant in Coney Island — where he met a waitress who would become his wife. 
By 1916, the couple had saved $300, enough to open their own, competing hot dog restaurant. They used Ida's secret spice recipe to make their hot dogs, for which they charged 5 cents — half the price of a dog at Feltman's. 
Considering the low price of the product, customers were skeptical at first, so Handwerker allegedly hired men to wear white coats while eating his hot dogs. The image would lend his business credibility, as customers figured that if doctors were eating the hot dogs, they could, too. 
The business grew steadily over the next half century, with Handwerker working 18-20 hours a day cooking food, selling it and running the business. When the company went public in 1968, Handwerker was elected chairman of the board.
"As a grandfather, he was a very sweet, soft guy. I had no idea what kind of boss he was," said Lloyd. "It's different for different people, but I found out he was pretty tough. He was a stickler, and he was clearly a perfectionist about everything — about the quality, about the workers."
As for Ida Handwerker, in addition to creating the recipe for the hot dogs, she was often in the back kitchen, peeling and chopping onions, garlic and potatoes, Lloyd said. "My grandmother, too, my dad said, was also pretty tough in her own way," he said. "She worked in the business for many, many years alongside [Nathan], especially in the early days. She was a great grandmother, warm and wonderful. But I guess they both came up hard and tough."
By the time Nathan Handwerker died in 1974 at 81, Nathan's Famous Hot Dogs was a household name. Over the years, the hot dog stand became a favorite for celebrities like Barbra Streisand and Regis Philbin. In 1936, the hot dogs were served at a lawn party hosted by President Franklin D. Roosevelt in honor of King George VI and Queen Elizabeth. 
The Coney Island location was also an essential stop for politicians from City Council members to the president of the United States. "No one can hope to be elected to public office in New York without having his picture taken eating a hot dog at Nathan's," former New York Gov. Nelson A. Rockefeller once told Handwerker during a campaign visit to Coney Island, according to the New York Times. 
Handwerker retired to Florida in 1972, with his son Murray taking over and expanding the business. Nathan's first hot dog eating contest was that same year.
Lloyd Handwerker, who was 17 when his grandfather died, began working on his film in the 1980s, and over the course of 30 years he interviewed some 75 friends, family members and associates of Nathan's Famous. "My grandfather was always telling stories around the dining room table at the holidays and dinners," he said. "By the time I took a video class and had access to a camera, my grandfather and my grandmother had passed away, but I still thought 'we should be preserving this history.'"
Though he never worked at Nathan's Famous, Lloyd, who grew up in a Reform Jewish household in Long Island, said that he has fond memories of visiting his grandparents' office in Coney Island, as well as celebrating Jewish holidays at their house in Florida. "My grandmother cooked amazingly, so I have a lot of great memories of Passover in particular," he recalled. Lloyd said that though his grandfather grew up traditionally religious in Poland, he didn't keep many traditional customs by the time he came to the United States. 
And yet, some tenets of Judaism were deeply ingrained in the entrepreneur: Though he didn't hire a rabbi to certify the kitchen, Handwerker coined the term "kosher-style" for his restaurant, because his hot dogs were made with 100% beef and therefore could be kosher. 
Plus, "the one day that the restaurant was closed out of the whole year was Yom Kippur, so it still obviously meant something to him," Lloyd said of his grandfather. 
Nathan's Famous is now owned by Smithfield, a subsidiary of the Chinese meat and food processing company WH Group. However, the family still owns the original Coney Island building and is the landlord for Nathan's Famous there.  
"As far as his legacy, he was obviously very proud of what he created," Lloyd said of Nathan. "He was a pretty humble guy, but look at what he did: He came from starvation in Poland, without an education. He didn't know how to read or write, he was basically illiterate and he built this institution that  everyone has a story about. It's amazing."
—
The post A Jewish-owned hot dog empire began on this Coney Island street corner appeared first on Jewish Telegraphic Agency.
​​Biden's new book ban czar is a longtime progressive Jewish leader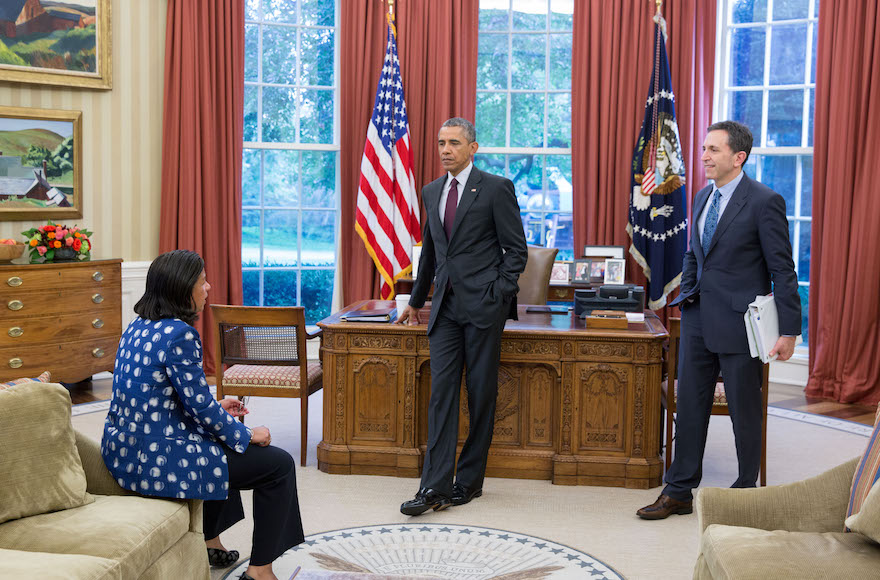 (JTA) – The Biden Administration's new point person for combating book bans at school districts and public libraries across the country is a gay, Jewish progressive activist who has served as a government liaison to the Jewish and LGBTQ communities.
The appointment of Matt Nosanchuk comes as the thousands of book challenges nationwide have focused on books with LGBTQ as well as Jewish themes, in addition to works about race. Nosanchuk was named a deputy assistant secretary in the Department of Education's civil rights office earlier this month. In that role, he will lead training sessions for schools and libraries on how to deal with book bans — and warn districts that the department believes book bans can violate civil rights laws.
An Education Department official recently told the 74, an education news site, that the bans "are a threat to students' rights and freedoms."
"I am excited to return to public service to work on behalf of the American people," Nosanchuk posted to LinkedIn earlier this month. "There is a lot of important work to do!"
The Education Department declined to make Nosanchuk available for an interview. He has already taken heat from conservative outlets, which have pushed the narrative that the books being removed from schools and libraries are too sexually explicit for children. Kayleigh McEnany, the Fox News host who served as Donald Trump's press secretary, called him a "porn enforcer" on-air.
But his appointment has been celebrated by librarians and book access activists. "This is a step forward for the Biden Administration, who has heard the concerns of parents and taken action, but it is just the beginning," the National Parents Union, a progressive parental education activist group, said in a statement.
Nosanchuk's career has largely focused on working with the LGBTQ and Jewish communities. In 2009, after serving in a number of roles in Washington, D.C., Nosanchuk was appointed as the Department of Justice's liaison to the LGBTQ community — a position he held while Obama was still publicly opposed to same-sex marriage. He later worked on the Obama administration's opposition to a law barring same-sex couples from receiving federal benefits.
He subsequently served as the White House liaison to the Jewish community during Obama's second term, and in 2020 was the Democratic National Committee's political organizer for Jewish outreach and LGBTQ engagement. That same year, he cofounded the New York Jewish Agenda, a progressive policy group that he led until earlier this year.
Nosanchuk's first webinar in his new role was held Tuesday in partnership with the American Library Association, an organization with which a number of Republican-led states have recently cut ties. He begins his work after a year that has seen several school districts take aim at books focused on Jewish experiences or the Holocaust.
Two weeks ago, a Texas school district fired a middle school teacher reportedly for reading a passage from an illustrated adaptation of Anne Frank's diary to eighth-grade students. Other schools' removals of "The Fixer," a Jodi Picoult novel about the Holocaust and other texts have been likened to Nazi and Stalinist book burnings —  comparisons that proponents of the book restrictions reject.
Democratic politicians, including House Minority Leader Hakeem Jeffries, have accused Republicans of wanting "to ban books on the Holocaust." A recent Senate hearing on book bans included testimony from Cameron Samuels, a Jewish advocate for access to books, along with numerous references to "Maus," a graphic novel by Art Spiegelman about the Holocaust that was pulled from a Tennessee middle school curriculum last year.
PEN America, a literary free-speech advocacy group, welcomed Nosanchuk's appointment.
"Book removals and restrictions continue apace across the country, as the tactics to silence certain voices and identities are sharpened," the group said in a statement. "Empowering the coordinator to address this ongoing movement is critical."
—
The post ​​Biden's new book ban czar is a longtime progressive Jewish leader appeared first on Jewish Telegraphic Agency.