In the West Bank, spiking violence and an idle economy spur fears of a broadening conflict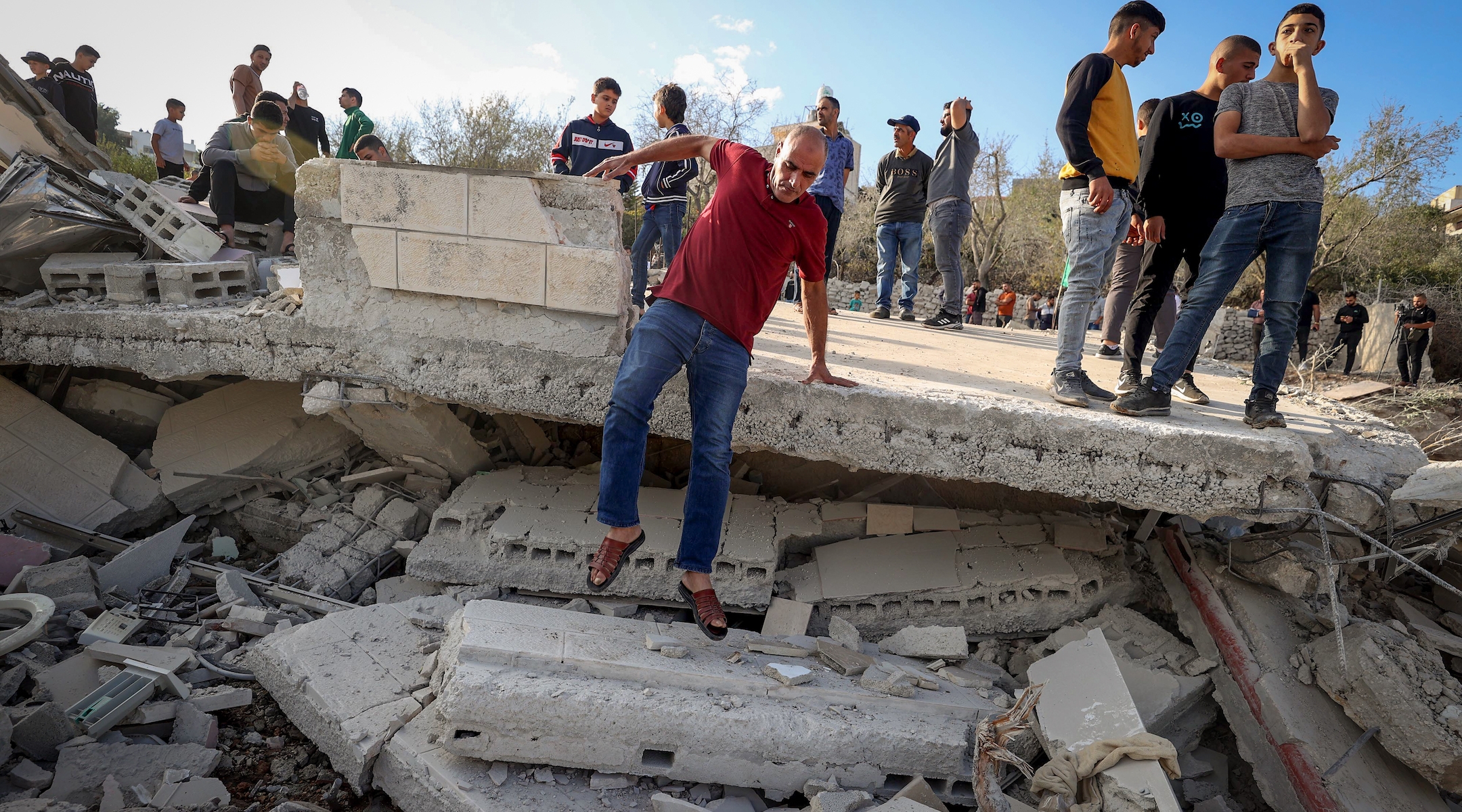 DEIR ISTIYA, West Bank (JTA) —  The video, making the rounds in this northern West Bank Palestinian village, showed an Israeli settler firing a rifle in the air above a group of Palestinians harvesting olives in a field not far from an Israeli settlement.
Standing in a small olive grove, the settler told the Palestinians that he would "put a bullet in their head" if they return. Later in the day, anonymous flyers were found on cars elsewhere in the village, warning its residents of a coming "forced expulsion" or "Nakba," the Arabic word for "catastrophe" that Palestinians use to describe the dispersion and expulsion of Palestinians during Israel's 1948 War of independence.
The incident last week comes amid an escalation in violence in the West Bank following Hamas' Oct. 7 attack on Israel and Israel's ensuing war against the terror group in Gaza. The eruption of West Bank clashes has been dwarfed in attention by the war, in which thousands have been killed and wounded and an Israeli ground invasion of Gaza is ongoing.
But this year is already the bloodiest in the West Bank in nearly two decades, and fears are compounding of the situation escalating further amid a dangerous mix of dynamics, including, since Oct. 7, economic insecurity after Israel suspended the permits that some 140,000 West Bank Palestinians rely on to work.
Since Oct. 7, according to the Times of Israel, more than 130 West Bank Palestinians, including dozens of children, have been killed by Israeli forces, and a number by settlers, while one Israeli soldier has been killed by Palestinians.
The past three weeks have also seen more than 100 incidents of violence toward Palestinians by Israeli settlers, according to the Israeli legal rights group Yesh Din, which said more than 800 West Bank Palestinians have been forced from their homes during that period.
Meanwhile, more than 1,200 Palestinians from the West Bank have been arrested, a majority of them affiliated with Hamas, according to the Israel Defense Forces. And on Thursday, an Israeli man was shot to death in the West Bank as he drove home from his army reserve duty.
The spike in West Bank violence has led to differing and at times contradictory responses from Israeli officials. One lawmaker in the country's right-wing government has called for "a Nakba that will overshadow the Nakba of '48," while another far-right lawmaker was recently appointed to head a subcommittee focusing on the West Bank. The army is also planning to train and arm residents of Orthodox settlements without army experience to guard their settlements, according to a report Thursday in Haaretz.
Local leaders and those tasked with security, meanwhile, have condemned vigilante attacks and urged residents to leave law enforcement to Israeli troops.
"There is a big difference between a feeling of security and security," Oded Revivi, the mayor of the West Bank settlement of Efrat, posted on Facebook on Wednesday praising the IDF brigade that protects the settlement. "A feeling of security is a very important feeling, but sometimes it turns out that the action that led to the feeling did not contribute to security. Conversely, actual security always brings a sense of security."
The rising tide of West Bank settler attacks has led Israel to begin taking active measures to respond, placing extremist Israeli settler Ariel Danino in a four-month period of administrative detention, a term that signifies arrest without charges and is largely used for Palestinian detainees. On Monday, an off-duty IDF soldier from a unit of Orthodox soldiers was arrested for involvement in the killing of a 40-year-old Palestinian, Bilal Muhammed Saleh, who was shot dead on Saturday while harvesting olives near the village of As-Sawiya in the northern West Bank.
"We absolutely condemn any form of violence, whether it is against Jews or Palestinian civilians," Betty Ilovici, the media and foreign affairs adviser for Defense Minister Yoav Gallant, told the Jewish Telegraphic Agency. "Administrative detention is used as a tool to stop anyone that poses an imminent threat to civilians."
She added, "The military is doing everything in its power to maintain this arena as stable as possible, and again we condemn any form of violence and will do what is necessary to prevent it or stop it if necessary."
That posture has come as the violence and string of evictions has increased. A Haaretz report said that in one instance, several Palestinians were stripped and tortured by soldiers and settlers. And in recent days, human rights groups have reported that two communities in the South Hebron Hills were evacuated following continued harassment from Israeli settlers. According to Comet-ME, an Israeli-Palestinian organization providing basic energy and clean-water services to Palestinians living off the grid in the West Bank, since Oct. 7 there have been 12 reported incidents of vandalism on energy and water infrastructure.
"Palestinian herding communities and farmers throughout Area C are being forced off their land and forcibly transferred into the enclaves of area A and B," said activist Yehuda Shaul, co-director of the human rights organization Ofek, referring to farmers being forced from Israeli-governed areas into Palestinian-run districts. Shaul said the number of Palestinians displaced during the first three weeks of the war is approaching the 1,100 who were displaced in all of 2022.
The violence has converged with rising economic insecurity in the West Bank, which is currently at the peak of the olive harvest, an annual tradition at the heart of the Palestinian identity in villages such as Deir Istiya, which are surrounded by thousands of olive trees. This year, in addition to a poor overall crop of olives, the increase in settler attacks has scared some farmers from harvesting their crop.
"Palestinian farmers are particularly vulnerable at this time, during the annual olive harvest season, because if they are unable to pick their olives they will lose a year's income," reads a recent statement signed by 30 Israeli human rights organizations urging the international community to intervene.
Adding to the peril to the area's economy is the status of 140,000 Palestinians who have had their Israeli work permit suspended. For the past three weeks, following Hamas' Oct. 7 attack on Israel and Israel's ensuing war against the terror group in Gaza, they have largely sat idle at home.
Within Israel, townships across the country have frozen construction projects that rely heavily on Palestinian as well as Arab-Israeli workers. Israeli settlements across the West Bank have likewise issued bans on Palestinian entry.
"As of today, there are no Palestinian workers entering Efrat," Efrat announced on Oct. 27. Regarding Israeli Arabs, the announcement said, "Although we are aware of the feelings and concerns of the residents, at this time, we do not have the authority to prevent their entry."
The work permit system has existed for decades, since the 1993 Oslo Accords led to the creation of the Palestinian Authority, which governs daily life in some Palestinian areas of the West Bank. The permits are managed by Israel's Coordinator of Government Activities in the Territories, which oversees civilian life in the West Bank, and are given to a predetermined number of workers who pass a security screening.
The permits give their holders access to work opportunities in Israel and the relatively higher salaries that come with them. They are also one of the only ways most Palestinians and Israelis encounter each other outside the context of military engagements. In addition to the West Bank permits, before the war more than 15,000 Gaza Palestinians had authorization to work in Israel. Now, that system is in limbo as Israel prosecutes a war in Gaza and killings and arrests have escalated in the West Bank.
"My permit is finished," said Jamal, a construction worker from Deir Istiya who works with contractors across Israel and declined to share his full name out of concern for his physical safety. He displays the COGAT application on his phone: The screen for his work permit is now blank; applications to enter Israel, it says, are only available for "medical" or "travel" purposes.
A representative from COGAT told the Jewish Telegraphic Agency that while all entry into Israel for work is temporarily illegal, Palestinian laborers in the West Bank are permitted to continue working in Israeli West Bank factories for "essential purposes" related to the war effort.
But cracks in the ban have begun to appear, demonstrating the extent to which both Palestinians and Israelis rely on the permit system. This week, a temporary exemption was granted for 8,000 workers to enter Israel due to a labor shortage.
Meanwhile, Palestinians employed at Israeli companies are figuring out how to get through this period. In Deir Istiya, the economic impact of the war is already being felt, Jamal said. He said a local shopkeeper has allowed him to run up a tab, and that as long as he has "oil, pita and zaatar," he can survive many months without work. He lamented that the Palestinian Authority has not provided assistance to workers in his position.
"For someone who has not put money in the bank, it is problematic," he said. "I go to the mini-mart and ask for a few things — give me a few weeks or months and I will return to work and pay you the money."
Some Palestinian workers were in Israel during the attack. Diaa, a 25-year old from the Deir Istiya, recalls working late into the night of Oct. 6, and into the next morning, at an Israeli restaurant in Rishon Lezion, a large coastal city south of Tel Aviv.
"We finished cleaning up around 2 a.m., I remember having a cigarette and falling asleep," he recalled. "At 6:30 a.m. we woke up to the sound of rockets and ran to the shelter."
He was able to split a taxi back to Deir Istiya with a friend. Since that day, Diaa, Jamal and others are sitting at home, following the war in Gaza.
"I was very unhappy about Oct. 7 seeing the children dying, people's bodies being decapitated," Jamal said, though he acknowledged that other Palestinians in the West Bank had a different reaction. "There were some people that were happy that they broke out of the Gaza jail and are fighting for Allah."
Jamal said many people have stopped watching TV in order to avoid the graphic wartime images, though most still get updates on the war through their phones. At one point, he opened a post on Telegram, a messaging platform, with videos of Palestinian children lying dead in a Gaza hospital.
Others have attempted to keep working at their jobs, but Jamal said that for some, the situation has grown untenable. His cousin Abu-Ghazal, who works in a steel factory in the northern West Bank's Barkan industrial area, said he kept going to work "until the police told us to go home." All his boss could do is promise to call the workers back when they are allowed to return to the factory.
And Jamal added that some of the Palestinian workers who still have permission to work in the Barkan industrial zone have chosen to return home, citing the war climate and changes in Israeli society, where calls for private gun ownership have jumped since Oct. 7.
As of the beginning of the war, he said, "All the owners have weapons, they do not let you move around even to go to the bathroom without supervision."
He added, "It's very stressed there. There are people saying, 'I will go home and wait until this is over, because it is so tense.'"
—
The post In the West Bank, spiking violence and an idle economy spur fears of a broadening conflict appeared first on Jewish Telegraphic Agency.
5 major Jewish groups team up to advocate for Israel and push for 'accurate' coverage of Israel-Hamas war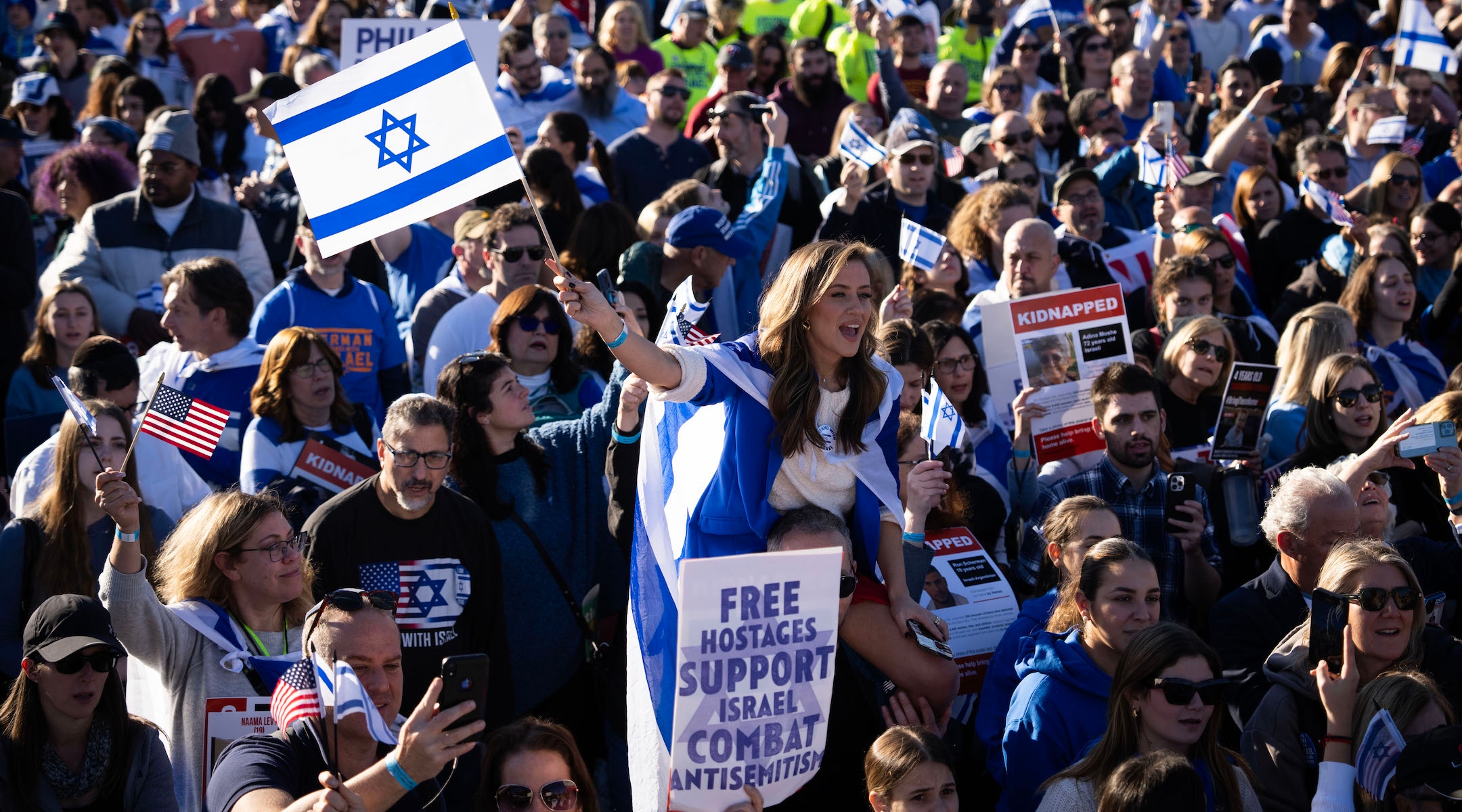 WASHINGTON (JTA) — Five major Jewish organizations have teamed up to maintain American support for Israel and fill what they say is a gap in coverage of the Israel-Hamas war.
"The 10/7 Project," named for the day Hamas launched the war with a deadly invasion from the Gaza Strip, has as backers the American Jewish Committee, which initiated the project; the American Israel Public Affairs Committee; the Jewish Federations of North America; the Anti-Defamation League; and the Conference of Presidents of Major American Jewish Organizations.
"The 10/7 Project is designed to promote continued U.S. bipartisan support for Israel by working to ensure more complete and accurate information about the Israel-Hamas war in real time for policymakers and the American public," the statement released Tuesday said.
The announcement was spurred, organizers said, by the mass turnout last month at a pro-Israel rally in Washington. Pro-Israel groups have been grappling with how to keep the atrocities Hamas terrorists committed on Oct. 7 in the spotlight while media attention turns to the devastation Israeli counterstrikes have since caused in Gaza, and as a growing number of Democrats are calling for a ceasefire.
"Since October 7, there has been a concerted and consistent effort from Israel's enemies to draw a false and dangerous equivalence between Hamas' deadly rampage to destroy the Jewish state and Israel's right to defend itself against terrorists," said Ted Deutch, the American Jewish Committee CEO and former Democratic congressman, in a release.
William Daroff, the Conference of Presidents CEO, said in a text message that it was worth keeping the atrocities front and center in part to confront a crop of people who have denied the magnitude or depravity of the attack.
"We must ensure that America and the entire world are told and retold the stories of the butchery of the October 7 massacre," he said in a text. "We must discredit and make outcasts of 10/7 deniers, who are Hamas sympathizers seeking to perpetuate false and misleading narratives by minimizing and rationalizing the most deadly day for the Jewish people since the Holocaust."
Daroff, whose group helped organize the mass rally along with JFNA, also said sustaining Jewish solidarity was key. All of the other groups partnering on the 10/7 Project are members of the Conference of Presidents, an umbrella body that supports Israel and advocates for other policies.
"We must work together, as one Jewish community, to successfully communicate to the American people the critical need to stand with Israel, as well as the importance of the US-Israel relationship to America and to Israel," he said.
—
The post 5 major Jewish groups team up to advocate for Israel and push for 'accurate' coverage of Israel-Hamas war appeared first on Jewish Telegraphic Agency.
First Jewish university in South America to open in Buenos Aires next year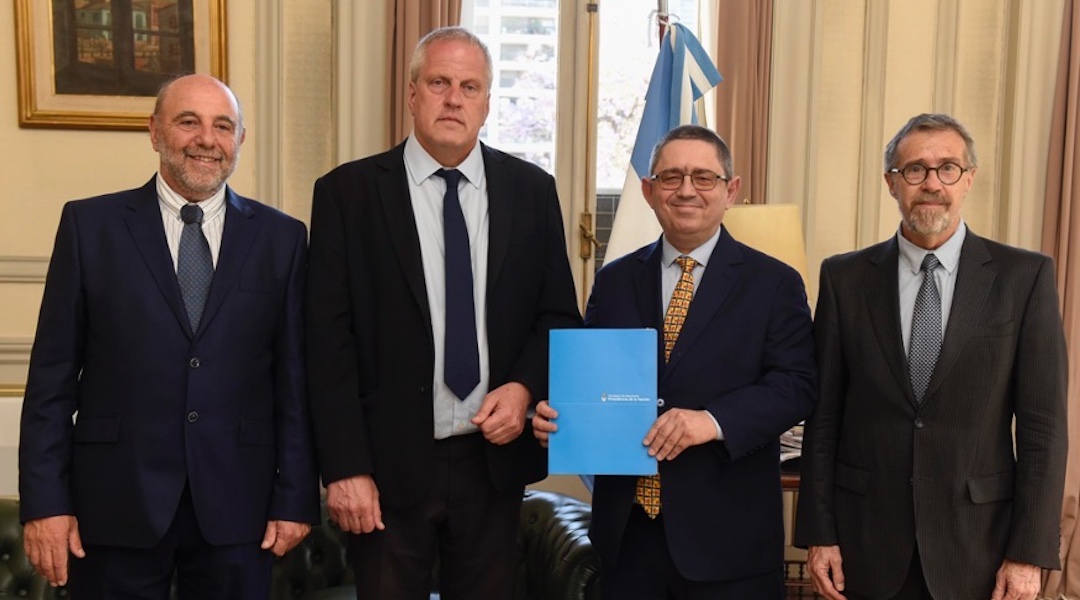 BUENOS AIRES (JTA) — South America is getting its first Jewish university next year.
The Latin American Rabbinical Seminary in Buenos Aires — which is affiliated with the Jewish Theological Seminary in New York, the Conservative movement's flagship — obtained legal approval last month to establish the Isaac Abarbanel Jewish University Institute. The school will confer diploma, bachelor's, master's and doctoral degrees in subjects ranging from Jewish and religious studies to ethics to ancient manuscripts.
"This makes Argentina better by allowing it to enrich its diversity and, at the same time, expand the scope of its academic proposal to other regions of the world," said Jaime Perczyk, Argentina's education minister, in a statement on Nov. 16. Rabbi Ariel Stofenmacher, the rector of the rabbinical seminary, said the university will be "a lighthouse beacon for Latin America."
One other Jewish university exists in the rest of Latin America: the Hebrew University of Mexico, which is located in Mexico City and run by an Argentine rabbi, Daniel Fainstein. The Latin American Rabbinical Seminary has had a continuing education institute under the Abarbanel name since 1978, but it has not conferred degrees titles.
The new university will include a center for the study of Hebrew manuscripts, including some from between the 9th and 15th centuries that are located at the Vatican Library. The digitized collection includes Torah scrolls, rabbinic literature, Jewish philosophy, liturgical books, poetry and kabbalistic texts.
The seminary is named after American rabbi Marshall Meyer, a New York native who worked to revitalize the Conservative movement in Buenos Aires from 1958 to 1984. In 1962, he created the Latin American Rabbinical Seminary, which ordains rabbis in Argentina and throughout Latin America. It has ordained approximately 110 Conservative rabbis since 1972.
Meyer, who was mentored by the activist rabbi Abraham Joshua Heschel, returned to the United States in 1984 and became the spiritual leader at Congregation B'nai Jeshurun in New York. He also served for a year as vice president of the University of Judaism in Los Angeles. He died in December 1993.
Isaac Abarbanel was a prominent 15th-century Jewish sage who worked in Portugal and, after the Spanish Inquisition, in Italy.
—
The post First Jewish university in South America to open in Buenos Aires next year appeared first on Jewish Telegraphic Agency.
Read the Hanukkah 2023 issue of The CJN's magazine (and stay tuned for a relaunched print publication in 2024)