Israeli forces rescue kidnapped soldier, the first since Oct. 7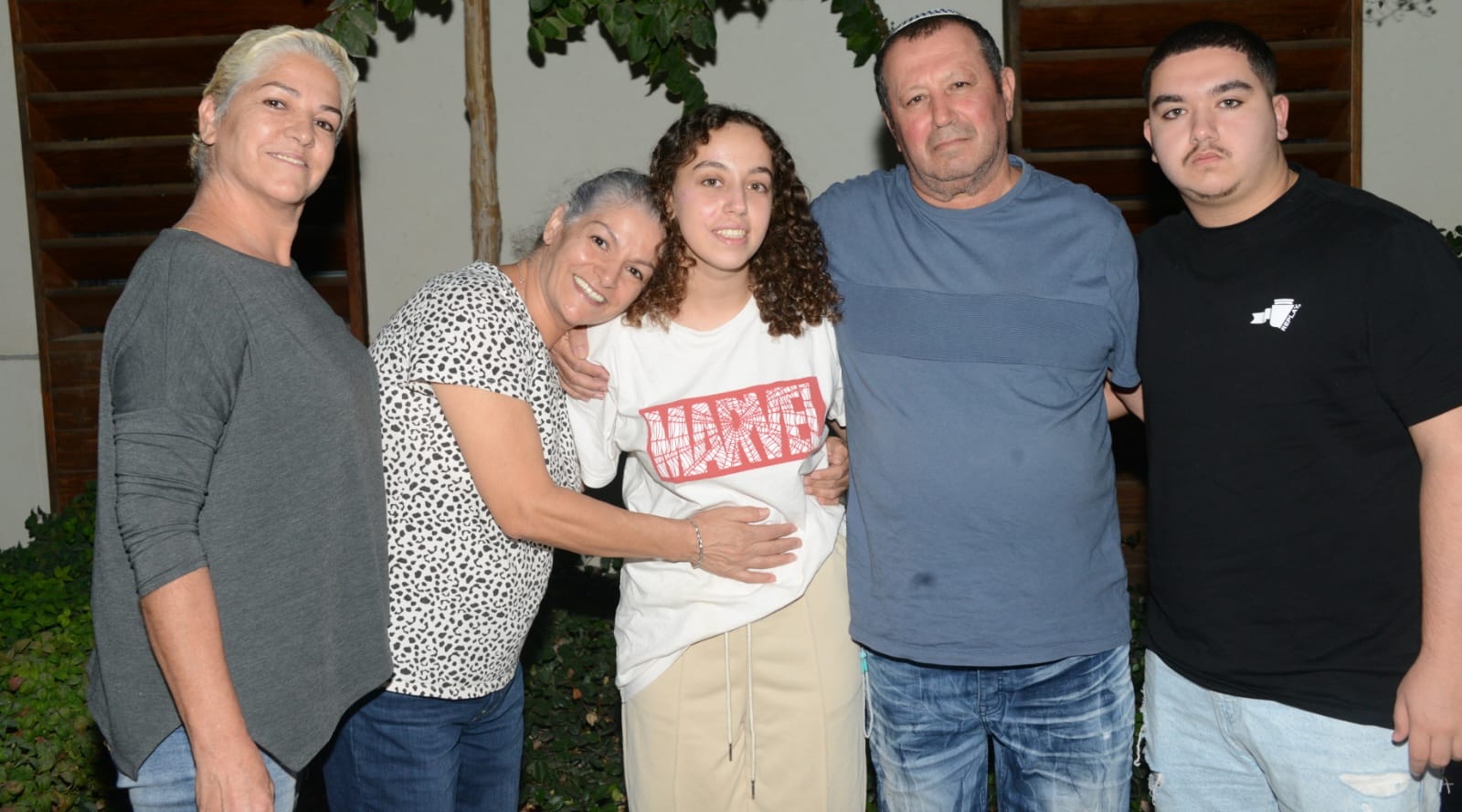 (JTA) — Israeli forces rescued an Israeli soldier from the Gaza Strip, the first such successful operation since Hamas invaded Israel on Oct. 7, and the first since the terror group assumed control of the territory in 2007.
"Last night, our forces liberated Pvt. Ori Megidish from Hamas captivity," Prime Minister Benjamin Netanyahu said on Monday in a statement. "Ori was abducted on the black morning of October 7th. Welcome home Ori! I commend the [Shin Bet security service] and the IDF for this important and moving achievement, which expresses our commitment to bring about the release of all the hostages."
The Israel Defense Forces said in a statement that Megidish was "was medically checked, is doing well, and has met with her family." The military released a photo of her at home with her family. Israeli media said she served in an observation capacity at the Nahal Oz IDF base on the Gaza-Israel border.
The body of another hostage, German-Israeli Shani Louk, was found on Monday, Israel's Foreign Ministry said.
Hamas took some 240 people captive during the Oct. 7 invasion, in addition to killing more than 1,400 Israelis and wounded thousands. While Israel declared war on Hamas following the invasion and recently expanded its ground incursion into Gaza, the campaign to free the hostages has attracted widespread attention and support in Israel and from Jews and others across the world.
Rallies, public visual displays, a poster campaign and advocacy by world leaders have all called for the release of the hostages, many of whose relatives have spoken out publicly about their plight. Families of hostages are pressing the Netanyahu government to negotiate with Hamas to release the hostages, through a ceasefire or through a prisoner exchange. They cite the 2011 release of Gilad Shalit — an Israeli soldier taken captive by Hamas in 2006 — in exchange for some 1,000 prisoners. There have been subsequent negotiations for Israelis, dead and alive, held by Hamas that reportedly included Israeli offers of limited prisoner releases.
Hamas released a video Monday of three women pleading for an exchange. Netanyahu's office called it "cruel psychological propaganda" and most Israeli media refused to air the video. The terror group had previously released footage of other hostages as well.
The rescue may be a morale boost for Israelis amid the war, in which the Hamas-run Gaza Health Ministry says more than 8,000 Palestinians have been killed. Israel has vowed to dismantle Hamas, and an increasing number of its forces entered the Gaza Strip over the weekend.
—
The post Israeli forces rescue kidnapped soldier, the first since Oct. 7 appeared first on Jewish Telegraphic Agency.
Treasure Trove: How some sheet music in the Theresienstadt Ghetto became a symbol of hope
Protester Sets Self on Fire Outside Israeli Consulate in Atlanta
i24 News – A protester was in critical condition on Friday after setting themself on fire outside the Israeli consulate in Atlanta, Georgia, U.S. authorities said. A security guard who tried to intervene was also wounded.
A Palestinian flag found at the scene was part of the protest, Atlanta Police Chief Darin Schierbaum said at a news conference. He added that investigators did not believe there was any connection to terrorism and none of the consular staff was ever in danger.
JUST IN: A pro-Palestine protester is in critical condition after they set themselves on fire in "political protest" outside of the Israeli Consulate office in Atlanta.
The protester was reportedly draped in a Palestine flag.
The protester has severe burns and unfortunately, a… pic.twitter.com/B8nUQAj2nU
— Collin Rugg (@CollinRugg) December 1, 2023
"We do not see any threat here," he said. "We believe it was an act of extreme political protest that occurred." Everyone inside the consulate building was said to be safe.
Anat Sultan-Dadon, Consul General of Israel to the southeastern U.S., said: "We are saddened to learn of the self-immolation at the entrance to the office building. It is tragic to see the hate and incitement toward Israel expressed in such a horrific way."
"The sanctity of life is our highest value. Our prayers are with the security officer who was injured while trying to prevent this tragic act. We are grateful to the city of Atlanta's law enforcement and first responders for all they do to ensure safety."
The post Protester Sets Self on Fire Outside Israeli Consulate in Atlanta first appeared on Algemeiner.com.
Released Israeli Hostages Call for Captives to Be Freed
Israeli hostages released in the past week by Hamas in Gaza called on Saturday for the immediate release of fellow captives left behind, a day after a temporary truce that had allowed scores to come home broke down.
Tens of thousands gathered at a rally in Tel Aviv outside Israel's defense headquarters, where they cheered Yelena Trupanov, 50, standing on a stage just two days after being freed.
"I came to thank you because without you I wouldn't be here. Now we must bring back my (son) Sasha, and everyone. Now."
Similar pleas from other released hostages were shown on video.
A seven-day truce, during which Hamas had released more than 100 hostages, collapsed on Friday after Hamas breached the ceasefire.
Israel said on Saturday it had recalled a Mossad intelligence agency team from Qatar, host of indirect negotiations with Hamas, accusing the Palestinian faction of reneging on a deal that would have freed all children and women held hostage.
More than 240 people – Israelis and foreign nationals – were abducted to Gaza on Oct 7. by Hamas terrorists who burst through the border with Israel and killed 1,200 people.
The post Released Israeli Hostages Call for Captives to Be Freed first appeared on Algemeiner.com.